Quick Big Brother Spoilers
Head of Household: Matt
Nominees: Cirie & Felicia
POV Players: Everyone
POV Winner: JAG
Veto Ceremony:
Havenots: No more havenots
Lock your ranks in before midnight
The Situation: Cirie is the target now.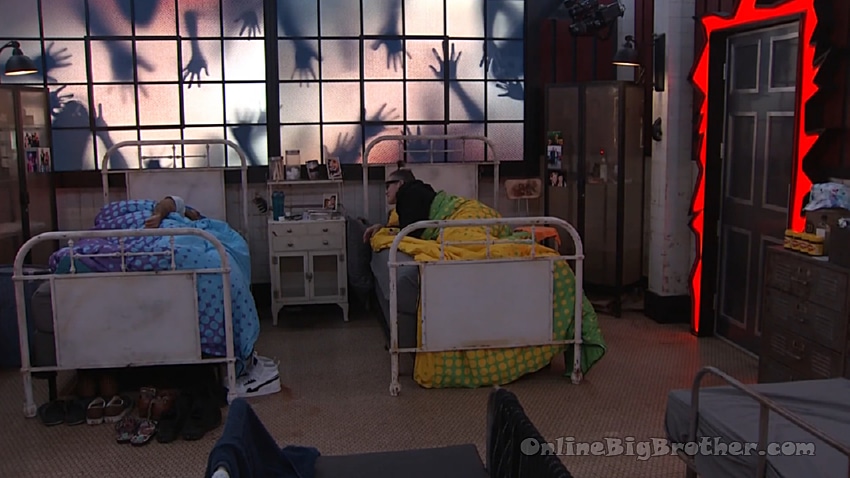 9:20 am Bowie and Jag
Bowie says in Australia everything is policed so if you break the law you are in trouble. IN the US you can get away with "everything". They use the example of J-walking .
Felicia comes being super friendly and nice. They laugh about being woken up early when there's nothing going on today. They think it's because they plan on doing Diary room sessions.
AFter Felicia leaves they discuss strategies for next week.
Bowie – If She wins next week hopefully she puts you two up if Noms stay the same I'll be voting.
Bowie adds if Matt wins the veto he'll have the vote and if Jag wins the veto he'll have the vote.
Feeds flip to Felicia. When we're back.
Jag – She's being so nice
Bowie – I know. It's lovely.. make a cake for us later?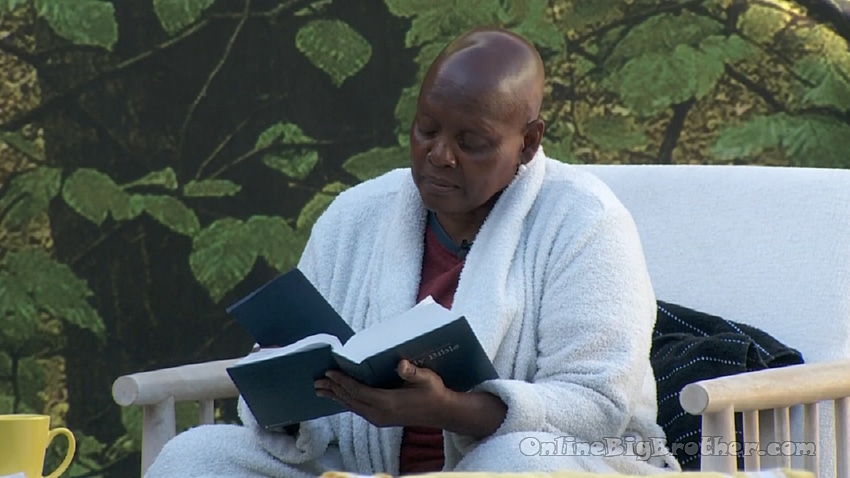 10:00 am Felicia and Matt
Matt – how are you doing?
Felicia – wonderful
Matt – I was talking to Jag I don't think he'll use the veto that's OKay we know where we'll put the votes
Felicia – OKay
Matt – I've never been wrong yet
Felicia – You haven't. Whats your guys plan for the final 3?
Matt – Mine might be different than his
Felicia – You can't play next thursday. I'm praying it's a mental one and I come through.
Felicia says if she wins she's putting up Bowie and Jag. If Jag wins Veto then Matt would have to go up.
Felicia – you think he would evict you over Bowie Jane?
Matt – I think he would. I think he would pick Bowie Jane to the final 2. Those two are close.
Felicia always thought it was Matt Bowie was closer to but now he's saying it's Jag
Matt says at first he was closer to Bowie.
Matt doesn't think anyone could beat Jag in the final 2 he's won too many competitions.
Felicia – I've been thinking about Bowie Jane. I know you guys want to carry her but Don't underestimate Bowie jane
Matt – she's a good player she almost won that veto yesterday
Felicia – She almost did.. she's won two mental comps. Bowie Jane been Hiding she's coming alive at the end.
Felicia – If Bowie Jane lands in those two chairs people might say you let this girl come all this way and not really play a game until the end.
Matt – everyone can win..
Felicia points that Cirie has the best social connections
Matt agrees adds that she's never had to get blood on her hands.
Felicia goes on about praying for HOH on Thursday.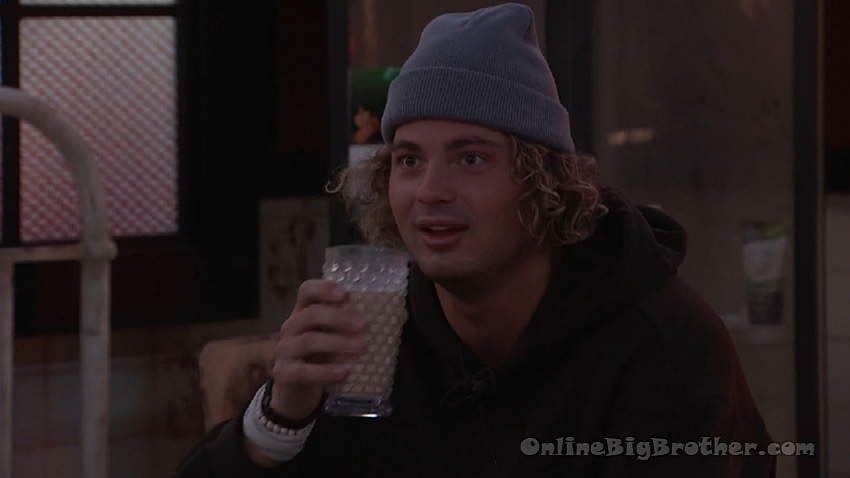 10:24 pm Bowie, Jag and MAtt
Bowie – Felicia is being so nice.
Matt laughs.. "She's been in good spirits which I'm surprised."
Matt – Felicia thinks if she sits next to Cirie she'll stay

Bowie and MAtt do the secret mafia handshake
SHe's excited they made it to the end.
Matt – I know it's so exciting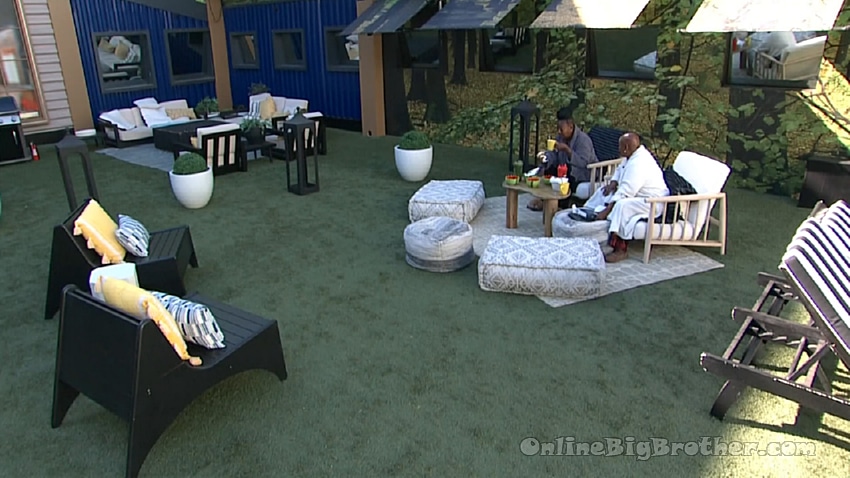 10:30 am Cirie and Felicia
Felicia – You can tell Fall is in the air cause my skin is drying out
Cirie – mmmmhmm
Felicia – it's like UGH.. when that sun hits here in a minute it'll be so beautiful
Cirie – mmmmmhmmmm
Felicia – I went into the bedroom and Bowie Jang and Jag were talking sideways in bed.
Cirie – in the same bed
Felicia – no
They laugh.
Felicia says she talked to Matt
Cirie – they might be plotting on his a$$ (Bowie and Jag)
Felicia – I said just food for thought don't sleep on Bowie Jane. Bowie Jane is showing you who she really is now. SHe's laid low this whole season
Cirie – mmmhmmmm
Felicia – she hasn't made a decision she's now won two HOH's Both mental comps
Cirie -mmmhmmm
Felicia – She was right behind Jag yesterday
CIrie – mmmhmmmmm
Felicia goes on about her talk with Matt. Where she told him if they take Bowie Jane to the end the Jury might give her the vote.
Felicia – I said you're probably thinking you carry Bowie Jane to the end and it's a easy win NO. you know what a Jury might say? You guys let this girl sit here this whole season and never make a decision and carried her all the way to the end and then she wins two HOH and you don't know what she'll win in the end. They'll say DAMN she played the ultimate game.
Felicia – I said I'm just giving you some food for thought.
Cirie – what did he say
Felicia – he said YEAH I've been thinking about that two. He said he doesn't think that Jag will use the veto but he doesn't know.
They go on about how they need to get Bowie Jane out. Felicia says she put the bug in Matt's ear.
Cirie – you need a bug in Jags.
Felicia – I haven't had a chance to talk to him yet. I need him to use the veto
Cirie -exactly
Felicia – I'm going to talk to his a$$.. this is how I'll get him. YOu know Bowie Jane has been chasing Matt this entire season. She's been cuddling up on the bed next to him.
Cirie -mmmhmmmm
Felicia – Sh1t fo you remember?
Cirie – since Red she said she trusted Matt the most
Felicia – I'm not telling him no lies but I'll remind him of all the sh1t she's been saying.
Cirie – mmmhmmmmm
Felicia – She's grinning in your face but you don't know what she's telling Matt behind closed doors.
Cirie – good job
Felicia – I haven't been able to get to him yet because she won't LEAVE HIS F*****ING SIDE
They laugh.
Cirie – Ohh Felicia….
Felicia leaves.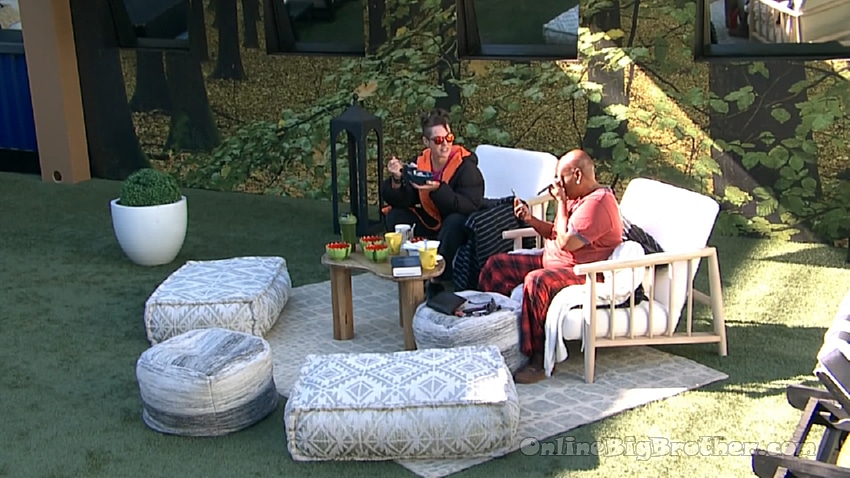 10:50 am Felicia and Bowie
Bowie Compliments Felicia how good she looks she has not one wrinkle
Bowie – you look so good for your age.. you look so good in general
Felicia – I'm trying to stay healthy, Age is but a number
Felicia says they're the only ones outside so they should have their talk, "Vote for me"
They go back to CHit chat for a bit.
Felicia – what are you thoughts
BOwie – I love having you around you're a real character.
Felicia – I appreciate you and I'm glad you are here. YOu have a beautiful smile and a great personality don't underestimate your great personality
Jag joins.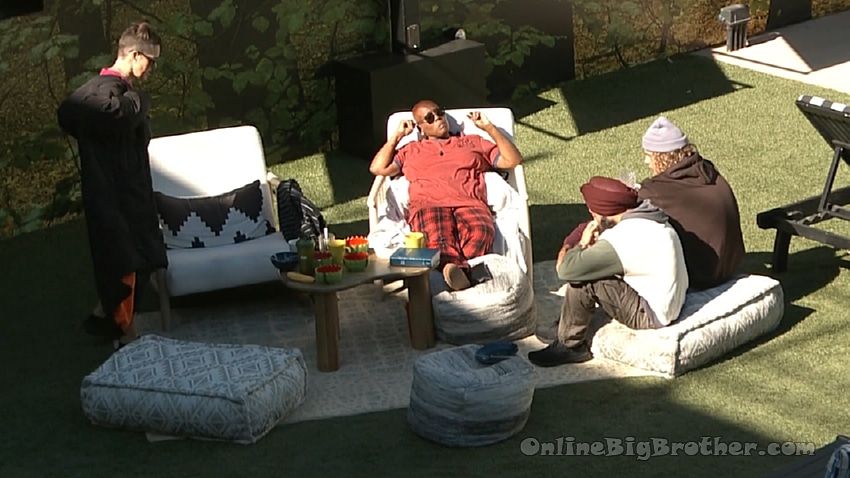 11:15 am Chilling
Awkward silence between Matt, Jag, Felicia and Bowie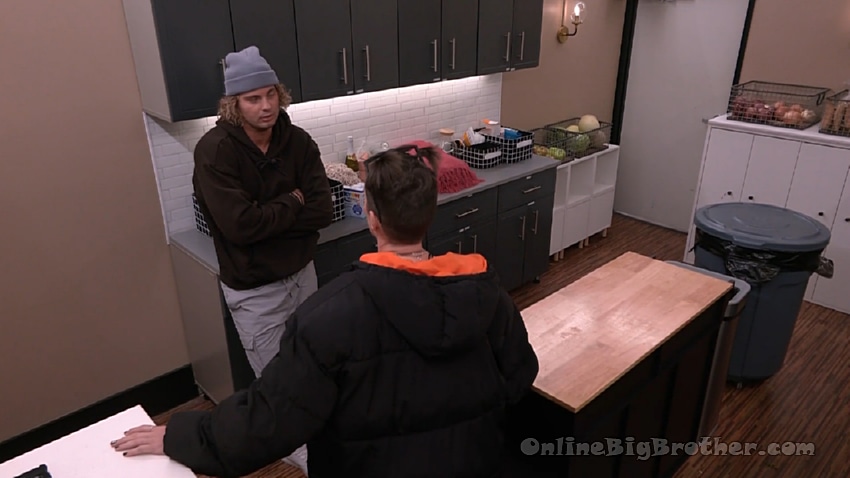 11:33 am Bowie and Matt
Bowie gives him a rundown of her talk with Felicia. They agree the plan is to keep everyone happy this week. Vote Cirie out on Thursdays.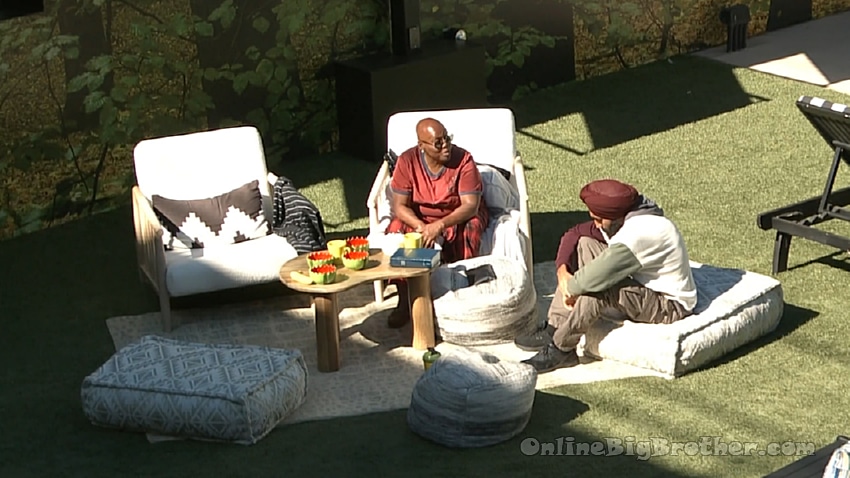 11:37 am Jag tells Felicia he's leaning towards not using the veto.
Jag – Yeah.. you are good with me. For me ideally it's Cirie going this week.
Jag – you'll be here next week. From my end for sure. I spoke with Matt and he agrees with me now.