Head Of HouseHold Winner: Chris Kirkpatrick
Nominations: Mirai & Chris Kattan
4:14pm – 6:07pm The live feeds switch to kittens of the nomination ceremony. Chris nominated Mirai & Chris Kattan for eviction.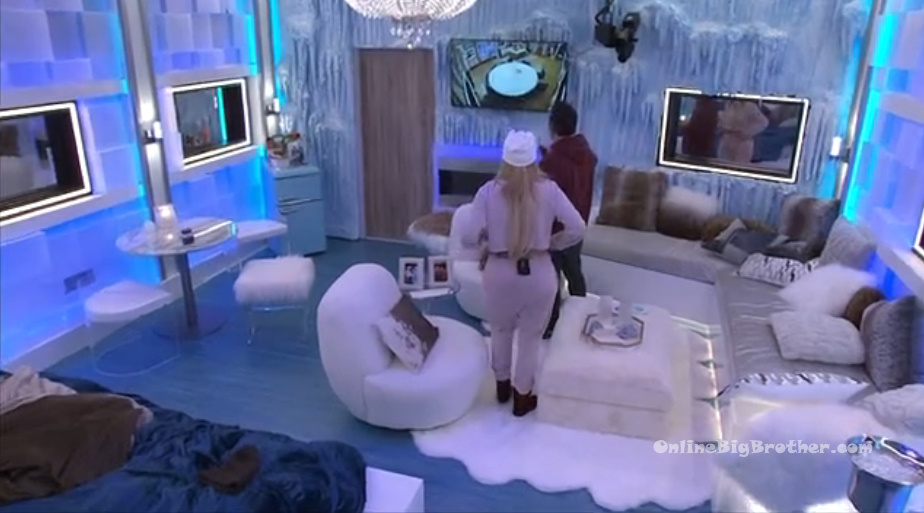 6:20pm HOH room. Chris Kirkpatrick and Shanna.
Chris – let her go rogue again. Whirl wind. And she could really start to shoot herself in the foot. If she makes it easy. Shanna – It just bums me out because like what the f**k Todrick! You know!? He was sitting in here with Miesha and being like I hate how Teddi comes from like this cushy life and like and all this stuff. Chris – yeah they keep saying that. Shanna – and for me its just as gross as anything about the opposite. And now he is talking about like how he is buying a $250,000 piece of judy garland memorabilia and how his house is 10,000 square feet and everything and I am like what the hell!? I just found it like sort of hypocritical. And so like what, I should be punished because my mom and dad worked their f**king a$$es off. It just kind of like hurt my feelings. He is like the Kardashians rented out my house and this person and this person rented out my house. I was like wow that must me nice! Chris – yeah he doesn't need this. Shanna – and I was like wow I don't have it like that at all!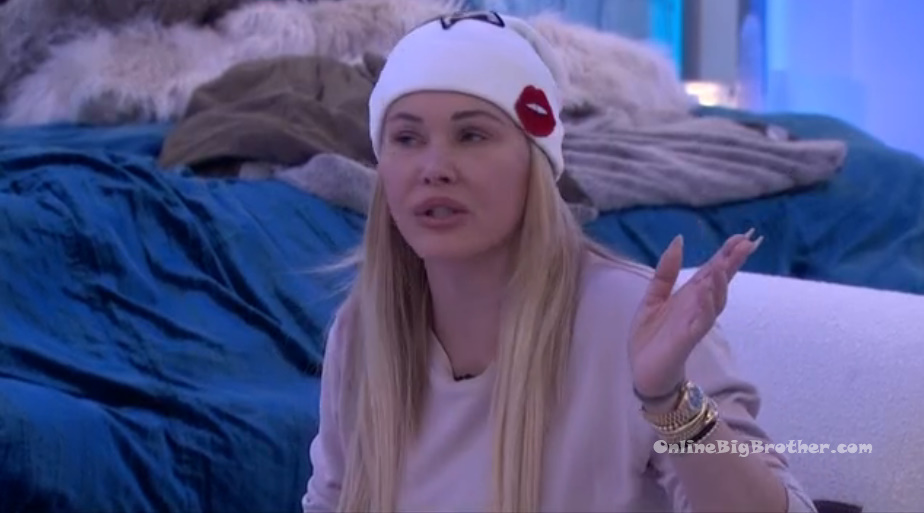 Chris – I don't think Miesha would be gunning for me until really at the end. Shanna – Okay. Lamar is pissed. He was like I am pissed! Chris – at me? Shanna – no, not at you. He is just mad. And Mirai was like what's wrong? And he was like Nothing! Chris – yeah its at me. Shanna – no, its not mad at you. Chris – Its at me but Todd told me not to do it. Todd told me flat out not to do it. And I don't want to waste an HOH on that because .. and the good thing is if he keeps doing this somebody else can waste an HOH on it. And he could play in the next one. Shanna – yup. Chris – and win an HOH and that's when we have to start thinking about the big move! And its all about where the cards fall. Shanna – you could not have won at a better time because I do feel like she will take care of you in the next one. You will have to really help protect me. I think she will be good to me for what I did for her. I think I proved my loyalty and my trust. Chris – I think so and especially when she said that Miesha really fell on a sword for us. That is pretty noble. That means something. I do really feel like at the next ceremony mine and your face could go on that wall. Shanna – yeah. Chris – because they might think we're getting too scary and powerful… and another thing what if I win the veto and keep my noms the same? What is going to go through Todrick's head to sway Miesha and go like Chris just won two comps in a row .. he a huge.. Shanna – I think she is going to be way more loyal to you than that. I think that he is going to go around the next couple days and campaign for Mirai. And I am going to go around campaigning like they're very close so be careful. You're in a good position. I think everyone could understand your nominations. Chris – right. If Miesha wins this .. this could be good for us. Obviously Lamar has been campaigning this to everyone .. you said he asked Cynthia.. and he asked me. If he goes to her and he is really getting tired and he gives her the ultimatum. She could waste that HOH on him. And not only that, that would knock Lamar out. Shanna – do you think she would do that? I doubt it but its a possibility. And depending we could even be in Lamar's ear and be like there are ways of you leaving without quitting. You could always act a fool and blow up everything and get people angry enough that they'll want to get you out. That takes another number off that side.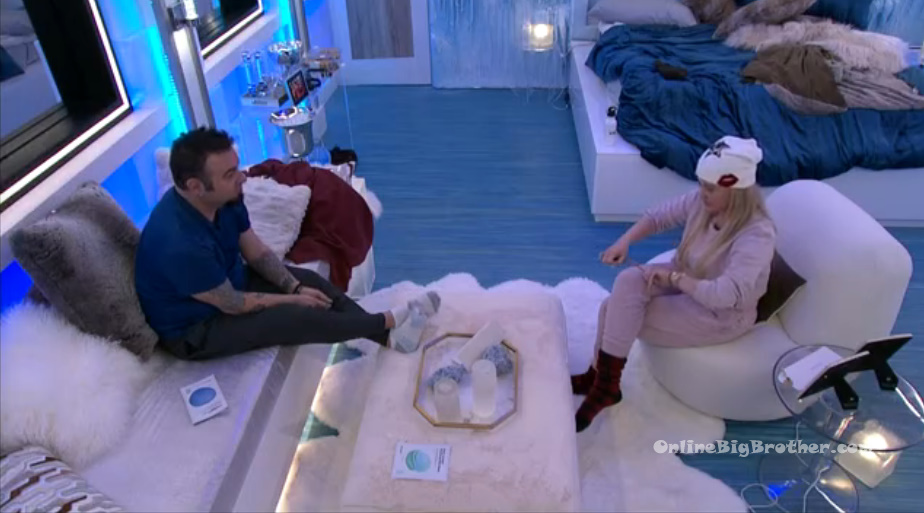 9pm Kitchen – The house guest are eating and chatting..

9:10pm Bedroom. Chris and Chris
Chris Kirkpatrick – I didn't mean to surprise you with it. Chris Kattan – I mean I was a little surprised by it.. but your excuse is valid. Chris Kirkpatrick – I didn't mean to surprise you with it. I mean I've tried to talk game.. I just didn't know where your head is at. Chris Kattan – I am not in this for the game. I came in here to have fun so you were right I am not in here about game and sh*t. I'm here to have some fun. Meet some friends. But when it comes to game and sh*t.. (he throws up his hands). Its fine. Chris Kirkpatrick – yeah I hear you. What sucks is you're a friend too. And I didn't want to come after you. Todd joins them. Chris Kattan – I would rather leave here with friendships. Chris Kirkpatrick – so would I but the game is tough. Chris Kattan – I don't want Mirai to be upset either. Todd – I don't either. Chris Kattan – I might just come out tomorrow and say something. Chris Kirkpatrick – say something? What? Chris Kattan – I don't know… Big Brother blocks the feeds. Chris Kirkpatrick – I like Mirai a lot but she was my target. Big Brother blocks the feeds again. Chris Kirkpatrick – you aren't my intention. I wouldn't want to win HOH and have a person I want in the house to go because I put them on the block. I just wanted to come and talk to you. Its just I don't really know where you stand. I know you aren't really playing the game that much but you're a big piece dude. Like you have a vote. You know how powerful a vote is?! Honestly I truly care about you as a person. I know this is tough.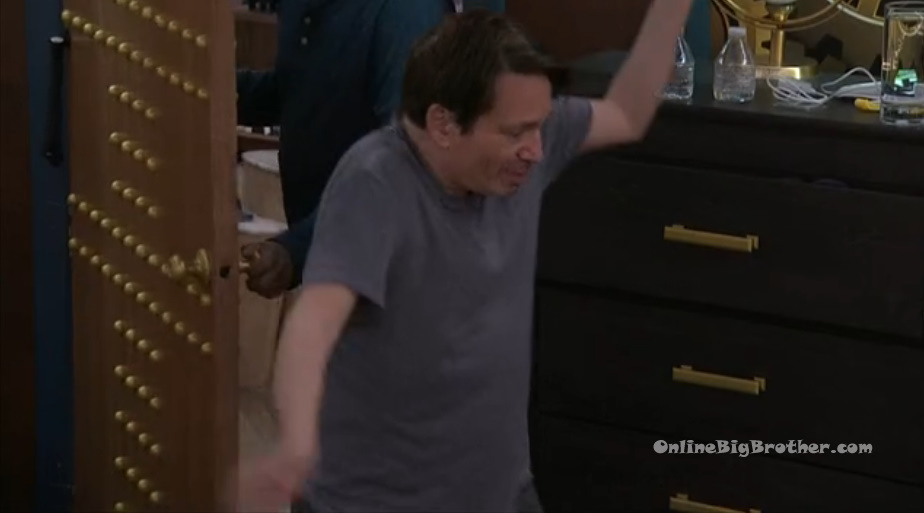 Subscribe and watch the live feeds with the FREE Paramount+ Trial.