PART 1 HOH WINNER: Nicole
PART 2 HOH: Cody Vs Enzo
PART 2 WINNER: Cody
PART 3 HOH: Nicole Vs Cody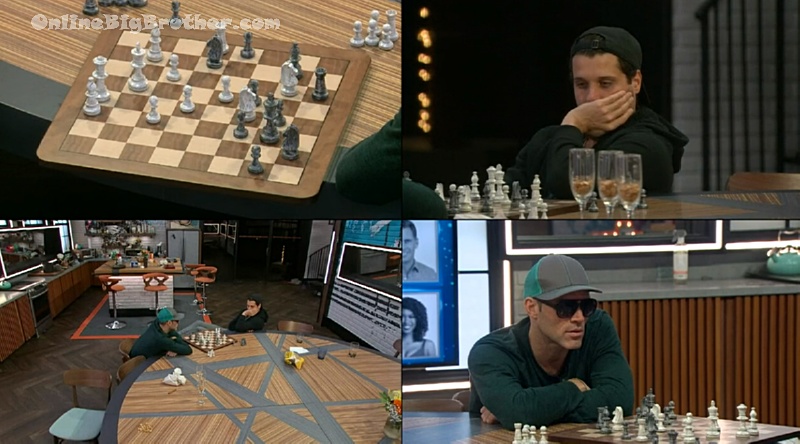 2:48 am Enzo and Cody playing Chess. Doing horrible accents and generally being annoying.
3:20 am Zzzzzzzzz
8:19 am Nicole putting on makeup
8:25 am Nicole Heads back to bed..
10:30 am Lights on. Everyone Zzzzzzzzzz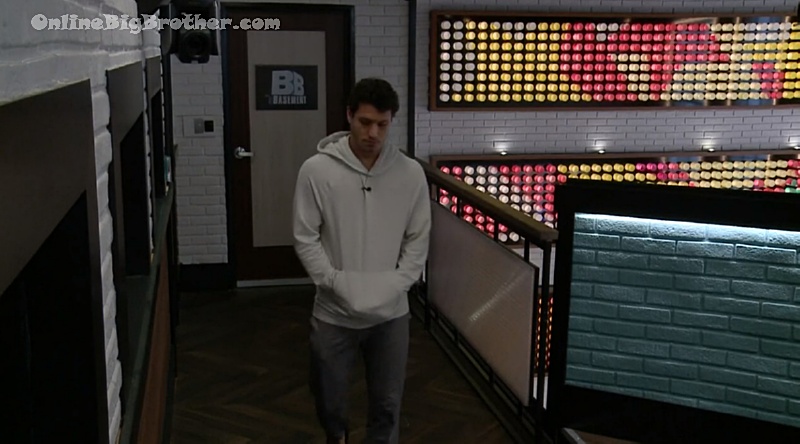 1:30 pm Cody pacing upstairs. Nicole and Enzo Sleeping.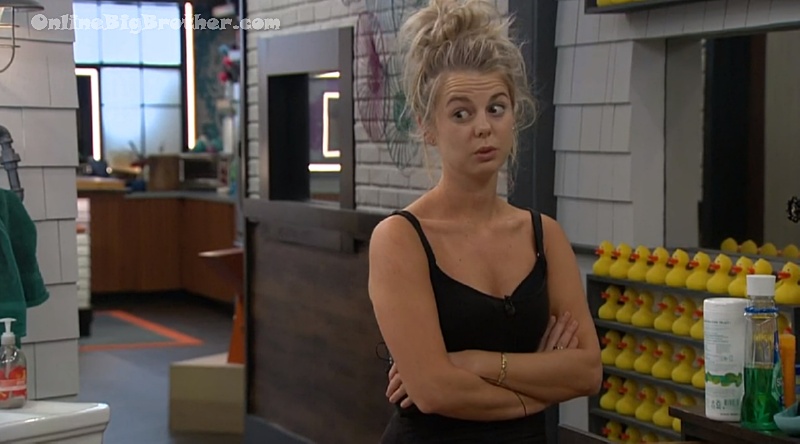 1:57 pm Cody and Nicole
Cody says he's getting stressed.
Nicole – Because of your speech?
Cody – you can't turn it off in here I just can't. I'm like nervous because like IF I'm in the final 2 and then like.. being attacked like I was the first time was like.. .
Nicole – you're not gunna get that again
Cody – it's a very uneasy feeling
Nicole – I know. the passive-aggressive questions ARE too much
Cody – it gives me this weird anxious feeling
Nicole – I'm being as a friend to you there is nothing they can say to you this season that's passive-aggressive and rude
Cody – you just don't know. YOu wouldn't have thought that about Derrick but people took jabs at him as well.
Nicole – that's true they did
Cody – about his family… praying..
Nicole – I can't believe they let people ask those questions
Cody – we feel like you were guilting us with your family and using you .. that's what one of his questions were
Cody – he was like YO what the F*** and then he got the fake praying one and two of mine were just YOU're a puppet YO what the F*** is going on
Nicole – those were rough
Cody says getting some sun would help him mentally.
Nicole – I don't think we're getting it
Cody goes on about how he's getting stressed being in the same small area day after day.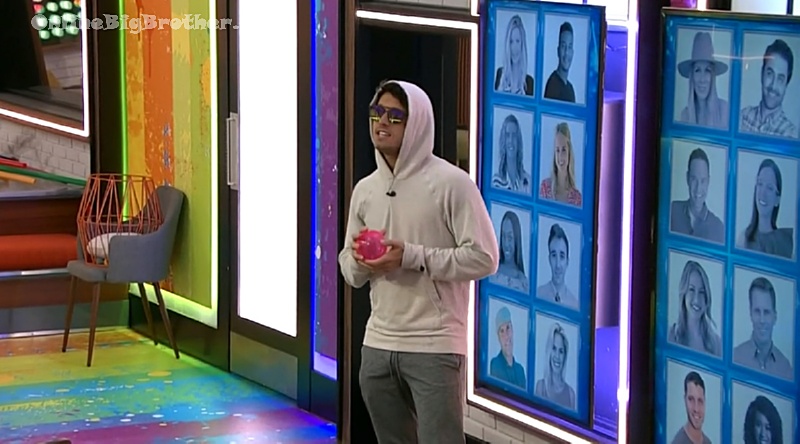 2:37 pm Cody and Nicole
Cody talking about liking to play Basketball but always needing to have shoes with good support
Cody – my ankles are glass..
Nicole brings up a "Fight" she had with Victor where they settled it on the basketball court.
Nicole starts talking about her and Victor bickering about their podcast. (I didn't know she had a podcast to)
Nicole says she doesn't expect to be on the show again she's been on 3 times now.
Nicole says Christmas took the bible.
3:00 pm Nicole wearing her mask practicing jury questions in Final 2. Cody playing basketball.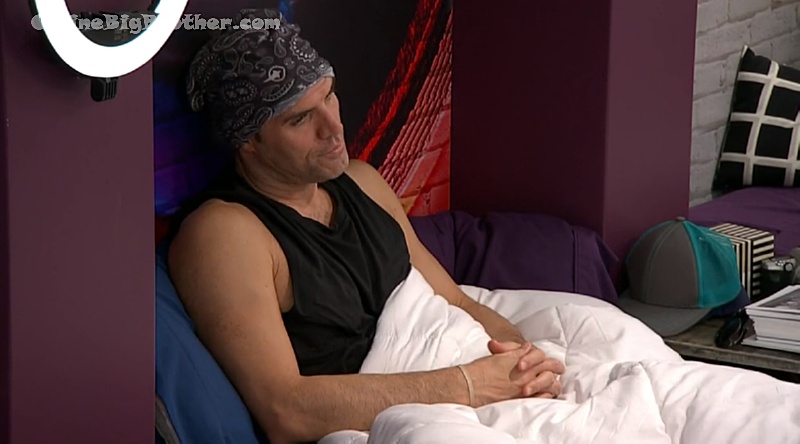 4:10 pm Enzo alone
Enzo – F** it man.. third place.
Enzo – another mother f*ing day left.. C'mon YO. I want the F8 outta here. A whole nother f*ing day
(if only someone had told Enzo that Cody and Nicole were playing them all)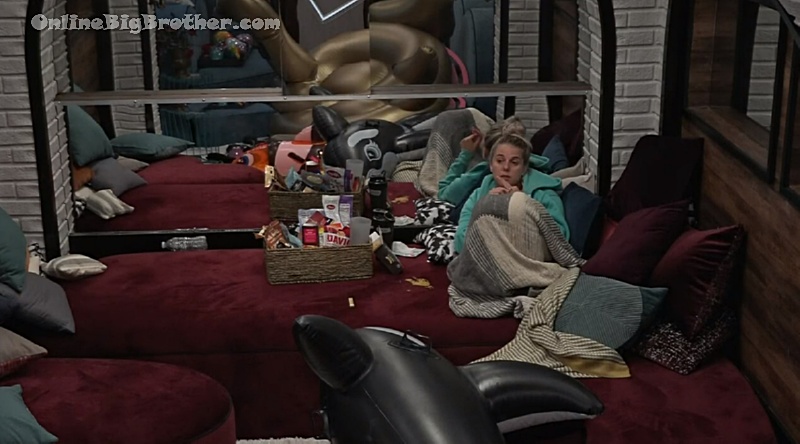 6:00 pm Nicole has made a study cave.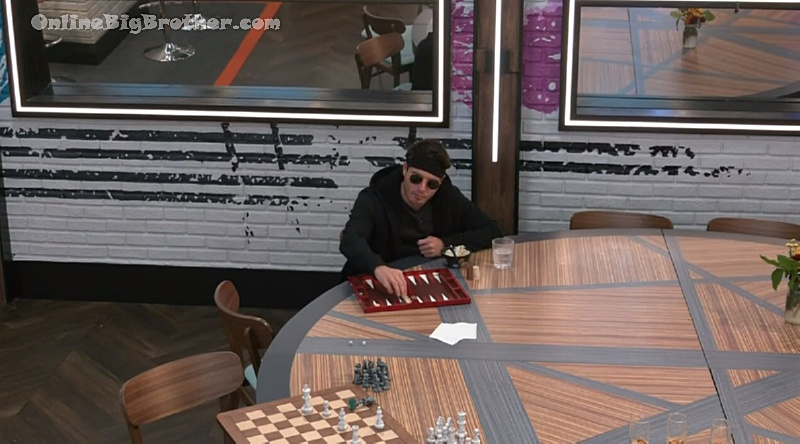 7:15 pm Enzo pacing upstairs. Cody playing backgammon
7:35pm Nicole is still passed out. Enzo hanging out over the edge for the balcony. Cody is still playing backgammon with himself and talking in his accents. Cody heads upstairs and they play a game of chess. They talk about sleeping all day tomorrow.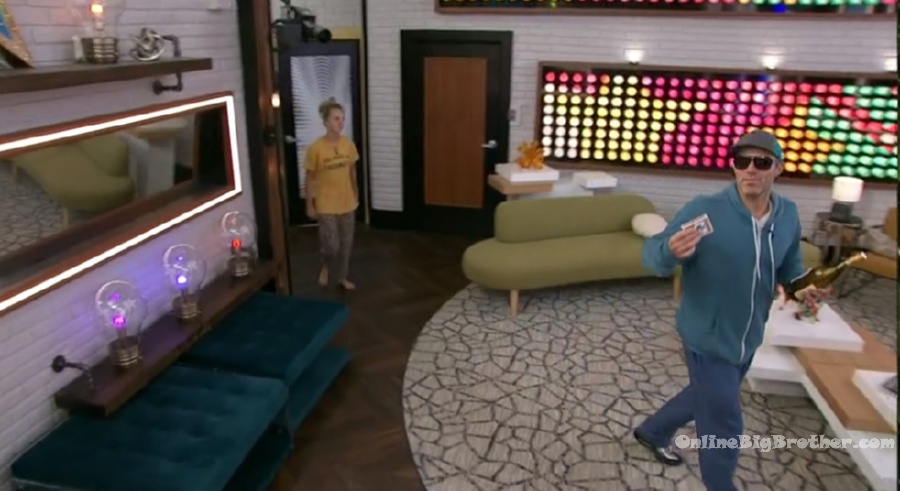 8:43pm – 9:35pm Big Brother gives the house guests a deck of cards and butterkissed cupcake chardonnay. Enzo – we're going to be bored of these cards in 20 minutes. Nicole – we can play poker! They sit around the table drinking the win and playing cards.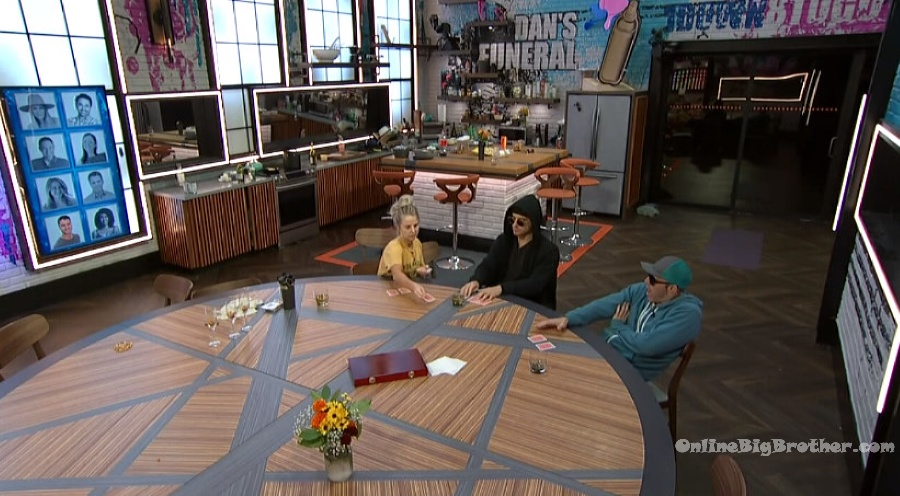 10:53pm Cards move into the living room..
12:10am The final three eating pizza..