PART 1 HOH WINNER: Nicole
PART 2 HOH: Cody Vs Enzo
PART 2 WINNER: Cody
PART 3 HOH: Nicole Vs Cody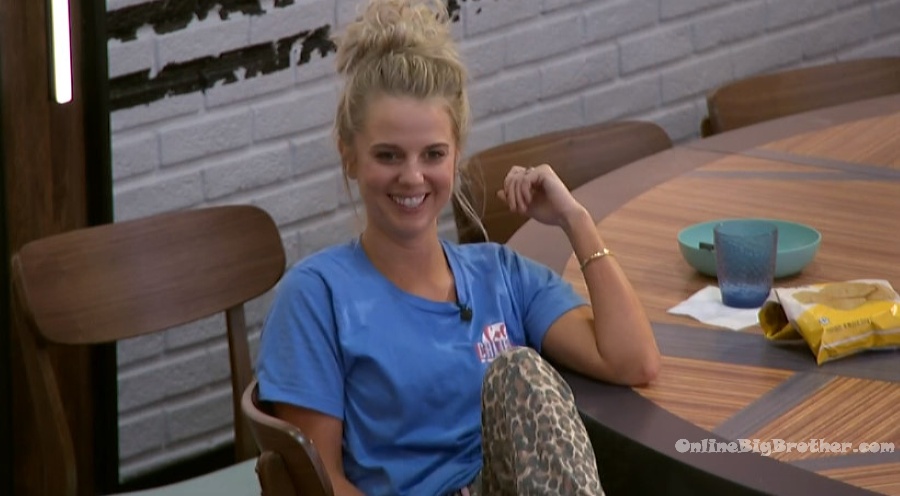 3pm – 4pmThe final 3 are in the kitchen reminiscing about past events of the season. Cody is busy doing his accents and trying to make Enzo laugh. He then starts working out.
4:15pm Bedroom. Nicole talking to herself about the jury questions / her final speech. Its going to be like .. I feel like you hid behind people all season long? What moves did you do? It will be some bull crap like that. I have to be prepared to answer that. We feel like you just hid behind Cody all season. Ok!? And I don't think that is a bad situation ..If Cody or I were on the block I think he would have been a lot more appetizing to take out. And I had to play completely separate games. We knew that people might think that we were working together because we played on the same season. So I was not seen with Cody hardly at all. When the person yelled over the wall that Cody and I were playing everyone .. I did make a final 2 the very first day in this house but in no way did I hide behind him. He never would have taken me off the block or used the veto on me. I had to ensure my safety on my own. If I had won the competitions that Cody had won people would have wanted me gone way sooner than the triple eviction. Before I came in here I read a book where I realized that I am not the type of person that needs the credit for a move. So if there was something that I wanted to happen .. I just want the same outcome. I don't want to win the competition. I would rather someone else do it for me because it is just smarter. Work smarter not harder. And in competitions I would look around and I had the committee as a strong alliance and it was filled with strong, strong competitors. I feel like it was important for me to be the weak person in the house because I had already won this game and I didn't want to give anyone else a reason to want me on the block.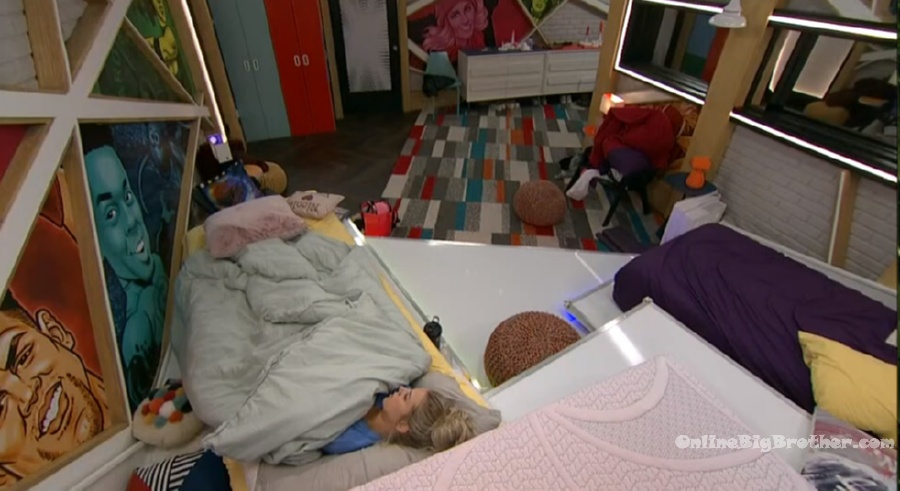 I came in with a target on my back that only one other person (Ian) had. I knew what I needed to do to be sitting in this chair and I think winning competitions doesn't necessarily mean that you are a better player. I was in so many positions where I didn't need to win. I was only safe for one week this entire season. One week I won myself HOH and Veto. Every other week I had to depend on my social game. Whereas Cody won several competitions .. that is awesome but he was safe all those weeks. Big Brother is a social game it is not just about winning competitions. I worked with what I had. I worked with the body I was given and what I work with every single day in real life. I used what I had to the best of my ability. And if you want to use being 5'01" and 100lbs against me then there is nothing I can do about it. There are different ways of playing this game and I think you have to remember that. If I had won comps earlier I don't think I would be here. I threw the wall comp that Dani won. Nicole heads into the other bedroom and continues to recount past events of the season. I am just frustrated because I need to believe in myself and I know that I deserve it and I don't want to convince other people that I deserve it. My social relationships got me a spot in the committee which was the strongest alliance in this house. We won every single HOH in this season besides two. Everyone in the committee had the same opportunities that I did. But I did something different.. instead of winning competitions.. I played weak. I knew that alliance was going to go after each other eventually and I didn't want it to be me. I have spent 254 days in this house and that is not by chance. More than any other house guest.
5:15pm Kitchen. The final 3 talk about requesting take out, alcohol from the diary room.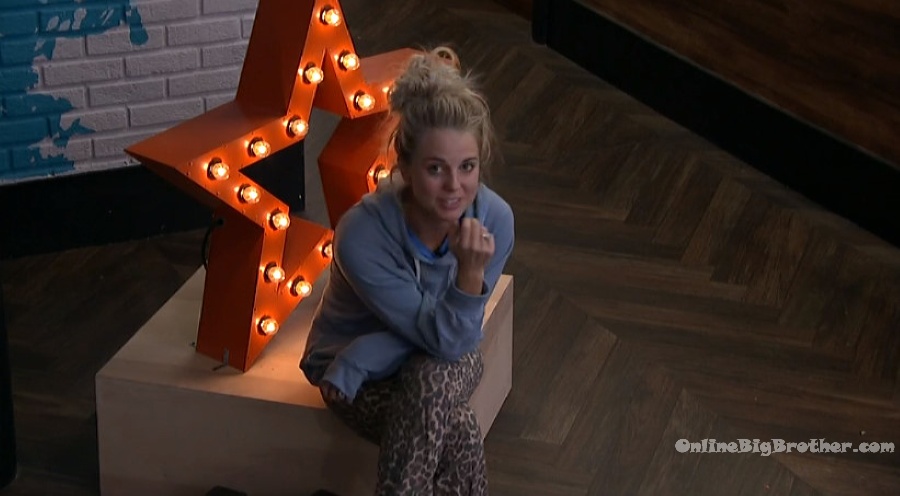 5:55pm Enzo is pacing back and forth outside the HOH room.
6:50pm Nicole is sleeping. Enzo is laying on the floor outside the HOH room. Cody is playing backgammon against himself / making dinner.
7:40pm The house guests are lazing around. Cody playing backgammon with himself. Enzo is laying on the living room couch. Nicole is eating.
8:15pm Cody and Enzo playing chess..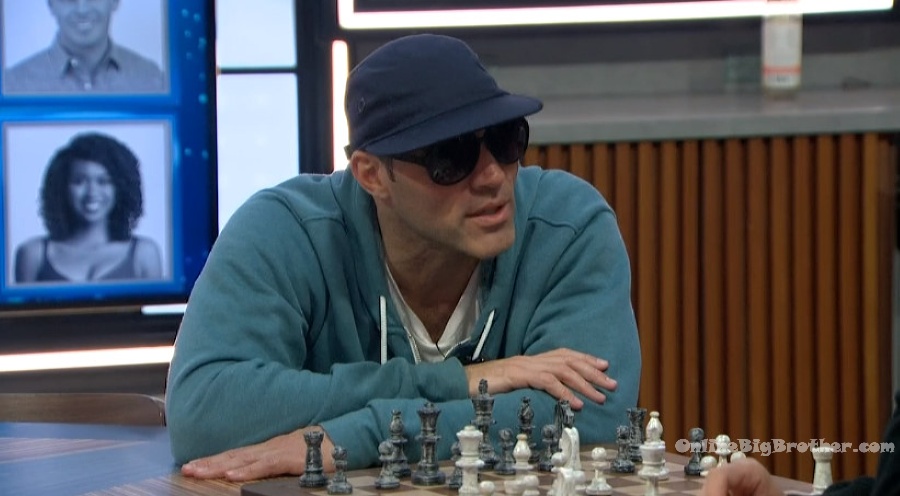 8:50pm – 9:41pm The final 3 are sitting around the living room chatting..
10:50pm Enzo, Cody and Nicole are eating fried rice and talking about how many restaurants he owns/co-owns. Nicole – he has so much money. Enzo – so if I go there I can get a poke bowl for free then. Cody – yeah if he's there. Enzo remembers about the first time he met Memphis. Enzo says he (Enzo) was "drunk as F**k" and went up to Memphis and called him a "Womanizer" just to f**k with him. Enzo says he was surprised Memphis didn't just knock him out. He says he just laughed.

10:55pm – 11:20pm Kitchen. Enzo and Cody.
Enzo – I still think that you will win no matter what. Its your season. I love Derrick but you're a f**king beast yo! You played awesome from the beginning to the end. No matter what they have questions .. you played f**king awesome. I am not telling you bullsh*t. You played the best out of anyone in this house. Without you I would never have gotten to the end and I know that. If you win this last this last comp you never had a vote cast on you.. no one has ever done that. You'll be one of the greatest of all time. The kid from Jersey. Cody – its tough when going out third like you don't get nothing. Enzo – Third place is devastating. Cody – even like now she will walk out with 74k. We didn't get any extra 10k! Enzo – I would be happy with 50k plus what we got for coming. The 50 means a lot to me and my kids Yo! Cody – I thought it was going to be fun with Derrick but I got attacked. You just never know how like this was their time to throw a jab. Enzo – yeah that is their job to be tough on you. I believe you'll win. I do. I think its over, that's it. Cody – I just want to get there so bad. I just want to be sitting in the final two.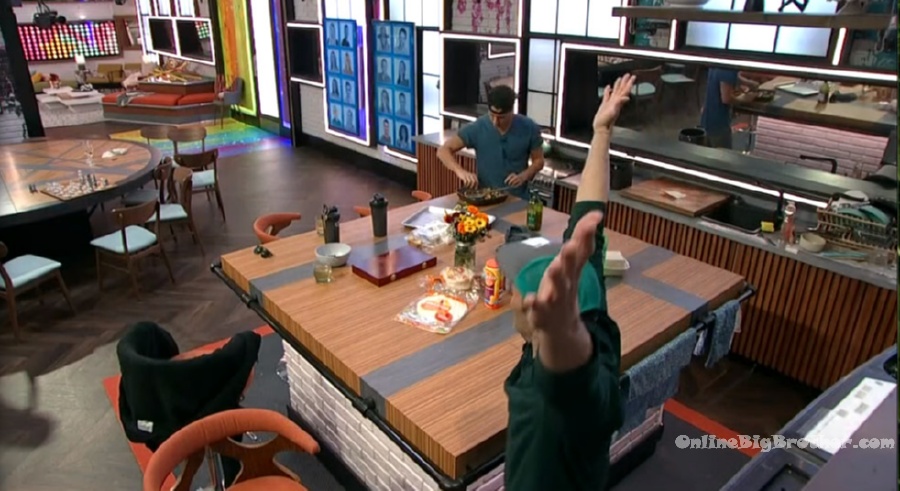 If you've enjoyed our live feed updates this season, please consider donating 🙂
Any amount is greatly appreciated! Without your support this site would not be possible.