HOH: Xavier
Nominations: Azah and Kyland
Power of Veto: Xavier
Power of Veto Ceremony: ?
Big Brother 23 Houseguest Rankings – – RANK THE HOUSEGUESTS –
View the previous day ranks on the – Ranking Grid
Big Brother Spoilers Even less going on today so this might be the leanest post of the year. The plan appears to still be for Xavier not to use the veto and for BIGD to vote Kyland out.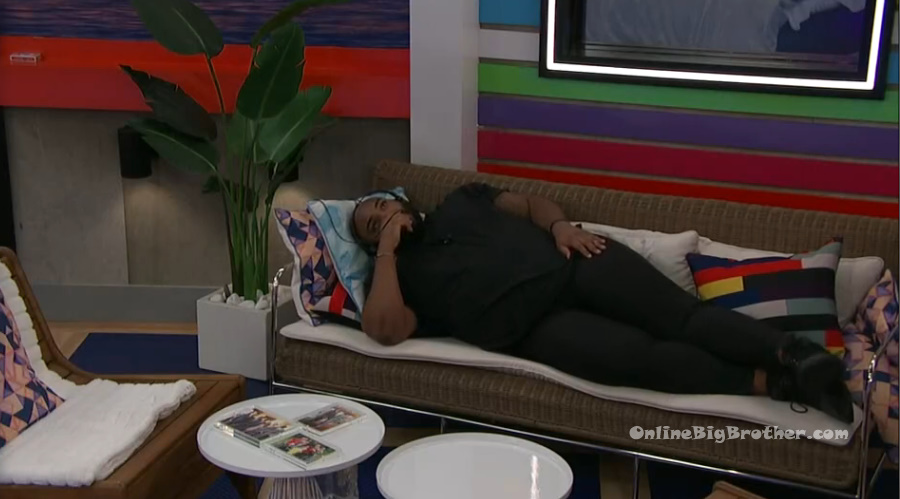 7:13pm – 7:40pm HOH room – Big D and Xavier.
Xavier – With him (KY) going we definitely can't take her to the final two because if either one of us sit next to her (Azah) she's got all the votes. Big D – no, she's got all the votes. That is the scary part X! That is what is scary about taking her. Xavier – But here is what I would say is the bright side of that.. the difference with taking her over taking him is we can beat her. I can beat him. I don't know that you can. Big D – right. Xavier – and best case scenario maybe they switch things up this year and we're both able to compete in all three rounds. Like everyone competes in every single round. You know what I'm saying? Big D – yeah. Xavier – because then I can potentially win every single round or you could win every single round. Big D – I know you would feel more comfortable you winning the endurance and then me winning the skill. Xavier – the reason why I think that is because the last one was a mental comp. Big D – he is such a man. He reminds me of all the men I have ever dealt with in my life. He comes up here and comes and cuddles with me and apologizes. He is such a man. He just reminds me of men I have dated. Uhhhh…he is such a man. He is so predictable! Come down and eat, I want you to eat with us. No I am good. Come on you know I didn't mean it like that. I meant it like there was two times you have did everything in this game .. which made me feel like I didn't do anything. And I am like motherf**ker you know what you f**King done in this game. That is me talking for myself. That doesn't mean I am cocky! What the f**k! If I was cocky I would be walking around here like I've got a 12 inch d**k! And guess what I am winning comps left and right and none of you b***hes will get me out of this house and I am the veto champion! Like that is cocky! Xavier – you're the veto champion? I'm the veto champion you jerk. Big D – I am just saying. Xaiver – I know, I'm just f**king with you. Big D – I am just confident in my gameplay and you're confident in your gameplay. You're confident. Everyone is confident. Xavier – the way I see it.. The difference between him and her … in both scenarios if we don't win, one of us is going. That is what it came down to for me. In both scenarios we have to win.
Big D – so how are we going to play this for tomorrow. Xavier – he literally finds out in the eviction. That is it! And if there is a pause between when I don't use the veto and … you have to be strong. You can't weaver. Big D – no I won't weaver. I will be like don't bother me, I am about to send my best friend home (Azah). Xavier – yeah its going to be a blindside. As for tomorrow I am making him feel like he is staying. As far as he is concerned he is sitting cozy. One thing I did want you to see is how he is when he is completely comfortable. I don't think he would be slighting you as much as he has if he knew how much power you had. Big D – I know. In my speech I will say I played this game letting everyone know to their face that I was sending them home. If I ever have power I will show y'all why. Me with power is dangerous. I love both of you. This is a very difficult decision for me, I am going to make a move that I feel is cocky so Ky I am evicting you. Xavier – yeah hit him with it! Big D – I just hope the jury respects that. Xavier – they will. The jury will respect it from a gameplay perspective because no one would though you would do it. No one ever thinks that you would ever vote him out. So you doing that shows that you are ready to play the game. Xavier – one thing he has brought up to me was like a gentleman's code. Like hey we've been in sync most the game. We have almost had an unofficial final two. Like his competitive mentality won't let him take you to final two. Big D – no I know that. Xavier – if he is really the gamer that he says he is, he will respect that.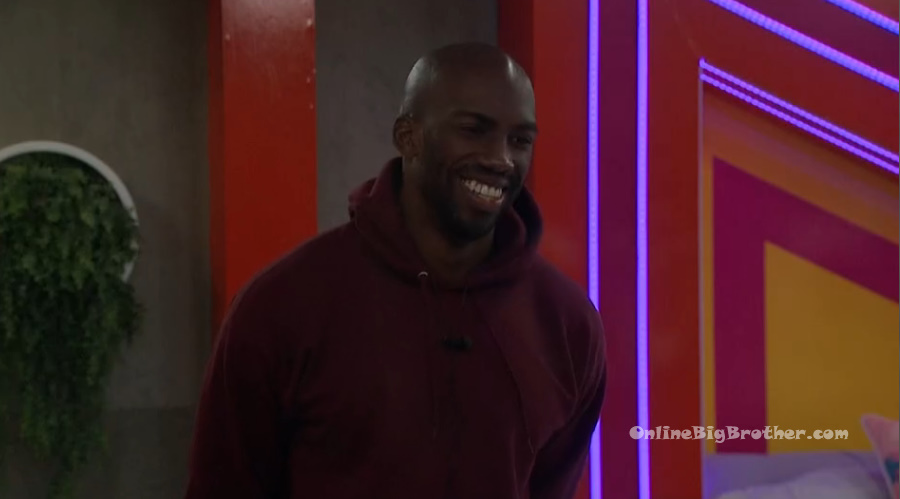 7:58pm
Big Brother blocks the feeds.
8:08pm – 9:40pmThe feeds return to Azah and Ky still playing cards. Big D joins them. In the HOH room. Xavier is listening to music and then he comes down to join them in the kitchen. They all play cards together.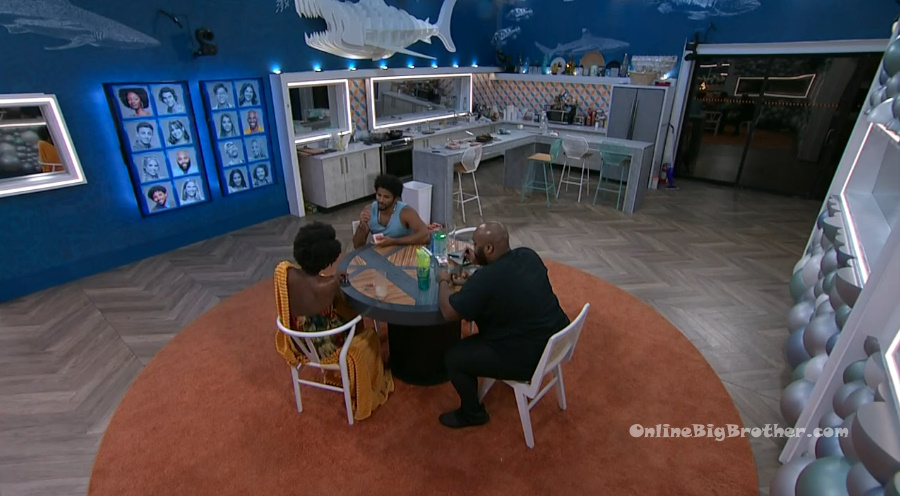 9:50pm They head over to the couch and chat about past events / days of the season
11:20pm – 12:10am Bedroom. Big D and Azah are laying in bed chatting. Big D – This is the only thing that I do not respect out of big brother. Tyler made all these promises to people. Like deals! Like final 2's, final 3's! Like he made a bunch! To me, I didn't like that. If I go down my history of what I did.. I had Frenchie final two. He then points at himself, her and the wall (X) and then hold up three fingers. Me and him (Ky) would just never vote each other out. I didn't have nothing with Hannah, Tiffany, …. Alyssa thought we all had something. She thought me, you, her and X would be final four. Aazh she never said that to me. Me and Britini didn't have anything. Azah – Britini thought we did, and then I told Britini we didn't. Azah – I don't think I have a chance next to X. The only way I might have a chance.. Big D – if you win the final 3. Azah – possibly.. but they might just give it to him anyway. Big D – correct! Azah – or and he would never do this because he (X) has a final two with you.. if he brought me. Big D – you just have to do what is best for you game. If you think getting down to the final two you are like you know what I am going to go against X… Azah – I am not saying.. I haven't said anything. Except at the beginning of the week you were trying it.. Big D – I wasn't going to get rid of you girl, I was just giving you the heads up. Azah – HHHmmm… you see how I am actually packing.. I am scared. Big D – you're still scared!? Goodnight!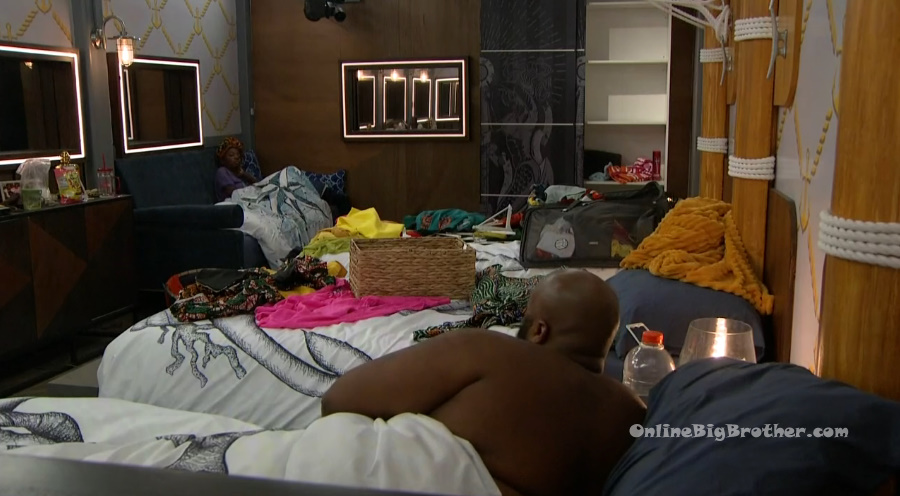 12:10am – 12:20am Havenot room. Ky is on the floor.. he then heads to bed and big brother turns out the lights.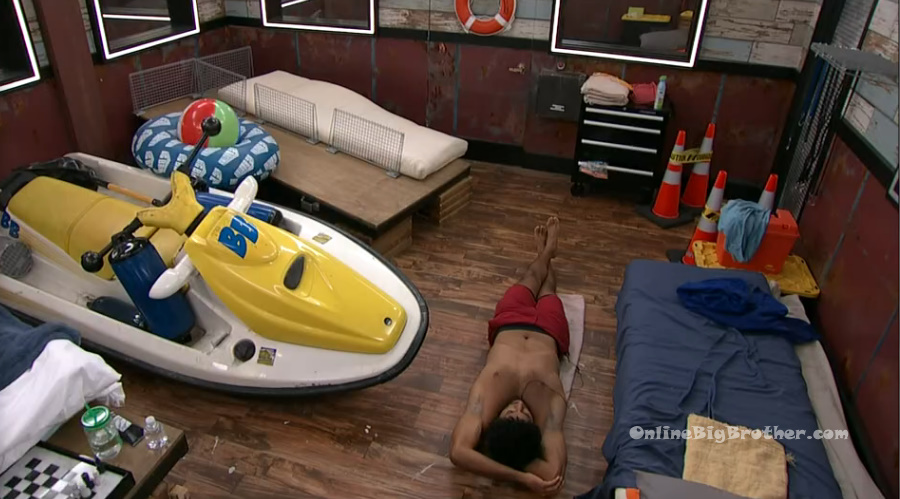 If you've enjoyed our updates this season and want to leave a tip you can do so through PayPal. 😉 Thank you to all of our amazing OBB supporters who have already contributed!