Quick Big Brother Spoilers
Head of Household: Cameron
Nominees: Felicia and Izzy
POV Players: Izzy, Cameron, Felicia, Matt, Jared, Jag
POV Winner: Jared
Veto Ceremony:
Havenots: Everyone except for Cameron is a havenot this week. Everyone is on Slop, Everyone takes cold showers, and they all take turns sleeping in the havenot room.
Lock your ranks in before midnight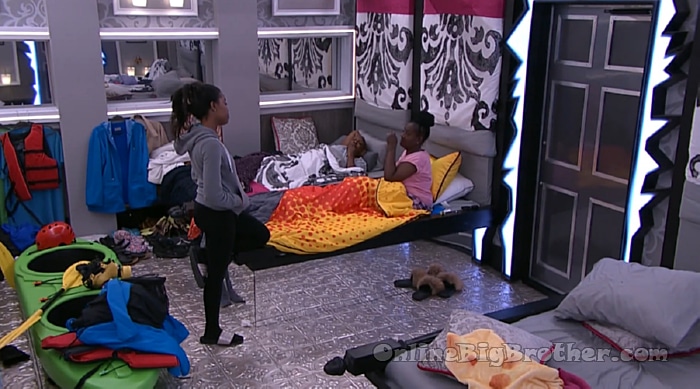 12:20 am Felicia and Cirie
Felicia – it's going to take them a good 7 – 8 hours when we get up they'll be finishing. (Piggy punishment)
Felicia – madder than fish grease. then he'll have to wear the whole pig outfit for the rest of the week. For the nominations ceremony all of it.
Felicia – we're not leaving this house.. we made it to jury.
Felicia – I might go up and talk to him
Cirie – He can't do nothing.. He might persuade people to vote but nobody trusts him.
They talk about how Cameron is getting backdoored next week as long as he doesn't get picked for Veto.
MEME joins them. They start talking about Cameron
Felicia – he's always looking for attentions he's a like a damn little kid
Cirie – he would rather be in his HOH room lying down
Felicia – watching the camera
Feeds flip to Bowie, Matt outside. They are talking about seeing a bat. Feeds cut..
They are talking about Bowie.
Cirie – she didn't put no time into anyone other than Cam and Red. NOw that Red is gone she's just down to Cam and when Cam goes now what?
MEME says Bowie is up in the HOH every morning.
Cirie – she's trying to go to Corey now
Felicia – he (Cam) wants him to use the veto. He wants him to take Izzy down so he can put the two of us up (Her and Cirie)
Felicia – he's asking Jared..
Cirie brings up backdooring Cameron next week. MEME says the only person Cameron has is Bowie.
Cirie – I don't understand why he feels he needs to backdoor me?
MEME – he's a showmance he wants fireworks
Felicia calls America and Corey "Tweedle Dee and Tweedle dumb"
Felicia – if one of them comes down I'm putting Cameron a$$ up.. I'm putting Cameron up next to America
Feeds flip .. when we're back.
They're talking about how everyone in the house is hoping that Cameron doesn't play in the veto next week so they can get his a$$ our.
Felicia says MAtt's excuse why he didn't take the veto is bullshit. MAtt said something about not comprehending how it works. Felicia doesn't buy it coming from someone "that was in the Olympics"
MEME – he didn't want to make enemies
Cirie says at least Matt doesn't throw everything like Corey and America.
Cirie says Bowie is acting like she's clueless about the alliances. Feeds flip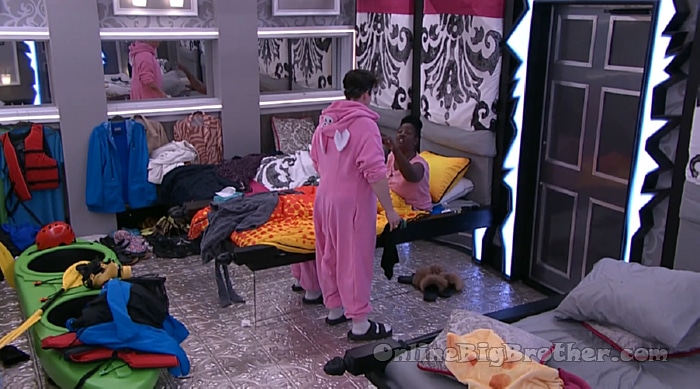 WHen we're back Felicia and Cirie are coaching Izzy what to tell Cameron when she does the piggy punishments. Telling her to bring up all these things that Bowie Jane said about him and Red.
Felicia – make sure you tell him every rumour she said make sure he know she was part of those conversations. Izzy leaves. MEM joins them.
Cirie and Felicia are calling Cam a "Cockroach"
Cirie – he's hard to get rid of
Felicia – part of me wants to tell Jared to leave me up against Izzy because she wants this more than I do. I want it but I hate to see her go out like that. Pisses me off.
Felicia – He's such an a$$hole
Cirie – we got to ask ourselves are we the hypocrites.. I know this is the game and in real life we wouldn't be his friends but are we being hypocritical in this game?
Felicia – I don't think so cause nothing we are doing is Meanspritied and I really think the stuff he's doing is Mean Spirited (Spitting coffee out)
Felicia – why do they have such a rage against us. What did we do that everyone else in this house hasn't done. (Go to bed Felicia you are losing it)
Cirie – I don't understand Matt gets a pass.. I don't understand
Felicia – they look at us cause we're running the house. Just because we got all these people to vote the way we wanted them to.
Felicia and Cirie go on about how everyone was already voting REd out it had nothing to do about what they wanted.
Cirie – Everyone came to the table wanting to vote REd out.
Felicia – it was going to be a 6-4 vote. WE had 6 to get rid of Jag they had 4 to vote out REd. They were already voting out REd.
Cirie – certain people get passive.. It's going to be us
Felicia – it's always us. I hope you are looking at this MR B. This sh1t gets old all the time
MEME says Cameron doesn't have more will or heart than her.
Felicia says she wants to get the brown sugar babes to the end. "next week if he doesn't win that veto we can take over this house. he is our only roadblock. All of them will be scrambling when he's gone"
Cirie – they will kick Bowie Jane in the teeth.. Jag is working her.
They continue to complain about Cameron like he wants to be the power structure like Hisam did.
Cirie – if you don't win everything that you have to to stay here you are going to be gond.
MEME – you have to win
Felicia – EVERYTHING. THe minute that window of opportunity they will all in this house will flip on him and he's teh first one out.
MEME – he knows it thats why he's MAD
Felicia – he's a snake
Cirie goes on about how nobody in the house trusts Cam.
Felicia – he wants Izzy to come down and me and her to sit together. He wants two BLACK females GONE
Cirie about Cam "You are not my friend.. I'm not your pal. Stop playing with me.
Felicia – MMhmmmm
MEME – we should have sent him out when Hisam left
Felicia- mmmhmmm
Cirie – we should have. We made the wrong decision
MEME brings up Corey and America feeds flip when we're back. around 1:08 am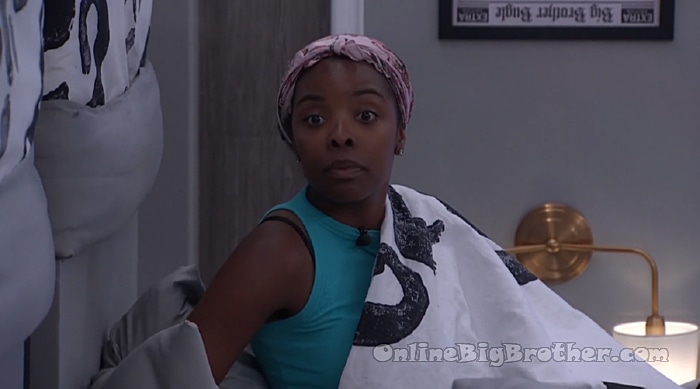 1:08 am
Meme – what you going to do you're one person?
Felicia says Corey is going to play the middle of the house and wait until Jag, JAred, Cirie, Felicia and Cameron are gone then he'll start playing the game (LOL)
Felicia – he's going to rid it out until all of his threats are gone then he's going to rid it
Felicia – when it's just him and Matt he figures he can beat Matt.
Cirie – mmmhmmmm
Felicia – he'll have just females in the house and run through them.
Felicia – I'm putting f***ing COrey and America on the goddamn Block
Cirie -mmmmmhmmmmm
Felicia – if one of them wins veto I'm putting Cameron up and he's going out the damn door
Cirie – mmmmhmmmmmm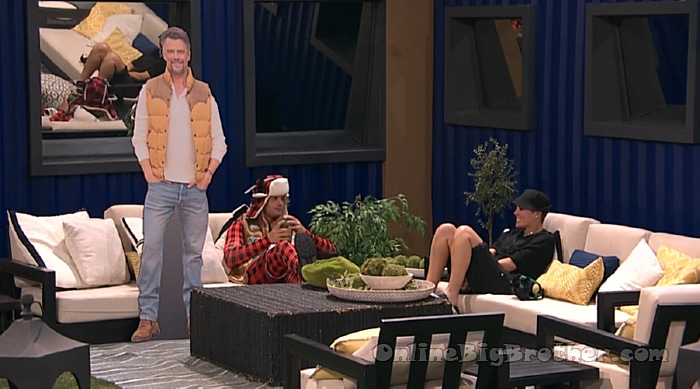 12:30 am Matt and Bowie
Matt explains that during the Veto he thought he got to hang out with the real life host not the carboard cutout.
Bowie says tomorrow Cameron wants to meet with the two of them. "So we can work out what the f***"
Matt says he thinks Felicia would go but Izzy is more dangerous.
Matt – I'm good for whatever..
Bowie – I'll vote the way they want.
Matt – What I find is weird is Jag didn't go for the veto
Bowie – maybe they've done a deal
Matt – yeah, He never told me. If I was in his position I would had taken he veto. He was cool to me he was like Do you want this? He asked if I wanted the 5 thousand. I was like Naw.. Keep it. We all were communicating during it.
Matt – We just knew we had to get the Veto to keep noms the same.
Bowie says the "Girls" (Cirie, Felicia, Izzy, MEME) are all still whispering. "When I come up it stops"
Matt – you won't have to worry about it much longer
Bowie – Be careful what you say to anyone.. any of the girls. I trust Cirie but I don't know
Matt – I trust her but I think she's close with them so you have to be careful.
Bowie – I almost want to get away from all that
Matt – just hang out with us
BOwie – I would rather hangout with the boys (Bowie for HOH)
Matt – yeah I understand that
Matt – it can be annoying
Bowie – It's bad energy
2:11 am Making Out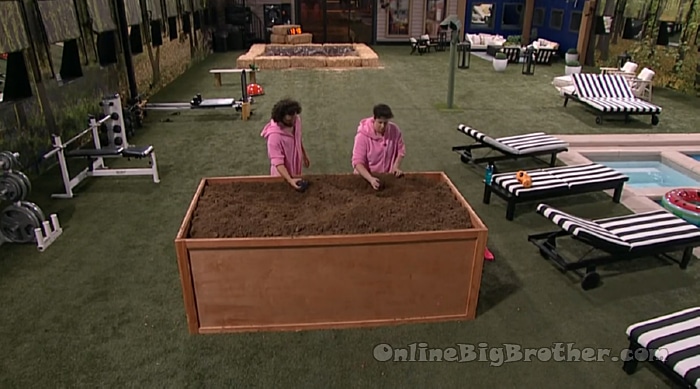 2:30 – 4 am Piggy punishment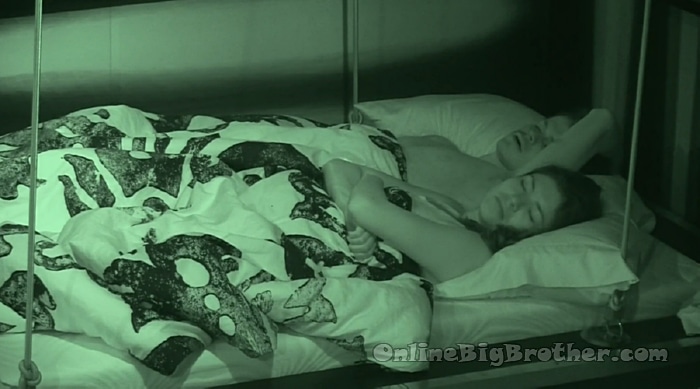 4:00 am Zzzzz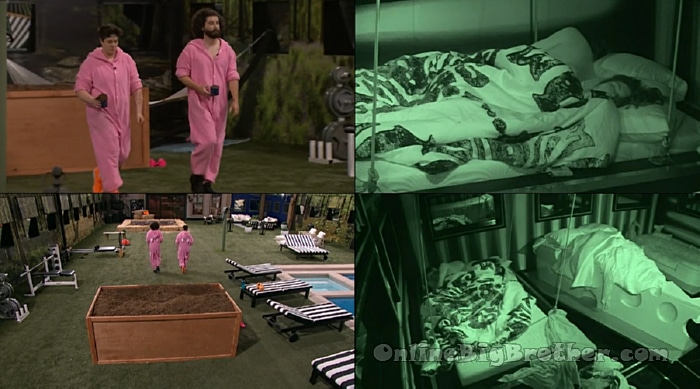 5:00 am piggy punishment They're about 3/4 of the way complete. They have to move dirt 2000 times in the backyard yard with little cups.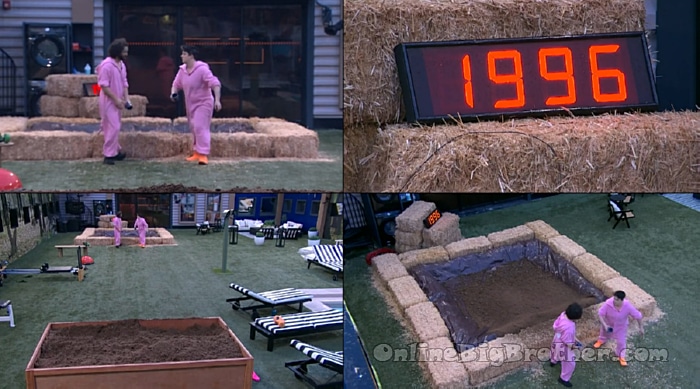 7:00 am Piggy Punishment is almost over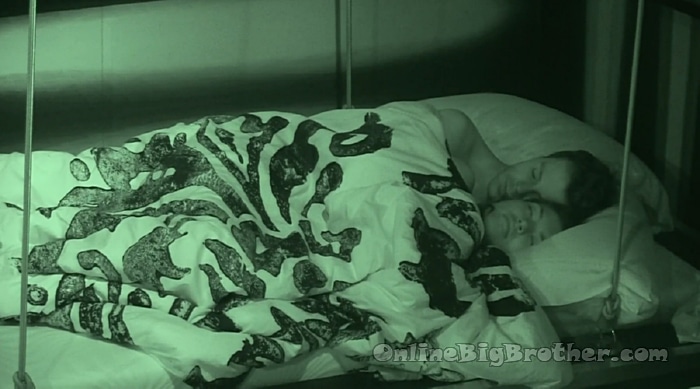 8:48 am Zzzzzz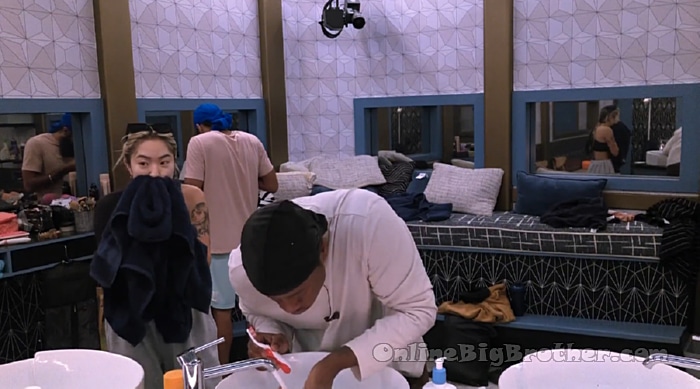 10:24 am Feeds return. Houseguests getting ready for the day.
10:30 am Cirie and Felicia heading to the bathroom
10:35 am Matt's punishment appears fun. He needs to take pictures of himself with some gameshow host cut out. He has a little Polaroid camera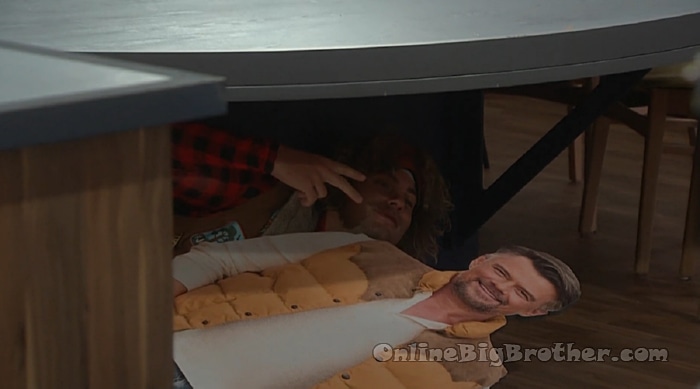 10:48 am Matt has to take a picture under the kitchen table.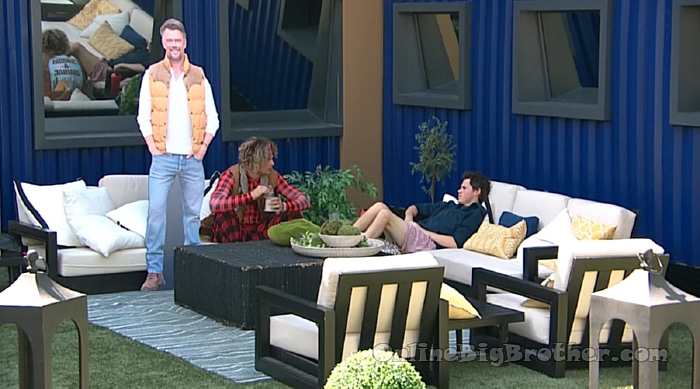 11:12 am Matt and Corey are talking about the transformer movies.
Matt – what was his name he was on Holes?
COrey – Holes was so good
Jag working out is asked what's the guys name that was in holes and Transformers, "Holes was so good"
Corey finally figures out it's Shia LaBeouf
They start talking game. Corey thinks America is in trouble before they are.
Matt says he thinks Jag and Cameron made a deal.
COrey brings up the 3 rat alliance say's he feels good about it none of them would put each up.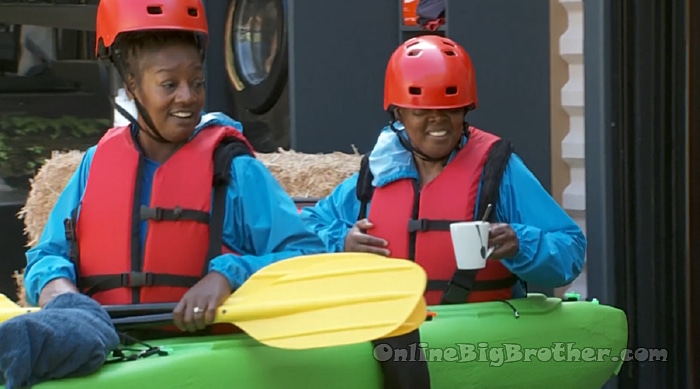 Cirie and Felicia join them.
11:30 am
Felicia, Cirie, COrey, Felicia
COrey to Felicia – How do you rank this punishment? Because you said you wanted to avoid this one.
Felicia – This actually isn't bad it's fun when I look back and watch this all on TV I'll be like.. Cracking up. The only part of it is.. I want to sit outside today and at some point it will be too hot. We have on too many clothes. I'm already hot. If I could take the helmet off I would be fine. I'm sweating through my head… This is a 10 I ain't bad
Corey points out how Cirie's hair is elevating the helmet.
Felicia – I wish I had a way to raise mine up
Felicia – I don't mind this at all two days, Today and tomorrow and we're done. piece of cake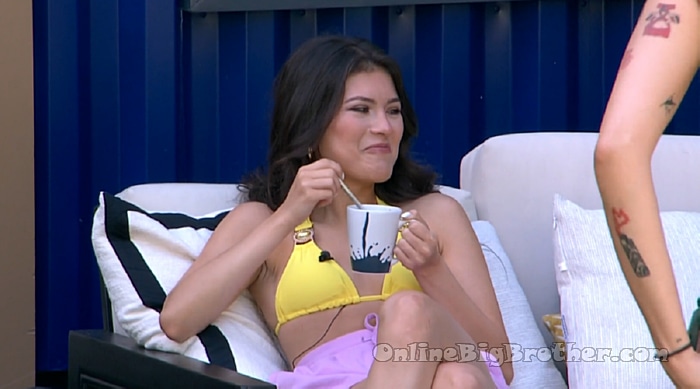 11:36 am America Joins them. Blue is also hanging around Just Chit chat.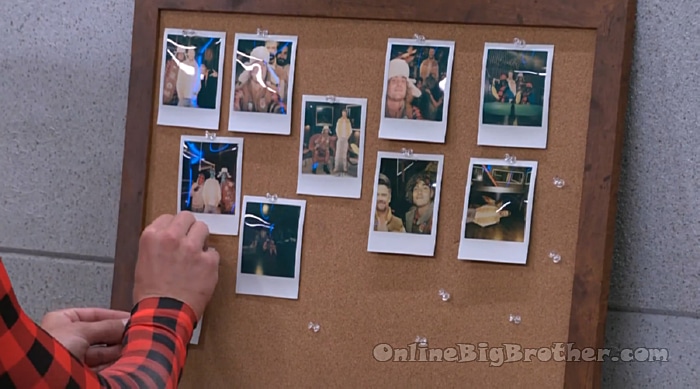 11:37 am Jared and Matt
They're talking about a Backdoor plan for Jag.
Matt – last night he was way too comfortable.
Jared – Cameron was already look we can put him up and we'll just lie.
Jared is coaching Matt what he should to Cameron.
Jared – what you say.. You think it will be easier to get Izzy out later then get Cirie out. people are going to feel bad for the mommas yo get what I'm saying?
Matt – I should be saying we don't need to get rid of Izzy now?
Jared – be like Yo.. I'm not sure if it will be smart to get rid of Izzy before Cirie.. Because Cirie making into Jury is Dangerous. (wait what)
Feeds cut..