Quick Big Brother Spoilers
Head of Household: Cameron
Nominees: Felicia and Izzy
POV Players: Izzy, Cameron, Felicia, Matt, Jared, Jag
POV Winner: Jared
Veto Ceremony:
Havenots: Everyone except for Cameron is a havenot this week. Everyone is on Slop, Everyone takes cold showers, and they all take turns sleeping in the havenot room.
Lock your ranks in before midnight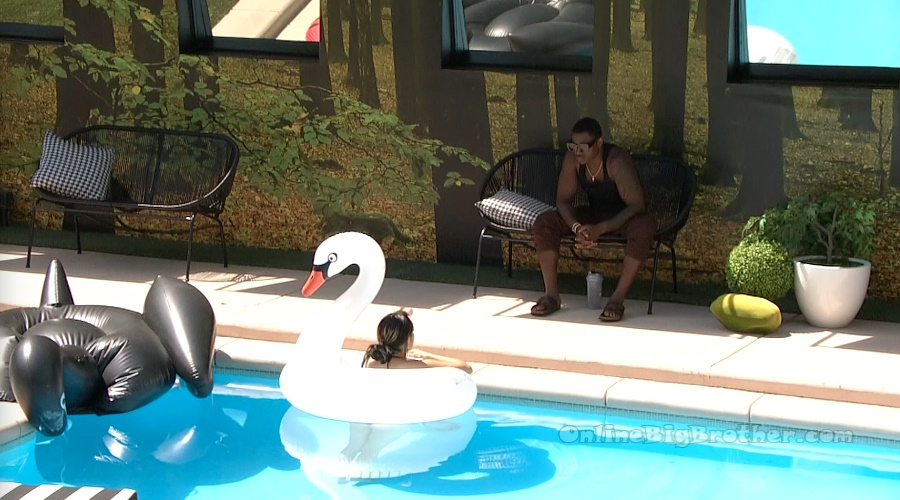 12:18pm Pool – Jared and Blue
Jared – I do not f**k with that kid BRO! (Cory) As far as the game goes.. I cannot f**k with that kid. He is too dangerous. I am telling you BRO, I am so done! I've been done for a long time!! I have been so done trying to keep up relationships with people in this house with people that there is no need to. I am going to do my best obviously but for some people there is really no f**king need to BRO. He is like number one.. So like next week in the event that I do win.. its him and America (as noms). Blue – or Jag? Jared – Or Jag, yeah. The only reason why I might do Jag actually because if Cameron wins veto we can still get rid of him (Jag) and I would be good with Cameron at that point. But if Cameron don't win veto, then I got to hope that whoever does is willing to take down Jag or America or Cory. I am not going to do Bowie no more. Its just a waste, she's go no game without Cameron. In the event that he is gone, she's got nobody to latch onto. So if I was to put her up on the block and he stayed.. It would only be worse for me. I am not worried about it, it wouldn't necessarily help. Cory, America or Jag being gone in the event that Cameron does win (veto), its fine for me. At this point, either of them three being gone is good for me.
Blue – I want to win HOH.. I want to be theatric .. dramatic. Jared – Now that we getting down to the people that we getting down to.. and essentially two of the people that I wanted to be in the jury with are not there any longer .. being Reilly and Felicia. Its time to not give a f**k about their feelings no more (good jury management idea). Blue – yeah. Jared – because people are already playing mad dirty. And one thing about me is if it going to be up, then we are just going to let it be known. Like its not going to be a secret beef. I am not doing that sh*t, that's just weird. Blue – Cory is definitely falling for America. Jared – oh I know. Blue – They (Cory & America) kissed last night. Don't say anything. Jared – that's funny. Blue – then I asked over or under (the sheets). BB blocks the feeds.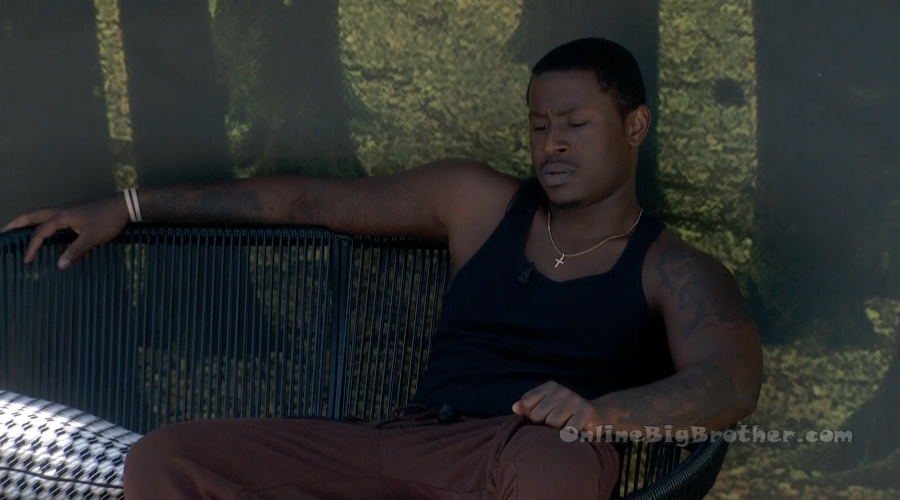 12:34pm Bathroom – Meme and Izzy.
Meme – that fact that she (Bowie) is so… girl I am done with her. Izzy – I was talking to him (Cameron) last night and said you want to be so mad at me .. Well Bowie Jane was in every room I was in when we were talking about things. And after the vote, one of the reasons she said she was crying and so sad was because now the house is automatically going to lump her to you and she doesn't want anything less. That is what she is saying. Meme – OH and what did he say? Izzy – nothing. And I was like I just work on the bullsh*t so I thought you should know that. Meme – since ya'll are besties now. Izzy – yeah exactly. And I was like I want you to know that I see her in your room once every hour throughout the day…so just think about that motherf**ker! Meme – clown! Izzy – This piggy don't play!

12:55pm Living room – Felicia and Cirie
Felicia – I tell you he is so conniving it wouldn't put it past him (Cam) that he would try to make a deal with Izzy last night saying if you get on my team.. I am going to put both of them (Felicia & Cirie) on the block. I think he would. Thinking that, I save you if you save me. Cirie – MMMmmhhmmmm.. because he is going to need help. Felicia – and at the end of the day he would feel safer with her than with us. Cirie – exactly. Felicia – I wish I could just figure out what he is really planning. Cirie – I told you what he is planning. He wants me bad! Felicia – you think? But why? Cirie – I don't know ..because I think he feels like because I played on Survivor so I shouldn't be here. Felicia – you think!? Cirie – MmmHmm.. because he has a good old hatred for me. A deep sea hatred. I am not even going to call it a hatred.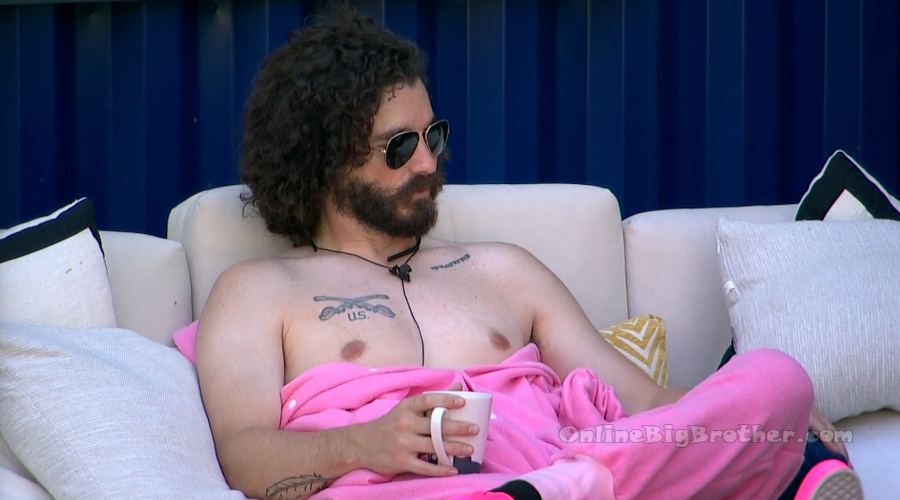 1:28pm Backyard – Cory, Cameron and Bowie chatting on the backyard couches. Meanwhile inside Cirie and Felicia are chatting about the past events of the season on the living room couch.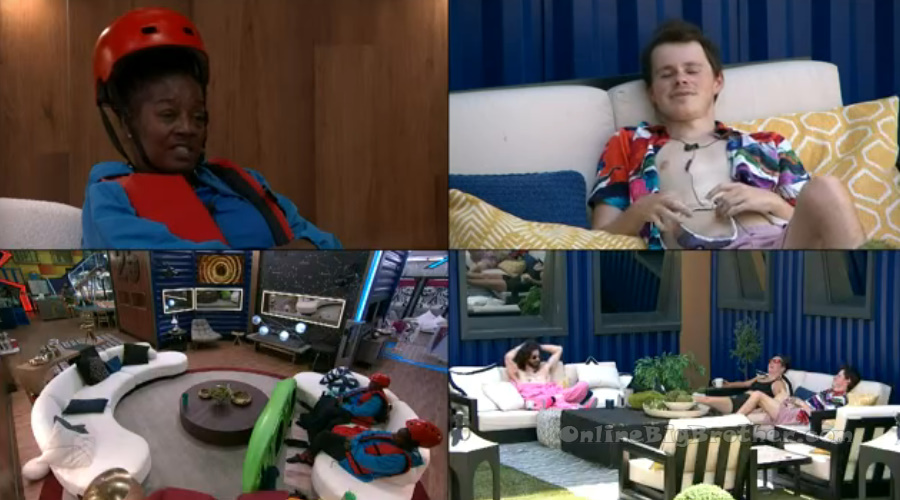 2:10pm Backyard loungers – Blue and America
America – talking with you and talking with Jag I think is helpful because I just want to be solid with you guys and I already feel solid with you .. its more with like him that I want to be more like come here lets do this, you know?! Blue – no for sure, I get that. I think us three should have a conversation. Me, you and Jag. America – yes, we're never in the same room together.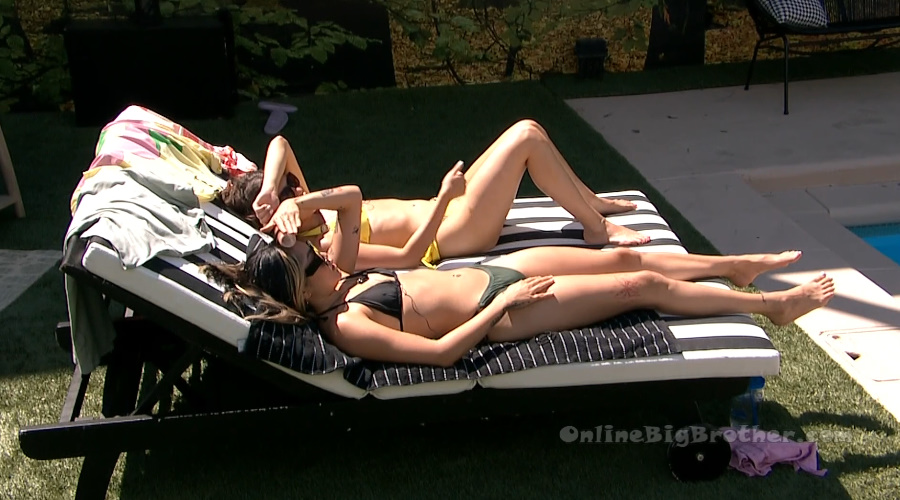 2:35pmWord Games by the pool
2:49pm – 3:40pm HOH room – Jared and Cameron
Jared – the first one isn't really an option for either of us is it? You don't really want to put Matt up there? Cameron – F**K NO! Jared – because we lose Matt, totally and completely. Cameron – yeah done! Jared – so we just stuck with the two (Izzy and Felicia). Cameron – so we just work out a$$ off and Izzy goes. I believe off face value we got Meme's vote. I think we got Cirie. I think I can talk to Bowie and beg her out of this. I don't think we would have to beg very hard. Bowie would be like alright. I think Matt understands that Izzy is easier to get out right now. Jared – okay, that's five. Cameron – that's it. Jared – we got it. Jared – its locked. Cameron – and I think I save face value because all night I told Izzy I wanted to keep everything the same. You've told everyone that you want to keep everything the same. It keeps us from dropping grenade and then people looking at us again because I've already ripped the Band-Aid off. I think I've made enough of a display keeping things from people that if I do it again it will be seen as maniacal and dirty and evil. I think this saves us a little bit of face. You don't use it, let the house decide what they want. We still get a little bit of love from the mamas. I think Cirie is willing to work after this because she knows what needs to be done. Cirie will be willing to listen. I won't trust her for a second. Jared – me either. Cameron – but she will be willing to listen and she knows she needs help competition wise. She knows she will need to be on her best f**king behaviour around us. We're good for one week. Cirie and Felicia will try and pull Jag. They know they ain't getting me a$$ back. They on the fence about you so they're going to approach you. Bowie joins them. Cameron – Izzy has been the runner up 4 weeks for HOH except for the pressure cooker.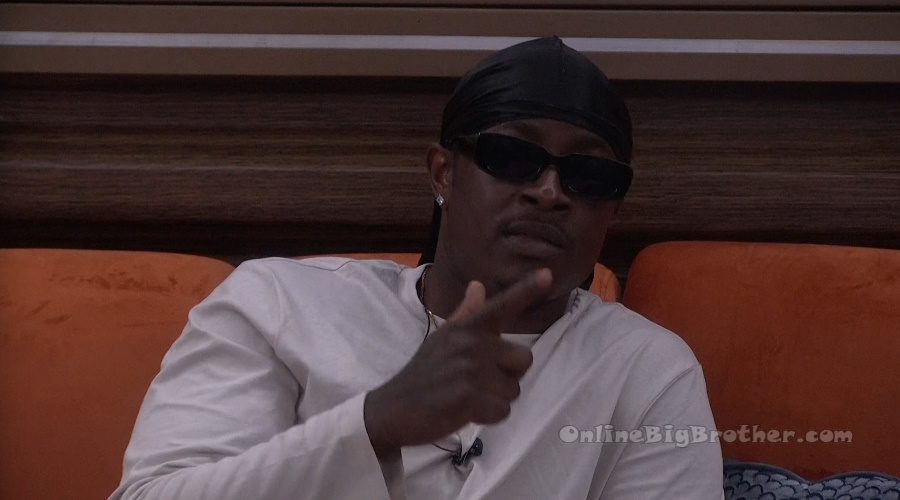 4:08pm – 4:28pm Havenot room – Matt and America.
Matt – I think we're fine this week. I mean I hope I am fine this week. America – definitely. I asked him .. Cam and I am pretty sure he said that I would be fine and that I don't have anything to worry about. It was more like the people that were comfortable before, shouldn't be. He just thinks that they've been too comfortable. Matt – yeah he seemed really mad about that. He wanted one of them gone. And he kind of joked about the family whatever.. America – family style?Matt – yeah. America – did he? Matt – yeah because in the beginning it was all eight of us minus Reilly. Matt – if you try to work with him (Cam) don't be surprised if he blindsides you. America – I mean, look at what he did to everyone. Matt – yeah, I mean its nice he's winning and stuff but its not true protection. America – not reliable at all, I totally agree. No there is no working with him. Matt – its too scary. America – You really have to watch what you say around him because I know I've been in the situation where I've said something to him just going along with him and then he will tell people like oh she said this. And I am like it wasn't like that at all. I feel good with Jag and Blue. Matt – I feel good with you and Cory. America – I am pretty sure its going to be Felicia leaving. Matt – yeah. America – next week lets say Cam goes.. then what? Like if they win, they're going to come after us. Like there is still Meme and Bowie that are like free but we need to figure out something so that we're all together. Matt – yeah.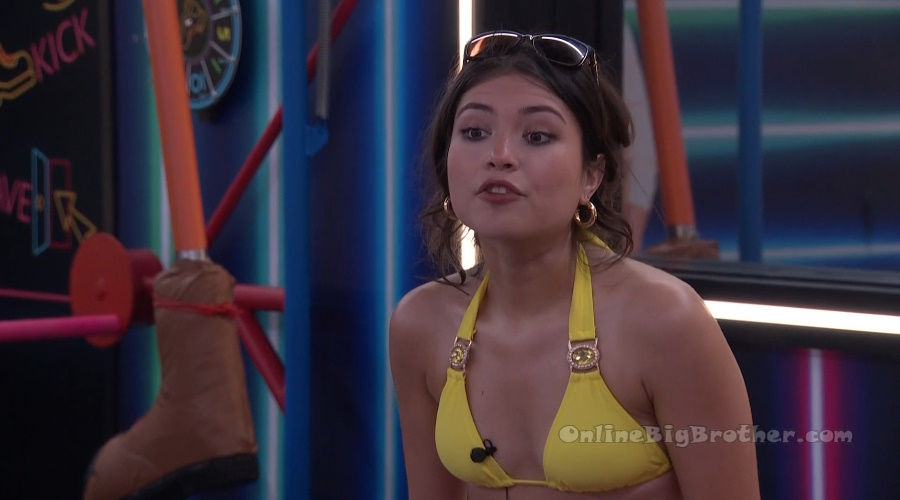 If you like these spoilers and read this blog regularly please consider a donation to keep the madness going. We accept donations via paypal How to support OBB