Quick Big Brother Spoilers
Head of Household: Cameron
Nominees: Felicia and Izzy
POV Players: Izzy, Cameron, Felicia, Matt, Jared, Jag
POV Winner: Jared
Veto Ceremony:
Havenots: Everyone except for Cameron is a havenot this week. Everyone is on Slop, Everyone takes cold showers, and they all take turns sleeping in the havenot room.
Lock your ranks in before midnight
The Situation Kaboom.. Izzy and Felicia on the block. Jared isn't using the veto. Felicia will likely go home.
Power Of Veto Results
* Jared won the veto
* It was a prize swap POV competition
* Jag got the $5,000
* Cameron got the Europe Trip for two
* 5 costume punishments for 48 hours
* Matt costume has something to do with Josh Duhamel dinner (card board cut out or something)
* Felicia and Cirie have a Kayak Costume for two.
* Izzy and Cameron have to wear pig suits digging dirt for 12 hours LOL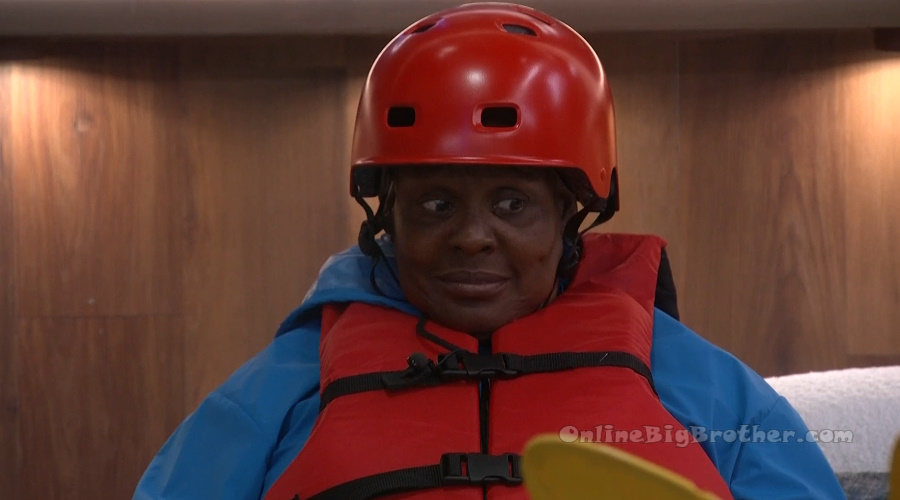 7:18pm
When the feeds return from being blocked – Cirie and Felica are in their Kayak costume. Anytime they want to move around the house they have to both get in the kayak to go anywhere. They can take it off to sleep separately.
7:18pm Games Room – America and Cory
Matt – I got to figure out how that happened. America – he was definitely talking to them during. Cory – no I saw that .. I got to figure out Matt, that's my problem. America – I mean Matt wouldn't have wanted it because he would have had to decide what to do and pick between the two. Cory – Jared winning, I don't know what he is going to do. America – he will keep them the same. Cory – he will yeah. It is only a matter of time before the old America narrative comes back because you're too close to Cam… if they're targeting him, you'll be a pawn.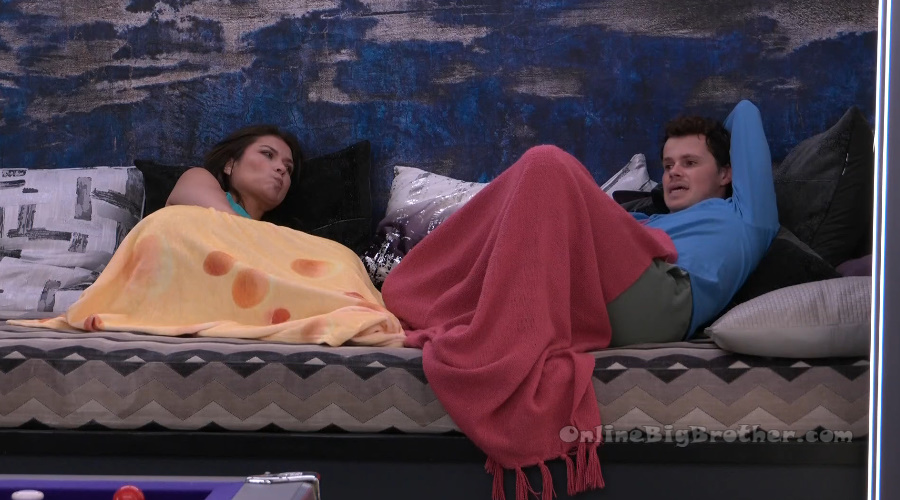 7:20pm – 7:45pm Bedroom – Jared and Blue
Jared – especially Cory, I am not really speaking for America. I group her and him as one. Like Cory is getting out everybody who possibly threatens the fact of putting him up. Like that is it. Like he wanted Felicia gone. He was happy that Reilly was gone. He was happy that Hisam was gone. All three people that wanted to put him up. Even when he was talking to me he was kind of like saying I need Jag gone before Cam. And I am like BRO what?! I am like bro trust me I am not that hugest fan of Jag either but I feel the same as everyone else that Cam has to go before Jag… there is not ifs ands or buts about it. But that is what f**king kills me with Cory. Like this week life would have been so much easier if he was in the same boat as us. Nobody even knows about the f**king 7 bro. Nobody knows about it but the 7 is in the most danger when someone outside of the 7 wins. And Cory and America are not trying to win. Its evident at this point. She even said I am happy I am not playing. I was like I bet you f**king are! And even if you was playing you would probably throw that sh*t. That sh*t is killing me bro. The reason why you're able to coast by is because you don't have to play and when ya'll do you don't play your hardest so ya'll never have to make a decision. Granted, if I sit next to you in the end I feel like it is an easy win but I don't want ya'll getting $75,000… at this point its becoming personal. I don't want ya'll to come in second. I would rather lose to somebody.. or come in second any day before those two bro. Ya'll don't deserve to win. We've been doing all ya'll work. And Ya'll sit so f**king comfortable bro. Like truly yo! Cam feel that way about Felicia and Izzy but bro its the furthest thing from the truth because they have to maneuver everyday when there is beef in the house… especially Izzy. She has to maneuver everyday. And they're (Cory & America) f**king liars. Like America was trying to lie to be last week about the whole pressure cooker sh*t. You gave me the reasons why you threw it so why are you now trying to tell me that you didn't. Like that is pathological bro. I am fed the f**k up with those two BRO! What is going to happen if they do win? I hate sh*t like that. I would rather be against my enemies other than people like them bro. They are so f**king unpredictable. They're not unpredictable .. You just know that they have no loyalty to absolutely nobody. No f**king BODY BRO! And that sh*t does not f**king help. I just want this sh*t to start moving. I am just so anxious to get him (Cam) out. I have to listen to him turn himself on… like he said I am the f**king King. Can you believe that?! Blue – I actually can believe that. He definitely isn't a good a player as he thinks he is. Jared – he's a great competitor. But comps is just one aspect of this game… you've got to have a GREAT social game in here BRO.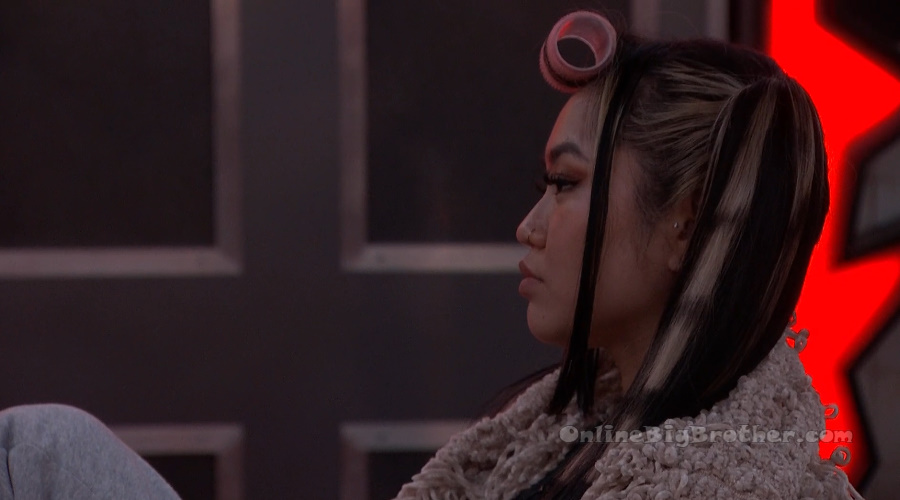 7:55pm – 8:47pm HOH room – Jared and Cameron
Jared – Jag got that F**king $5,000! Cameron – good because I am going to use that sh*t. The f**ker already got $5,000 lets get his a$$ out of here! Jared – how you feeling bro? Cameron – I am feeling great. Jared – exceptional? Cameron – I came in here and I was like you cannot script this. No one could have written a better script of whats happening right now. Jared – I know we were talking about it.. I don't know if I want Matt to win right now. I would much rather the power be in our hands. Cameron – when he didn't use it, I just couldn't wait for Jag to lose. Jared – so what you thinking Bro? Cameron – I mainly have a question for you. Two questions.. ONE do you want to play this chill? Or do you want continue the mayhem and blow some sh*t apart? And I mean blow this motherf**Ker out the frame? Jared – what are you talking about? What the f**k is going on BRO? Cameron – the first question is what the f**k do you want to do? Because once we go here we can't go back. Jared – I know! Cameron – you have to decide to do it.. I don't want to just tell it to you until you tell me you want to do it. We're not going to do it if you don't want to do it. Jared – do you want to jump of the bridge or do you want to use a parachute and jump off the bridge? Cameron – I am not trying to mess with you. Jared – how about this I say it and you say yes or no… because I am almost positive I know what you're talking about. We leave them the same .. playing it safe. OR this is what I don't know what we do.. do we backdoor. Cameron – wrong word. What do you want to do. And I will tell you what I think is going to be a bombshell. Jared – if you're saying its for me … its Jag but that's what I was thinking. Cameron – that would be this whole week was for nothing. Jared – okay because I need one of these motherf**kers out of the house badly. Cameron – what do you want to do? Jared – I want these motherf**Kers out the house. Cameron – so if you don't care who it is. Jared – I don't care who it is. Cameron – you tell me that you're ready to drop grenades.. I'll do a fly by. You just have to commit to doing it with me and we do it together. Because there are going to be pros by doing it this way. Jared – that means there are going to be cons. Cameron – small ones.. there will be cons regardless. There is going to be mayhem regardless if it gets used or not. If we drop the grenades people will scatter and not know where to go and we will be the only ones that have a little bit of control .. everyone else will be lost. Jared – so you're ready to get rid of Izzy? Cameron – what do you want to do? Jared – I want to get rid of one of these motherf**kers. Cameron – if that's all you want. If you're ready to ride with me, then lets f**king ride. Jared – these are my top three prospects that I need out of this house in order .. Jag, Izzy and as much as it pains me I need Felicia out. Izzy just because she is f**king annoying bro and I am sick of that sh*t! Jag threatens me in this game. Mama Felicia last because she threatens me almost as much as Jag but I just don't fear her winning unfortunately as much as I fear Jag winning. That is my three. Cameron – you just tell me if you want to ride and I will tell you what I am thinking. Jared – BRO how many times do I need to tell you this sh*t? Cameron – do you want me to tell you what will be awesome or do you want to hang on to it that way you can deny everything and say na I am not going to use it. The plan is going to be that you convince everyone in this house that you're going to keep noms the same .. which I know you can do. You need to convince everyone including yourself that you're not going to use it. That way everyone is calm. Everyone thought and thinks including you that I was going to put up Jag.. HERE is the beautiful part if you want to F**King do this, then we're going to f**king do this all the way. We're pulling the pin, flipping the spoon and dropping this sh*t in the hole. So here is what is going to happen.. I am trusting in your to play your role. You're going to make sure everyone thinks you're keeping the noms the same. In a span of two days Felicia will lose her mind. If she believes the noms will stay the same she will spill more dirt on Izzy than anyone in this house. Let her.
STEP TWO
– You do take Felicia down. Jared – F**K. Cameron – let it wash over. Jared – F**K that's two people in this f**king house again bro. Cameron – step two you take Felicia down .. she is so grateful that her adopted son finally pulled through. That she has an ally because for the last 48 hours she's been running her mouth. In you she has an ally. She is going to hate me but she doesn't know we're close.
STEP THREE
– I put Cirie next to IZZY. Jared – okay that makes sense. Cameron – No one is voting out Cirie. Everyone loves Mama C. Izzy packs her bags and the whole time she has to sit next to her best friend while they talk sh*t about each other and or campaign for themselves. Cirie slowly starts to separate herself from Izzy and finally has to start playing this game. Izzy has been her eyes and her ears. We will remove that from her. Jared – that is very true. Cameron – Izzy leaves this house and Cirie is on an island. How poetic for a person from survivor. Jared – we have to be sure that people don't vote out Cirie instead of Izzy though. Cameron – not from the temperature I've been checking of the house. Jared – BRO what thermometer are you using?! Cameron – everyone wants Izzy to leave. Jared – BRO Jag. Cameron – count it out. Jared – Me, Matt, Bowie, Cory and America .. f**k no! You see who they've been buddying up bro! And that is another thing I wanted to run by you.. I am f**king sick of those two (America and Cory).
Jared – I truly whole heartedly believe if we put Cirie next to Izzy.. Cirie is going home .. no if ands or buts about it. Cameron – who do we put next to Izzy to make sure Izzy goes home? I need her to go home. Jared – in my opinion .. we can't because certain people that are a guarantee .. it starts getting sketchy. And you know who .. you know who can go up next to Izzy to make sure Izzy goes home. Cameron – who? Jared – Matt. Cameron – No. Jared – we can't but that is the point I am trying to make. Cameron – we either leave it the same or …. So here is what I what to know Izzy versus Cirie. If it comes down to it.. I mean that is the move I want to make. Jared – do you think you can get an honest answer out of America? Cameron – I think I can buy her for a week. Jared – I don't know bro. Cameron – so my back up on this occasion is that we leave it the same. You talk to Blue and I'll talk to Matt.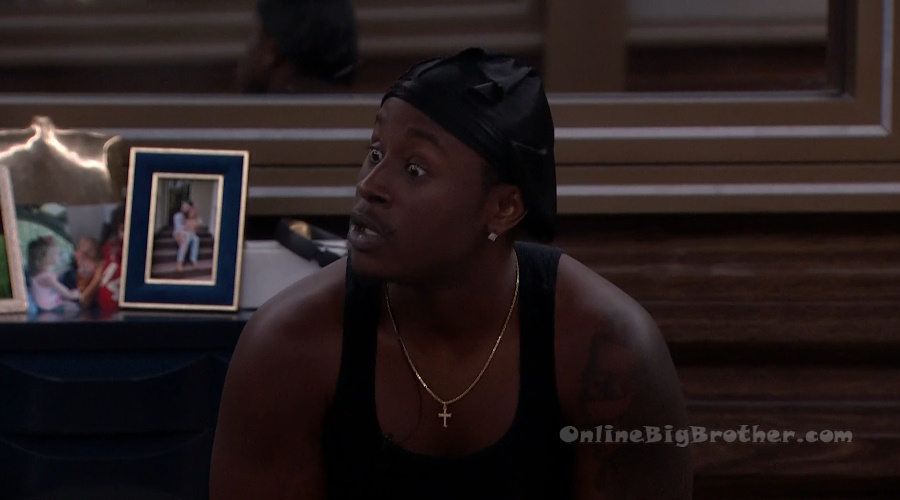 9:07pm big Brother switches the feeds to the kitten cams..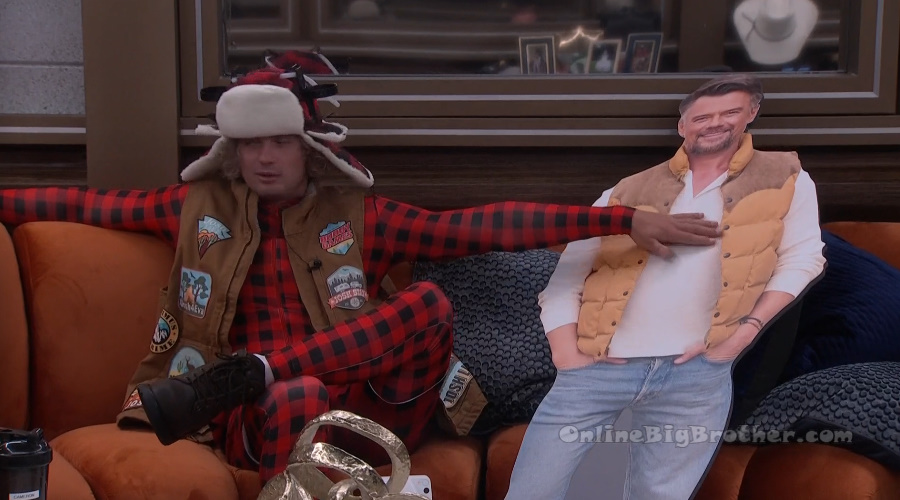 9:24pm The feeds return – Matt is now in his costume with his buddy Josh Duhamel.
HOH room – Matt and Cameron.
Cameron – do you want me to tell you what I want to do or do you want to be left out so that you can be clean.. because I don't want to do it without you. I literally need you. Matt – right, I know .. there are a lot of things you can do for sure. Cameron – I don't want to do anything you don't want to do. You're my dude. Matt – I just know that those two are on the block. I mean I don't want to go up if that's what you want me to do. Cameron – NO! Matt – I mean I trust your decision. Its your HOH. Cameron – I know that. I want you to know what I want to do. How about I run scenarios .. Felicia or Izzy who do you vote to stay? Who do you vote out? Matt – Felicia we could get out any time. Izzy is going to be harder to get out. She is going to be good at comps. Izzy could be more dangerous later on. I am also annoyed with Felicia because she is probably the reason why Red is gone. Cameron – Jag or Felicia? Matt – I would still send Felicia. Cameron – Jag or Izzy? Matt – I think Izzy is scarier. Cameron – Blue or Felicia. Matt – I think Felicia because POO. Cameron – Felicia or Cirie? Matt – I think I would still do Felicia. Because what Red told me .. if Felicia stays she is going to win it all. Cameron – Cirie or Izzy. Matt – Izzy is more dangerous. Cameron – okay. Matt – that's how I feel. Cameron – I would never put you in jeopardy. I ran through ten scenarios and the one I want was in the mix. I want to keep you clean.
9:25pm – 9:45pm Bathroom – Jared and Izzy.
Jared – how do you feel about Cory and America? Izzy – I mean I feel good unless you know something. I think they're voting for me to stay. Jared – Cory is definitely not going to vote against you for Felicia. Cory f**king hates Felicia. And Blue already told me she wasn't going vote against you. Izzy – Is there anything I can say to him in the next 12 hours while I'm with him? Jared – oh no, no. Izzy – then what do I do with Jag? I don't think Jag is against me I think he is trying to be self preserving. So Jag can't win HOH next week. Jared – that is what can't happen. Jared – you're here already.. next week. Izzy – but every week its going to be a fight until Cam is gone. I mean next time he is just going to put me and Mums right back up. Jared – if Jag don't put Cam up. Izzy – we have to convince him to put him up like if he wins. Like we have to convince him that that deal is bullsh*t. That that dude is bullsh*t. Jared – I know I am going to tell him.. Well I can't tell him because then he will bring it up to Cam. Izzy – is he so mad about this punishment? Jared – oh yeah.. he was like and I f**king got to be here for 12 hours in a f**king pig suit! He was like I need Izzy gone tonight. Izzy – I can't wait to be happy the whole time! Jared tells Izzy about Cams plan to put up Cirie. Izzy – so his plan was to put up Moms and still vote me out? I am still on the block. What is the point of putting her up? That is his big plan, like that is dumb. Jared – because he said he is positive that is the only way you go home. He didn't want the opportunity of one of you coming down. Izzy – so his order is Me, Felicia, Cirie. Jared – he said that Cirie came up here running her mouth and I just wanted to tell her to shut the f**k up. Izzy – he is disgusting. Jared – I was just in the back of my head like I can't wait to get your f**king a$$ out bro. I got to indoor that sh*t. And I've got to bad mouth ya'll. So I got to be like yo, f**k them. He wanted me to tell everyone I was keeping things the same so Felicia runs her mouth and then end up saving her so that it breaks that bond between Cirie and Felicia.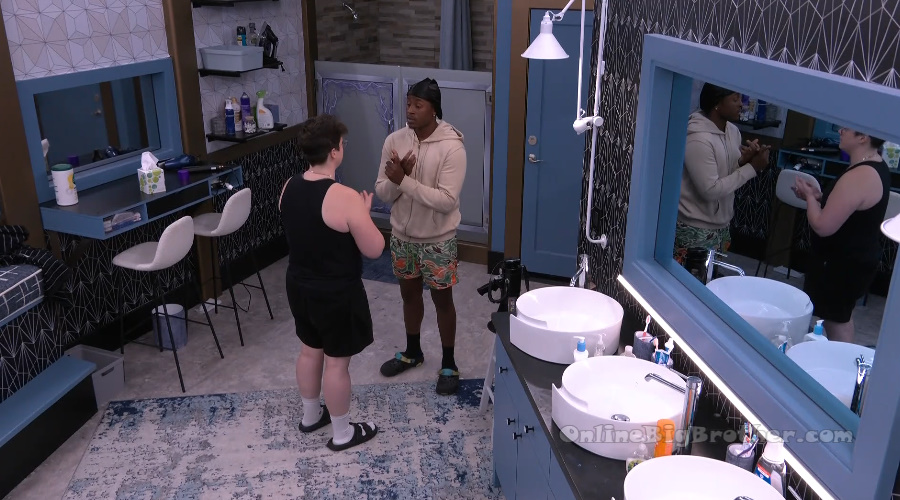 10:09pm Storage room – Izzy and Cory.
Izzy – Jag made a deal with Cameron. Jag knew he wasn't going to go up this week and he promised Cam he wasn't going to put him up next week. Cam told Jared. Izzy – PLEASE don't tell America. You told America about Zach and I didn't know you were going to. Cory – yeah I told her two days ago. Izzy – I am just saying this is my a$$ on the line and this is Cirie's a$$ on the line and this is our four a$$ on the line. Cory – everything that I tell America .. if it can damage my game .. I tell her and if it damages any of your game.. there is not even a f**king chance. Izzy – okay cool. But if Jag wins HOH next week he needs to go back on that deal and backdoor him. Izzy – he (Cam) said if me and Izzy have to be tied together for this thing.. she will have to sleep on the floor. Cory – well he doesn't love you. Izzy – I am just saying this guy is disgusting.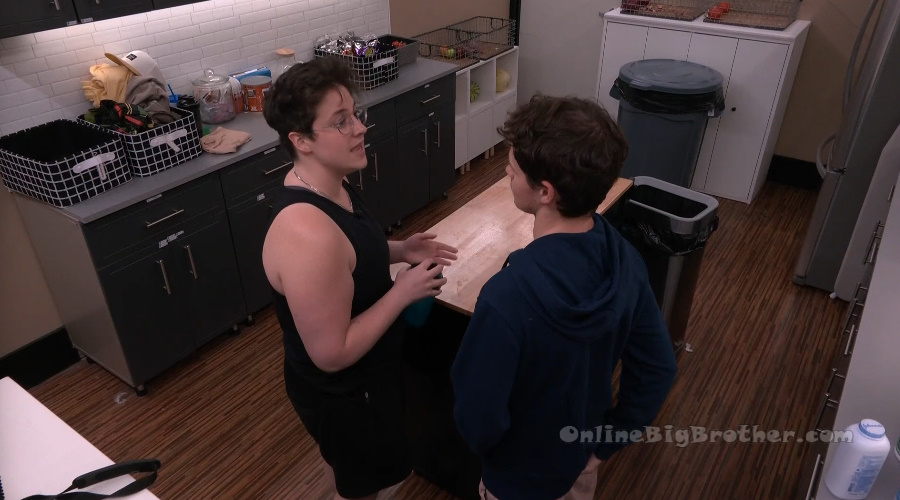 10:42pm Bedroom – Cirie and Felicia
Felicia – he is a f**king snake. Cirie – he snaked Reilly. He snaked Red. He doesn't give a damn about us. Felicia – hell no. Cirie – he's been waiting to have this BBQ for the longest time. Felicia – so the question is, will the house trust him enough to vote with him. Cirie – they don't trust him at all. Ain't nobody trust him. Felicia – He's scared enough to say he wants Izzy so we got to keep Izzy. Cirie – they know he can't play next week. Felicia – because if all of ya'll buckle to him now, we just handed him the key. Cirie – if I get into the jury every person I work on I will be like na.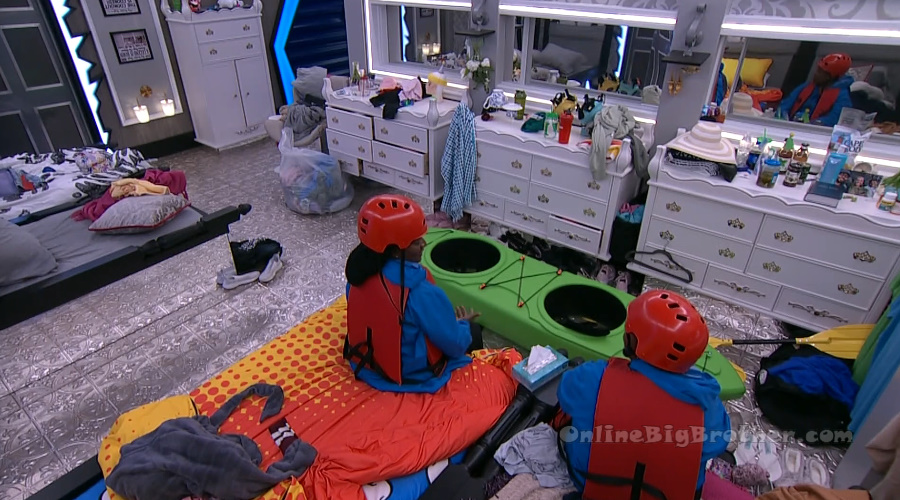 11:20pm – 12am The live feeds return to Cameron and Izzy in the backyard in their pig suits running back and forth scooping dirt in mugs. They need to move 2,000 mugs of dirt within 12 hours. Jag – this is why I wanted to play big brother. BB keeps blocking the feeds.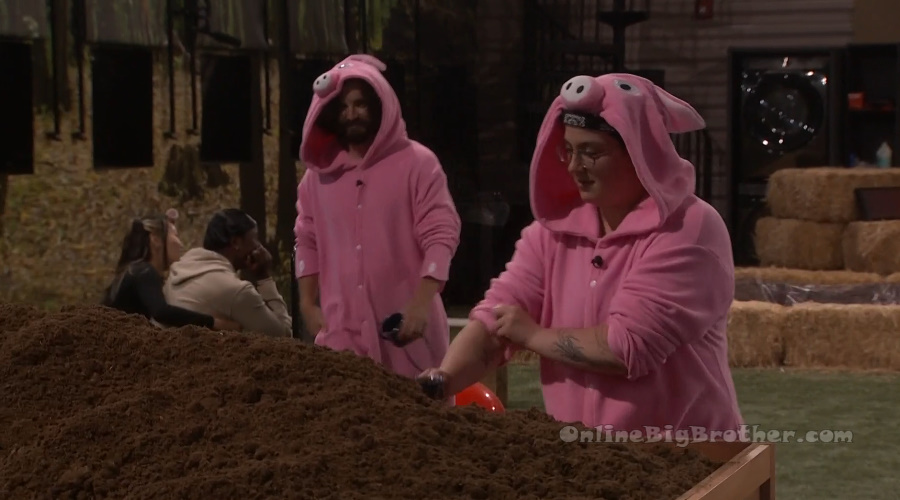 If you've enjoyed our updates so far this season and want to leave a tip you can do so through PayPal.
You don't even need a Paypal account to do it. 🙂
Thank you so much in advance!