HOH: Tiffany
HAVENOTS: None
Nominations: Sb and Ky via HOH, Xavier Via punishment
Coin of Destiny Coup D'etat: Claire won and kept noms the same
Power of Veto Players: SB, Claire, Hannah, Kyland, Xavier, Alyssa
Power of Veto: Hannah
Power of Veto Ceremony:
Big Brother 23 Houseguest Rankings – – RANK THE HOUSEGUESTS –
View the previous day ranks on the – Ranking Grid
Big Brother Spoilers – Hannah has Veto. If Veto is played on Kyland or Sb Claire puts up Alyssa. If it's used on Xavier nobody goes up. Kyland and Xavier want off the block. Zzz
Claire won the coin of destiny coup d'etat
– She kept the noms the same (Sb and Ky)
– Tiffany was dethroned as HOH and no longer has the room.
– Tiff can play for HOH again next week.
2:38 pm
Kyland is showing off his "BB Cribs". apartment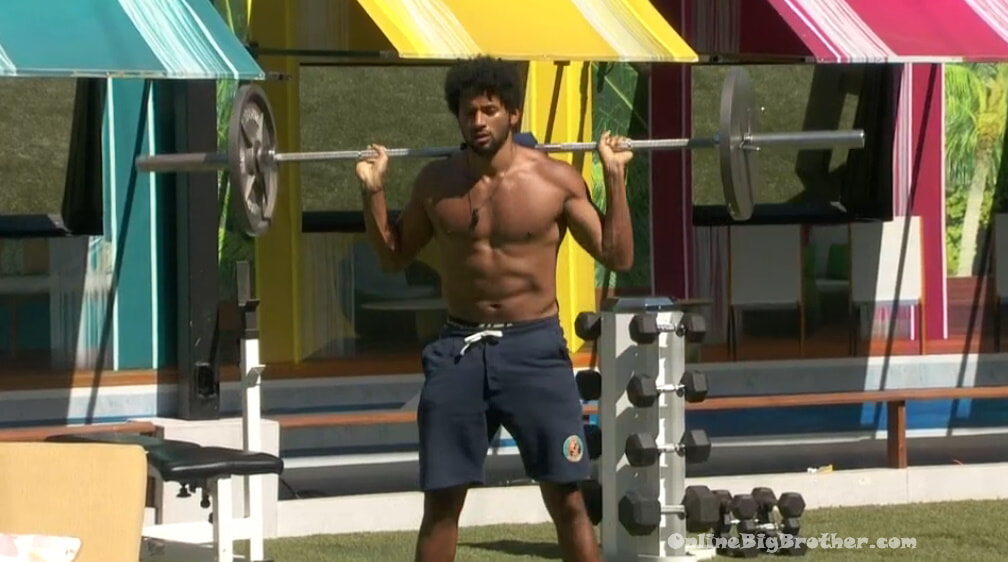 3:05 pm Kyland working out (good form)
3:07 pm Hannah talking to the jokers about the plan to use the veto.
Hannah – Sb is the houses target SB is my target she just sent DX home
Hannah adds that the probability of Sb leaving is greater with two people on the block than three
They whisper about the scenarios they now have some power and can do something so they whisper about all the different permutations for the next three weeks.
(Veto is being used on X nobody goes up )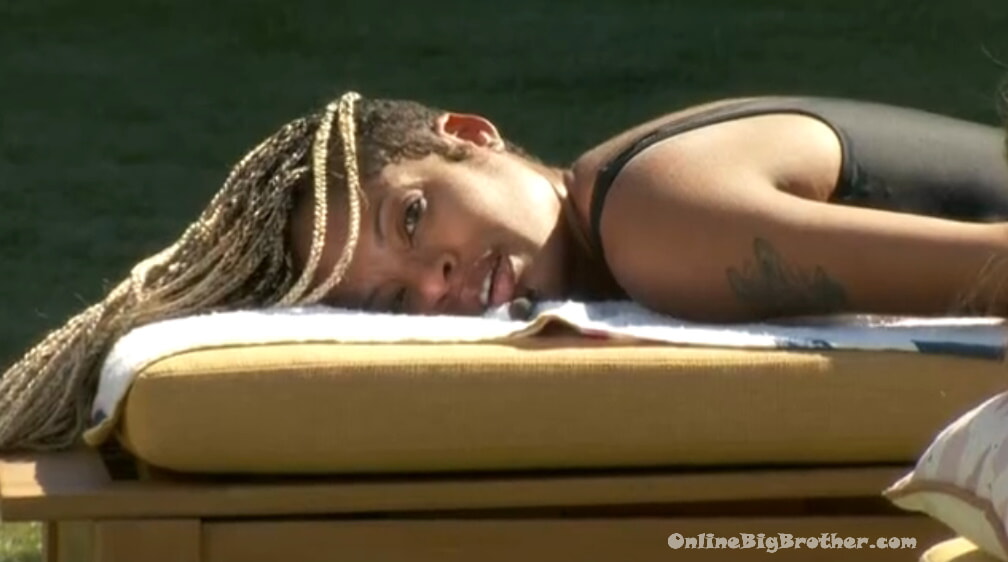 3:40 pm Tiff and Claire chit chat.
Tiff's son Christian was 5lbs 13oz. "I would hold him like this" (in one hand)
Claire – did he come early
Tiff – YES
4:13 pm Tiff, Claire, Sb, Hannah, DF singing the luscious song "He walks out the door makes them wanting more."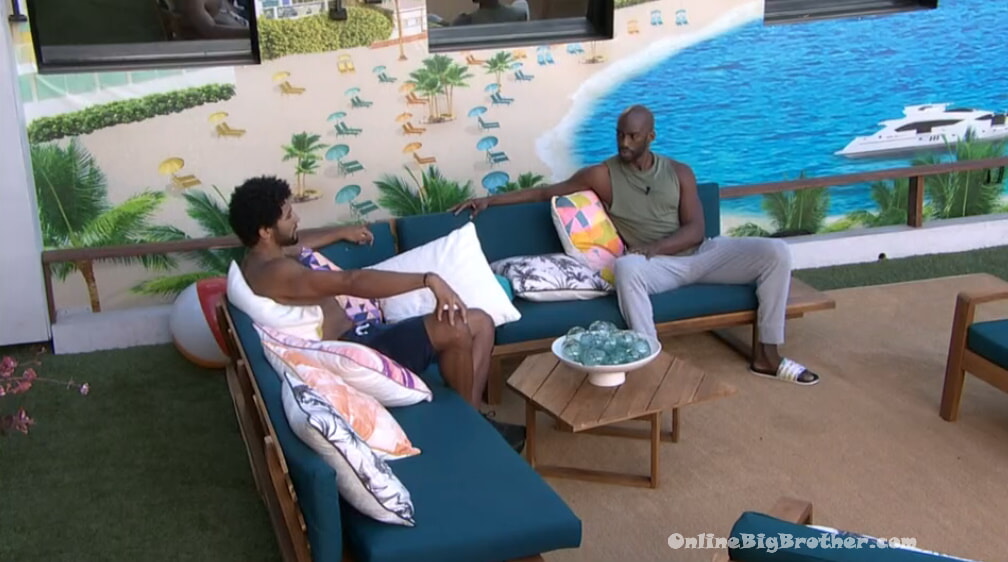 5:00 pm Kyland and Xavier (Kyland is making the argument that he wants to be able to cast a sympathy vote for SB)
Xavier says the week that Alyssa is going home he would expect to go up beside her.
ky – if you wanted to .. I guess for me it comes down to the fact.. I underestimate
X – how much you're going to care about her?
Ky – NOPE, how much people dislike her it's strong and I think she's picking up on that
Kyland says that is why he wants to cast that vote. (for SB)
X – what has she done to these people on a personal level that offended them?
Ky – they don't like her. Outside you, me, and Alyssa they personally do not like her for whatever reason and they've expressed that explicitly
X – Don't make it personal I think Sb is a wonderful woman.
Ky – I agree
feeds cut. When we're back Kyland is running inside for a second.
X to himself – NO! who's this man think he's playing with?
X – Hannah pulls you down who goes up
Ky – anyone who is comfortable .. could be BIGD
X – how will BIGD feel if he goes up
Ky – I don't think he's in a position to have an issue with it
X – what do you mean?
Ky – I think that coming into the house he was aware that could happen
X – yeah… we're all aware we could be sitting there on eviction night.
X says if Hannah pulls him down he could be the sympathy vote for Sb.
X – we're going an extra step to make someone feel good that we're already planning on taking out.
Xavier says it's up to Hannah to decide what is best for her game "I'll let her do what she wants to do"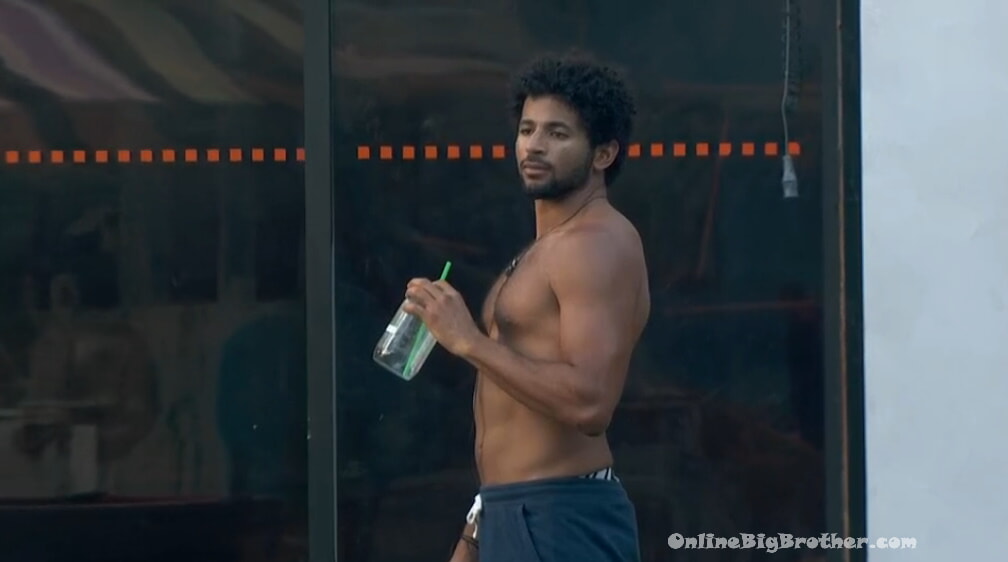 5:38 pm Kyland prepares for his one on one with Hannah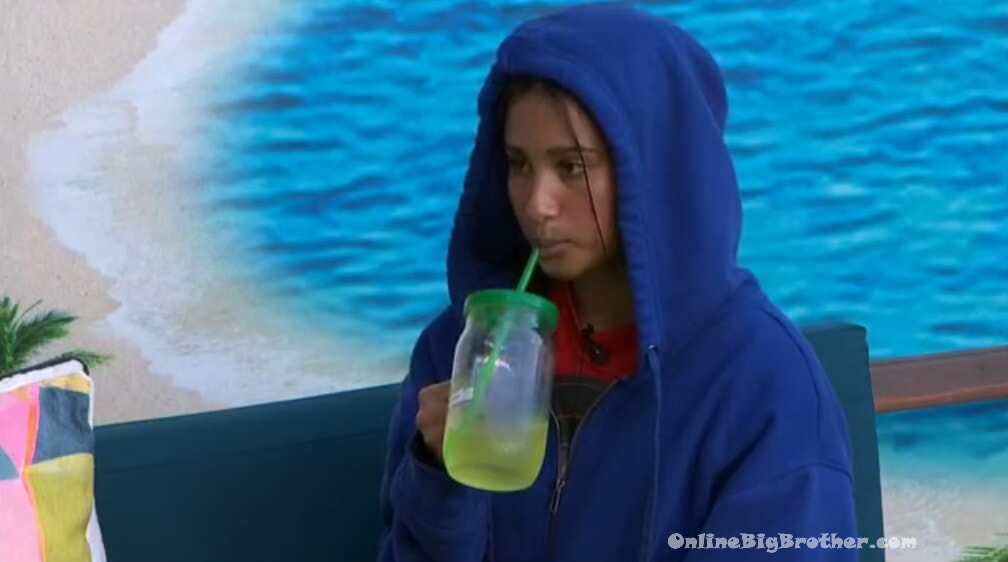 5:53 pm Kyland campaigns to Hannah.
"I underestimated how much Popel dislike SB"
Words and more words
Consider a donation to keep the madness going. BIG thanks to the people that have already chipped in.