Head of Household Winner – ENZO
Nominations – Nicole & Christmas
Power of Veto holder – Cody
Power of Veto Ceremony –
Live feeds —-> Grab your Live feeds here. Try it free.
Rank the houseguests —-> Big Brother 22 Ranking
Today has pretty much just been casual chit chat.. lotsa cutting to stars Essentially a boring a$$ day. (Christmas getting evicted final 3 is Enzo, Cody, and Nicole)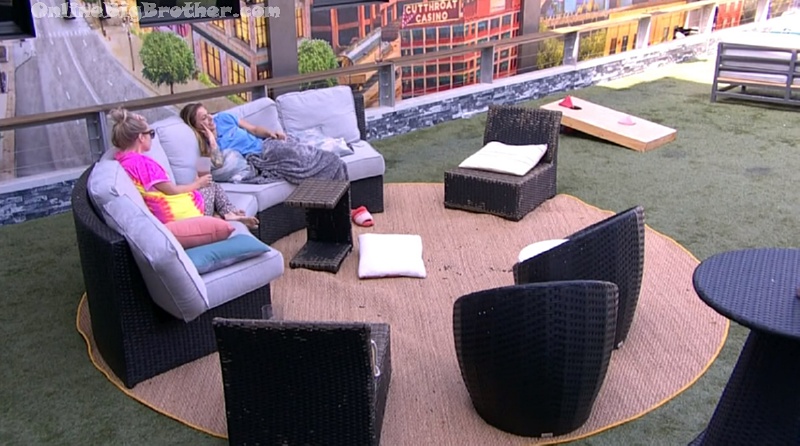 11:17 am Christmas and Nicole
Nicole says Tyler and Memphis are probably going to bat for Christmas in the jury.
Christmas – I don't know if Tyler would
Nicole – I think he would at the very least you have Memphis
Christmas – Dani will be your biggest cheerleader
Nicole says Dani will be mad at her for "somethings"
Nicole – she'll know that I picked your side which will piss her off
Christmas – I don't think you picked my side
Nicole – I told you something.. but you already knew that
Christmas – nobody knew you told me that and I knew from other people
Nicole – I just don't know. She will be Cody's biggest cheerleader, not mine. If I stay
Christmas – they were really close
Nicole – yeah
Christmas – Da'vonne will be Enzo's biggest cheerleader
Nicole – Dani might .. I feel so many people will be Enzo's there's not one person that doesn't like Enzo even Kevin Loves Enzo
Christmas – until he put him on the block. David? David is not going to be a fan of Cody
Nicole – no
Christmas – I think he'll like Enzo the most
Nicole – everyone is so predictable at this point
Feeds cut to Cody making eggs..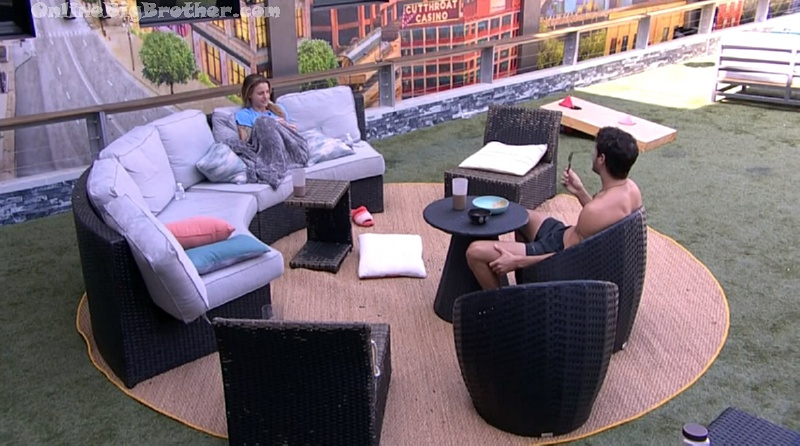 11:35 am Cody and Christmas
Cody – my brow game is strong now
Christmas – it is
Christmas – Chirstine and her mom will be happy becuase of this. they've probably wanted to attack that sh1t for a long time (2/4 of the convo between Christmas and Cody have been about his eyebrows_)
Cody – no
Christmas – yeah. they're being sensitive to you
Christmas – it looks so much cleaner your eyes look so much bigger and brighter.
Christmas – I didn't understand you shaved your arms and not your brows.
Christmas – is it you that shaved your nippled to
Cody nods
Christmas – yeah
Cody – doing your brows for me is more complicated. Makes me nervous.
(riveting tuff)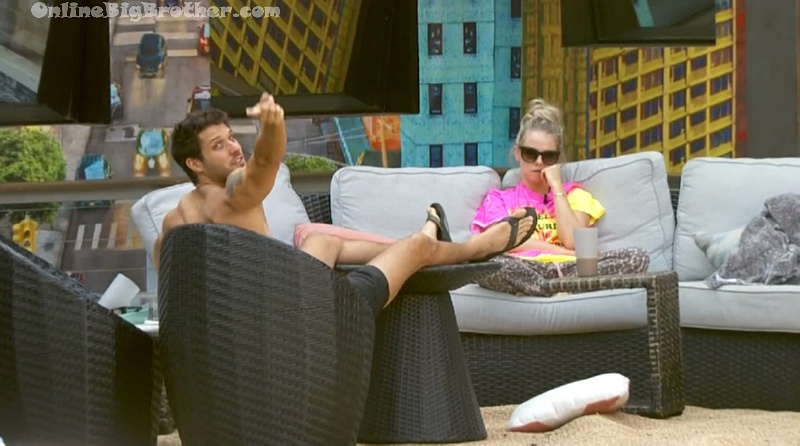 11:50 am Cody and Nicole
Cody complaining about Da'Vonne. Nicole brings up Cody saying to her early on that she might not trust him because he's all over the place.
Cody – I'm friendly with just about everybody
Cody – the only person I really couldn't there was a real disconnect this season was Da'Vonne. Cause I wouldn't go chase her
Nicole – you had a little bit of a disconnect with Kaysar.
Cody – yeah but.. on a game-wise he had his feelings but talking to him. I would sit here and talk to him all the time. Da'Vonne I never talked to
Cody – Week 5 Da'vonne talked to me and was like what did I do to you. You talk and laugh with everybody but not with me
Nicole – she said the same thing to me to
Cody – I was like.. what are you talking about.. I talk and I laugh.
Cody goes on about how if he was outside and she came out she wouldn't sit next to him to talk she would sit far away from him. Says that everyone else would come to sit down and talk to him but Da'Vonne wouldn't
Nicole – yeah you had to chase her
Nicole says Da'Vonne called her an emotional player. "she called me an emotional player she was able to play with my emotions and however she played with them I reacted the way she wanted me to"
Cody – hmmm I dunno I don't think you did to the extent you put on yourself. You're smarter than that
Christmas joins them.
Cody says in the Jury house David will have something to say to Da'Vonne "Enzo told him that Da'Vonne wanted him out the 4th week"
Nicole – you think she'll deny that?
Cody says she can't he asked him and he said yes "I was sitting in the room"
Christmas laughs
Cody – Da'Vonne said something to me about David.. You said something like ohh I think he's into you
Nicole – yeah
Cody – that whole thing. She came up to me in the kitchen and was like has anybody said anything about me and David.. I was like no why?
Cody – if people are saying David and Me are a thing he's gotta go. I was like..
Nicole – me and Da'Vonne were being playful and I was teasing her because she was like.. she liked it OK she was very playful back
Cody – with him
Nicole – with him
Cody – he was playful to her I don't know if it was like flirting like I want to hook up with you it was like I'm trying to get on your good side like c'mon
Nicole – I'm talking about when me and Da'Vonne were playful about it she would from my past season she would tease me about the boys .. this season I was like Ohh Da'Vonne there's a couple of single boys in here. She was Giggly .. "do you really think"
Nicole – when I was watching him it was cute because I thought he had a crush and I'm teasing her
Nicole – then Bayleigh heard about me like being playful and it was Dani to. it was cute and fun. Then Bayleigh came into the room and she got really freaking mad (Da) and she literally made me cry
Cody – why
Nicole – she said
Christmas – she was anti showmances because of her situation
Nicole – yeah she just like.. she was like. She said things such as.. Would you be in a showmance with David? and I said I have Vic what are you talking about and she was like if you didn't have VIC would you be in a showmance with David? I was like I think he's nice I don't know what you are asking me this is very weird. She goes I don't know why you are pushing Da'Vonne to be with David it's just going to put a target on our back we don't need any target on our back. I was like Oh my god
Christmas – she said our backs
Nicole – yeah
Feeds cut .. when we're back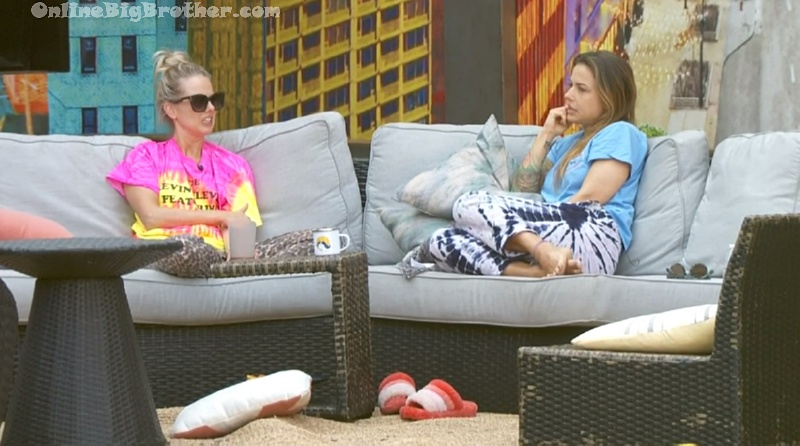 Nicole – that got into Da'Vonne's head oh my god showmance target.. because of what Bayleigh said. Da'Vonne comes to me and was like Nicole I want you to know that you and I can be super playful about this I like that you are talking to me and teasing me it's something that passes time I think it's cute just don't it in front of Bayleigh ever again.
Cody – oh my god
Nicole – I was saying DA DA it's just a cute Showmance name
Nicole – then Da'Voinen told Bayleigh I was mad, not mad sad and Crying. 40 hours past Da'Vonne come so to me asks has Bayleigh come to apologize. I said no.
Nicole – Dani came to me saying Bayleihg wants you to apologize to her.. What am I apologizing to her for.. so I had to go to Bayleigh and apologize for putting a target on Da'Vonne's back by saying DA DA.
Cody – holy F***
Nicole – this is what I was going through
Feeds cut When we're back
Cody is claiming about how close he got with David
Christmas going on about Kaysar telling Bayleigh her targets need to be Dani, Tyler with a backdoor of Cody. Adds that Nicole was in the mix too (would have been epic)
Cody leaves.
They continue to talk about Christmas' HOH and Bayleigh getting short with people.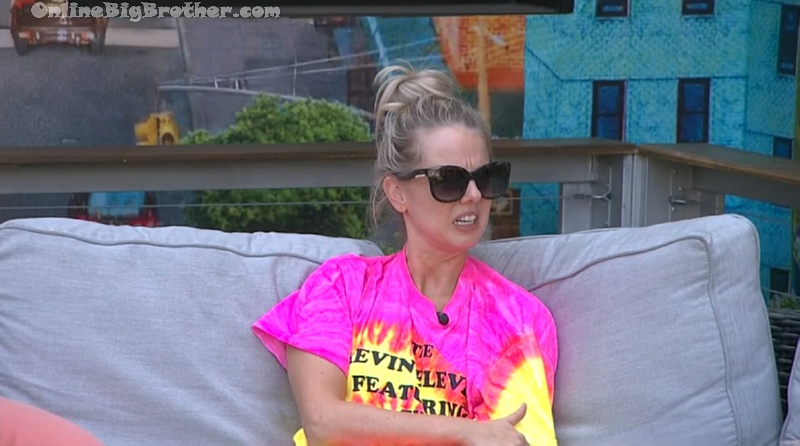 Nicole – when she said it took you a couple of guys and a couple of tries I was like..
Feeds cut..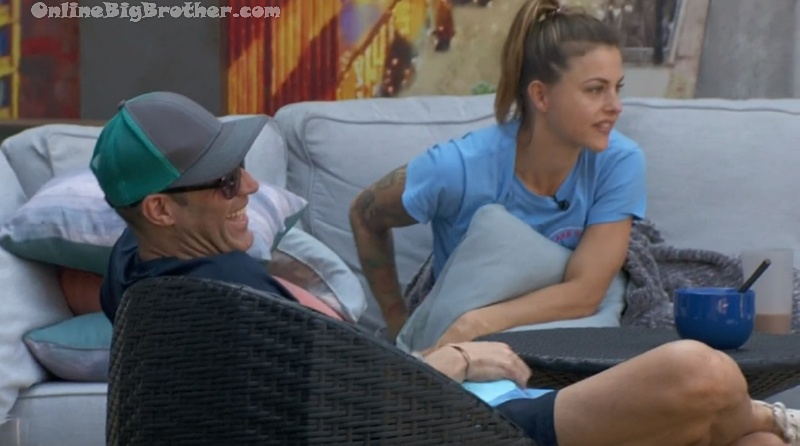 1:05 pm Enzo, Cody, Nicole, and Christmas
Chit chat about board games.
1:56 pm Nicole paints her nails
She complains that her belly feels big.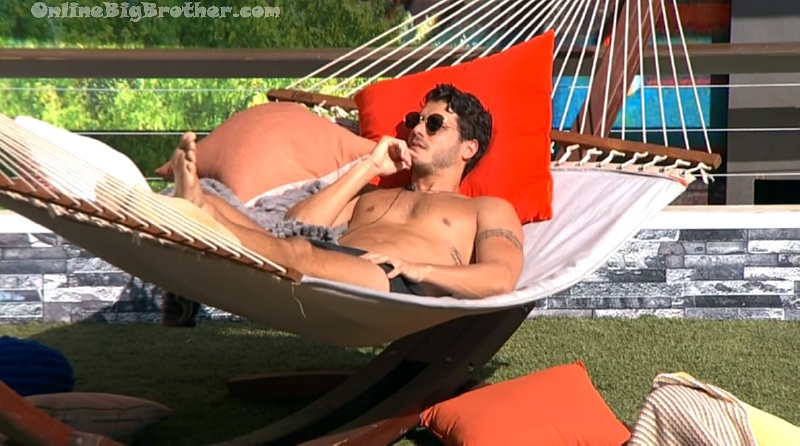 2:40 pm Cody enjoys some time in the sun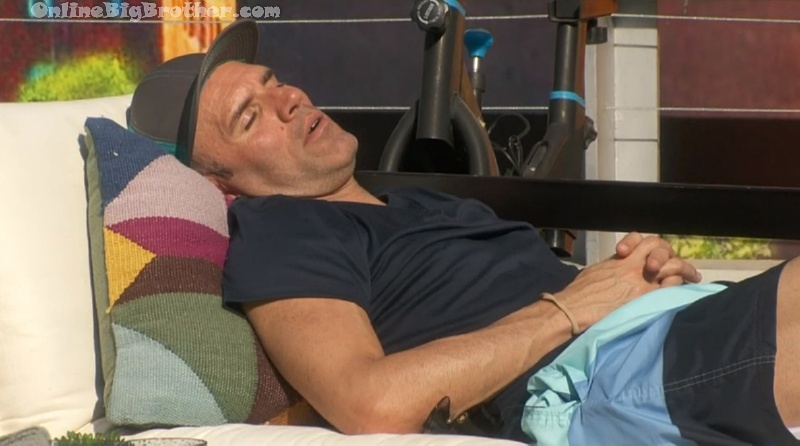 3:00 pm Enzo passed out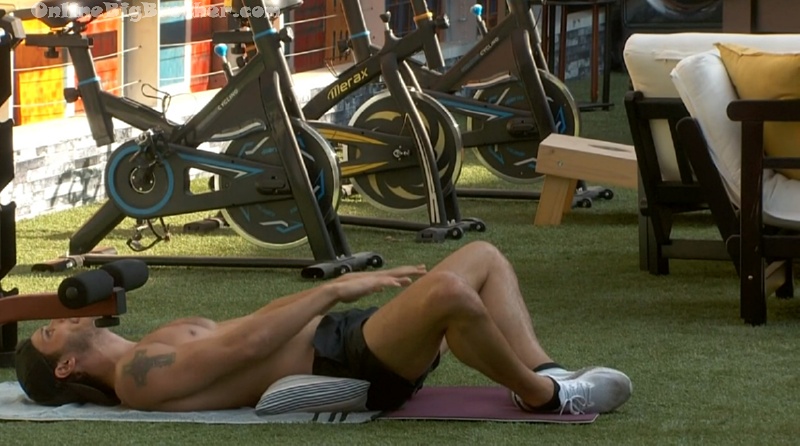 3:35 pm Cody working out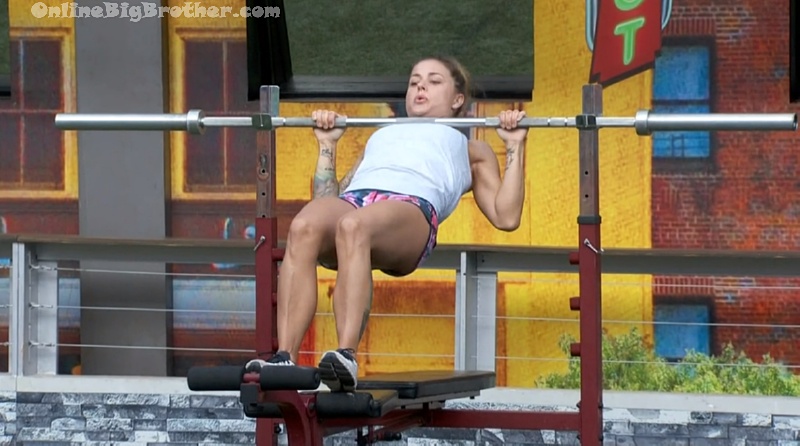 4:56 pm Christmas working out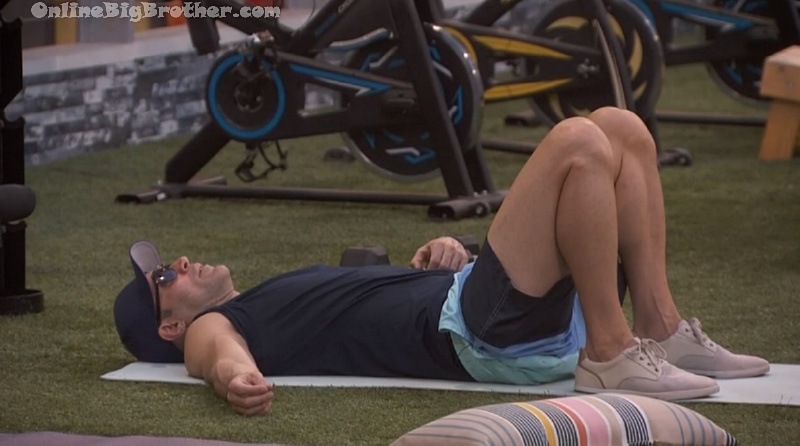 6:12 pm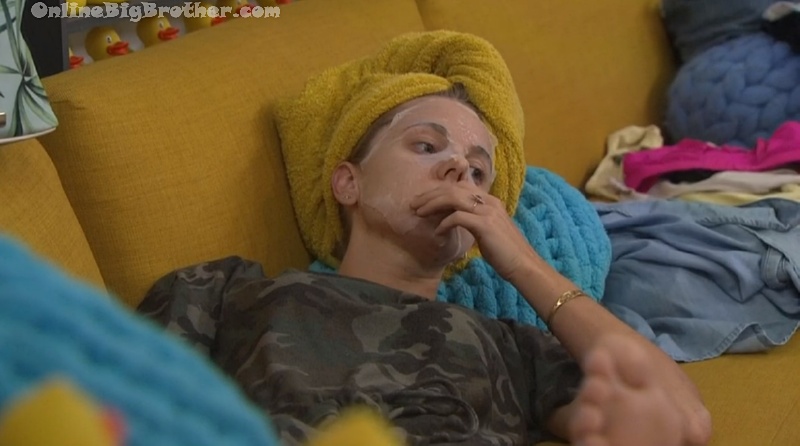 7:00pm