Head of Household Winner – ENZO
Nominations – Nicole & Christmas
Power of Veto holder – Cody
Power of Veto Ceremony –
Live feeds —-> Grab your Live feeds here. Try it free.
Rank the houseguests —-> Big Brother 22 Ranking
3:08pm Backyard. Nicole and Cody.
They're recounting the past events of the season. Nicole – Looking back I should have been smarter. I am glad where I've made it but I've been pretty damn lucky. Right away I was guns a blazing at Janelle because I thought she was coming after me like crazy because of Dani. And I do think she was. Cody – I think they would have targeted Tyler and Me. But didn't.. like Dani broke her sh*t with me. When she told her about the slick six. And you called it out on the hammock. Nicole – but why didn't you tell me about that. You should have told me .. you didn't trust me right?! I am happy she told me about that. Cody – it was definitely a way to make you not trust me. They continue talking about the Slick Six alliance and The Committee.

3:30pm HOH room. Christmas strategizing her next mastermind move..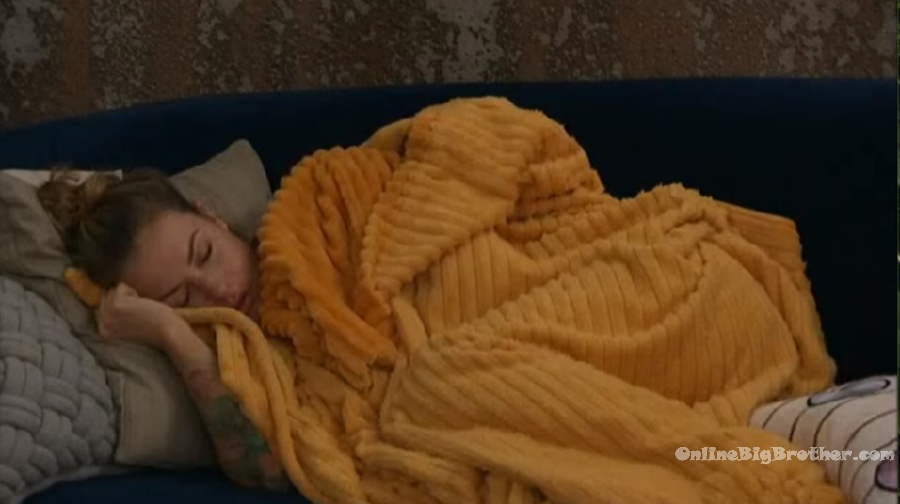 HOH room. Enzo and Christmas.
Enzo – I wanted to talk to you after I put you on the block. And then I knew you were upset so I was like let her have a day. I didn't want you to scream at me. Then the POV happens.. and I was like let me give her another day.. and then I was like I will talk to you today. If Cody was not in this house .. you would not be on the block. You know that. Like Cody is to me like your Memphis is to you. That is the thing. I was like Nicole is definitely going up! I know that. I was scared if this guys wins this thing and I'm in the final 3 .. now he has a reason to be like .. you put me on the block. That is the only reason .. that is the only thing I went with. You know what I mean?! Christmas – I understand the game move… just from our working relationship.. and this is game.. from our working relationship through this game I just thought you would give me the courtesy of more indicative of what was going to happen. Enzo – no you're right. Christmas – In that moment I did feel betrayed. That just made me think that you didn't respect our working relationship. Enzo – no, you're right. I kind of coward out. I was like I like Christmas a lot .. I do.. I was like how do I break it to her!? I didn't know how to do it. And that is a cowardly way of doing it. I'm sorry. That's what I am saying if he's not in this house.. you're not on that block. Christmas – That is not what's happening. Enzo – I know. Christmas – I mean I talked to them today and was straight up with him. You probably already have a good idea of what you're going to do ..I am not going to campaign against Nicole. Just like I didn't campaign against Memphis. And I didn't campaign against Tyler. You know how I can fit into the final three. Whenever I walk out of this house I am going to walk out proud of the way I played this game. I am not throwing anybody under the bus. The final 6 people that were in this house have been my favorite people in the house. Enzo – I know.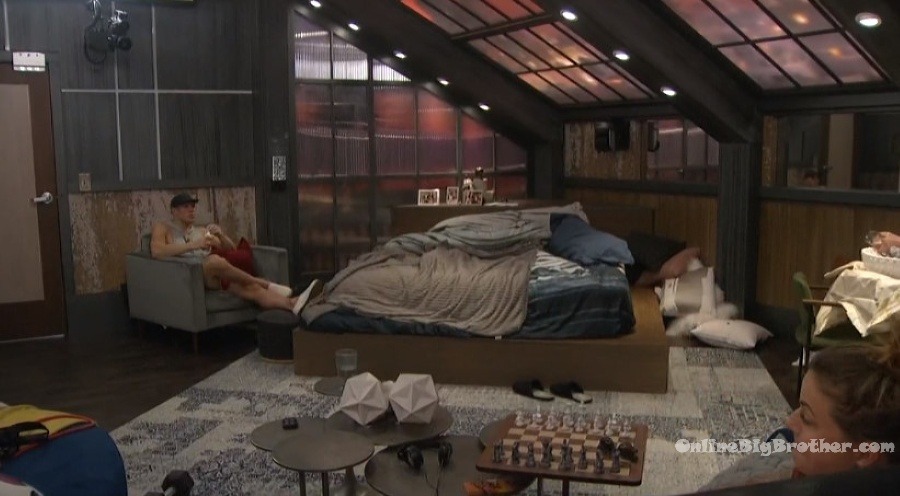 Christmas – and I won't play dirty. Enzo – I am almost like I wish I hadn't won the HOH. I should have let you win the HOH. Christmas – dude he was coming at me. Enzo – I know. Christmas – I honestly don't know what they (Nicole & Cody) have. Enzo – I think they have something really…. tighter than me and Cody have. Christmas – she doesn't seem worried. Enzo – exactly. I feel like me and him have something really good .. but them two are tight! And trust me I am going to try and talk but I know Nicole .. I am not going to do nothing because in his mind he has the power and is going to do whatever the f**k he wants to do. Christmas – and he's said that he didn't know what he was going to do yet and he was thinking about all his options and stuff. At this point there are no deals to be made. And honestly no matter who is in the final 3, he (Cody) is probably going to take endurance. And to be quite frank.. the next ones are physical and mental and Nicole might take those ones. Enzo – comp wise he could be me and he could beat her. In the final 3 is he going to take her? I would rather you are in the final 3. Christmas – I think Tuesday will be the eviction. She doesn't look uncomfortable. Enzo – he has his mind made up. I was scared to put him on the block. I feel like you would have told me if you were putting me on the block. It hurt me seeing you like that. This guy is f**king winning everything! And I am probably going to get third place again because I am stuck at the end with people that can win everything! You don't know what the jury is thinking. Did Cody ruffle a lot of feathers? Christmas – he thinks he did but I didn't see any of that. Enzo – I think that Kevin, Day, Dave, Tyler are upset at him. There are some cracks. But they've had weeks to recover. If I win the third one .. do I take the champion (Nicole) or the comp beast (Cody)? I don't know?! Now the person I want out of this house my ticket to win this thing?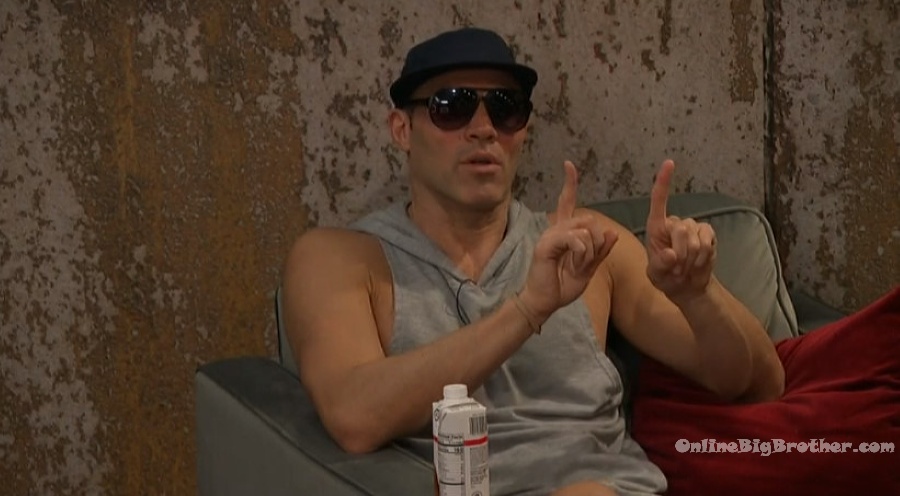 4:53pm Kitchen. Enzo to himself – F**k I am in trouble. Yup, I'm in trouble. I need to win that endurance challenge.
5:37pm Backyard Hammock. Christmas swinging..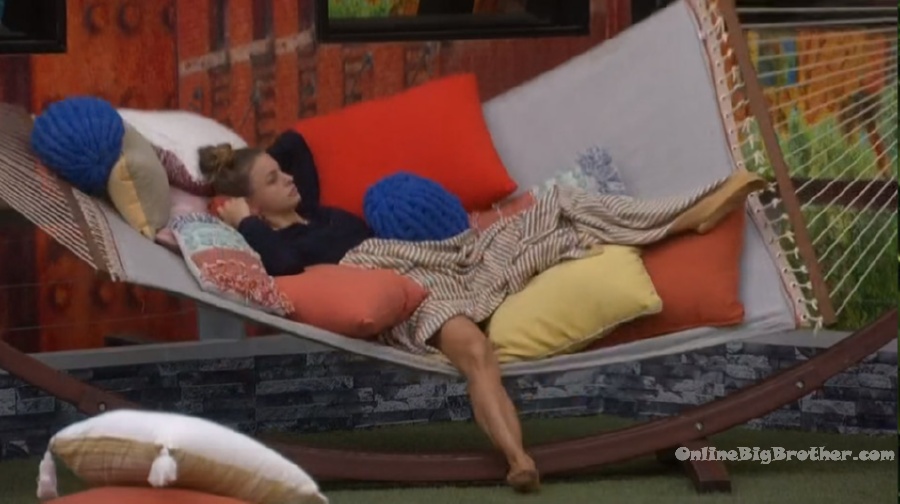 6:17pm The house is quite again. Enzo is staring at the photo of his kids. The other house guests are lazing around the house and backyard.

6:30pm Big Brother blocks the feeds.
7:01pm Still blocked..
7:34pm Still nothing..
9:43pm Nothing but stars..
11:11pm Still nothing..
Show your support by making a donation.
If you've enjoyed our live feed updates this season, please consider donating 🙂
Any amount is greatly appreciated! Without your support this site would not be possible.