Head of Household Winner – ENZO
Nominations – Nicole & Christmas
Power of Veto holder – Cody
Power of Veto Ceremony –
Live feeds —-> Grab your Live feeds here. Try it free.
Rank the houseguests —-> Big Brother 22 Ranking
(Christmas getting evicted final 3 is Enzo, Cody, and Nicole)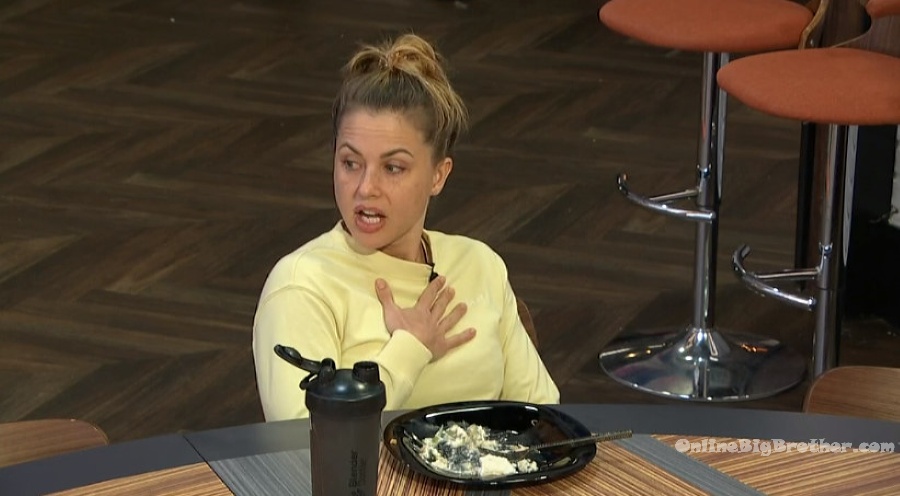 7pm Dinner time. Nicole, Enzo, Cody and Christmas.
Nicole talks about why she stopped eating meat. She says that . I saw this one calf being ripped from its mom.. Cody – I don't want to hear it. Christmas – No! Don't go there. WHY?! Nicole – the cow dropped to the floor it was so devastated. Christmas – NO! STOP! Nicole – its dairy products. Christmas – no you have to understand like we don't have our kids in here! Nicole – oh, I see what you're saying. Sorry Christmas. Enzo – NA, I don't feel like having eggs and milk ever again now because of that story. Christmas – Sorry Nicole.. it triggers. Nicole – I was just talking about what changed me to stop eating meat. Christmas – I know but.. Enzo – when did you stop? Nicole – I haven't eaten meat in 3 years.
8:05pm Cody and Nicole play backgammon.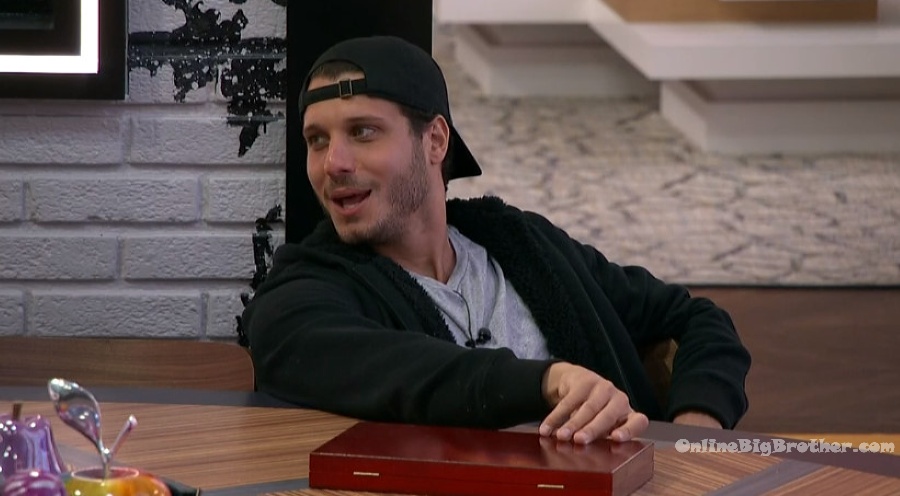 8:20pm Kitchen. Cody is doing some speed question talk show. We call this the fun speed round! In the speed round I am going to ask you a series of 10 questions and you have to answer as fast as you can without thinking about it. If you take longer than 5 seconds we move onto the next question.. and if you miss more than two questions you have to drink whatever concoction Nicole comes up with.
Cody – When was the first time you pooped your pants.
Enzo – 10
Cody – is that true? Did you ever pee your pants past the age of 16?
Enzo – Yes.
Cody – you did?! What age was it?
Enzo – 16!
Cody – oh my god! Did you ever go on a date with a girl and then realize oh my god her body odor is worse than mine?
Enzo – No.
Cody – did fart while on a first date?
Enzo – No I did not.
Cody – did you ever pick your wedgy and then smell your fingers after?
Enzo – Definitely, yes!
Cody – have you ever picked your nose and eaten it?
Enzo – Definitely yes!
Cody – did you ever sneeze and then a booger came out and covered your chin?
Enzo – yes.
Cody – oh god! Have you ever walked in public and walked past someone and thought to yourself wow I hate them?
Enzo – No.
Cody – have you ever sat down on a toilet and the seat wasn't down and then your butt fell into the toilet.
Enzo – yes.
Cody – Speed round .. good job Enzo!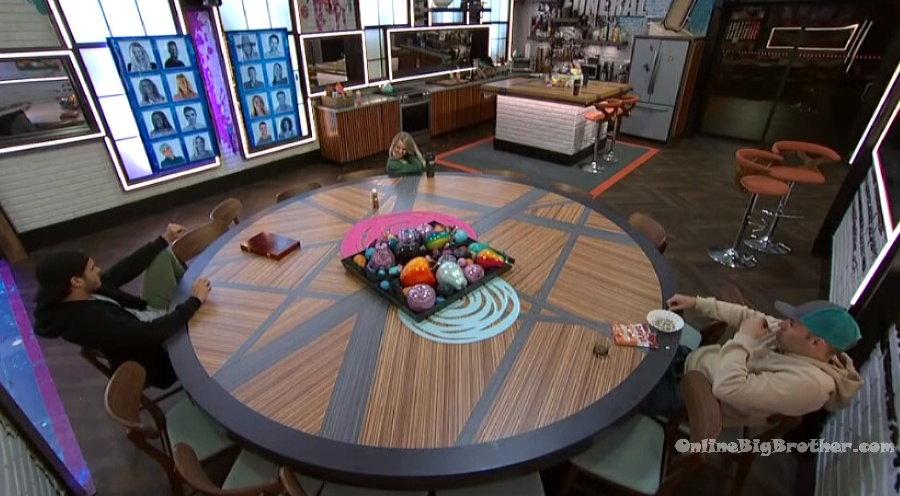 9:40pm Bathroom. Cody and Christmas.
Christmas – I am going to spell it out for you. I know you will win the endurance comp and if you take me I know I will win the second comp and then its me and you in that final one. If you win it, great. If I win it, great! I take you. Take whoever the f**k you want! Like I am not asking tit for tat. I want an opportunity to do what I didn't get to do last time. Cody – yeah totally! Christmas – and that is to go the full distance on my own merit. And I hope that from our conversation last time, that I didn't promise anything or do anything that I didn't intent to keep. And just to clarify with the vote with Nicole, it was real. I was told we were keeping her and that was real. She had gone back and that is when the entire thing happened. And then since then her and I have tried to mend it as much as you can mend something like that. Cody – yeah. Christmas – and I don't know what you and Enzo have.. I don't know what you and Nicole have but I just .. I don't want to throw anyone under the bus.. but I do think that I am your best option to go to final two.. if you don't win that HOH competition. Cody – yeah .. Hmmm.. I mean I feel like I am in kind of a spot where anyone cuts me to be honest. I know loyalty is what I went based off of but I know that is not what other people go based off of all the time. Christmas – yeah but I am looking at this as though.. probability. You go next to Enzo .. he has flawless jury management. He won enough comps to say that he competed. He didn't ruffle any feathers. He has great standing relationships with everyone in the jury. Nicole .. previous winner. No f**king argument there! Cody – yeah. Christmas – for me I have played comps.. I haven't won as many as you .. I've ruffled feathers with multiple people in the jury. I have people campaigning against me in the jury. It is biased for me but Nicole did win comps. She is a previous winner. I am your best bet for that argument. And honestly you are my best bet too. Cody – I have to put that and weigh that. You and I never had those conversations. I always respected you being straight up and coming to me now. My biggest concern is that people have been saying he is going to be tough to beat I don't want to be next to him. Christmas – To be honest I don't want to be next to you.. but I will because that is what it takes right now. The fact that I don't want to be next to you, doesn't mean that I won't be next to you. I would be thrilled for second place. I just want to show that I can do it. Cody – I feel you. I totally get where you're coming from. I get that you didn't get to compete the way you wanted to on your season. Christmas – I think you saw my loyalty in the committee. I didn't leave that in my last season. Cody – I just have to still think about it. Big Brother blocks the feeds.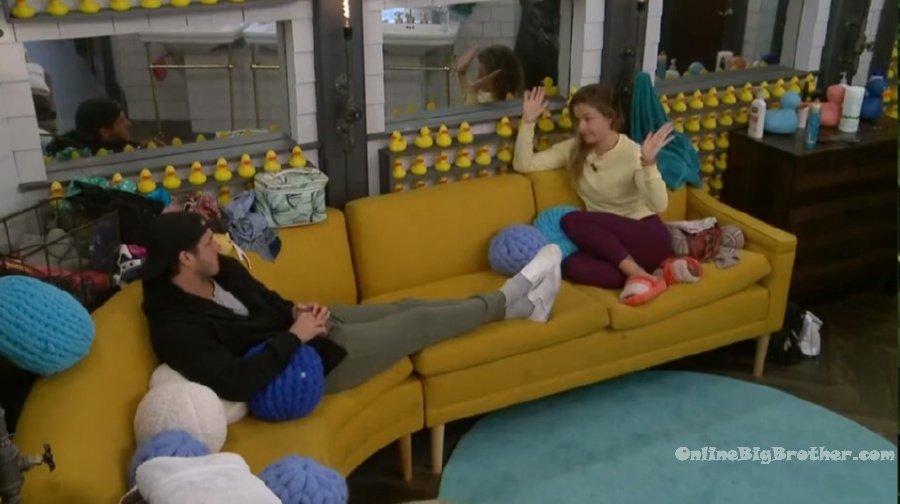 10pm Big Brother blocks the feeds.
10:20pm Still blocked..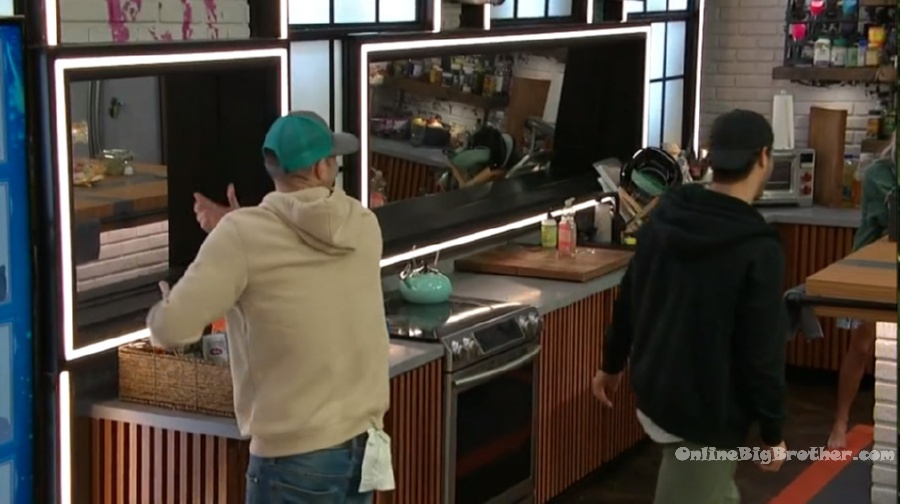 11:10pm Enzo is walking around the kitchen with toilet paper coming out of his pants. Christmas – what is that?!!? What the f**k is that?! Nicole starts cracking up laughing and then pees her pants. I literally peed my pants!!! Cody – what the f**k!!

Enzo later told Cody that he staged it and put chocolate on the toilet paper..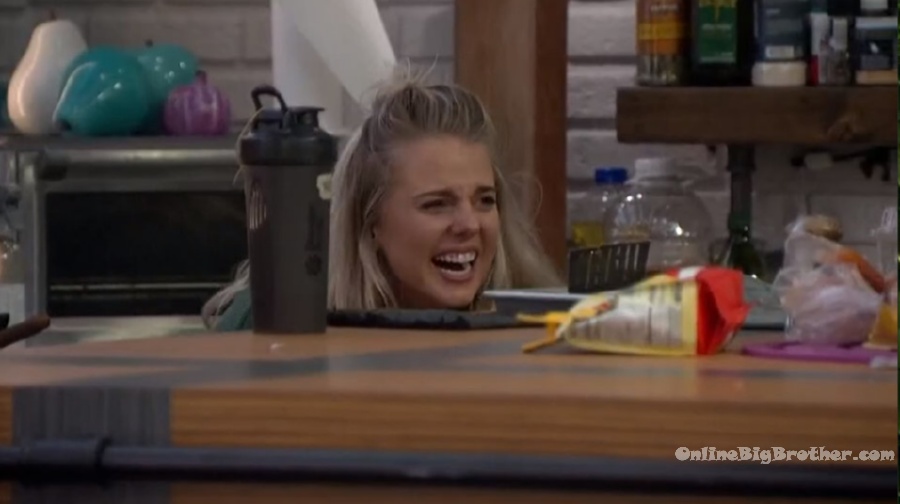 11:20pm Feeds are blocked..
11:52pm Still blocked..
Show your support by making a donation.
If you've enjoyed our live feed updates this season, please consider donating 🙂
Any amount is greatly appreciated! Without your support this site would not be possible.