Big Brother Spoilers – LOCO does not use the Power of Veto.
Early morning wake up for the Veto Ceremony. Last year they let the feeds run until Finale Morning. Not sure what they have planned for us this Time around.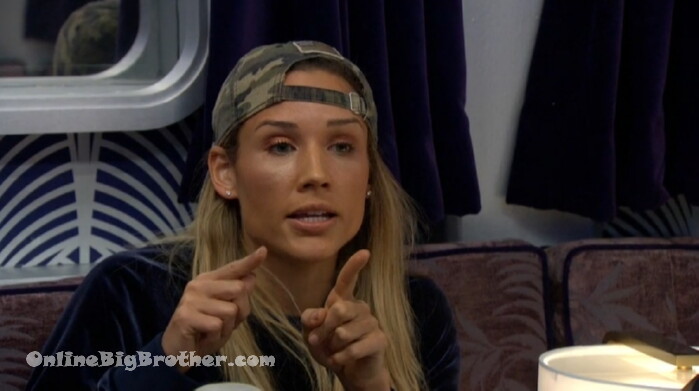 12:25pm LOCO and Dina
LOLO – whats frustrating for is [the] Kandi situation she absolutely doesn't need the money
Lo – that's what's really frustrating..
Dina – at all
Lo – she just really wants to win
Lo – she makes more money in two episodes of her show than I would make My whole year..
LO goes on about wishing that Dina would have told her that Kandi wouldn't take her to the finals.
Dina says Ta is tight with Kandi and Ricky
Lo – they're all tight so If I don't win.. Ricky is really good at the memory stuff
Din a- so is Kandi
Lo – it's really frustrating cause I went through a lot of sh1t to make it to the final
D – I KNOW.. that's why I'm rooting for you.. DAMMIT I wish I knew the game better
LO – maybe have another conversation with Kandi and see who she is going to go (with) .. just.. you're really close with her
Dina – If I'm not here it's TA.. that I know. I would bet money on it
Dina says that Kandi knows that all the guys are not going to vote for TA "It's a win win for her"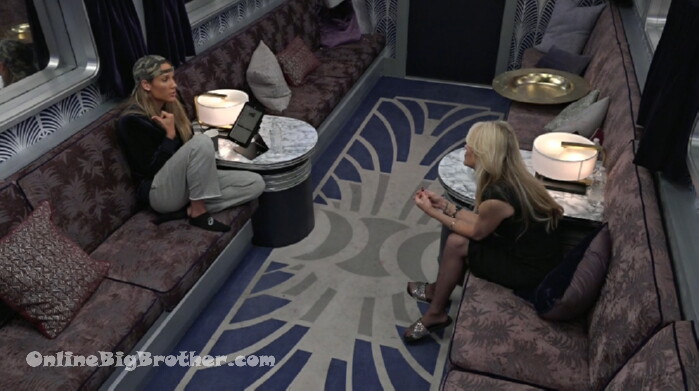 Lo – I'm going to tell you right.. He (Ricky) thinks Kandi is jealous of Tamar and that Kandi would not want Kandi to win
Lo – So by Kandi taking Tamar to the finales you know.. I Kandi thinks that..
Dina- she totally thinks that
Dina (sometimes impossible to transcribe Dina's speech) She's saying Tom and Kato will vote for Kandi over Tamar
Lo – Than Tamar will be happy to get Second because Second place gets prize money to
Dina – I told a couple of the guys who I thought should win for financial stuff.. I told Kato I told Tom I think I even told Kandi I gotta ask her../
Din a- Cause I never thought about it all I wasn't like that..
LO – I mean the only other thing I can do is I could just plead with whoever stays if it's you or Kandi and just be like
Dina – Kandi is competitive and that's a great thing that is why she is so successful
Lo – I just don't think Ricky is going to believe if you say what you told me I hav ea feeling he's not going to believe it that is what my heart is feeling..
LOLO – I felt weird energy between her and Ta
Dina- they are tight..
Dina – I think she wants it to be her and Ricky cause that's a toss up
LO – I thought Ryan and Jon liked Ricky
Dina- NO.. JOn would not.. I would give him the look
Lo – I voted Jon out
Dina – it's the game kato put me on the block that little sh*****
They speculate about the votes if it's LOLO and Ricky
Dina – Kandi would go Ricky
Lo – cause they played so much chess
Dina – she just would.. I pretty much know her so that would be two.. Tom would vote for you.. Joey..
Dina – Kato would vote for you
Lo – really? kato was mad at me though
D – no, if it's between you and Ricky
Lo – ohh yeah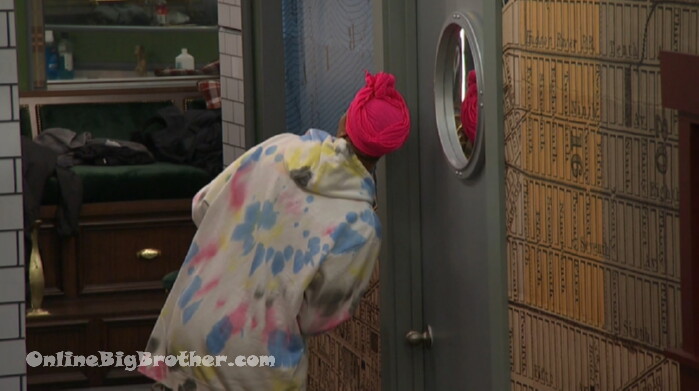 12:43pm Tamar listening in…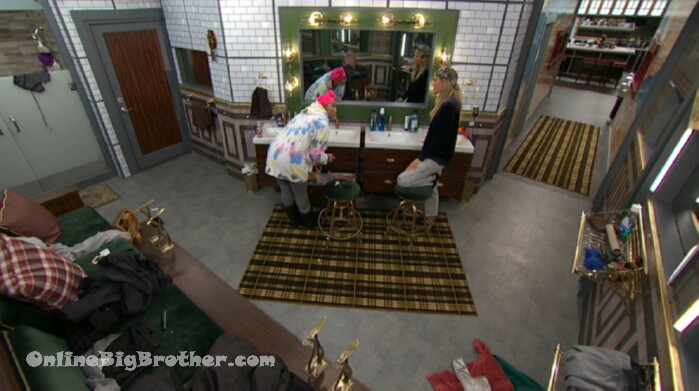 12:53pm LOLO and Tamar
LOCO wants to know if Ricky had a problem with her speech earlier because she say him laughing..
Ta – he said that Veto was funny ..
LO – he had an issue with me basically being graceful to both of them. What's the issue with that
Ta – he didn't say .. there was a lot of funny elements.. didn't he say in the room
Lo – yeah.. I've been thinking about a lot of thing
Ta wants to know
LO – I can't say it because I have to keep listening to my holy spirit about what is going on
Ta – with who
LO – I just need to read my bible and figure it out..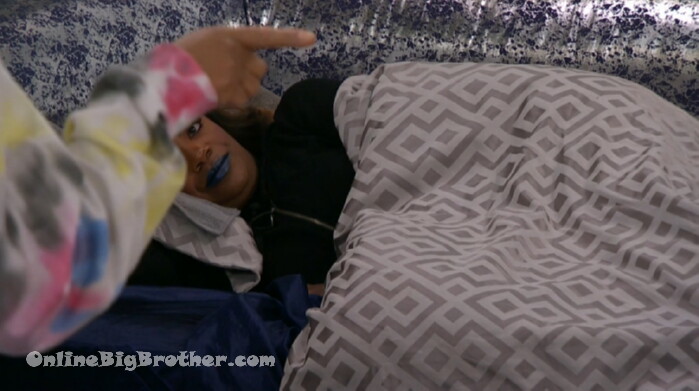 12:56pm Tamar and Kandi
Tamar whispering about Dina Starting something
Kandi what she do
Sounds like Tamar is saying I don't trust her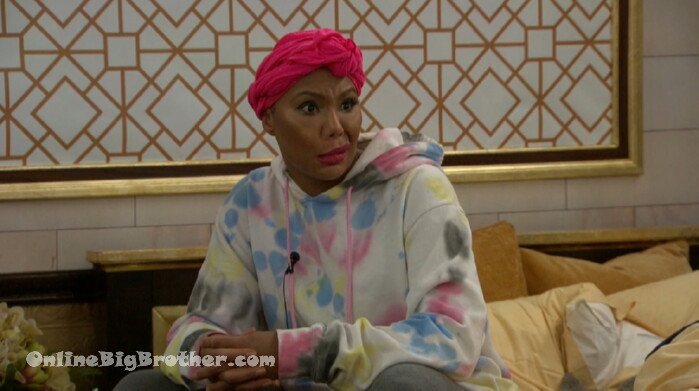 6:49pm Tamar and LOCO
LOLO brings up Dina saying that KAdni is going to pick Tamar and Tamar is picking Kandi
LOLO – like there's a deal
Tamar – I'm 100% taking you
Lo – yeah
T – 1000%
LO – when she told me that I was like.. alright before I say anything .. I'm going to go pray about this
T – think about how that sound s
L – yeah
T – SHE'S not taking me
L – yeah.. and after I talk to Kandi I was like yeah.. .. I dunno she might but I think she'll probably pick Ricky
Tamar – "under any circumstances"
LOLO says that Dina told her she's a siting duck in the end.
Tamar – Dina go home .. please go home Dina
Tamar – I'm not going to f* you
Ta – IO'm not going to f* you
Lo – I believe you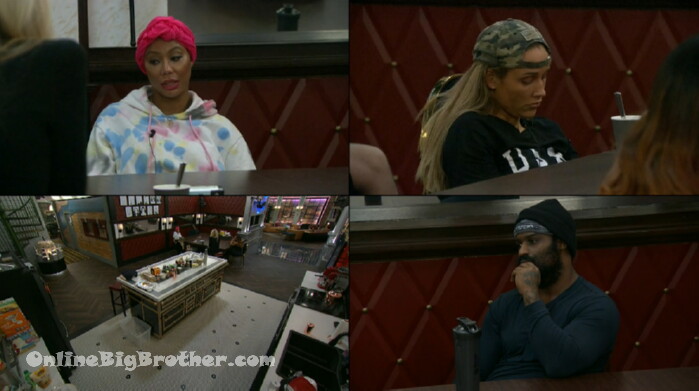 7:50pm cards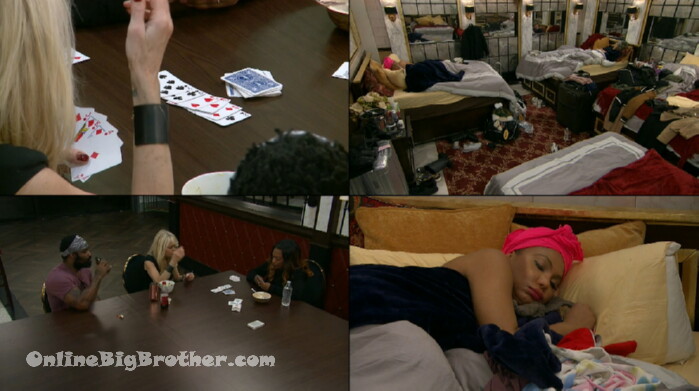 9:30pm Lolo, Kandi, Dina and Tamar. Lolo – Last day in the house guys! WOOOHHHOO! Kandi – give it up for yourselves. Lolo – we made it!! They talk about their families going to be at the finale.

10pm Bedroom. Lolo and Ricky. Lolo – You have to have some kind of confidence going into this final. Ricky – yes exactly. Lolo – you can't be like what if? What if? What if? It will drive you crazy. So at one point when the room had decided to keep Kandi .. even though I had those reservations. I went into track mode. Tunnel vision. But now I feel much better going into this. I am down for it so we will stay on the same plan and I will talk to you tomorrow right before. I am down for it. Ricky – ok, yeah. Lolo – YES! We're going to split the vote! Ricky – I love it. Lolo – Going out in style!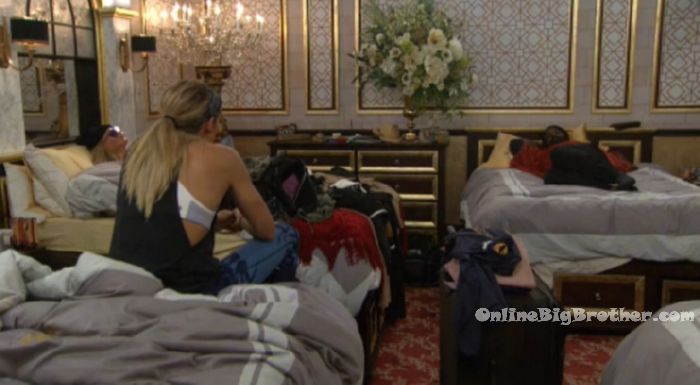 10:50pm – 11:26pm
Kandi and Dina playing cards. After Dina and Kandi shower and get ready for bed.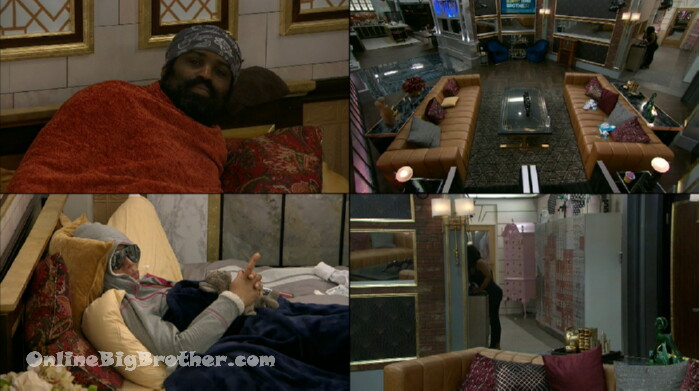 8:55am Ricky and Tamar
Ricky – I like Kandi I think she's a sweet person but not today.
Ricky – You feel bad?
Ta – you're trying to pin it on me
Ricky – you saved her when you had the opportunity that was a HUGE save
T – I don't know if it's bad I think I'm little confused
R – about?
T – how it all came about
R – I tell you I was upstairs by myself and it just didn't sit right with me.. I came down downstairs.. then went up to work out and said LOLO I don't feel good about this
R – and she was kinda like Ahhh..
Ta – we need to break down the strategy with Dina because that's the part I don't understand
R – there's no strategy I mean.. my understanding was at the beginning of the process it was a flip of the coin Kandi or Dina
T – well how she (lo) broke it down to me is probably the reason I feel so uneasy about it
R – how did she break it down .. She (Dina) can't win anything
Ta – she (lo) she told me that Kandi said she's going to take you with her .. I'm so confused
R – for them they cannot win so I don't care.. it's not even .. if any of them had a chance to win it would be Kandi with Dina …
Ta – you trippin Dina almost won this HOH
R – which one
Ta – the one outside the one LOLO won
R – no she didn't
Ta – yes she did and she almost won a veto
R – those are memory these ones are about the game ./.. she doesn't know anything about the game
Ta – I'm glad it feels right to you cause none of it feels right to me.. I didn't sleep at all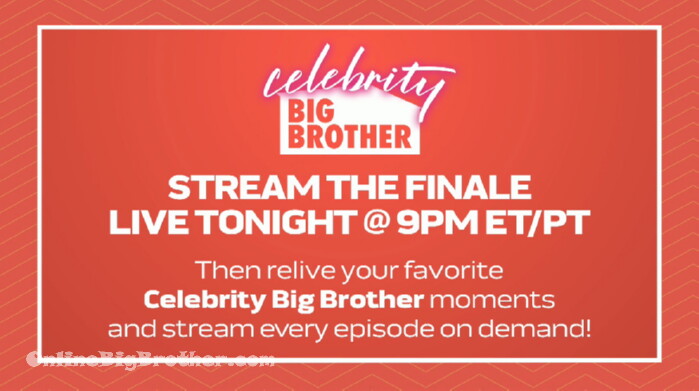 9:25am Feeds down for the season. Finale is tonight
Share it YO!!
Tweet