Quick Big Brother Spoilers
Head of Household: Jared
Nominees: Cameron & Red
POV Players: America, Jared, Cameron, Red, Felicia, Matt
POV Winner: Cameron
Veto Ceremony:
Havenots: 
Lock your ranks in before midnight
The Situation Jag will be the replacement nomination and is the current target of the Stunt alliance.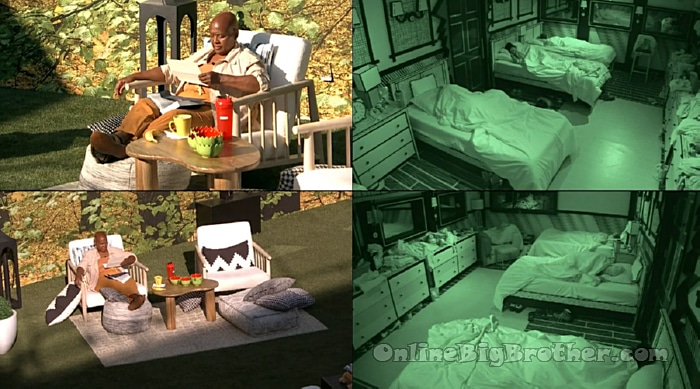 8:22 am Big Momma Felicia is up.
9:22 am
Rest of the house is getting up.

9:30 am Matt and Felicia
Matt – he (Jag/Cameron?) was the one taking shots at us first. I like the guy I do.
Felicia – That's what makes it hard as a person you like the person it's their game play
Matt – exactly in the end he would come for us. Protecting our Seven
Felicia – I'm praying he (Cameron?) doesn't win next HOH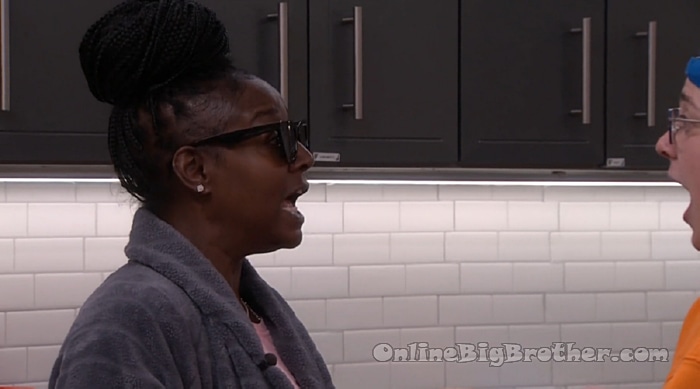 9:35 am Izzy and Cirie
Izzy – My last concern is Cameron won't put up Red he'll put up Jag next week. I think the larger scheme of things Jag is the right choice.
Cirie – we need to get rid of Jag. HE has too many options. Once Bowie and Red jumped on the Jag train I knew Jag has got to go.
Izzy – when Blue Suggested him
Cirie – exactly.. If Blue is supposed to be his (shows fingers together) why suggest him?
Feeds flip When we're back.
Cirie – With Jag gone Jared will have Blue like this (shows fingers together). Now that Jag is gone Red and Bowie will have to come here
Izzy – we're sitting pretty
They hug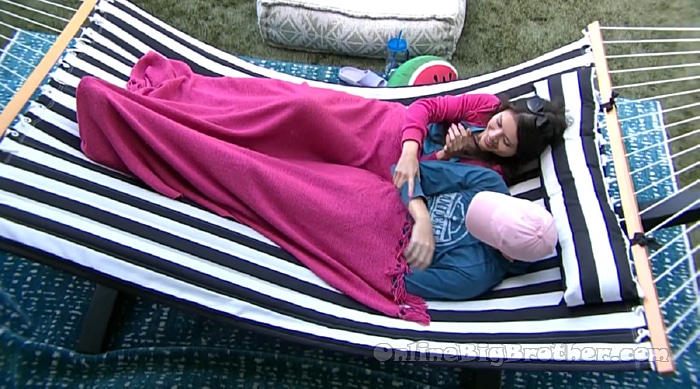 10:04 am America and Corey
America says she's going to talk to REd today and "clear the air"
Corey might take it easy.
America – I didn't talk to Jag yesterday
Corey – I need to talk to Jared
Corey – it's going to get cold this summer (Fall)
Corey – After Yesterday I gotta chill
They talk about move after a couple minutes feeds cut. When we're back they're in a conversation about grand romantic gestures. They do mention how rude Izzy is being saying aloud Cameron is in his 40's/

10:38 am Izzy, Cirie and Jared
Izzy – JAg's gotta go
Cirie – I still feel the same way about Jag..
Izzy – You think america wasn't going to pull Jag and Matt.
Cirie – Exactly. She won't have nowhere to go because Red wants' nothing to do with her
Cirie – HOW DARE YOU PUT US UP
Jared – me and MAtt can't stand her bro
Cirie – Jag's still gotta go but she's next.
Izzy – Jag and Cameron have to go. Then we'll deal with America and Red. Then Matt and Felicia. (Sounds like a fun season can't wait to watch it)
At 10:45 they scamper into the comic room to spin scenarios. They discuss not telling Matt about getting Jag out.
Izzy about Matt – "You played the power for Jag. You gotta go"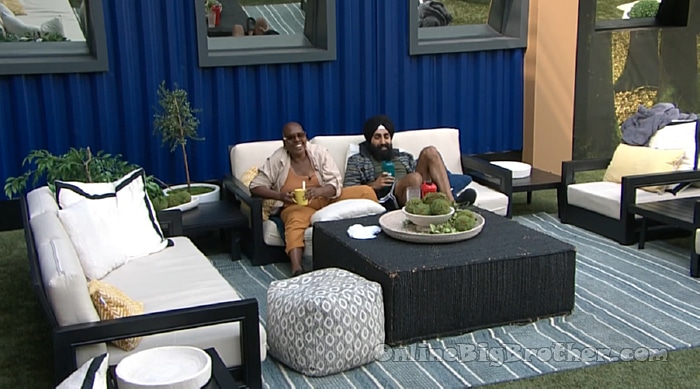 10:55 am Jag and Felicia
Felicia brings up that Cameron blames Jag for being the person that turned REd against him.
Jag – had nothing to do with that whole situation
11:13 am Feeds on the dog pound.
If you like these spoilers and read this blog regularly please consider a donation to keep the madness going. We accept donations via paypal How to support OBB