Quick Big Brother Spoilers
Head of Household: Jared
Nominees: Cameron Jag & Red
POV Players: America, Jared, Cameron, Red, Felicia, Matt
POV Winner: Cameron
Veto Ceremony: Cameron used the Power of Veto. Jared nominated Jag.
Havenots: 
Lock your ranks in before midnight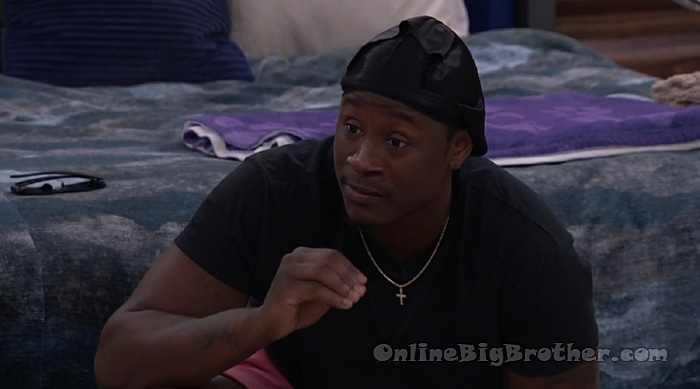 12:41 pm Feeds return Jared and Jag are in the HOH.
They're going on about their 7 person alliance. Jared is excited for Jag to win the next HOH so they can take cameron out
Jared – we just get to 7 and then start BALLING.. a that point we know what it is we've accomplished the Goal.. you know what I mean? We just say AIGHT listen we know what it is now we literally have no choice to go after each other but
Jag – That's the thing I want to make sure we're solid up to that point
Jared – we're solid we have to be solid up to that point
Jag – No early shots
Jared – so far I don't see anybody wanting to take a shot in the 7. unless somebody in the F*** 7 does something to make themselves a target .. I was just saying to BLue YO Bro.. People can not make themselves targets inside the 7.
Jared – me you and Blue we're in a group we have to make sure we keep each other on point in a sense.. yo Bro be careful that is why i'm so glad we had that sh1t yesterday..
Jag – I'm a team player I trust y'all
Jag – after this week, after REd goes it will solidify the 7 a lot more.. People will be like DAMN we actually rock first time the 7 is working together… when it's one of the 7 on the block and one not in the 7 on the block
Jared – yeah
Jag – before that that hasn't happened
Jared – yeah yeah I agree… it's a no brainer at this point I know it's his birthday and sh1t tbut that's tehw ay life goes. You know what I mean?
Jared – I know people are on board. last night really helped people.
Jared says Jag being on the block is a way for everyone to prove their loyalty.
Jared – you can't even mention if you are going after anyone in the 7 then your a$$ is going up. Not you literally but .. Its a cancer we have to immediately cut the cancer out.
Jared – people have to be careful what they are saying
Jared says they have to watch out about what they say to people like the Corey's and the Americas so they don't find out about the 7 and figure out a way to exploit it.
(It's a fairly awkward conversation)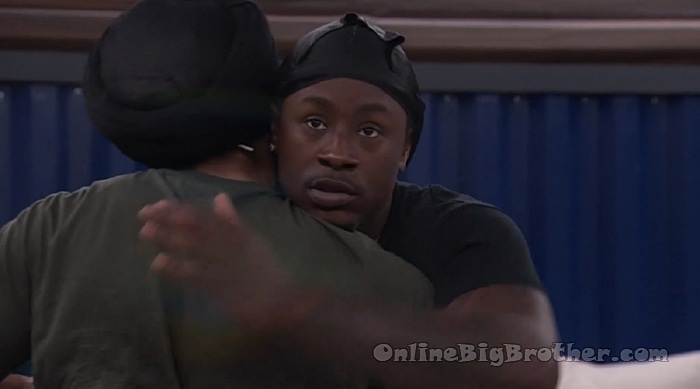 They hug.
Jared – I'm about to take a sh1t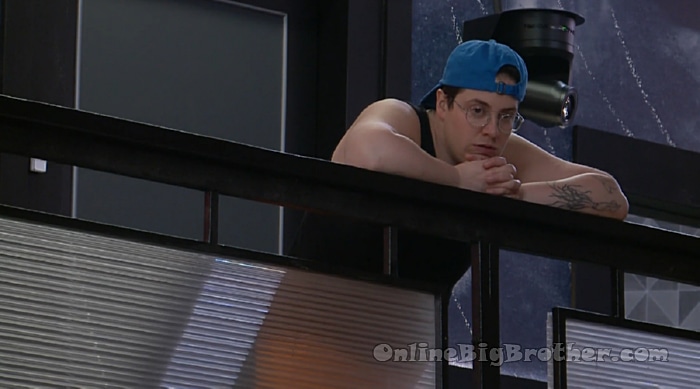 Izzy camps the HOH room waiting for Jared to finish.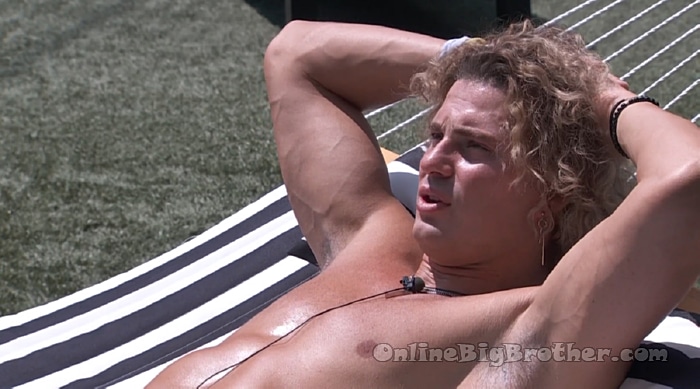 1:00 pm Cameron and Matt
Matt – He thought it was going to be Bowie or America
Cameron – why did you have to calm him down
Matt – he's shocked
Cameron – Im not happy about blindsides
Matt – maybe he had a sense
Cameron – he did this.. it's on him.. he knows it's over. Last week he had a shot
Matt – last week he really didn't have a shot. He survived to next week but that didn't get him far. He said he wants to talk later.
Cameron – I won't be talking to him not being mean I just won't be talking I have nothing to say
Matt – he feels close to me so he'll be asking for my vote.. Shocker
Feeds flip when they return
Cameron – At least I'm not on the block or HOH. For the last three weeks I've been either.. last 4 weeks I've been either on the block or HOH So every campaign has somehow been talking about me. When I was up against Reilly, Cameron sucks he's awful vote him out. When I was up against Hisam, Hisam was like Camerons untrustworthy vote him out. Last week I was HOh guess what "Cameron's not going to be HOH next week where's what we can do.. I'll work for your game"
Cameron – now this week he was going to make an all out attempt for me Now I'm not on the block so he'll have to figure something else out to talk about.
Matt – Yeah that makes sense.. I think him and Hisam had a deal.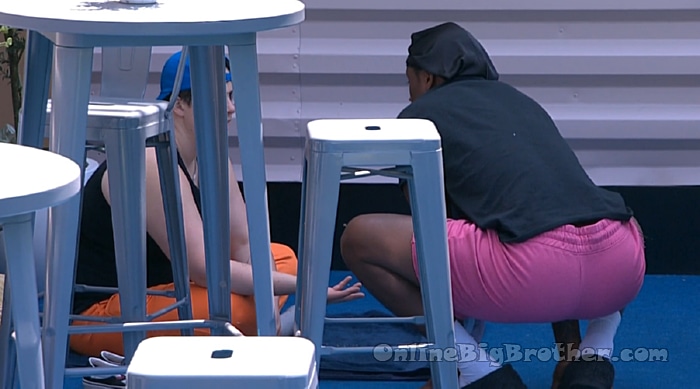 1:00 pm Izzy and Jared
Izzy pushing for Jag to go this week Jared agrees. She says once Jag is gone America won't have as much ability to take a shot at them.
IZZY – if we keep Red America is still going to want to target Red before us. Even if she puts me with RED GREAT that's GREAT
Jared says they are doing the right thing Keeping Red.
Jared is worried that Red and Cameron will get back together.
Izzy – I know. Thats been the worry but we have MAD ammunition against Cameron's girlfriend, Giving up the final 2. we keep reminding REd.. (She scoffs after this)
Jared still doesn't think they should be SO set on Jag. "Matt is going to feel some sort of way"
Izzy – I know, Matt went right to America and said JAag is going up. COrey told me that corey was there.
Izzy thinks Matt is already onto knowing Jag is the target.
Izzy – Even if Matt is upset right.. where will he go? is he going to REd?
Feeds flip. When we're back.
Jared – we can't rule out Matt might put someone up from the seven.
Jared – he's not putting up Cirie or Felicia
Izzy – if Jag goes, Cameron isn't putting up red. If Red goes America is putting up Red. That saves us one person.
Izzy – If red goes Cameron would put up Jag but America wouldn't she would put up two of us.. So it's like splitting hairs.
Izzy – Corey says Cameron has been saying he's ready to put up America. That's better for us. We have to start seeding in Camerons Heading.. well clearly if you want to make a big move you have to backdoor. So what if you put up Felicia and Blue.
Jared – mmmhmmmmm
Jared – if Corey won HOH next week I would push him for Felicia
Izzy – Corey would be onboard for that he's so mad at Felicia. Everyone is she's just like Running her mouth (I hope Felicia body checks Izzy)
izzy stresses they have to manage Matt after they vote Jag out.
Jared – Matt has a lot of information that can sway a lot of people
Feeds flip.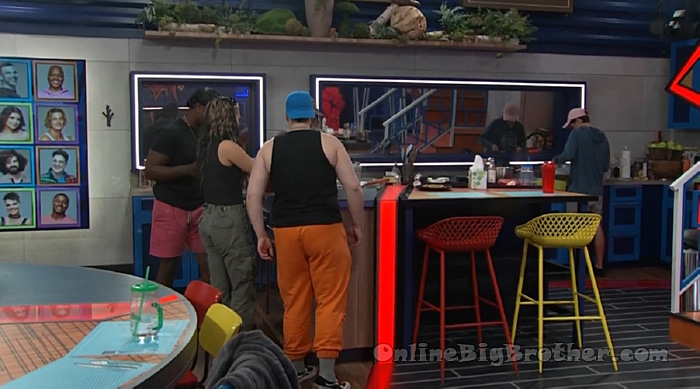 1:10 pm Izzy and the kitchen
Izzy – I've been eating LIKE all day.. I've just been eating day basically.
Izzy to Blue – what are you dipping in there though? Are those potatoes? goddammit I've been eating all day
Jared – don't stop now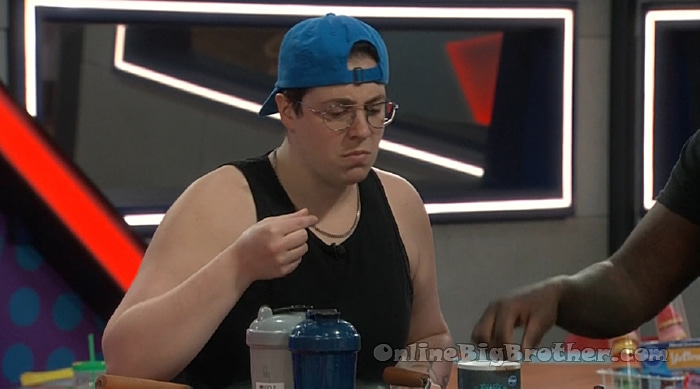 Izzy gobbles down food "mmmmm I'm not mad at that"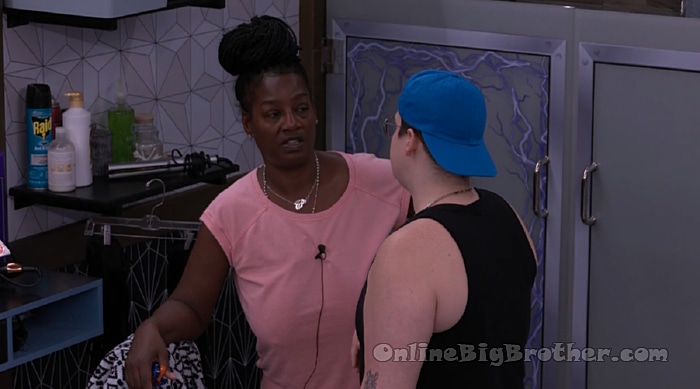 1:12 pm Cirie and Izzy
Cirie says she cleaned Jared's HOH bathroom.
Izzy – I've been thinking of potential Backlash issues.. I've been thinking of new PROS for getting rid of JAG
Cirie – still Jag?
Izzy – still Jag.
Izzy – I'm worried about Matt and Cameron teaming up. I'm worried about Jag blowing up me, You maybe felicia cause this is now the second week we've done this to him (LOL)
Cirie – Jag's got too many people.
Izzy – Jag's got to go we just need to talk about how we are going to navigate.
They compare notes that Corey has told both of them he's solid about their Final 4. (with Jared)
Izzy – I think we should do everything to keep Blue and Bowie as are four and 5.
Cirie – I'm still about wanting Jag to go I just don't want to say it in front of a lot of people. I'm going to go back to I don't know except in front of bowie.
Izzy – I want us to start studying
Cirie – not in front of Bowie.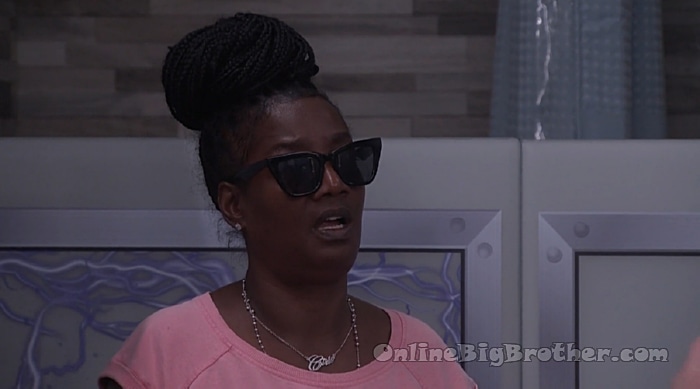 Izzy – I've been counting the whole time.. If we do it a couple times a day.
Cirie – I'm down
Izzy – I'm starting to do the competitions and who won. Start thinking about Just trying to remember who was on the block and who was pulled off and who was the replacement.
Cirie – JESUS
Izzy – I know I know I'm going to start doing it so it's in my head
Cirie – OK
Izyz – the days the comps and the order.
Cirie – I got it. You still believe jag
Izzy – I do. the backlash will be small but a lot of it. ;
Cirie – the backlash
Izzy – Just matt..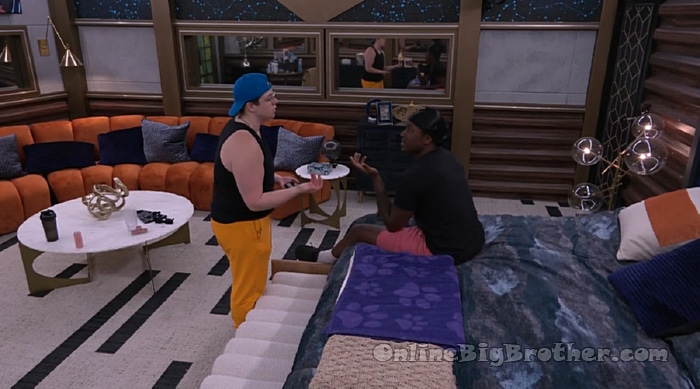 1:30 pm these two are still talking about Red or Jag but they totally agree Jag. (Please make it stop)
Izzy – Ok listen it's really just the Matt thing..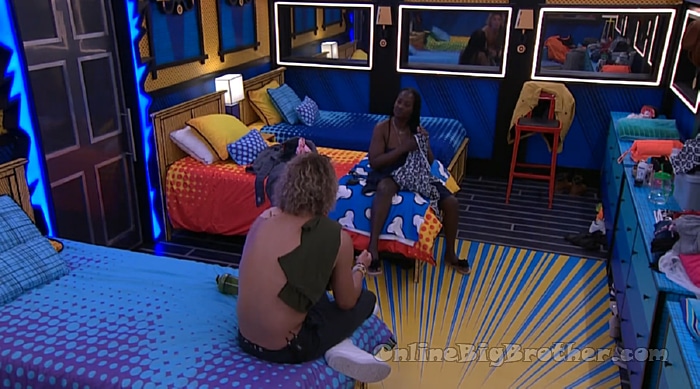 1:48 pm Cirie and Matt
Cirie is going on about wanting to keep Jag. They talk about their Cirie, Matt, MOMMA Felicia, MEMEMEME, Izzy and Blue Versus, Cameron, Bowie, America and Corey.
( Cameron, Bowie, America and Corey for HOH)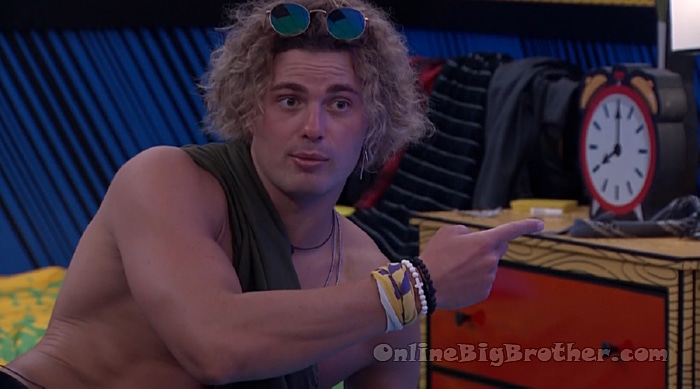 2:00 pm
If you like these spoilers and read this blog regularly please consider a donation to keep the madness going. We accept donations via paypal How to support OBB