| | | | |
| --- | --- | --- | --- |
| POV: | ? | Next POV: | Sept 8 |
| POV Used | No | POV Ceremony | Sept 10 |
| HOH: | Kaycee | Next HOH: | Sept 13 |
| Noms: | Sam & Haleigh | Have Nots | JC, Sam, Scottie |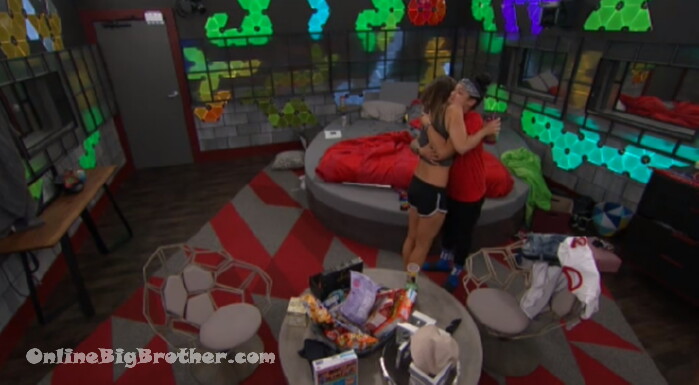 10:11am Kaycee and Angela
"Peanut peanut… "
Kaycee – if I get houseguest choice who do I pick?
A – me .. no pick Tyler.. pick Tyler, he's better at vetos ..
Angela says Sam asked her if she gets houseguests choice she can pick
Kaycee – I hope it's everyone but JC
K – I'm picking either you or Brett.. Tyler gets to play lot..
A – pick JC
K – F*** … JC i choose you
A – he will be so mad that he has to play today ..
K – i hope he doesn't I hope it's just all of us that would be so sick..
They plan on having their standard post POV party after they win the veto today..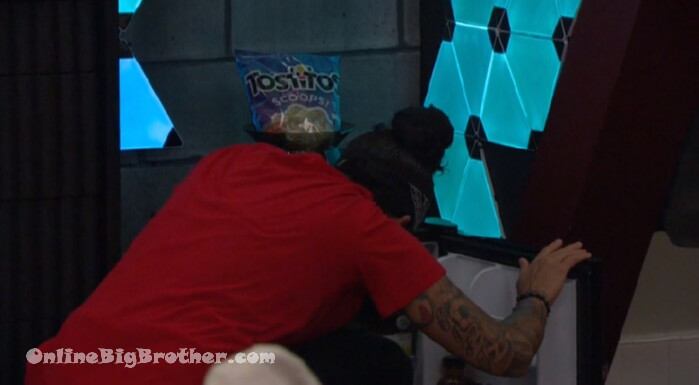 Kaycee – the beers are in here cold… yes..
K – I did tell Sammie I will save her one.. keep her as calm as possible,.
Kaycee mentions her conversation with Halegih before nominations. Haleigh asked Kaycee who her target is. Kaycee told her she doesn't have a target and it just nominating people based on who nominated her and how she can minimize blood.
Angela – I wold never ask.. was I you're target this week
Kaycee – I know..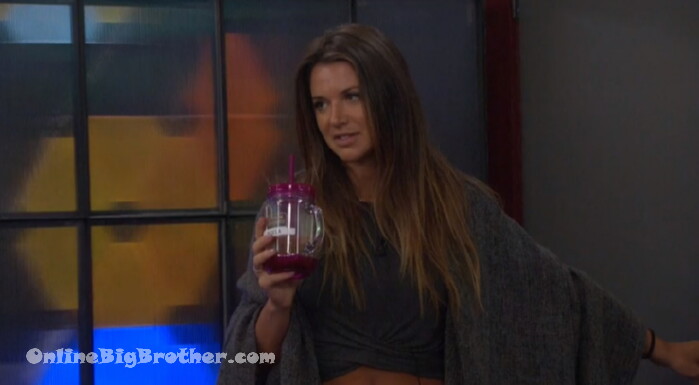 Kaycee called into the diary room. Before leaving Kaycee hems and haws about who she should pick. If Sam is picking Angela she will pick either Brett or Tyler. She feels bad because Brett doesn't get to play in many vetos.
Angela tells her to pick Tyler "he wins Vetos'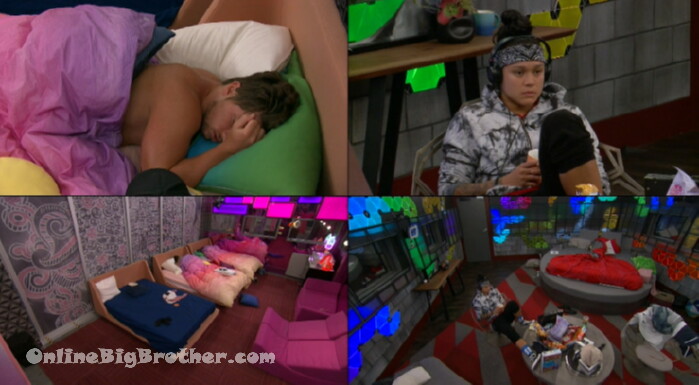 11:22am zzzzzzzz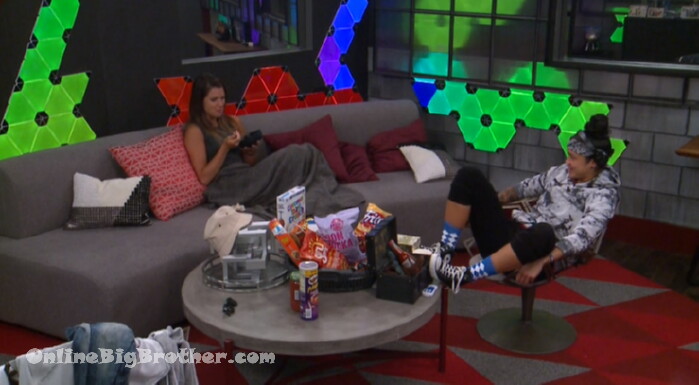 11:27 am Angela and KAycee
"Peanut pEanut"
They wonder why POV players haven't been picked yet..
Kaycee bring sup thinking there was a "temptation" asks her "why would you not do it"
Angela says she wouldn't points out how they are in a good spot right now
Kaycee – I guess if it didn't affect the game. (if there's a temptation and It's kaycee's it will 100% x a million F* up her game.. they couldn't even get her none expired sealed food in her HOH basket. )
Kaycee misses her regular fitness regiment.
Angaela does too looks forard to getting back into your routine
Kaycee thinks as much as she wants to be back on track she's not sure if it'll "Go that way" notes hwo she'll want to spend time with her friends "Gong out for drinks"
Adds that Holidays are coming up so realistically January will be when she's back at it.
12:17pm Veto players were picked. JC is not playing he will be the host. Everyone else gets to play.
Sam hangs out on the stairs .. talking about Bio dom. Tyler at the sink, Haleigh at the oven. Brett and Kaycee on the centre island.
Sam – no matter what happens tonight I'm cleaning out that fridge.. it's f*ing ridiculous..
Tyler agrees..
Brett mentions how he cleaned it out with Scottie, "Usually we clean it out Wednesday or Thursdays"
12:41pm Just chit chat…
Haleigh asks him where is a spot they take girls on dates..
Brett – I almost always go sushi never met a girl that doesn't like Sushi
Brett – I've never met a girl that goes No I don't like sushi.. .it's the perfect first date.. it's clean it's little..
Kaycee – and if they don't like sushi this isn't going to work
Brett – that to
Brett doesn't want to go for spaghetti and ribs on their first meal
Brett – sushi every time .. then we're going dancing ..
Brett talks about a summer landscaping job where he would look after houses for the ultra rich. Mentions how these are houses you would think is a person's primary house but in reality these people spend 2 weeks a year in them. It was mostly landscaping.. Building walls, lawn care, weeding and generally caring for the house as if it was his own. "The basic sh1t" . Brett mentions how this one" Millionaire lady" took a liking to him and his buddy and requested they look after her place. Brett mentions how she had a 16 year old that drove a range rover
Brett – she would hand me 500 bucks and say go to ace's hardware.
T- you were her personal assistant..
B – yeah I was her personal assistant.. instead of some 40 year old dude doing the landscaping she wanted some 20 year old guy (wearing a banana hammock)
12:55pm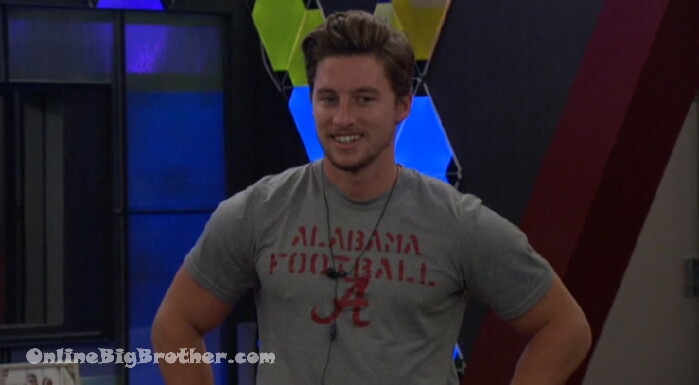 1:02pm Brett, Kaycee and Tyler
Brett – we have 5 outta 6 percent odds here
Brett – That's like a 84% chance.. she goes home..
Brett – dude if they make have nots for another week and it's not our choice and he's a have not he'll walk the f* out (JC)
Tyler or if we get alcohol he'll down a beer .. he'll get a penelity nom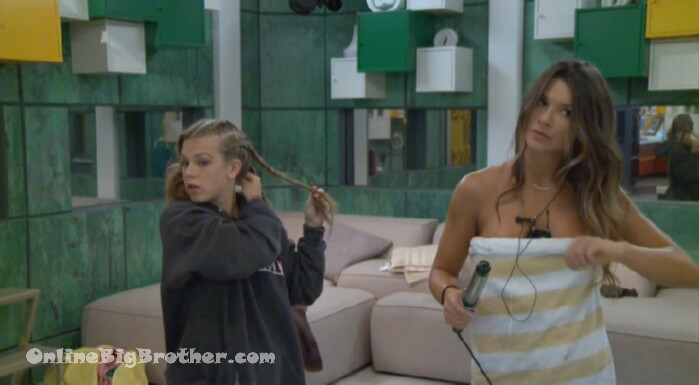 1:16pm Haleigh and Angela
halegih telling her they have to really start practicing the days
Angela – yeah..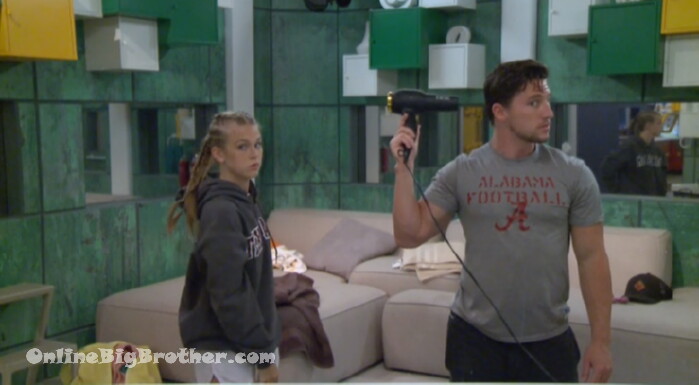 1:26pm Brett says he would help Haleigh if he could.. Jokes that it Brings back memories from "Doing time"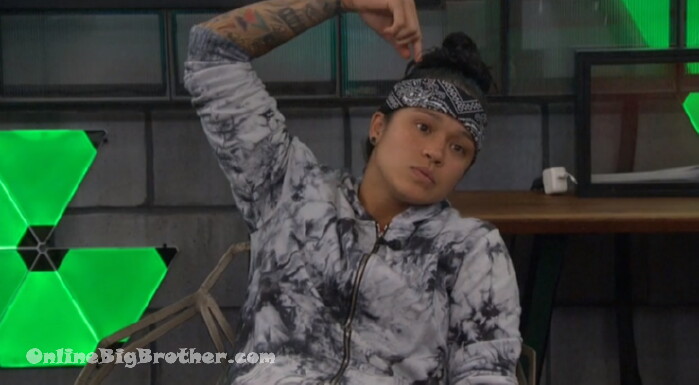 1:39pm Tyler and Kaycee studying
1:30pm Haleigh tells JC in passing she never saw star wars ..
1:42pm JC, Angela, haleigh and Brett in the bathroom.
JC – have you seen the stars wars first episode.. the CGI Character.. what is the name of it..
H – I don't know I've never seen star wars
JC – jar jar… I don't know it was an alien..
Brett – jar jar binks..
JC – JAR JAR jar JAR Binks she looks like JAR JAR BINKS..
Bret – the orange guy?
JC – JAR JAR BINKS
Brett – the under water guy
JC – yeah
JC – she looks like JAR JAR BINKS .. not right now she had it like before like this… it was like this before hanging..
Haleigh – I'm not sure what that means..
JC – JAR JAR BINKS.. very beautiful.. I like it..
"JAR JAR Binks she looks like JAR JAR Binks.. very beautiful.. I like it" #BB20 @DawgsBigBrother pic.twitter.com/SMF9QSC9Mu

— OnlineBigBrother.com (@bigbspoilers) September 8, 2018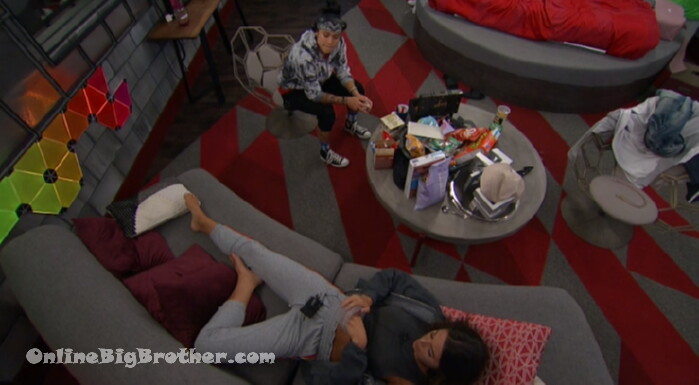 1:50pm Kaycee and Angela
talking about how to calm Sam down this week and tell her Haleigh is the target because Haleigh is the target,.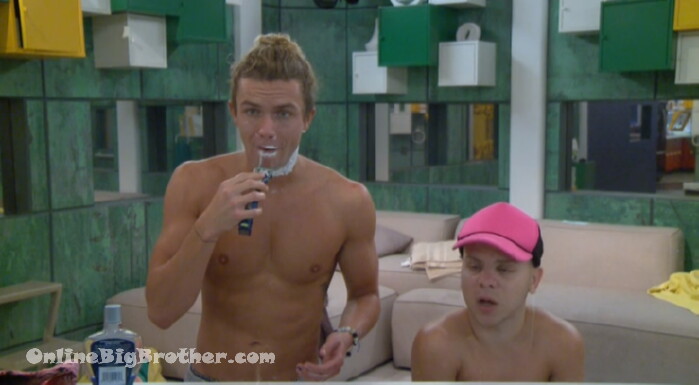 1:52pm JC and Tyler
JC says that Brett is gunning to break up KAycee and Angela..
JC wants to get Angela out.
Tyler says its more beneficial for them to bring Kaycee over BRett.
Tyler doesn't think kaycee will beat them mental wise but physical she might.
Tyler – I know for a fact I won't lose an endurance..
JC says Kaycee is "Completely dumb"
Tyler doesn't think so.
2:30pm – 2:45pm HOH room. Kaycee is laying down on the HOH bed. Angela is listening to music. Brett joins them. Brett starts reading labels on packaging. Brett – I'm trying to get words (for a possible spelling veto comp). Cornstarch is a good one only two vowels and you can break it up into two words. Kaycee – hopefully its soon. Brett – if its anything physical, it will be a slam dunk. Kaycee – if its anything physical, we've got it. Brett – 84 % chance
3:10pm The house guests are all waiting around for the veto to start..

4pm – 5pm The house guests are in the kitchen eating and chatting. Meanwhile, Sam is in the havenot room sleeping.

They play a game around the kitchen table where three of them put their heads down and the other three walk around them and touch their thumb. The three sitting at the table try to guess who touched their thumb.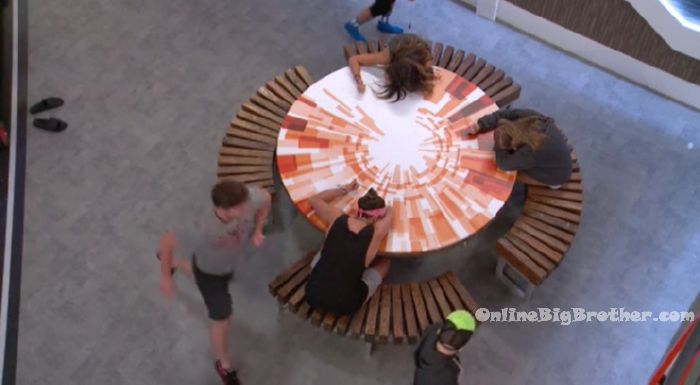 5:30pm They're still waiting around for the veto to start..
6:20pm – 6:30pm Bathroom. Brett and Sam. Brett – do you think we're even playing in this veto today? Sam – be careful what you wish for. I'm just saying .. we're not the boss here. We're not in control. Brett – Oh I'm aware. Sam – just trust the process. Brett – that's what I keep saying. We're not in a rush. We have nothing else to do. Sam – right. Brett – they're the ones that are busy. Sam – I will give you an IOU for $5 if you rub my shoulder? Brett – I'll do it.
6:49pm – 7pm Big Brother tells JC to stop that. JC heads to the bedroom and the other ask him what he was doing. JC – opening up the door and listening. (Backyard sliding door) I think they're still working on the yard. Maybe they're having some sort of set up problems or something. Its 7pm. Kaycee – maybe they're just waiting until it gets dark. Maybe we'll start at 8pm. JC – now I am happy to not play. On slop and no energy.
7:52pm The live feeds finally switch to the BB reruns. The Power of Veto Competition has started…
10:43pm Still nothing..
11:52pm Nothing yet..
One easy way to support the site if you are an amazon shopper is to make your purchases through our link. You pay the exact same thing but we get a small % commission. It doesn't cost you anything and helps us out.
Amazon Canada
Amazon USA