| | | | |
| --- | --- | --- | --- |
| POV: | ? | Next POV: | Sept 8 |
| POV Used | No | POV Ceremony | Sept 10 |
| HOH: | Kaycee | Next HOH: | Sept 13 |
| Noms: | Sam & Haleigh | Have Nots | JC, Sam, Scottie |
A real easy way to support the site if you are an amazon shopper is to make your purchases through our link. You pay the exact same thing but we get a small % commission. It doesn't cost you anything and helps us out.
Amazon Canada
Amazon USA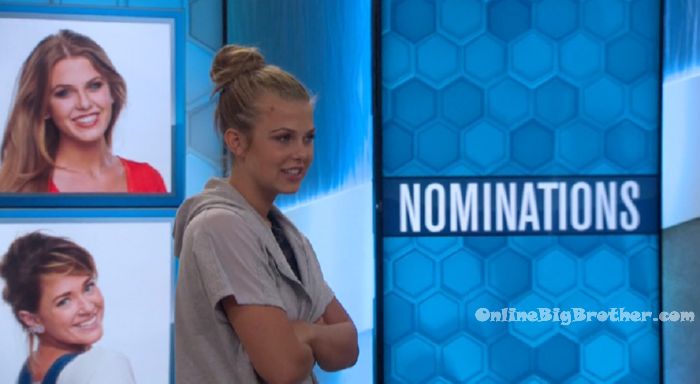 Kaycee Nominated: Sam & Haleigh
4:35pm – 5:34pm The live feeds return from nominations. Kaycee talks about how she was super nervous. I probably looked like I was crying. Sam – its okay you did fine. Kaycee – it was the laughing. Haleigh – this is supposed to be a super serious thing. They're super frustrated with us.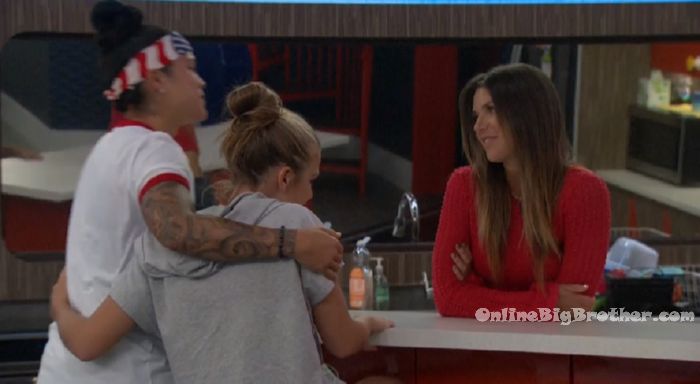 Bedroom. Brett and Tyler. Tyler – we're going to get f**ked by a twist! Brett – I just keep running hypothetical through my mind like what is going on. Like everyone is too hunky dory. Haleigh – goes whats the point of me even unpacking? I'm like, you're right. Tyler – still got a veto. Brett – one of has win this veto tomorrow. Tyler – I'm going to. Sh*ts crazy. Brett – we have to start practicing days too. Tyler – agrees.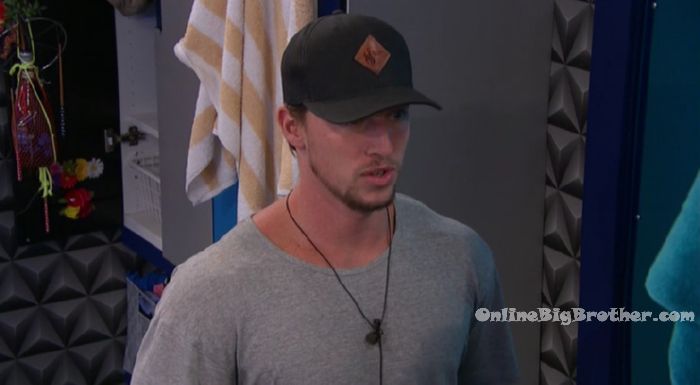 Storage room. Tyler and Sam. Tyler – are you okay? Sam – I'm alright. Tyler – its not my ideal scenario but you're going to be fine. Sam – its okay. I was kind of anticipating it. So it wasn't a big surprise. Tyler – did Kaycee get a chance to talk to you before hand? Sam – she did. I told her, like I tell you.. I trust everybody. No one in this house has given me a reason not to trust them expect for the one up next to me (Haleigh). I am not walking around here like I'm untouchable. The way that I behave is strictly to keep my sanity. Tyler – I know, its all good. Haleigh joins them. Tyler leaves. Haleigh – are you okay. Sam – Yeah, I kind of expected it. I'm at the point where nothing good or bad has happened. Haleigh – okay I am here with you. They hug. Sam – we're all going to have to do something like this. I got put up in the beginning and now again at the end. I am going to do what I did back then and enjoy my week.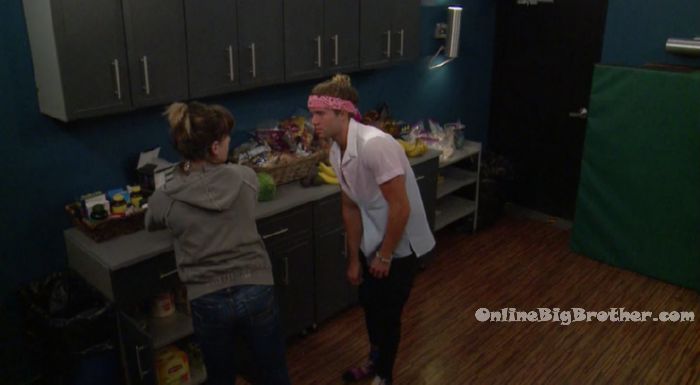 6pm Bedroom. Brett and JC. Brett – I am just worried if Haleigh wins it (Veto). JC – oh its going to be me or you. (Going up on the block as the replacement.) We have the votes but still.. The only thing we can do is gun for it (Veto). She won't put Tyler or Angela up. Lets just go hard for it. Like really hard.
6:18pm Kaycee and JC. JC – we have to win the veto. Kaycee – yeah. JC – I am actually proud that we're the two gay people left in the house. We're going all the way to the top. Kaycee – we're about to be top 6! Sam knows she's the pawn. I told her but we all need to reassure her. JC – you told her she's the pawn. Kaycee – yeah I had to tell her. JC – what did you tell Haleigh. Kaycee – I pretty much hinted that she was going up. I mean she put me up twice. Why would I not put her up. JC – we need to win the veto. Kaycee – we're go though. JC – the next HOH.. I need to talk to Sam just in case she wins it. If she did win it and put you up… I wouldn't vote you out.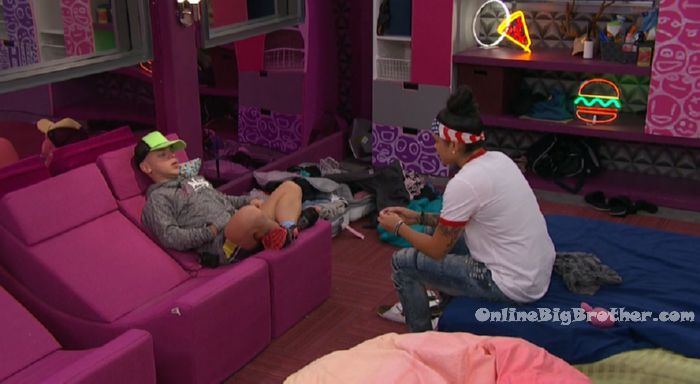 6:30pm HOH room. Kaycee and Tyler. Tyler – we'll get this veto. Kaycee – worst case if she (Haleigh) wins it… which is not going to happen. Tyler – not going to happen. She will probably pick JC if she gets house guest choice. ..Just so she can beat him. Kaycee – we're good. Its the calm before the storm. I had a really good talk with Sam. I told her there is one person I want out of the house and you don't like her either. Just stay cool, calm and collected. Don't say anything to her. Tyler – just hope she (Sam) doesn't win the veto either. Kaycee – I know who I would put up as the replacement too.. "J" (JC). Tyler – we're solid! I know what's going to happen too. Tyler – the only thing that is going to f**k us up is the sh*t JC is saying. Kaycee – that you and Angela are.. Tyler – yeah he wants to get her out. I just want you to be aware because it bothers me. Kaycee – he would never even guess me and you. Ty;er – the only thing I am worried about is Brett and JC. Kaycee – we're chillin.. get tomorrow over with.

6:42pm Stretching..
7pm – 7:55pm The house guests are cleaning and making dinner. JC is listening to Kaycee's HOH music.
8:15pm – 8:36pm Kitchen. Tyler is cooking while they talk about past house guests and seasons. They sit down to eat. Havenot JC watches them eat from above.
9pm Angela and Tyler try to make a fake Angela. They use hair extensions and Kaycee's fake weight as her body.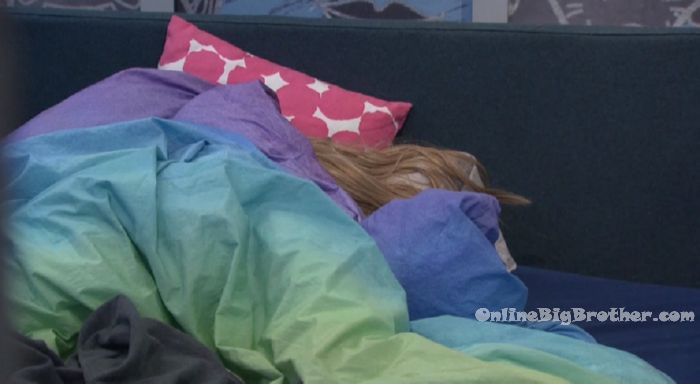 9:25pm Outside the HOH room. Brett & JC JC says that he had a joke about Angela and Tyler but stopped him self from saying it. Brett – Angela and Tyler sandwiched me and hugged me .. and I wanted to make a joke.. Hilton Head sandwich! JC – She (Angela) needs to get out of this house. JC comments on how Angela is close with Kaycee and Tyler and they need to be split up. Brett – I really thought I had it (HOH). I was like check the tapes. JC says he is going for the next HOH and will put up Angela and Sam. Kaycee joins them and the conversation ends.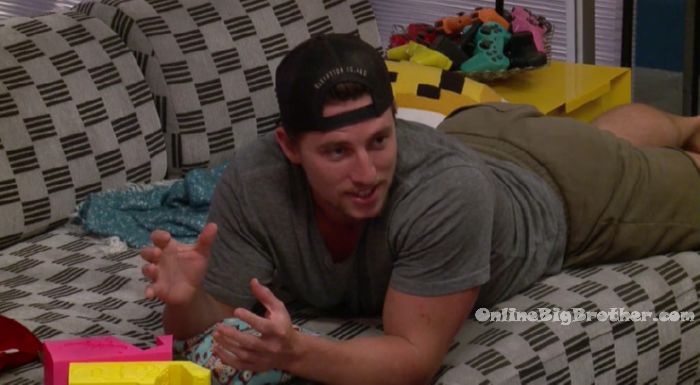 9:34pm – 9:55pm Bedroom. Tyler and Angela. Tyler – I like you. Angela – I like you. We're in fourth grade now. Do you want to sit bedside me during lunch break? I'll share my chocolate milk with you. Do you want to sit on the bus together? Tyler – do you want to pass notes back and forth? Angela – its going to be weird you meeting my parents. They're already going to know you. Tyler – they're going to see everything I've said about you.. oh god!
10:30pm – 10:50pm Big Brother gives them wine and beer again. Havenot JC is not happy. Tyler – you would never say in real life .. wanna split that beer? Brett – no, no I don't. They chat about seeing Nicole, Victor, Derrick, etc. today.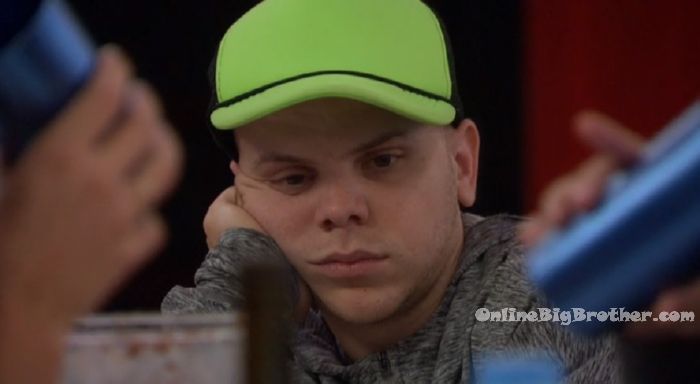 11:30om – 11:55pm
The house guests are sitting around chatting. Meanwhile Sam is doing her hair in the bathroom. Brett heads up to the HOH room with Kaycee. Brett – if they make JC a havenot again… I think he will walk right out the door. He is not taking this havenot well. Not at all.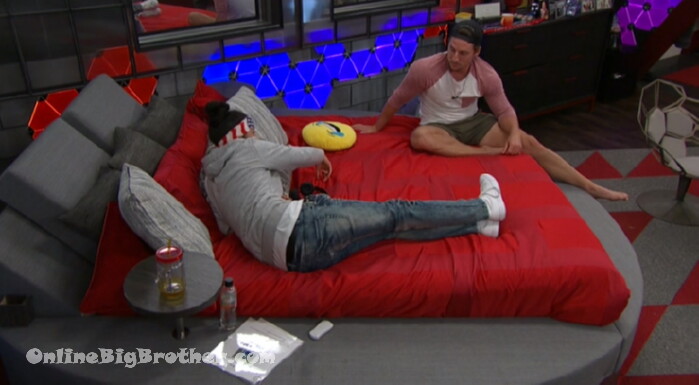 Brett and Kaycee
Brett – worst case is sam or JC win HOH and they put two of us together that os why I haven't been trying to come up here at all.. if we can still put it into their minds of putting up someone else
Kaycee – they're not winning HOH.. this is the best case for us.. it's use four against sam and JC.. it's insane..
Brett – they throw everything because they feel so safe they think we are all gunning for each other
Brett – I want Haleigh out for sure the most..
Brett – we take halegih out right now then it's just Sam and JC.. I don't know if Sam is after JC
K – yeah
B – now if we got Sam out.. HAlegih would put JC up .. JC would put Haleigh up
K – yeah yeah .. true and that would keep one of us.. yeah you are very right at the very least it's just one oiut of the 4
B – it doesn't matter we control the votes..
B – I know that Haleigh has been skeptical from day one of JC..
K – she was supposed to put him up but she ended up putting up me
B – that's because of Fes.. if Haleigh stays she would put two of you up
Kaycee – Sam isn't putting up JC, JC will probably put up Sam
B – Haleigh has a way better chance of winning where as JC and Sam will just throw
K – yes exactly
B – i don't think they will even try
Brett says HAleigh is driving him nuts
Kaycee – she is one of the fakest people in here
Kaycee – it has to be a double this Thursday..
Brett – no doubt in my mind, if they did it next week that would be crazy
K – dude, If it happens this week than Haleigh and Sam gone now it's time for final 5 .. Oh my gosh this is going to happen so F*ing fast
B – Dude we have 18 days left and 7 f*ing people in this house
K – how do we have 11 competitions left.. is that accurate
Brett – After Thursday it's just us and JC.. if everything goes as planned
K – we'll make final 4 then hash it out from there..
B – whoever wins..
Brett – I feel bad who the fourth person is that has to spend a week in jury.. it's only one week .. (the level 6 member that has to spend that week in Jury should be the one that gets AFP due to having to deal with the jury for one week)
Kaycee – at least it's only one week..
B – I can't spend time there;.. I wasn't meant to do time
Kaycee say they should have fun now.. "It's us.. we won the damn thing"
Brett – as much as I am pumped.. I am more pumped knowing what the jury house is like
K – Oh my gosh
B – those f*er's.. that's what gets me pumped
K – their whole alliance is over there
K – we have just one more from the other side we're going to send her back to jury with the rest of her alliance
B – What do you think Swaggy is saying on the outside
K – I dunno..
B – you f*ing idiots..
K – no.. look at him
B – true
K – out of anyone he's probably the worst
B – that's true
K They're whole entire alliance is in the jury right now
B – oh I know.. Do you think Fes and Scottie are fighting
K – they're probably chill now
K – they are about to see Haleigh walk in there with everyone else
B – that will be awkward between FES, SCottie and Haleigh
K – crazy
K – it's going to be Sam, JC
Brett – that's why it's best to stick with the plan
Kaycee says once it's just them they are going wild in here
Brett- for sure.. we can chill and get wasted..
Kaycee – chill, get wasted getting loud.. going crazy
Brett – we don't have to censor everything we say
They talk about getting a luxury competition next week. Brett says it will show some people's true colours. if you go for the luxury over a veto or if you get a day trip out of the house and you pick "certain people"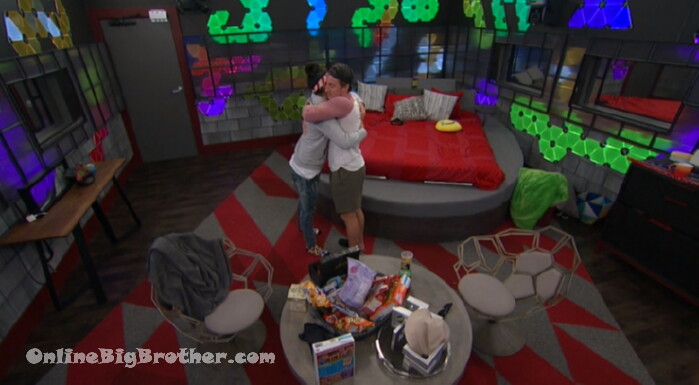 They hug it out 'I love you dude.. lets go buddy"
midnight..
Houseguests start going to bed..
1:00am showmanceing.. . Tyler and Angela
7:04am everyone asleep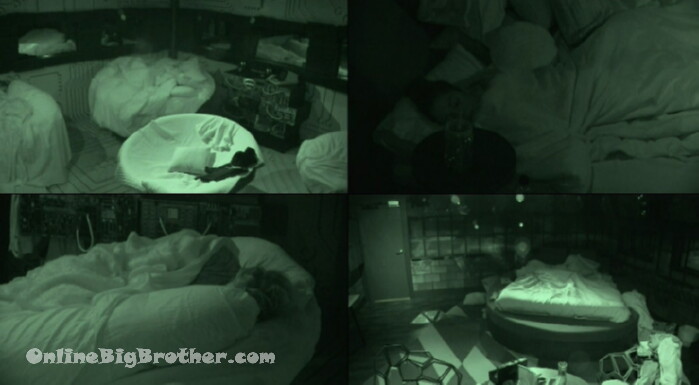 10:09am houseguests finally waking up.. Sam and Angela having morning coffees.
Without your support this website wouldn't be possible.
Please consider making a donation. Any amount is greatly appreciated. All donations go directly to paying the considerable costs associated with running this site.
Rank the houseguests!
Easiest way to Rank the house guests use link below