The Situation:
Jared and Cameron are living in the house as "Zombies"
No HOH, No Power of Veto, No Eviction. Jared or Cameron will get a chance to reenter the game.
Jared and Cameron compete in a 3 part comp to decide who gets to play in the puzzle comp to reenter the game
Jared lost the Zombie competition so Cameron gets to decide to do The puzzle competition to reenter the game
Lock your ranks in before midnight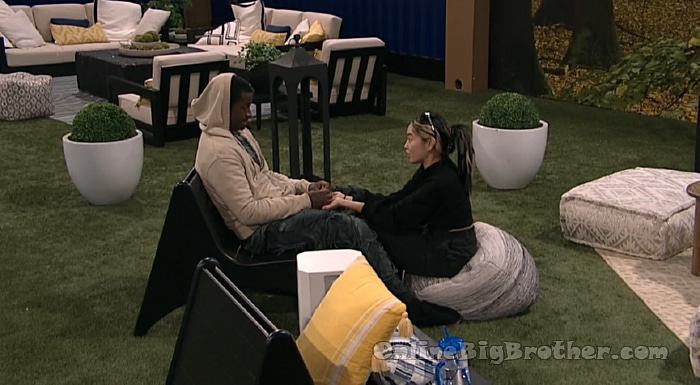 12:26 am Blue and Jared
Jared is talking about his conversation today and how he's laid a few things to rest.
Jared – earlier today I was like f** this sh1t .. I don't need any closure from the people here. I'm straight .. If I leave today I am good.
Jared said he talked to Jag and Matt They're going to be good after this. "Like for real"
Blue says she's glad he had a "Great day"
Jared – It wasn't a great day I still lost.
Jared continues to bring up bits and pieces from his conversations today.
Jared – it ain't over till it's over do what you feel like you need to do.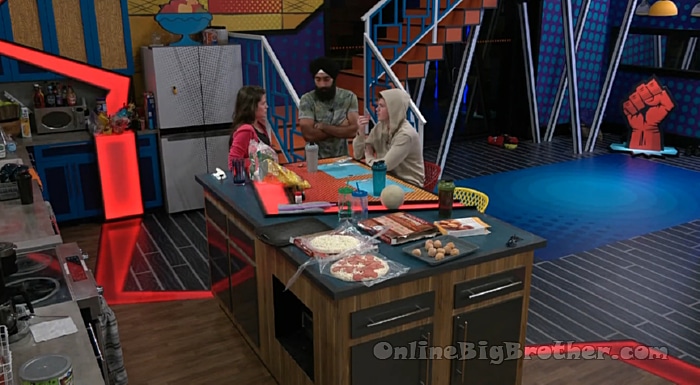 12:54 am Jag, Corey and America
America about Blue "this morning she was rolling her eyes at me"
America – I talked to her again in the afternoon and it went better. She said I'm so sorry I f**ed you over.
America – Did you all tell her about the final 2? OKay don't mention it ever.
America – Should I say I mentioned it?
Jag and Corey say they will never tell Blue.
Corey – without Jared I don't think she will put me up anymore. I Think with Jared it might be hard.
Jag – here's the thing about that.If Cam has to fight for his chance to stay? CAm is staying.
Corey – 70 percent chance minimum he stays
Jag – if I am a betting man 90 something.
Corey says Cam will nominate two of them. "He's a smart guys and wants to make the BIG move"
Jag – here's the thing it's the worst case scenario either way. This twist is just terrible.
America – he seems like he's pulling you all aside to talk to you. He's been wanting to work with Matt forever he knows he can't do that if he gets rid of you. (Jag)
Jag – he probably can.
America – Matt won't work with him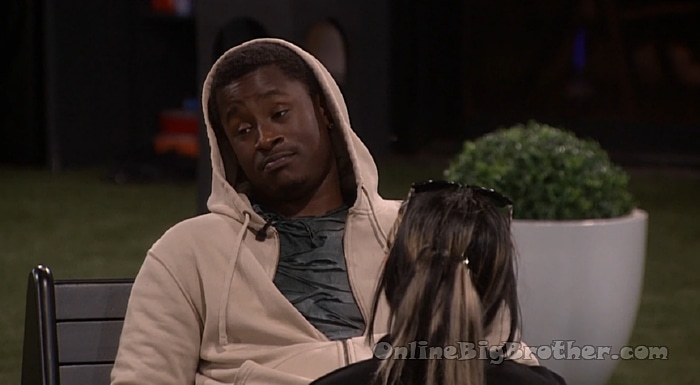 Feeds flip to Blue and Jared in the backyard.
Blue – let the script script
Jared – let the script script
Jared says as much as he deserves to stay in the house Cam does to.
Blue – he does.. he really does.
Jared – he will have a hard time in here.. I could be wrong but I think he's trying to start a new page. He's sorta like me. He's like I have a opportunity to play this different now.
Blue – can I tell you about my day? I've had not one, not two, but three conversations with Cirie.
Jared – how was it.
Blue – girl this day has been long. Just hashing things out.
Blue says she's been able to talk America and Jag into not wanting to targeting Cirie, "Corey is still gunning for her"
Jared – Really?
Blue – we were just talking over there. Corey is going to put up..
Jared – he can't play
Blue – Maybe he can there's no HOH this week. so it might restart next week. Corey said he will put up Cirie and Felicia.
Jared – MMmhmmm
Blue – America said MEME and Felicia. Initially she said MEME and Cirie. Matt said…. I don't remember.
Blue – I made my pitch GIrl.. Cirie and Felicia aren't my thing I would rather get MEMEM out.. WHich I feel bad for saying.
Blue – Corey strongly feels about Cirie. He's the only one I need to look out for.
Jared – get the little motherf***er out BRAH
Blue – I know, America and JAg upstairs were originally saying Cirie. No One knows I am close to Cirie. Granted It just happened. Her and I turned a new leaf today. There's no reason for people to think we are close.
Jared – Careful.
Blue – America made a comment… oh you know Cirie will sweet talk Matt and and soon as she does he's going to be like Yes soldier what do you need.
Blue goes on that these last few weeks her and Matt have been getting "So much closer"
Blue told Matt "I'm going to protect her (Cirie) moving forward"
Jared – I truly thing Matt sees Jag is a liability for him.
Jared says people forget about the mental aspects of the competitions.
Jared thinks Jag, America and Corey are the core. Once Meme, Bowie, Felicia are gone they will be looking at Blue and Matt.
Jared – Jag will then beat Corey's a$$ and take America and win this whole sh1t.. Don't forget it's Cameron in here or me.
Blue – If Cameron stays he's gunning for Felicia
Jared – I know which is stupid
Blue – SO DUMB
Jared – I'm trying to get him off it but Felicia makes her bed BRO and she's going to have to lay in it. As dangerous as she isn't she can f**Iing persuade BRO. As easy as it is to beat her people still see her as a F****Ing threat.
Jared says before him and Cam came in as zombies they talked. "Bro.. this is the center of my problems. this was the driving force of my problems. Beside your a$$ (cam) in my eyes you, Felicia and Corey Bro are the reason I am essentially gone. You three. You made that wild ass move where Corey conveyed the message to everyone and she continued to push it after"
Jared says he tolc Cam as annoying as Felicia is getting her out isn't the best play for him. "I'm really not trying to bullshit but I'm like BRO if you have a target make it work it Bro cause you are going the next day.. next week so make that shit count Bro.. don't think these mother f***ers will play with you Bro.. Make that shi1t count"
Jared – everyone feels like they know what they are doing.
Jared – I pray to god I am here cause I can't wait to have conversations and scare the f**** outta people. Scare teh sh1t outta people. I am not playing nice.. F*** that I am doing what I got to do but BOY OH BOY..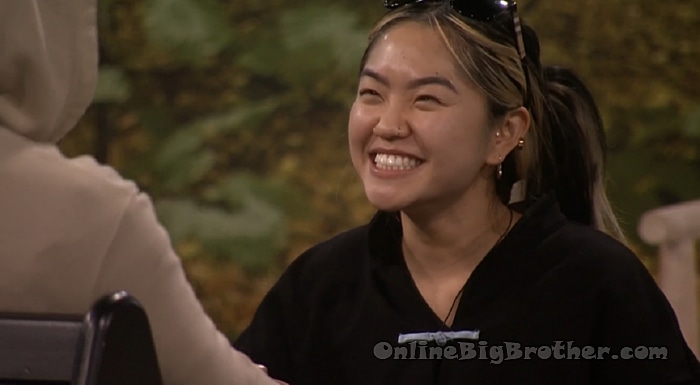 Jared – In the slight chance I do leave. I have to wait 50 days. would you be mad? (if he hooked up with another girl)
Jared – Honestly I am asking..
Blue – I will throw hands
They laugh and head inside.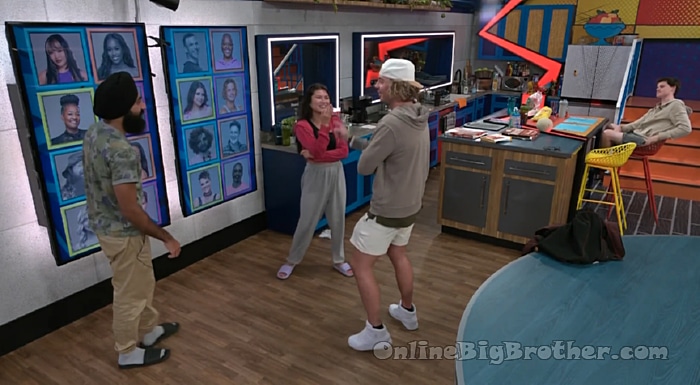 1:16 am Joking around looking at the memory wall.
They call Red "Old man Jenkins" from Spongebob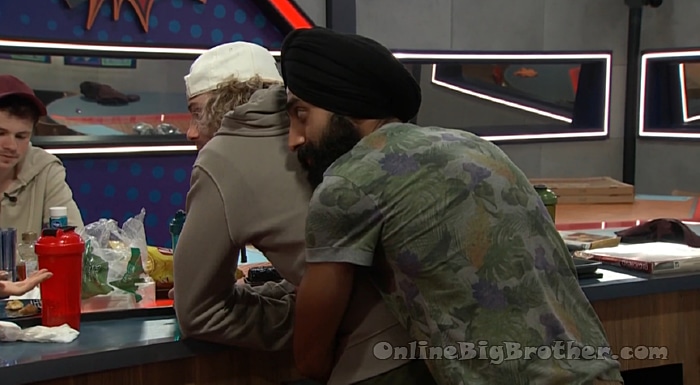 1:30 am – 2:00 am Blue joins them and the kitchen group continues their eating pizza and Chit chat.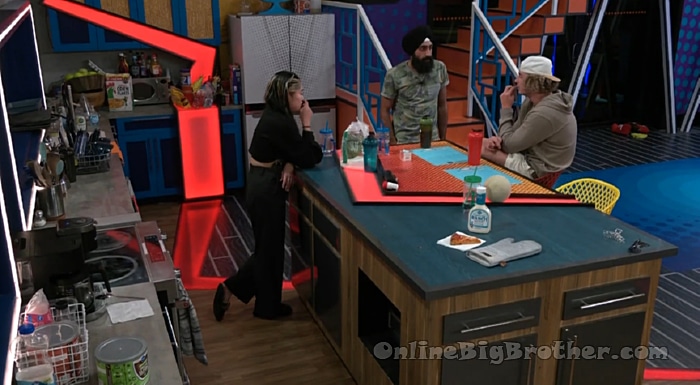 2:06 am Jag, Matt and Blue
Matt says his conversation with Jared went well they are fine on a personal level. Matt told Jared not using the veto was a tough move for him "I told him I wanted to play the game too. I didn't want to throw the veto"
Matt told Jared the reason Blue was put up beside him is because she's riding with Jared and they didn't want to run the risk of her using the veto on him.
Matt – You can't get mad at her for not tell you. There were all these people that knew the plan. If she told you and was found out now she has 6 people mad at her. If she tells you she's pissiong off a lot of people. If she doesn't tell you she's only pissing off one person.
Jag says he told Jare "I felt like you were going to come after me"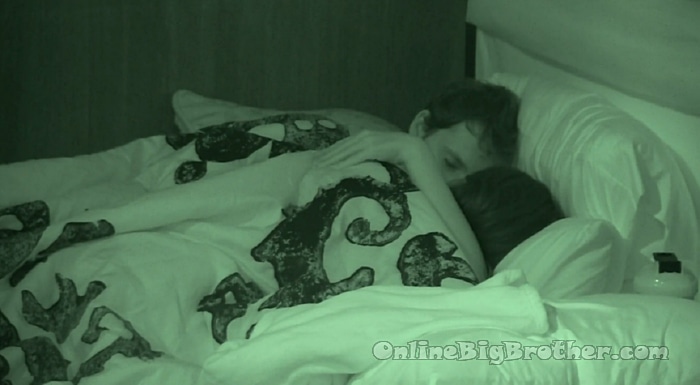 2:13 am zzzzzz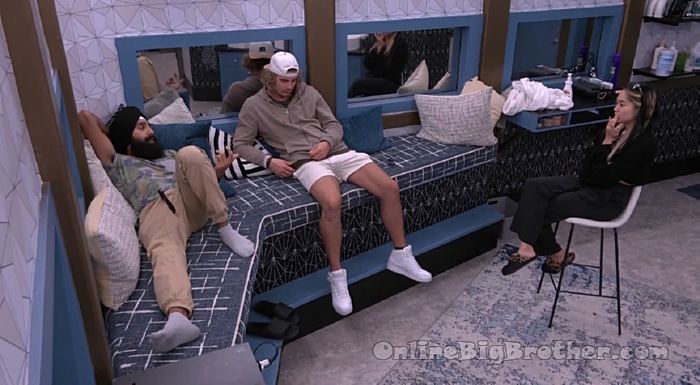 2:15 am Matt and Jag
Jag – Jared told me if he's stays
Matt – he's not targeting us.
Blue joins them.
Matt – My thought is if he stays who would he put up
Jag – he didn't say a name but it's Corey
They joke around that Felicia is going to say tomorrow morning that they have to go "We got to get rid of them They were eating pizza last night"
Jag – that's how it goes
Matt – that's how it started!
Jag brings up that he told Jared it makes no sense for them to gun after each other if they continue down that path everyone else is going to stand back and watch them battle.
Matt – why give them the advantage of picking each other off.
Jag brings up telling Jared he didn't want him gone before Jury the jury house would have been "Lit" with Jared in it.
Blue – with Cameron I do think he's turning a new leaf.
Jag – I think Cam and JAred both deserve Jury I'm saying I don't know if we should target them regardless of who stays. Maybe it's worth it to talk to them about…
Matt – I don't think we should target either of them.. Get the HOH so we know we are good.
Matt says if they win HOH they target "one of the four"
Blue – Felicia, MEME, Bowie, Cirie
Blue – I would put up MEME and Felicia. Out of the four they are the duo
Matt – Bowie doesn't need to be taken out and Cirie doesn't need to be taken out.
Blue – if it's MEME that goes that is a competitor
Jag – She not done ANYTHING.
Matt – she hasn't done anything she's had an easy ride
Jag – Like nothing
matt – she's in multiple alliances.
Blue – Felicia? sayonara too Girl you've been running your mouth
Jag – She's lied
Blue – Plus she's lied.. she's so dangerous BRO.. she's my wildcard.
Blue claims she would nominated Felicia and MEME
Matt – that would be my move
Blue – If one of them goes down then a F****ing Bowie or a Cirie doesn't matter.
The laugh at how hard of a path they've had since that first week when they were with Reilly.
Blue – it would be really cool to see us in Final 3… really cool
They talk about the three of them having a relationship since day one and how they are only group that can boast that.
Jag points out that MEME and Felicia may be day one. America and Corey weren't.
They joke that MEME and Felicia don't count because they haven't faced any hardship yet.
Jag – MEME has not played the game..
Matt – she has not
They talk about the name of their alliance. "The fugitives, the criminals… "
Blue laughs suggests "Superior Athletes"
Jag shakes his head. "That's Cam and Hisam"
Matt – Targets for Hire? WE have the gun for hire (Cam was calling him a gun for hire)
Jag – All I'm saying if Cam stays and we create an alliance with him it's the f***Ing gunslingers
Matt – Gunslingers for Hire
Blue – my favorite alliance name out of all of them was the 'handful' (yeah that was a good name)
Matt – week one we were chillin we thought we had something.. then we were like WOW we just got our a$$ handed to us
Matt – Me and Reilly had our nickname.. 'late night rats'
Jag – thats cute.
3:06 Zzzzz
8:51 am Felicia is up and about.