The Situation:
Jared and Cameron are living in the house as "Zombies"
No HOH, No Power of Veto, No Eviction. Jared or Cameron will get a chance to reenter the game.
Jared and Cameron compete in a week long comp to decide who gets to play in the puzzle comp to reenter the game
Lock your ranks in before midnight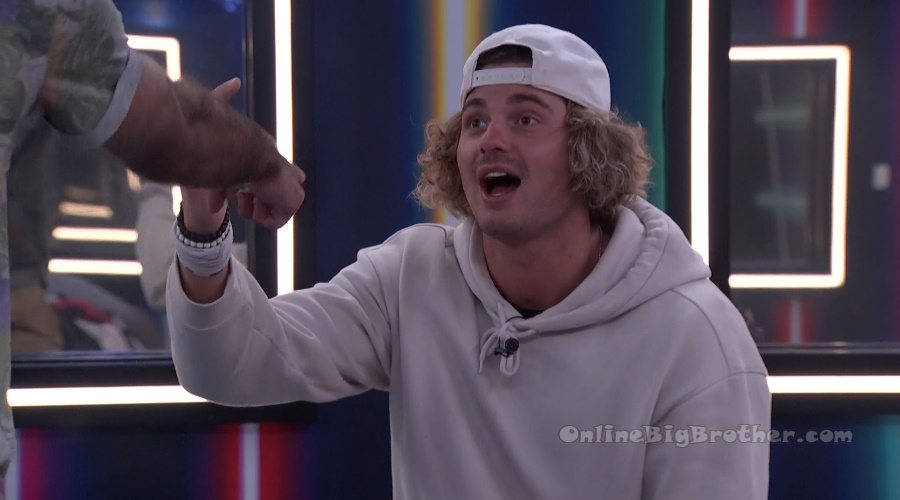 5pm Havenot room – Matt and Jag.
Matt – Cam said I am tired of us all targeting each other. Jag – because that's what's going to happen and we know it. If we take Cam out, then they're going to try to take us out. Matt – exactly! Jag – BUT if you me and Cam stick together. Matt – that's what I'm saying! Me and Cam were laughing. Jag – BRO! Matt – He was like America is watching. Cam was like imagine us three together. Guess what you've won so many. He's won many. I've won many now. He was like we can do this back to back to back. He was like America is watching .. you know how excited they'll be if we all three come together and just steamroll. I was like we're fighting and taking the shots and Cam was like I know I've been the one taking the shots and then there's people like Meme who don't do sh*t and just steam right into jury. And they haven't done anything. I was like of anyone you really deserve it because you've been fighting so many times on the block… and you're still here. He was like what you had Jag have, I don't want to get in the way of that but I want to be a part of that. Jag – when Jared is gone then we can trust Blue more. I just want to send Cirie's a$$ home so bad. Matt – I know, I know. Yeah, you don't f**k with her .. good.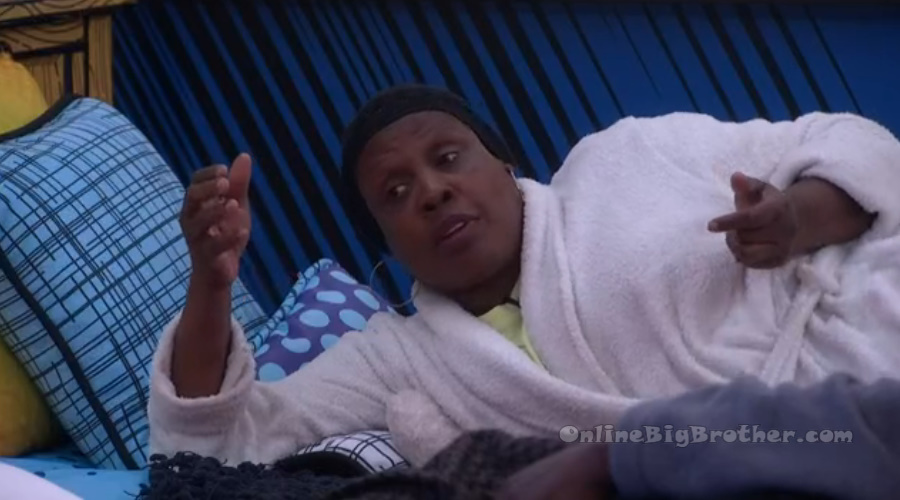 5:05pm Comic Bedroom – Jared, Cirie and Felica
Felicia – I am exhausted with this sh*t but I ain't going to give in and let them win.. and just give it to them. HELL NO! Because none of these suckers left in here don't even deserve to get carried to the end. Cory and America ain't played no game. Bowie Jane ain't played no game. Jared – my position with where I am at right now is honestly my game solely relies on someone winning or losing. Felicia – So does everyone else's! Jared – you could have a conversation to change that .. no conversation between here to Thursday will change whether Cameron wins or loses. Only thing that is going to happen is Cameron winning or losing. And I know that part of it… I am still skeptical about it. Felicia – But again .. the only person that is in control of that is Jared. Faith, Faith, Faith, Faith.. Jared – no and on that part I do have faith. Felici – You get in Cameron's head and be like I know you think you got this but this sh*t ain't over! You get in his f**king head between now and Thursday just like he gets in folks heads where they be off their game. Go get in his damn head Jared. If anybody can do that, you can! take him mentally off his game. Say I know you think you got this but I am going to play my a$$ off I am not leaving just like you think you ain't leaving. My a$$ ain't leaving so you're going to have to beat me fair and square. Sh*t ain't over! GET IN HIS HEAD! Jared – yeah. Cirie – she ain't lying. Its better advice than I got right now. Jared – I just need some time because I know myself because the first wrong crack of a smile, and I am going to get kicked out of this f**king house. Cirie – no you're not. Felicia – no you're not. Don't say that! Don't say that! Cirie – you're not going to do that or else then it would all be for nothing. Felicia – right because if you get kicked out then whatever money you made so far, then you don't even get that. Cirie – ain't no one worth that.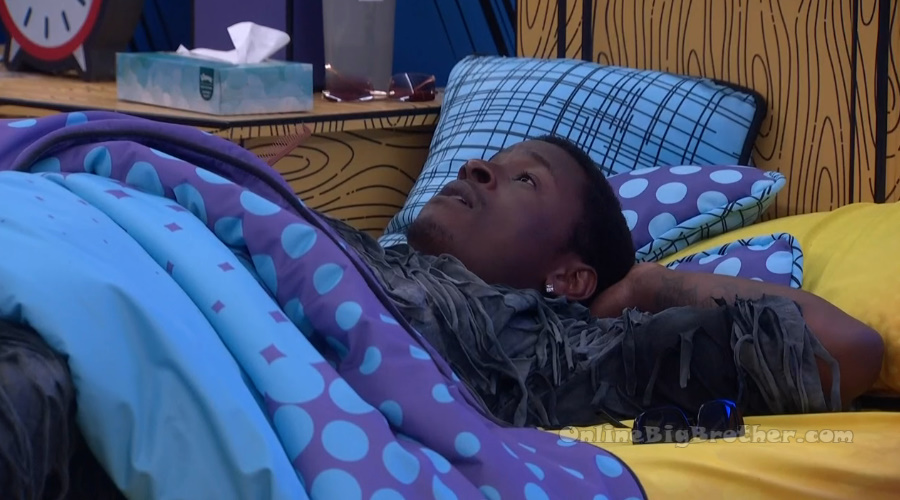 5:11pm – 5:50pm Bedroom – Blue and Jared.
Jared – I am just so done with this sh*t! And now I have to stay here till Thursday and I don't care to have no more conversations with people. Blue – I know. Jared – I don't care to find out nothing else. I don't care to hear nothing else. I am just done with this sh*t BRO! Blue – MMmhhmm.. for sure. Blue – but you know we talked about this .. if this were to be your last week .. you might not have an opportunity like this anymore… not saying like.. just put a smile on and act like nothing is wrong but like you might as well enjoy the time that you do have here with the people. It doesn't have to mean having conversations over and over again. Jared – Yeah but this is the thing for me BRO these ain't the people that I would enjoy time with regardless. Blue – yeah. Jared – I've already been forcing myself.. like absolutely forcing myself and now that I feel like I am at a point where I don't have to no more .. I am just done. Like I enjoy being here because of this.. not the f**king people. I mean literally! As cool as a lot of these people are .. I would NEVER hang out with these people outside of here. Now I am just feeling like my regular self. I don't feel like I need to play the game no more. I ain't giving up but my life in here solely depends on somebody losing. Its not like I have a conversation to change that… Its not like I can do anything that will change that. I could try my hardest to get in his head but he is not stupid .. he is not going to let me play that sh*t. He ain't stupid enough to give me another chance. Jared – if you sit next to any of them its an L .. if you sit next to Cory or America its a W. Its not that I'm giving up.. I just know where my fate is at.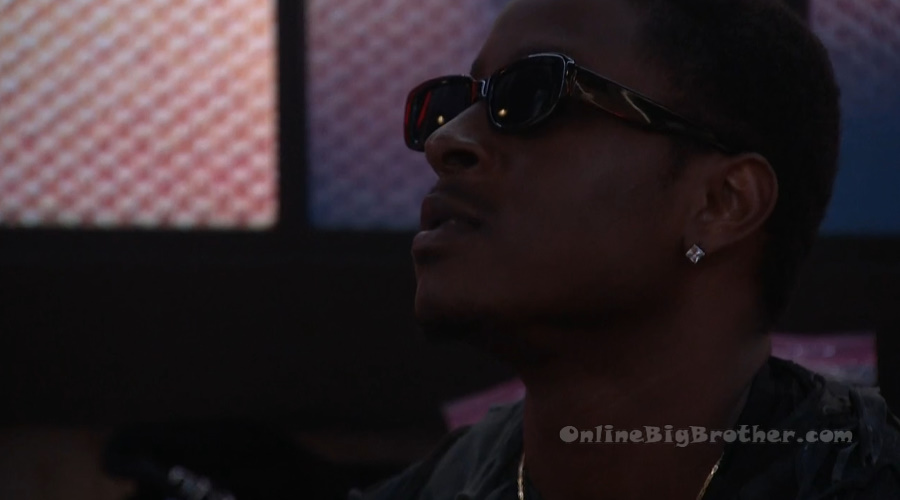 6:20pm Bathroom – Cam and America.
America – So congrats, I am very happy that it was you. BB switches the feeds. Cam – I am ready to do that. America – I know you can do it. Cam – I just have to stay focused as if I am going to be here when I finish… because I am so.. America – I want you to be. Cam – they're acting so weird.. I don't get it. America – how, like happy? Cam – no for Jared as if ya'll didn't just kick his a$$ out of here. America – well it wasn't them. Cam – everyone voted Jared out. I get me. America – they still have this mentality that it has to be a house vote and they've done that sh*t all season. Where they want to be on the right side of the house.. on the right side of the votes.. so I guess they heard that we were voting Jared out and the wanted to.. Cam – to save face with ya'll!? America – so they're probably going back to him saying like we had to do that to save face. Like they told us you were the target.
6:24pm Big Brother opens up the backyard.
6:28pm Hammock – Cory and America.
Cory – I think we're losing Cirie. They're getting a lot more time with her and she has eyes. But its okay.. I am not worried about it. America – what is she going to win? And that's a possibility but like whatever. We're telling her the truth, you know!? If she chooses to believe them, that's on her. She will run this back and see how they betrayed her. Cory – I just need her to target Matt and Jag before us. America – she will. Cory – we don't want to be shifty but we can be less shady. I just don't know what the f**k to do with Cam. I think he would honestly nominate Jag and Matt. America – he is trying to work with them. Cory – I know but I don't think he cares. If he wins HOH, he is into jury. Hopefully his relationship with you prevents him from targeting us.
America – I like actually like you. Cory – actually? America – actually, which is so weird because you're just unconventionally.. Cory – unconventionally attractive? America – I am kidding you the unconventionally.. I think you're very handsome.

6:47pm Dinner time.. Matt tells Jag and Cory that Jared took like 3 of those and 5 of those on purpose.. he was like I am not saving any for anyone. Jag – BRO. Matt – he's going out like that. Jag – I told Cam that we need to talk. And he was like yeah. .. I hear you loud and clear!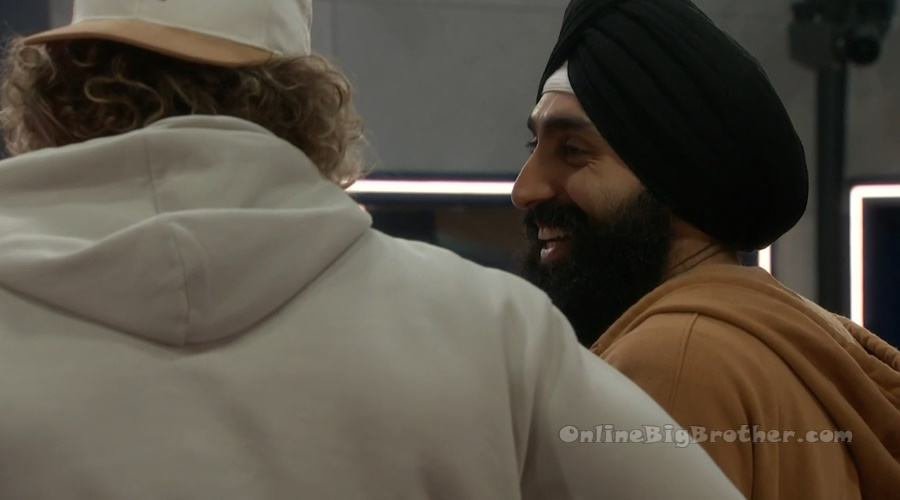 6:58pm Bedroom – Jag and Matt.
Jag – We need to talk to Cirie. I don't want to keep pushing it off. Matt – I know Jared is blowing up my game. He won't even make eye contact with me. Jag – make sure you still talk to Meme and let her know that she is good.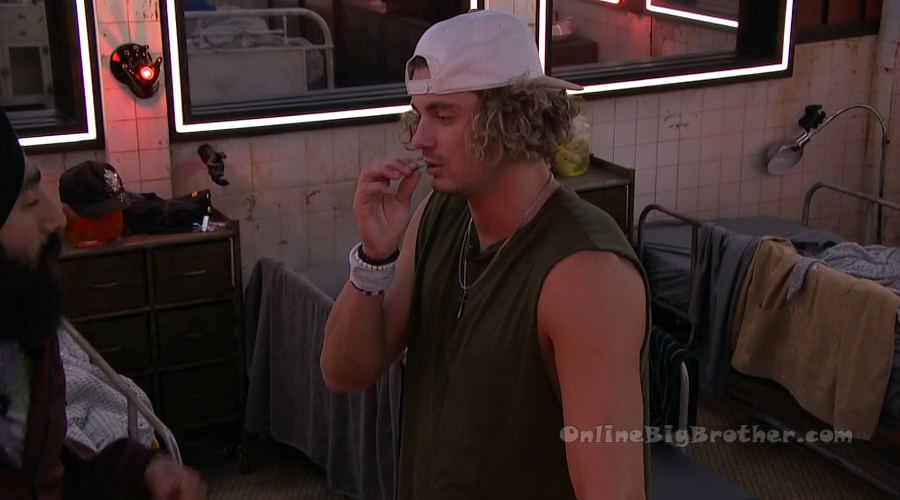 7:30pm – 8:27pm Havenot room – Jag and Cameron.
Jag – so what's up? What's good? Cam – I'm ready to whoop a$$! Jag – I am excited that you did well today. Cam – thank you.. your tryout period is going well. Jag – whatever the thing is on Thursday, I am assuming you're going to play? Cam – yeah. Jag – I am assuming why this is an advantage it because whoever is playing is more likly to be able to do it than to not. Cam – yeah. Jag – that will be exciting. Matt filled me in on you guys chatting. Cam – last week once I was up there I knew I was going home from ya'lls perspective. I just knew what had to happen. Jag – we want you to stay. In theory we've tried to work together in this game. Cam – it never could happen based on who I was working with and who you were working with. Jag – there was a trust building moment but I feel that was broken again on my end. We made the deal and it was clear we weren't going to say anything to anyone and suddenly Jared knows. Cam – Oh I had no idea. I didn't know that I wasn't supposed to say anything. I knew I was going to tell Jared because I had to. He brought it up to put you in a backdoor.. I said that can't happen and here is why. That was me telling you I keep my f**king deals. Jag – that put me in hot water .. Jared was pressuring me and asking me and I said we didn't have anything. Cam – I didn't know that put you in hot water. I didn't mean to do that. I thought that Jared was cool and then I realized what was happening. He (Jared) was one of the worst dudes that was spreading the majority of things that were being said about all of us. He probably was that guy. He played me. And ya'll played him and that is why I said good job when I came back into the house. Cam – if I win (HOH) Meme will be sitting next to Felicia. How about we go out there and do what we do best.. which is have fun and roll over this place. Jag – you have won multiple times. Cam – that was my fourth. Jag – I've won, Matt's won multiple times. Cam – LETS GO! Jag – there is no one else that's won multiple times other than Jared who is next to you. Jag – If we move forward with this.. we have to chat with Matt too. If one of us wins HOH, we've got the two others playing the following week. Matt joins them. Jag – we need your a$$ to win this bro. Cam – after I win this we're going to run this game into the ground. Jag – if we're going to move forward like this .. we need to full trust each other. Matt – if we don't trust each other they're going to pick us off. Jag – what are your thoughts on Cory and America? Cam – they've got to get broken up at some point. Cory has to go. Without Cory, America is just Meme. He is good, he's got to go. Matt – I am sold.
9:12pm Backyard – Cam and Jared.
Jared – I won't impede in on your decision but how you feel about it? Cam – I'm a do it. Why wouldn't I? Jared – That's what I figured. Cam – you are going to go hard at it. I believe you can do it. No piece of me would insult you by going na you going to do it. Jared – Cam know me. And I know Cam. Champions would rather lose with the ball in their hands than say damn I wish I could have done better. I just wanted to say Congrats Bro. That was a hard a$$ comp. Cam – thank you.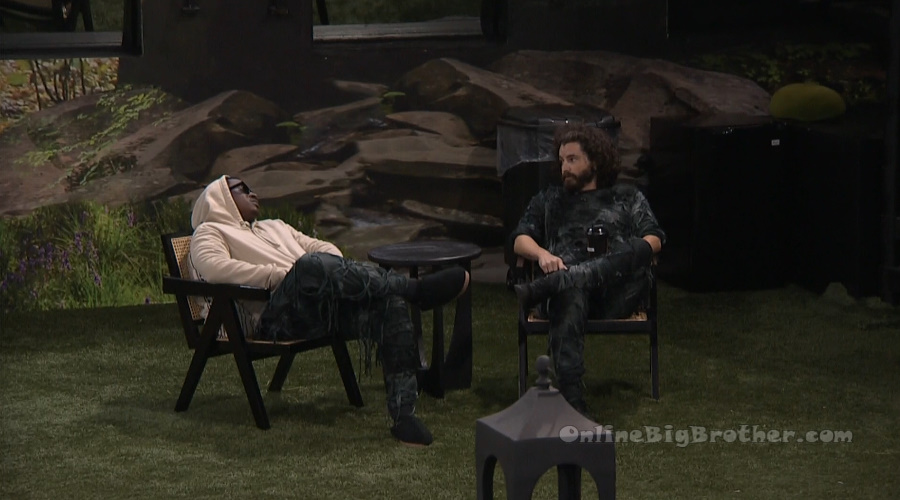 10:48pm Backyard – America, Cory and Cameron by the pool table.
Cory – I know we did this thought experiment before America, who is good casting. I think its a really good cast. I think in terms of everyones stand alone impact on everything. I think its a really good cast and its hard to zoom out but like f**K everyone adds something.. with like one or two exceptions. America – like this Cory guy. Cory – I think I'm unique for the 21 year old. America – I am just kidding. I am teasing. Cory – I gave a pretty dorky speech with my noms. This is a shot that I don't want to take but one that I need to for you Jared and you Blue.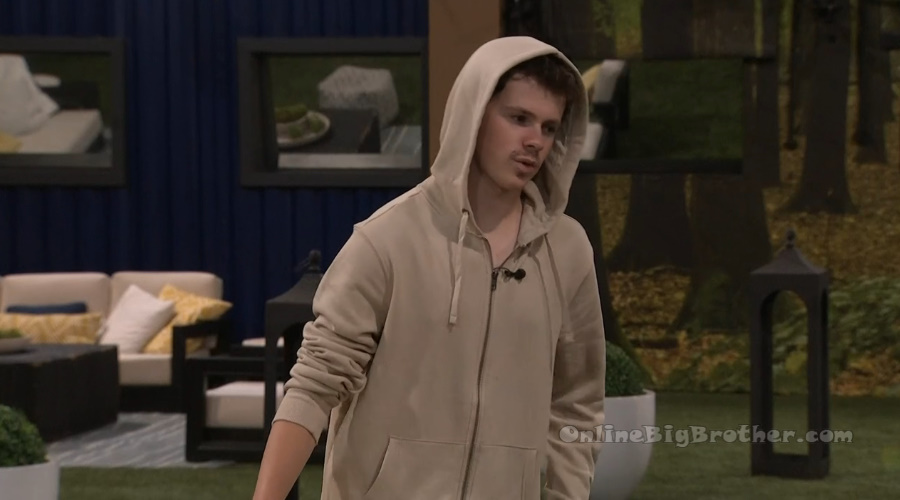 10:57pm Backyard – Cory talking to the cameras.
Cory – the lengths I go to protect myself in this dog sh*t game. Again I don't dislike Cameron on a chemistry level, just the sh*t he says pisses me off all of the f**king time. Maybe it is just F**King High School Jealousy but I don't think so.. maybe it is something about that guy .. am I drunk .. no way right!? Having two Smirnoff's? That sh*t would be embarrassing. Hope you guys enjoyed the Double!? That sh*t was crazy! I wasn't exactly fighting for my life.. well I was kind of based on the comp but I should have been in an okay spot going into that double… but I almost got f**ked. Like I had to beat Cirie at the very least ..if Blue was in that spot I could have been in trouble for sure but like Cirie winning I am actually probably the target. I think at least. I don't know what the f**k to do with Jared coming back though. I am just going to make this Cameron sh*t work. I have no choice. Look honestly if we get in a situation where Cameron comes back and I am okay on a Cameron HOH I am back to being in an excellent spot. Because I will be Bowie Janes number 1. Obviously I am America's number 1. I want to be Jags number 2. I want to be Matt's number 2.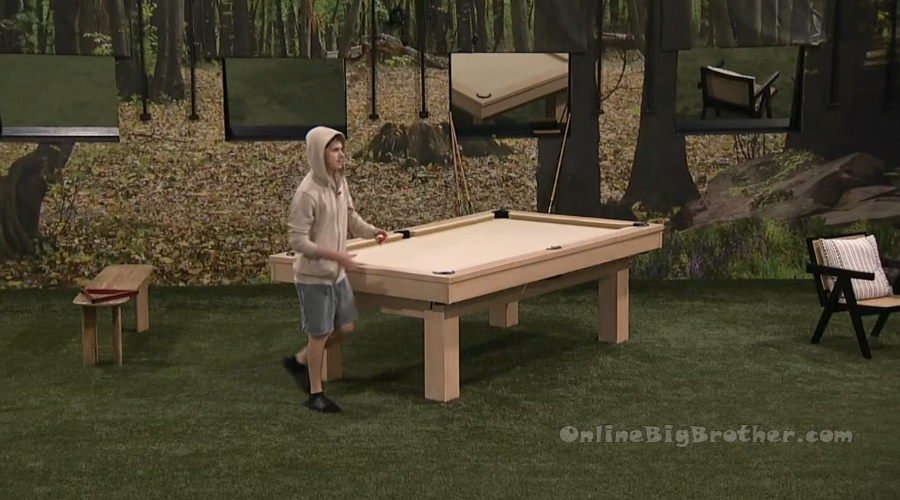 11:42pm Backyard Hammock – Cory, America and Matt.
They're rehashing past conversations / events of the season so far. Cory – dude I was so anti Matt for a couple weeks. Here is what pissed me off. Red kept telling me Yo I've got Matt. And Cirie was telling me I got Matt. And then Jag was like I've got Matt. EVERYONE can't have Matt. Matt – Damn, I was doing a good job I guess. America – I was like no way Red has Matt. Cory – I thought that was bullsh*t. I thought Cirie had you for a bit. Matt – no me and Red were actually kind of close. He pulled me into that big alliance that happened .. he pulled me into the meeting when he wanted.
11:48pm – 12am bathroom – Jared and Jag.
Jared – not only was yesterday hard because BRO like not only was I fighting for my life but I got to fight for my life because I was caught off guard. I am still not okay that I was caught off guard but now I am still fighting for my life and I feel like I did lose fair and square but I can actually accept this sh*t now. And now I am ready to have these conversations. In the event that I do stay.. BRO I am not coming after your a$$. There is ONE motherf**ker (Cory) that I got in mind. There is ONE motherf**ker that I got in mind and you know who exactly I am talking about… and I don't care whether or not you two are cool or not and I don't give a f**k if he knows. That is who I am coming after. I do feel like I told Blue and I told Matt.. I do feel like Jag had a reason to do what he did even though I don't know if it was the right move. Even though I don't think it would have been the move I would have made. I respect that sh*t. I understand the game is fluid as F**K. At first I was like if I stay I am taxing that a$$. Like it is going to be f**king war! F**k that I ain't got nothing to hide. If in the event that I do stay in this crib I ain't coming after you BRO.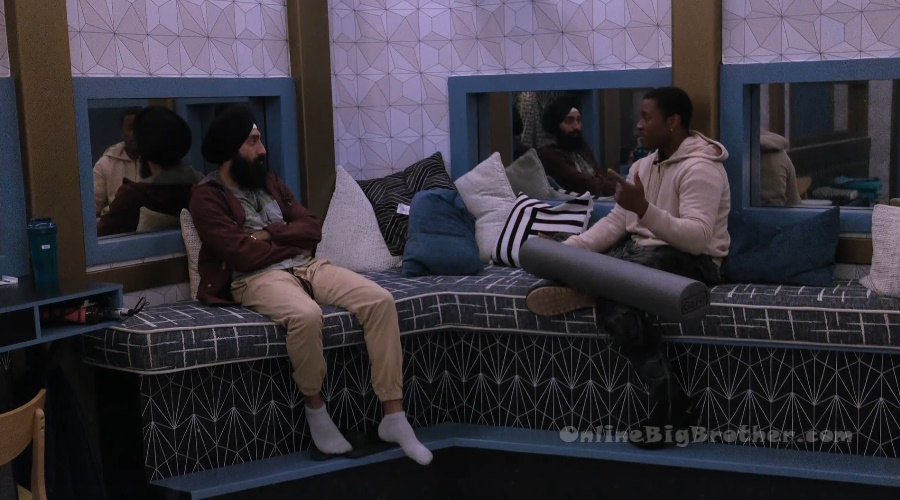 If you've enjoyed our updates this season and want to leave a tip you can do so through PayPal.
You don't even need a Paypal account to contribute. Any amount is greatly appreciated!