The Situation:
Lots of bullsh1tting going on.
Jared and Cameron are living in the house as "Zombies"
No HOH, No Power of Veto, No Eviction. Jared or Cameron will get a chance to reenter the game.
Jared and Cameron compete in a 3 part comp to decide who gets to play in the puzzle comp to reenter the game
Jared lost the Zombie competition so Cameron gets to decide to do The puzzle competition to reenter the game
Lock your ranks in before midnight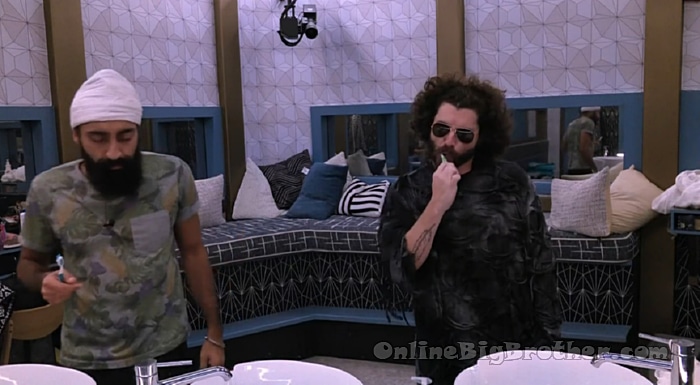 9:18 am Cameron and JAg
Cameron says this is the most comfortable costume he's had. Apparently they got a swimwear version.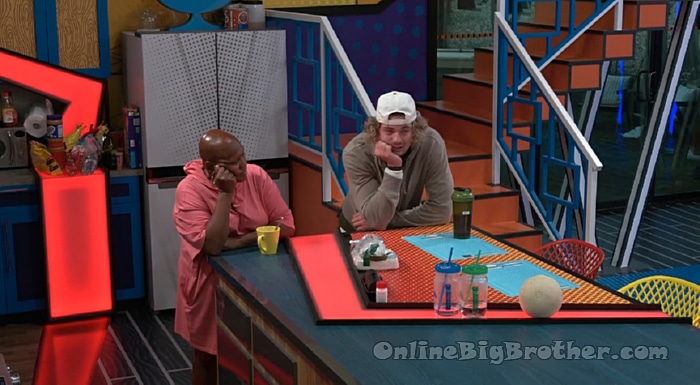 9:19 am Matt and Felicia
Felicia – What's Cameron's plan I know he believes he's staying
Matt – America and Corey he's always saying how smart they are.
Felicia says she wouldn't be surprised if he put her back up
Matt – Who knows what he's thinking .. he's a wildcard
Felicia – Jared is more predictable than Cameron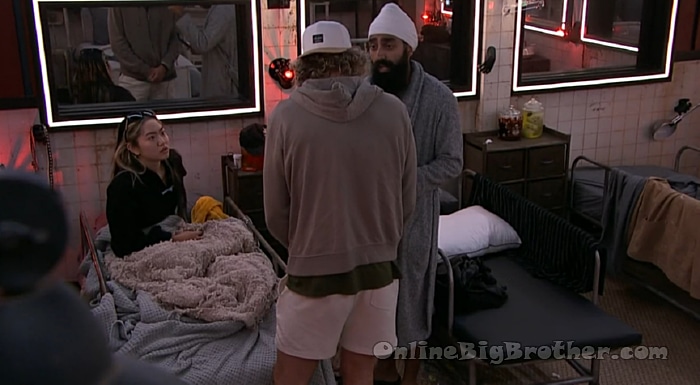 9:27 am Jag, Matt and Blue
Jag – how in the loop are we keeping with our conversations with Cam are we keeping Corey and America?
Matt – Corey really wants to put him up..
Matt thinks they convince CAm if he stays he's good with them.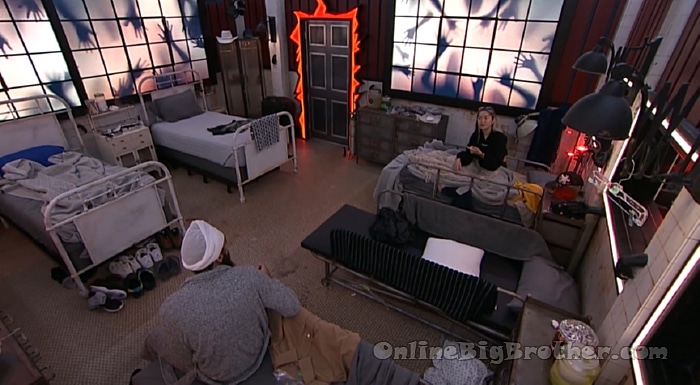 9:45 am Blue and Jag
They've been talking about how to move forward with Cameron in the game. She wants to make sure Cameron doesn't become an asset for Corey and America so they need to seed distrust between them. Blue wants to use Cameron as a tool for them to take out players.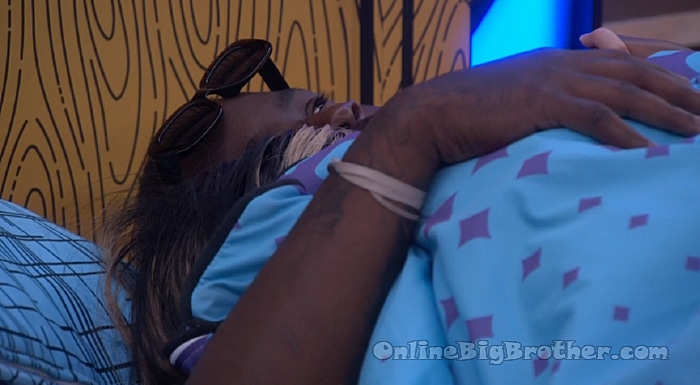 10:03 am Blue and Jared
Blue says she's been telling Corey and America she agrees with their MEME/Felicia "train". Blue is thinking if she wins She might just go after them. She'll have MEME, Felicia and Bowie grateful they were saved.
Blue – Jag and Matt are going against me now over them? I just don't want to do something irrational
Jared – Be careful.. Extend your life as long as possible.. Go with the flow
Blue gets called into the Diary room
Blue – I am popular..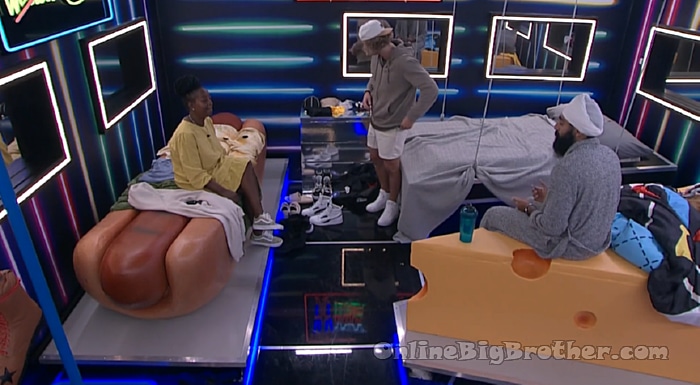 10:08 am – 11:00 am Cirie, Jag and Matt (this is a bit of a death march convo)
Jag – to start off before we get into anything.. I'm not gunning after you. I am Not gunning after you I am fully open with us talking it out and being like Alright what's going on. That's just where I am at I don't know where you are at..
Cirie – I was telling Matt I don't feel any type of way. I knew Jared was the target the fact that I'm there with him I'm there with him I stayed in this house. Nobody voted me out.
Jag – you were never MY next target. Your name was floating around
Matt explains to guarantee they get Jared out Blue went up.
Cirie claims that she never shares information with people and it's been a detriment to her game. "In my real life I don't share. I play this game how I am in real live. I don't share peoples stuff.. People can tell me Murders and I will never ever ever ever repeat those type of things" (Oh)
Cirie – If I trust you and I feel you trust me I am the most loyal person in the world
Cirie – I'm not coming after you I don't want you to leave this house.
Cirie goes on about wanting to make it to the end with the strong competitors she cites her survivor seasons where she never made it to the end with a older person they were like Matt and Jag…
They continue to rehash drama. Cirie still doesn't admit that she told Jared about Matt's power. Jag still tries to get her to.
Jag – at no point me and Matt were like YO lets get Cirie outta the house.
Jag adds that during the double they pushed back on attempts for them to use the Veto because they didn't want Cirie going up.
Cirie – I appreciate it I'm still sitting here not in a zombie suit
Cirie – I don't have anything to offer besides If I win to prove to you guys I am not coming after you. That's the crazy thing I really don't have a target. I never look at you and say OHHHH he's done this or he's said this about me.. or he's talked to me I should get him out of the house. I haven't looked at really anybody. Up until this point I never heard anyone say 'Ohhh we should get Cirie out of the house' This is my first time experiencing that and hearing that.
Cirie – I don't know what to do from here..
She looks at Jag
Cirie – well you know
Jag goes on about how she was never their target and still is not the target. The target was always Jared.
Jag – it was never like ohh damn next week Cirie's gotta go..
Jag – I want us all to make it to Jury you know what I mean? I want us all to make it far.
Jag – I know how it feels to be the automatic target every week or the backup choice.
Cirie – some of the things I heard said were out right lies.. OUTRIGHT LIES.. So I'm scared to have a conversation they are going to say or twist. (LOL)
Matt – use it against you
Cirie – yeah .. I've talked to you guys and I've talked to Blue I haven't talked to anybody else.
Jag says never at any point he said he was after Cirie but he was in conversations that were about Cirie and Jared. "I'm not going to deny that"
Cirie – so we were replaced with COrey and America in the 7?
Jag – this is what we were pitched. There's no actual alliance that formed from that but this is something I was approached with this idea which.. I mean.. you know who. I'm just kicking it by the pool.. America is like.. and I'm like… Cool..

Jag says nothing was formed in that new alliance
Cirie think's America does believe it to be a serious thing
Cirie – it never made sense to me that you guys were targeting me.. I'm the scariest person in the house.
Cirie – i'm going to be quiet.. it's not that I'm mad or anything.. it was a lot a lot.. I fully trust you I feel like y'all were put in a position. If I was just lumped in I'm still here. I don't believe.. It didn't make sense to me that you guys would target me.
Cirie – i'm just here right now. However you guys think we can move forward and play the game.
Jag – does anyone know about the three of us?
Cirie – I never said anything..
Jag – a lot of shit got aired out
Cirie – I never said
Matt doesn't think anything came out out them.
Jag – we got that going for us.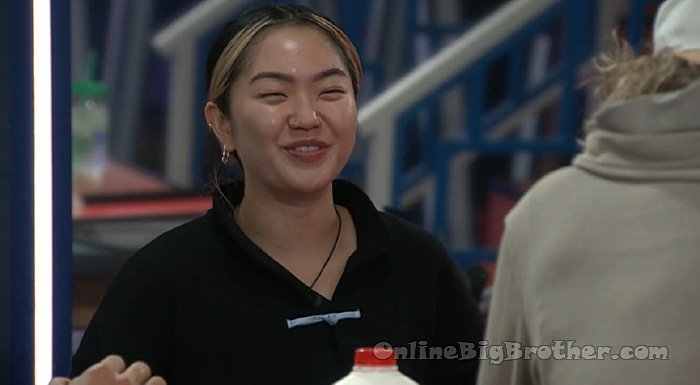 11:12 am Blue, Jag and Matt
More bullshit….
Blue – As long as we maintain Calm between her (cirie) and Felicia they are going to go at it against each other This is becoming the point where we enter Jury. WE need to be careful how we take shots. THe Bitter Jury Situation is so f***ing real. Like a bitter Jury.
Matt – A Bitter Jury is hard.. that's true.
Jag – who is the Bitter type?
Jag – We have one shot net week to take someone out.
Blue – I think it's someone who.. For me I will put up Felicia and MEME
Matt – same
Blue – If it's Felicia she FOR SURE going to be Bitter for sure going to run her mouth. For sure for sure and then MEME I don't give a f*** if she's in Jury because she hasn't played. I don't give a f** because she hasn't played
Matt – She's had the easiest ride her name has NEVER been brought up
BLue – you don't want Felicia running her mouth. Felicia still made a BIG move. Felicia got Hisam out. That's incredible someone that was in her alliance. I really have to respect that. IF she goes WHATEVER if MEME goes WHATEVER
Blue goes on about how Cirie won't be bitter because she's played Survivor.
Blue – AT LEAST RESPECT THE GAME.. RESPECT THE GAME..
Matt – if Cam made it to the end he has my vote.
They think MEME will be a little Salty.
They think Corey will respect the game.
Blue says she appreciates Bowie "it's almost her time to go too like she hasn't played"
Jag doesn't see Cam and Jared being bitter. They agree the only people that would be bitter is Felicia and Izzy.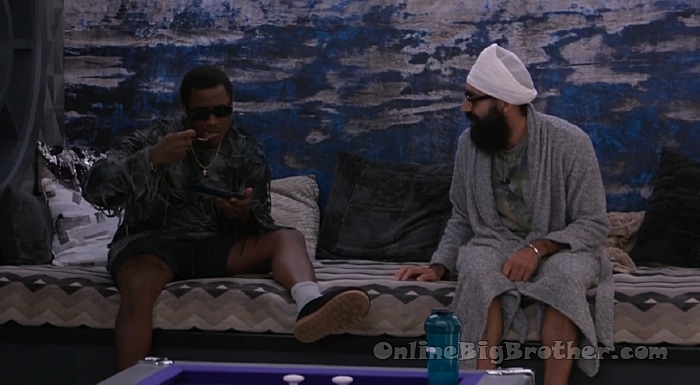 11:32 am Jag and Jared are talking about how the super power got to Jared.
JAred won't tell.
They bullshit for 10 minutes
Jared – Outside of this game you, Blue and Matt I'll f*** with you HARD
Jag – I'm hoping you stay.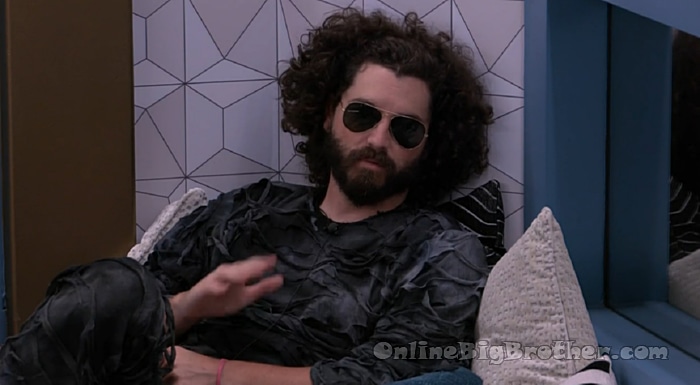 11:46 am Cameron and America
Cameron talking about live music bars.