Quick Big Brother Spoilers
Head of Household: Cameron
Nominees:
POV Players:
POV Winner:
Veto Ceremony:
Havenots: Everyone except for Cameron is a havenot this week. Everyone is on Slop, Everyone takes cold showers, and they all take turns sleeping in the havenot room.
Lock your ranks in before midnight
The Situation I refuse to believe Cameron will do a "redo" of week 4. This is a stunt cast kraken season so I shouldn't be so foolish.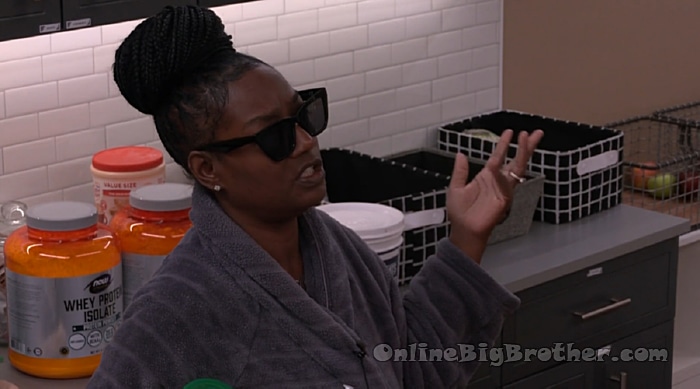 8:55 am Cirie and Izzy
Cirie – what you going to say when you go in? We have to go up there I DON'T want to go up there but we have to.
izzy – I'm going to say the same thing we've been saying that yesterday morning it was hectic and it started with Felicia blowing into the room
Cirie – yeah
Izzy – saying all sorts of things insinuating that she was already like flipped.. she knew things that maybe we didn't know.
Izzy – he's going to ask who said that made you decide.
Izzy – once I heard that Matt wasn't voting that way I couldn't do that.
Cirie – mmmhmmm, he's literally going to put up Jag and Blue
Izzy – I hope so. it's about the backdoor. I think it'll be Felicia or me
Cirie – or me, He ain't no BIG fan of me either. it'll be one of the three of us. Here is my question. If Blue is up how many votes we got?
They count votes if it's Izzy and Blue on the block. Izzy counts America, Corey, Jared, Felicia, Cirie, Matt, MEME votes "I think I would have 6"
izzy – What about bowie?
Cirie – I don't know about (F***g) Bowie (Jane)
Izzy – over Blue?
Cirie – if yesterday didn't happen I would say 100%
Izzy – lets say it's you where are you votes?
Cirie says the only votes she's sure about are Izzy and Jared. "I'm hoping Corey, I'm hoping Matt, I'm not sure about Felicia and MEME"
Izzy – wherever Corey vote America will vote whether she likes it or not
Cirie – I hope so
Izzy – I got america with Corey.
Cirie if its Felicia and Blue what are we doing?
Izzy – we vote out Felicia
Cirie – that's what I was thinking
Izzy – that's the best case scenario.
Izzy wants Felicia gone.
Cirie – what if it's Jag and anybody?
Izzy – Jag's gotta go
Cirie – I know
Izzy – what's good about Felicia going up is it sets a precedent THAT isn't allowed. (LOL)
Izzy – people are not saying your name
Cirie – they wouldn't say my name to you
Izzy says Jared and Corey haven't heard anything
Cirie says she's scared that nobody is saying her name.
Cirie – Felicia was telling Bowie Jane "We have Jared 100%"
Izzy – Cameron said to Corey I don't want to do what the house wants me to do there will be fireworks
Izzy adds everyone is pushing Felicia she's worried that this will cause Cameron to do the opposite.
Cirie – don't push her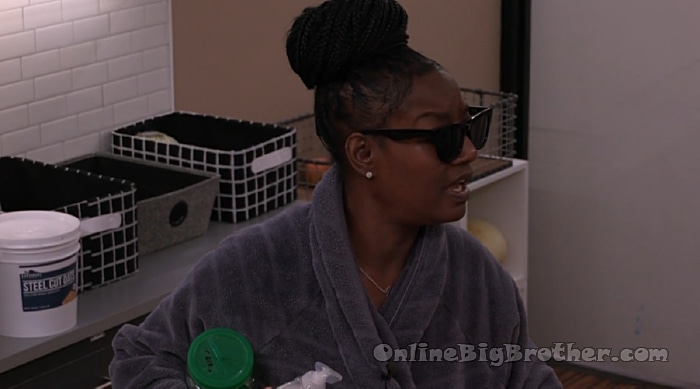 Cirie mentions something about Felicia getting in her face "Felicia came in here well what did you tell her?.
Izzy – I was like what the f*** also Felicia we've been the ones in this relationship that have been consistent (LOL consistent?)
Izzy – you've been the one and you know it that is why you are nervous that hasn't…
Cirie – MMMMMhmmmmmmmmm
Izzy – I was so mad at her last night
Cirie – I wasn't .. I wanted to know what you said. that was my answer. you don't question me like that now if you want to have a conversation we have a conversation but you never are going to tell me.. What did you say.. C'mon girl.. Please. (Go Felicia)
Cirie says Bowie needs to maintain a certain level of calm. "we've picked you out of puddles a couple times just now you GET TOUGH because you are up there with Cameron one week.. I want to make that clear it's one week and he can't play next week so settle down James Brown"
Cirie says Bowie Jane annoys her "to no end"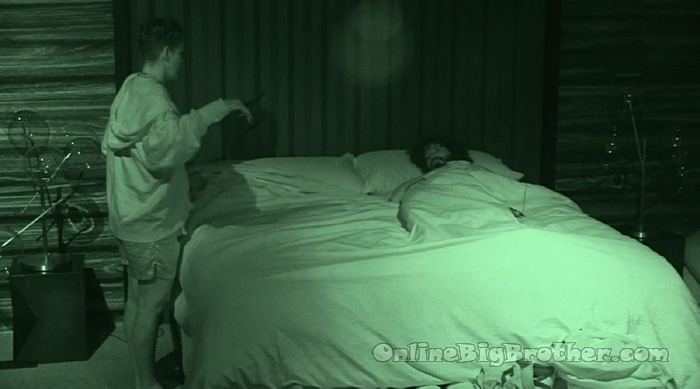 9:00 am Cam and F**Ing Bowie JAne
Bowie says the general jist of what happened to Red yesterday was that Felicia was driving it.
Bowie – the few people that I spoke to found out about it an hour before and it was Felicia. Is that what you are hearing?
Cam – I haven't heard anything about it but I believe that (Kraken)
Bowie – People are trying to explain to me ohh sorry.. opps.. sorry you didn't know. I don't know how a flip happened at all. I think she might have run around and gone on everyone's flipping and listed some people. just lied. Anyway I don't know if that's even important information.
Cam – I don't know if she ran around and flipped everything or if it literally was a few people that were going to flip.
Bowie – I think she started the process the night before.
Bowie brings up having a conversation with Felicia about next week and Felicia forgot about red. (Izzy did the same thing funny that Bowie doesn't remember)
Cam – I think she's board.
Bowie thinks Felicia is "trying to build her resume" by making BIG moves.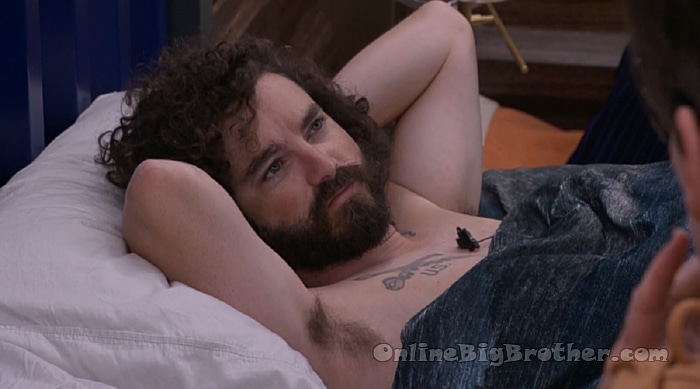 Cam – did they grill you last night?
Bowie says yes he told them CAm wasn't as angry as she was about the vote. She stressed that Cam was putting up Jag and Blue
Bowie – they were asking what about the backdoor. I said he was insistent that Jag went.
Cam – If anyone asks it's the normal plan Jag, Blue with America as the backdoor. Its not a backdoor it's a replacement nominee because regardless Jag or Blue go home.
Cam – that's the plan. Jag or Blue is going home
Bowie – yeah yeah okay … cool
Bowie goes on about how dangerous Felicia
Cam she's dangerous because she's so loose. "I think the plan was always in place. It was in place the night before but she messed up and started telling people"
Bowie – Maybe, I would love to see the footage for that day.
Bowie – the great thing about their being so many people in the house is nobody can keep their lies straight
Cam – and I'm the liar.
Bowie – yeah I know
Cam – I'm the person that is getting their name run through the whole house but everyone else cannot tell the truth.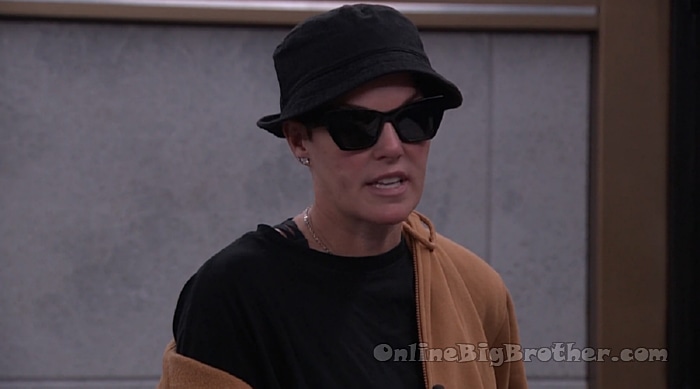 Cam points out that this alliance they were in tried to take out one of their own twice. "the most dangerous place to be is in this alliance"
Bowie – in a way I thought it was safer to be on the other side this is ridiculous.. I'm not saying that i'm just.. you know what I mean?
Bowie – We've deleted one of our own twice
Cam – the only win they got was Felicia, outside of that it was red. They just used us.
Cam – you better stop talking to me before I give you things you can't deny.
Bowie – don't tell me anything
Cam – nope.. Jag and Blue, America is the replacement (He's got something cooking..it can't be this kraken)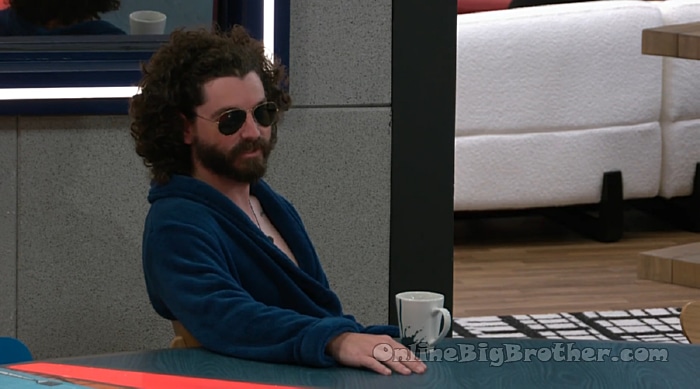 9:41 am chit chat in the kitchen about the stink o' meter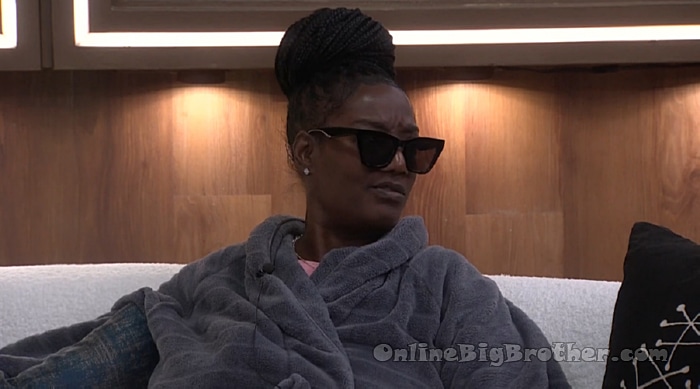 10:00 am Cirie and Cam
Cirie tells him she's not going to throw anyone under the bus
Cam – we're down one and I'm HOH we can't afford a pawn.. we got to be running straight.. just like a week 4 redo
Cirie – I 100% agree
Cirie goes on about always rocking with Cameron "red was my guy"
Cam – I know.. you know we're good.
Without your support this site and these spoilers wouldn't be possible.
Please consider a donation to keep the madness going.