Quick Big Brother Spoilers
Head of Household: Cameron
Nominees:
POV Players:
POV Winner:
Veto Ceremony:
Havenots: Everyone except for Cameron is a havenot this week. Everyone is on Slop, Everyone takes cold showers, and they all take turns sleeping in the havenot room.
Lock your ranks in before midnight
The Situation Who knows!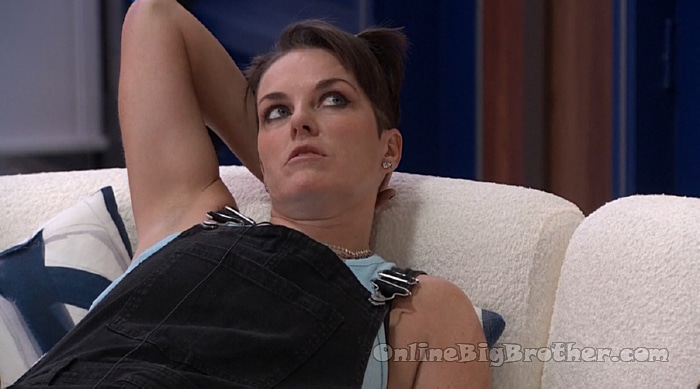 10:24 am Felicia and Bowie
Felicia is pushing for them to evict Jag "They'll lose their leader" She adds that the remnants of the the other side will target Cameron after that. (LOL)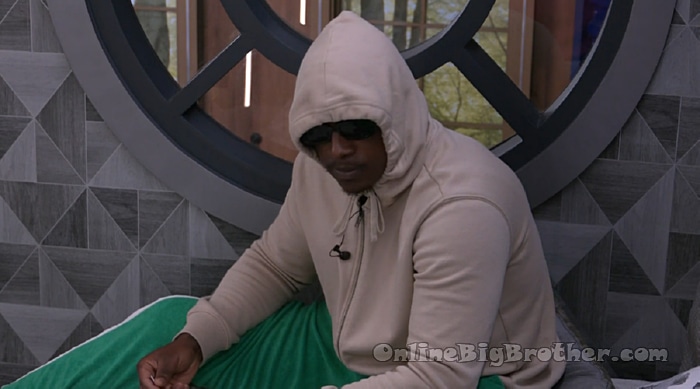 10:29 am Corey and Jared
Jared – We'll make it through but like you said it's about the people we're next to
Jag joins them.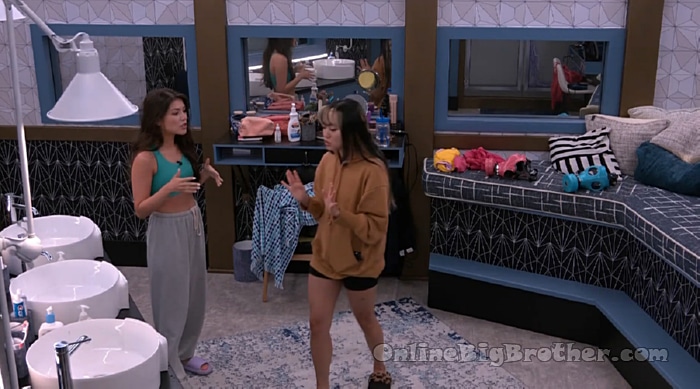 10:30 am America and Blue
Blue – if there's any way you can vouch for me that would be appreciated
America – 1000% I'll sneak it in there somehow..
Feeds flip.. to Jared, Corey and Jag …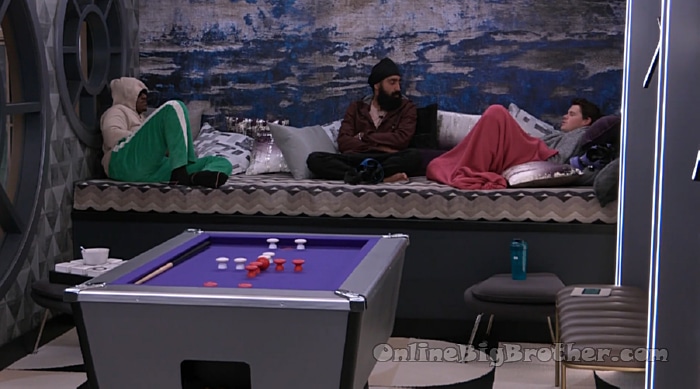 Corey is saying as long as you had a decent grasp of the farts in last night HOH it was basically a coin flip. He adds that Cameron is going around claiming he knew ever answer. Corey thinks there was a luck component.
Feeds flip back to the girls in the bathroom.

Blue tells her to stroke Cameron's ego and remind him that next week will be a sh1tshow for him
America – Does he now know everyone was targeting him cause when I spoke with him that time he said everyone is acting like I'm a villain. Like he's got to know
Blue says Cameron told her that the comic room was telling him that red was saying sh1t abot him
America – I Hope he doesn't buy it
Blue – PEOPLE are lying to you, LYING
America – people that are never up PAST 10 are up past 2am last night! or like up this morning super early! like what! everyone is scrambling.
Blue – yeah yeah miss girl.. you are speaking to the mother f***ing choir right now.
America – it'll be okay I got you.. I myself don't feel safe. WE're going to make it to jury..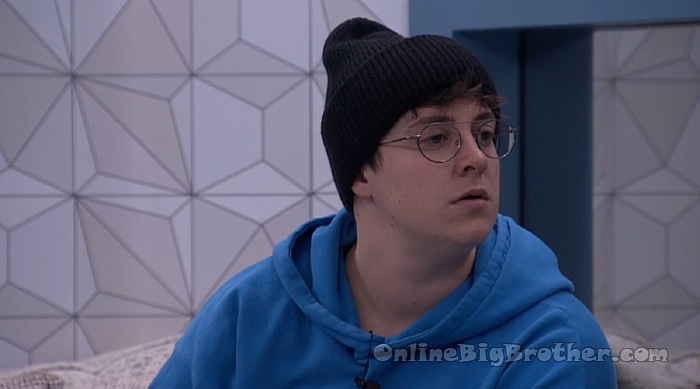 11:00 am Izzy and Felicia
Felicia thinks Cameron is going to stick with the plan and put up Jag/Blue replacement is America.
Izzy – if he talks to me in riddles i'm going to be like.. I'm sorry I didn't understand
Felicia – don't do that.. let him 0play his whatever he'll look at that as snarky
Izzy – it's not snarky 1/2 the time I don't understand him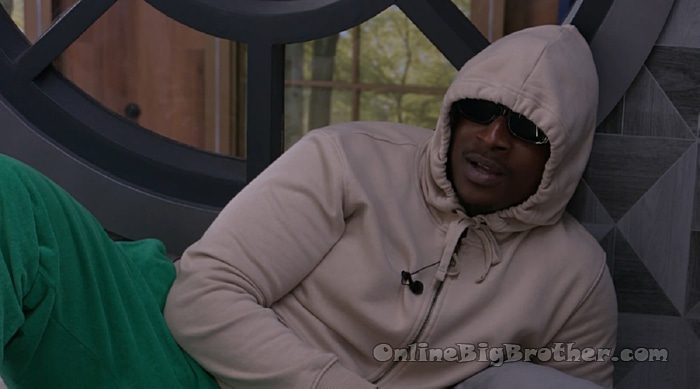 11:05 am Jared, Jag and Corey
Jared broing out "I love UFC dude.. I LOOOOVE UFC"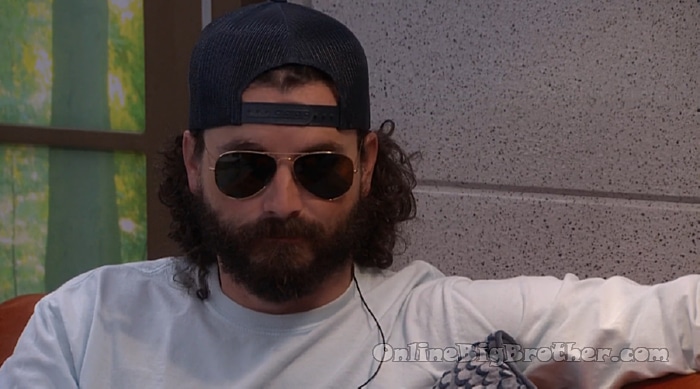 11:14 am Jag and Cameron's One on One
Jag goes over what he had talked about last night. He doesn't want this to be a thing where they are both taking shots at each other.
Jag – after I leave.. if I leave then what?
Jag – you are safe with me you are not my target I would not put you up I am in position where I don't have anyone. I've already been evicted
Feeds flip to F***ing Bowie Jane chatting it up in the comic room. Seconds after the feeds cut.
Jag – I'm looking long term and what the means for us. I think it will be a tough road unless we cut the bullshit. Look we're at the bottom of the f***ing barrel if we don't team up and trust each other and be like Dude I'm not going to go after you.
Jag – I am clearly at the bottom you are clearly things have happened in this house and I'm sure you are just noticing things as well.
Jag – whatever you are considering or whoever you are considering to take a shot at all i know is I am not the head of any snake. I am not the ringleader of anything. I think that is probably pretty apparent to a lot of folks. that needs to be said.
Jag says taking him out would be a waste to Cameron's game. he goes on about how keeping him and how he's not a threat to Cameron's game
Cameron – did you get it all out?
Jag – so far
Cam – good
Cameron – I don't trust you at all..
jag – hhjhhhhmmmmmm
Cam – but… we are on a road the conversation the chats you and I have had have come back to me.
Jag – one thing I want to point something out … With this previous conversation we had I didn't say anything until there where whispers of those conversations.
Cam – walk about the boat? the boat we are both in.
Cam – it's clear we are trying to trust each other. We are also trying to play this game and keep our other relationships intact. Follow me here..
Jag – yes 100%
Cam – Follow me here.. you are a good social player and that is the up most compliment I could possibly give you I absolutely adore you. I love hanging out with you brother. I love you I could not be more serious about that.
Jag – I love hanging out with you also .. yeah
Cam – the point here is I am very separated when it comes to game and personal. I told you think many times before. THere is a game we are playing on aperonal side I love hanging out with you and you are my dude. Everything else got muddy gamewise.
Cam – we're muddied
Cam think the people they are close to on the other side of the house are the same. "I also know you are a pretty good actor also that is a compliment"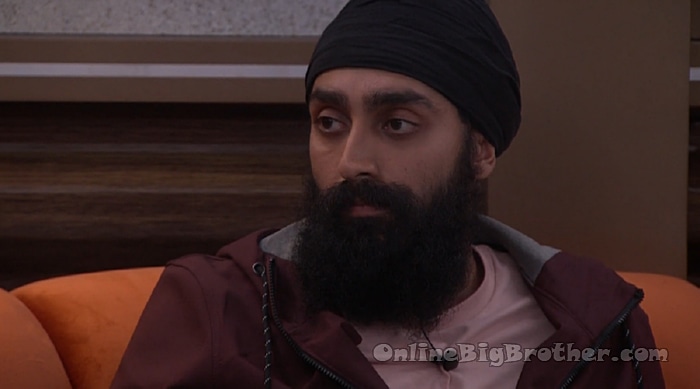 Jag -okay what do you mean by that?
Cam – I really want to put you on the block right next to Blue. I really want that. BUT I think you are right in the fact that it wouldn't benefit us but I want to do it. What you offer me is the same thing I will offer in return. If for some miraculous inconceivable reason that I decide not to put you on the block this week I need to know with 100% certainty .. I want to know if I don't put them on the block this week which is what EVERYONE wants… EVERYONE If I don't I need absolute safety next week.. Not on the block not a replacement.. not a backdoor.. I can offer you that this week if you can vow that to me next week.
Jag – here is what I'll say.. the same that everyone wants me this week I'm serious about the things I'm saying I will hold up the that promise. If I don't touch the block this week and you keep me safe I know it's not because of someone else's graces that I am safe. I know it is because of you.
Cameron says if he doesn't nominate jag and the conversation they just had spills then he's a backdoor possability. "It's over it's completely over I will make sure you go home this week"
Cam – it's a repeat of week four… I am putting you on the block when you leave I have to think about how I will not and if I can trust this conversation or not that is a big gamble
Jag – this does not leave here..
Cam – I've been told that..
jag – as have i ..
Cam – this is the gamble jag this is the one shot we have and any sort of semblance of a road forward together this is the shot. if you can keep your mouth shut for this reason I can make that promise to you . I need you to know I am serious
Jag – I am very serious as well.. I am looking at you in the eyes.
Jag asks him what he should say to people?
Cam – that's on you. You're the one with the sad face you are good with them so far. Use your words and your sad eyes and the sad face and all the things that you use for your solid acting skills and you paint this picture (ouch)
Cam – if anything comes back to me between now and tomorrow afternoon it is over. This is the ones shot we have man.
Cam tells him to act like they never talked about this. Adds that he still doesn't know what he'll do.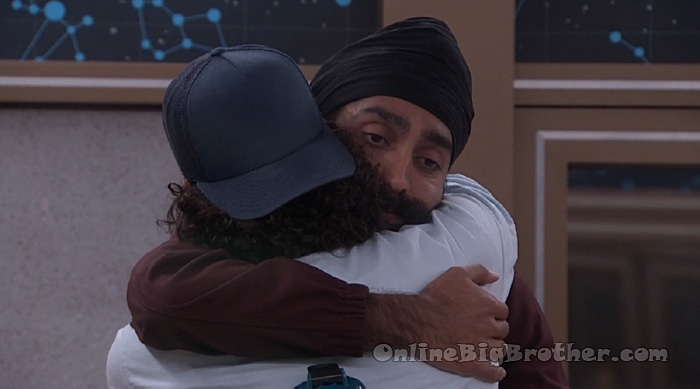 They hug it out (OHH SHIT)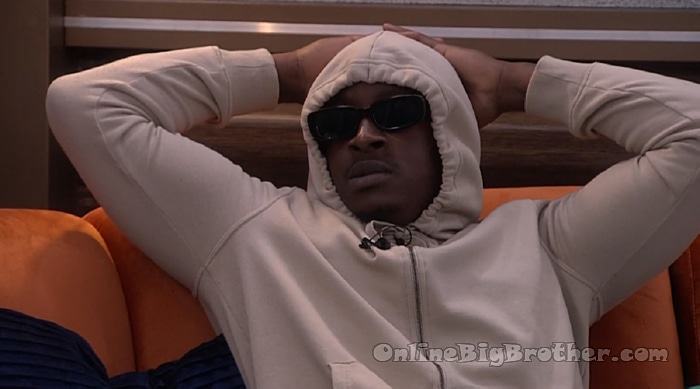 11:40 am Jared and Cameron (Jared not looking worried at all)
They bro around.
Cameron – I hold security clearance with the united states government I don't tell secrets..
Jared goes on about the last minute chaos with Felicia. Jared says jag feels slighted by Jared's relationship with Blue "he's feeling abandoned is the word from her"
jared- that has nothing to to with me
Cam – we got played this wasn't their plan from the beginning. Pay attention to him today he just walked out here.. I looked at him in his face and said I don't f***ing trust you not for a second.
they laugh
Cam – f*** him
Cam – Ride with me
Jared – I know
Cam – Ride with me
Jared – I know
Cam – just be cool for the rest of the day
Jared – I got you I be Chilling
11:58 am Corey and Cameron
Cameron points out how weird it was that nobody celebrated him winning HOH
Cam – you're good with me and you know that and you know it'll be a easy week. It's pretty cut and dry.
Corey says next week there will ne a lot of people looking to backdoor him,
Corey asks him what does he need this week from him. Cameron says just be yourself and be around to talk.
Corey asks if it'll be jag and blue noms. Camerons says yes.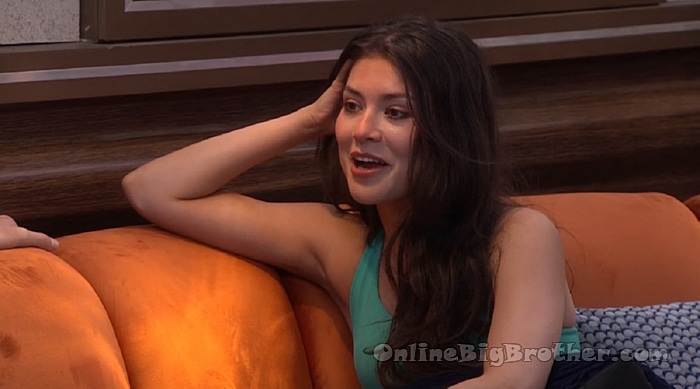 12:12 pm America and Cameron
America – here we are again
Cam goes on that he has no reason to come after her. "I want to work with you and I believe i have been explicant about that the last couple of days"
cam – door slammed don face every time because you keep your ears open to people's bullsh1t
Cam – lets just relax and play Big Brother
America – is it jag and blue
Cam – yeah
America – Any replacement in mind?
Cam – one.. We already voted him out 10 – 0 lets do it again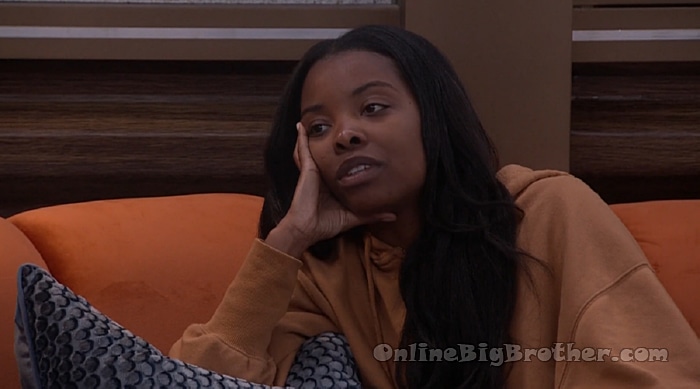 12:43 pm Cam and MEMEME
Cam tells her they are good they've always been good. Says they can't put a pawn up because they've already lost a person.
Cam – this week is going to be really bad.. Short on food…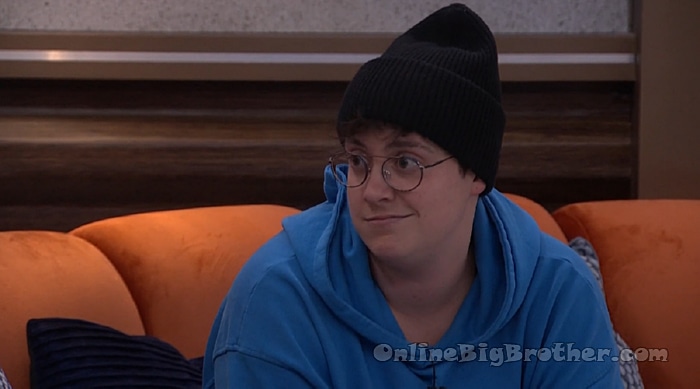 12:47 pm Cam and Izzy
Cam – what hurts me still to this moment is Red is going to go home and watch these episode and he'll feel really bad
feeds flip… when we're back
Cam – lets run it back to week four and get him egon e
Izzy – okay.. I am proud of you last night it's .. I want you to feel good about it I know you are humble and being overly gracious with your food I hope you are feeling really proud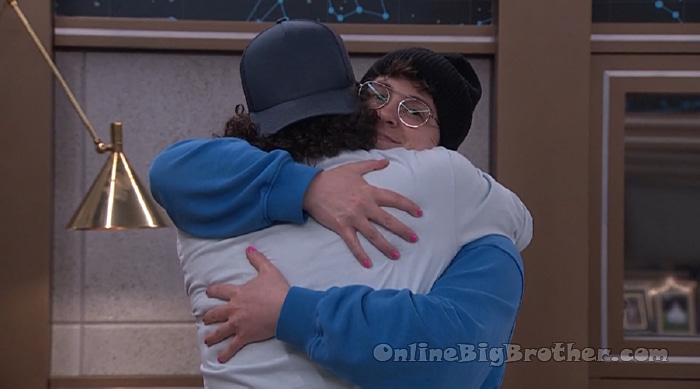 They hug it out.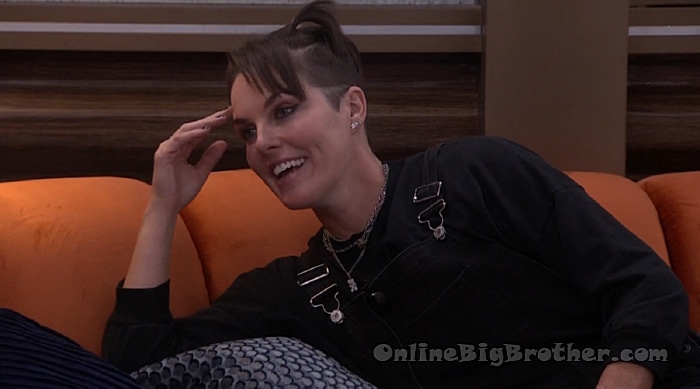 12:54 pm Bowie and Cam
Bowie says Felicia is lying to her "Black and Blue" withhow yesterday happened
Cam – I'll let it go
Bowie – Yeah, but I'm not forgetting it.
Cam says it's just the two of them.
Bowie – everyone is so scared to go against the house
Cam says Red will go back home and realize what he did " i feel like he self sabotaged himself.. he set himself home without quitting.
Cam – I am going to keep you at an arms length.. We're good but I don't want them to grill you
Bowie – don't tell me anything
Cam says when he does the veto tomorrow it'll be his 13th comp in a row. Claims he wasn't going to win yesterday but after Red was vote out he was "Alright let focus in on this b1tch"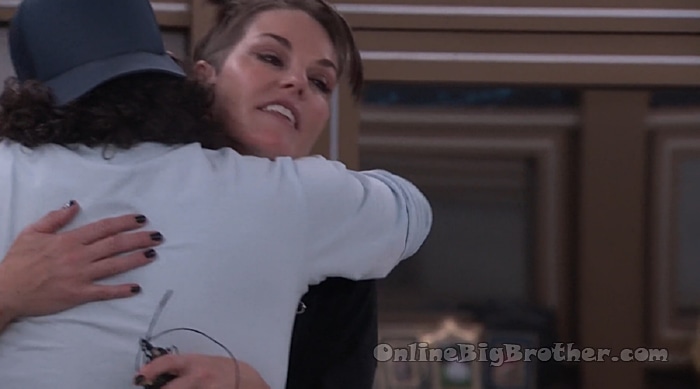 Cameron keeps repeating Jag and Blue replacement is America
They hug it out.
1:24 pm America and Corey
America – I asked him about the replacement and he said there's no replacement.
Corey – I think you might be the replacement
America – ME!
Corey – he didn't tell me that but…
America says he told her he wants to work with her.
Corey – who are you throwing under the bus
America – Felicia and Jared. We've both been talking about Cirie and Izzy as the two in charge. We don't say names but he knows that I know. He's talking about BIG moves.
Corey – I think you and I have to be best friends with Cameron for the next 4 days.
COrey thought there was a chance it was Izzy and Felicia but he's thinking it's not Izzy now. "Felicia is possible. You have to convince him of two things you are on the bottom and you are willing to work with him"
America – He knows I'm on the bottom
Corey – if you go up next to blue you are in a lot of trouble. You are going home in that Sancio if you go up against Jag you are staying.
Corey – he (cam) thinks Jared despite just nominating him he think jared would protect him. He thinks I would protect him, He thinks Matt would protect him. He's looking at this list and he's thinking I need these people to win against Cirie, Izzy.. and he feels fine about that.
Corey – I've been buddying up with Bowie
America tells him not to underestimate her
Corey – what's Bowie's comp?
America – I don't know
Corey – I know what your comps are
America – what Am I?
Corey – endurance like HISAM said.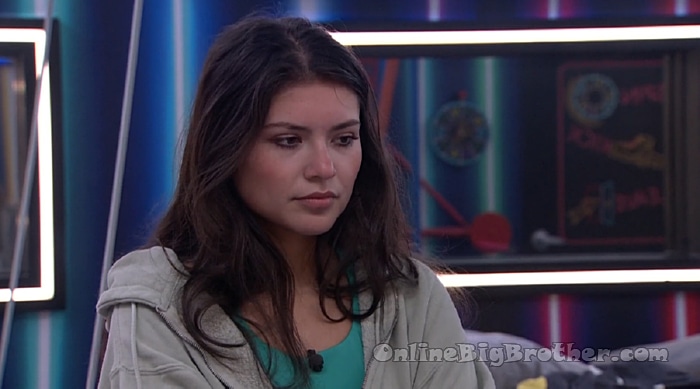 Corey – if he nominates Jag and Blue it's really bad for him.. The problem is if Jag wins Blue's going to be on the block if he puts up anyone meaningful blue is going home.
America – maybe.. we don't know what.
C – give me a name
A – A Felicia?
C – I'm talking about a Cirie or Izzy, They were turning on Felicia last week after the eviction.
C – the reason why I hate blue being up there you would go out against her. Jag would go out against her but Izzy would stay against her. She's that awkward type of person. I don't know how to deal with that …. it's f***ing BLUE I don't know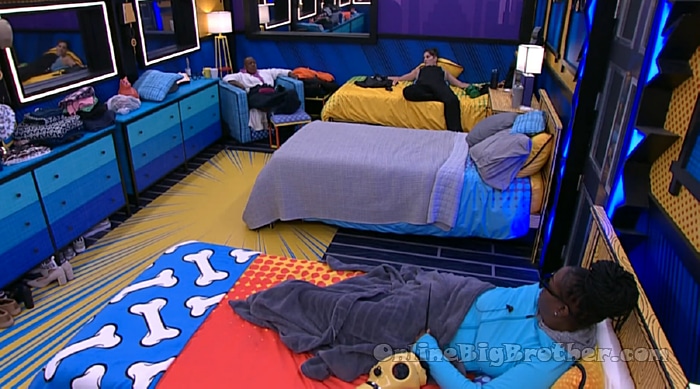 2:15 pm Cirie, Bowie and Felicia
They are talking about how Taylor was treated last season and how cruel the houseguests were to Taylor.
Bowie – it was mean stuff
Felicia – is was mean spirited
Cirie – why?
Felicia – she was a pretty girl.
Feeds cut.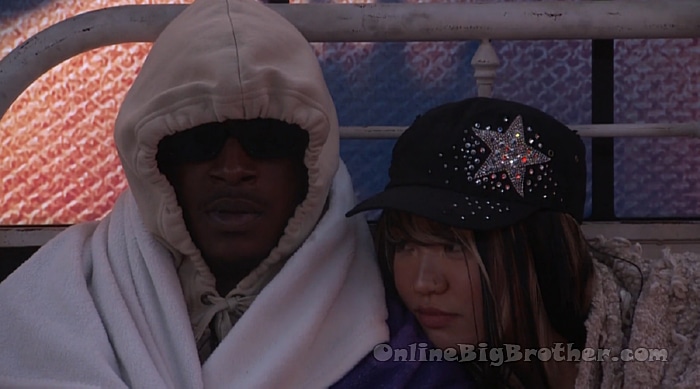 2:47 pm Jared is complaining to Blue about not being aloud to sleep.
Jared – I'm like Bro.. this sh1t.. Bro.. I'm not feeling it today..
blue – I wish you could get over me.
Jared – hmm.. what did you just say?
Blue – I wish you could go over me.
Jared – Get over you?
Blue – I wish I could get under you though.
2:53 pm Feeds cut to Pound
Without your support this site and these spoilers wouldn't be possible.
Please consider a donation to keep the madness going.