Quick Big Brother Spoilers
Head of Household: Cameron
Nominees:
POV Players:
POV Winner:
Veto Ceremony:
Havenots: Everyone except for Cameron is a havenot this week. Everyone is on Slop, Everyone takes cold showers, and they all take turns sleeping in the havenot room.
Lock your ranks in before midnight
The Situation Sounds like Blue and Jag going up. Grab the Kraken.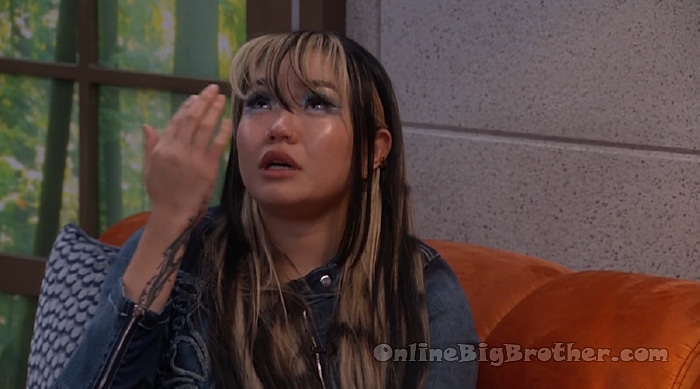 1:00 am Cameron and Blue
Cam tells her she's going up with Jag. Blue starts bawling.
Cameron – go win the veto and use it that's it.. that's all. you know I'm a straight shooter. Someone has to be bamboozled that's this damn game.
Blue – if your target gets off the block bro then what?
Blue goes on that any replacement for Jag would mean she's going to be evicted. She lists through the houseguests.
Blue – you better win bro
Cam – you better win I need you to win.. I'm not doing it.
Cam – you don't like me right? you don't like me and you are on the other side of the line to me. We are enemies.
Blue – Cameron I really don't like you right now
Cam – I can take it I've been not liked many times. I'm a tough dude.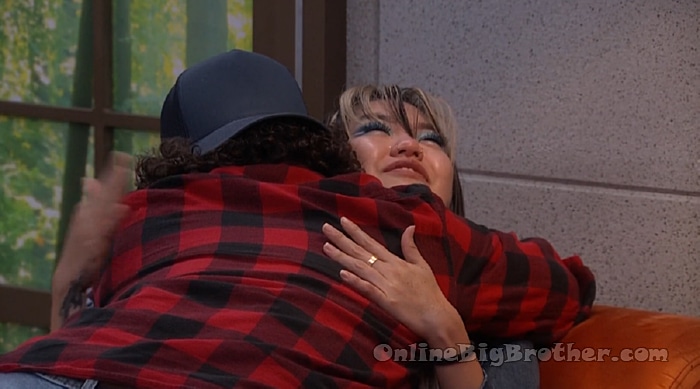 They hug it out. Cam leaves to get his stuff downstairs.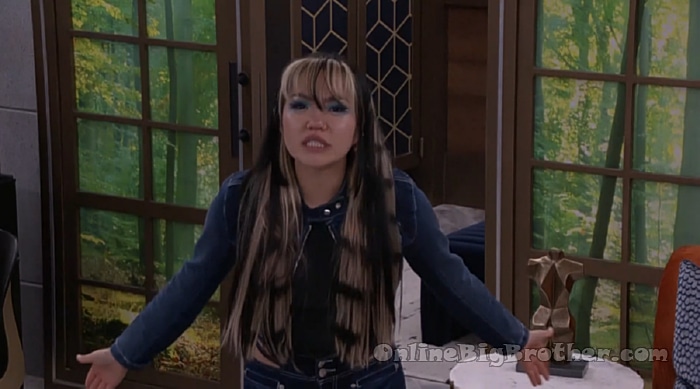 Blue alone "What more can I do oh my god.. I was sobbing.. what more can I do?"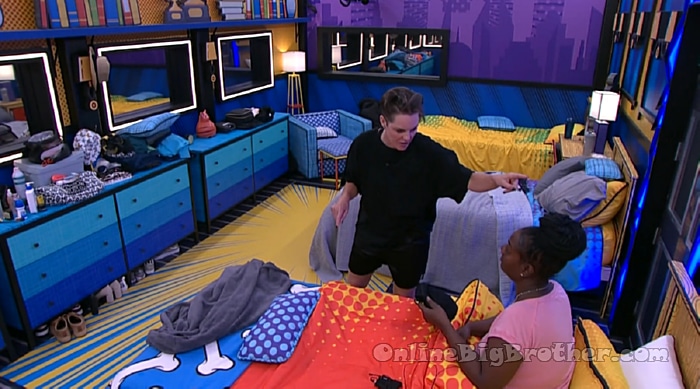 1:13 am Bowie and Cirie
Hard to hear what they are saying but sounds like Felicia is being blamed for the vote last night.
Bowie – every week it's a shit show
Cirie – it's only going to get worse and worse and worse
Cirie – actually once it gets down to a certain amount of people you'll know where you stand. It just comes down to the competitions.
Bowie – that will be great.
Cirie – we have at least.. 12.. we have 6 more people before that.
Bowie – the general consensus is today was driven by her (Points to Felicia or America)
Cirie – I'm not doing anything tomorrow.. I'm not running nobody down i'm not licking nobody's ….. (She just makes a slurping sound)
Bowie says the game moves fast she was "Fully upset" after the vote but now she's ready for next week.
Bowie – What the hell?
Izzy comes in having finished her Diary room.
They head to bed.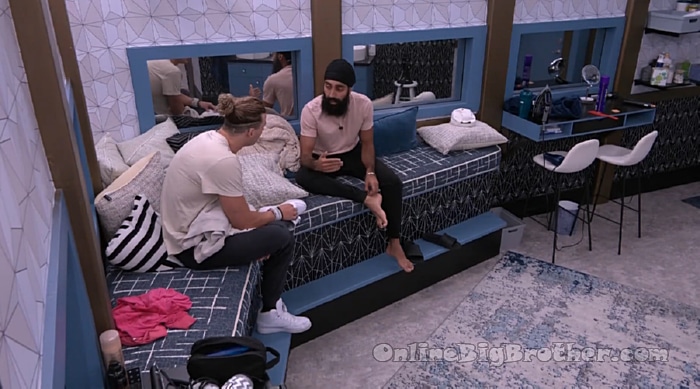 1:10 am Jag and Matt
Jag is going to try to drill it into Cam that he's not his target.
Matt says Felicia was trying to get Jag vote out this morning.
Matt – she was scared of you because of last night and the quesadillas and Seeing America and Corey with us.
Matt explains that she thought they were all working together to take her out.
Matt – we were eating a quesadilla. She's so dramatic.
Matt said Felicia controlled the vote last week.
jag – I don't trust Felicia
Matt – she hasn't looked at me today at all
Jag – Izzy and Cirie were solid right?
Matt – for sure.. Me and jared are going to try and put Felicia's name out there.
Jag – should I even mention their names or will it seems like we're all working together then.
Matt – maybe just say the first part.. getting me out isn't going to fix any problems there's people bigger. Go after someone who is controlling on the other side. Don't say names.
Matt goes on about Felicia being the one that is controlling the votes and is flipping. (Sigh)
Jag – does he know he was the target
Matt – I don't know, he knows nobody was happy today.
Jag – he's smart enough to know
Matt – he is smart he's won three of them now.
Jag – I'll say BRO we're clearly at the bottom it does me NO good to come after you.
Jag -I was like brother I'm going to tell you what will happen for the next few weeks.. either you are going to go or I am going to go. One of us will be on the block over and over..
MEME walks in after she leaves..
Jag – I'm going to talk to cam and be like Bro I'm not gunning for you. You are not my target. It does me no good to take you out. If I take you out I am the next one to go if he takes me out he's still the next one to go. Who knows if he'll believe it or not.
Jag – does he know we're close?
Matt – he knows we're bros but he doesn't know gamewise.
Jag – if he thinks that you can also.. it might help if you also not second that .. say Bro.. Jag is serious about that. He might not think I'm not serious
Matt – I'll say maybe we should recruit Jag. He literally has no one with him.
Jag – I'm serious about working with Cam. If he trusts you and he knows we're bros.. I'm deadass not trying to get him out.
Jag – I'll have my conversation with Cam afterwards you have your conversation be like Dude maybe we should recruit him because he's actually dead ass about..
Izzy rolls in to take a cold shower.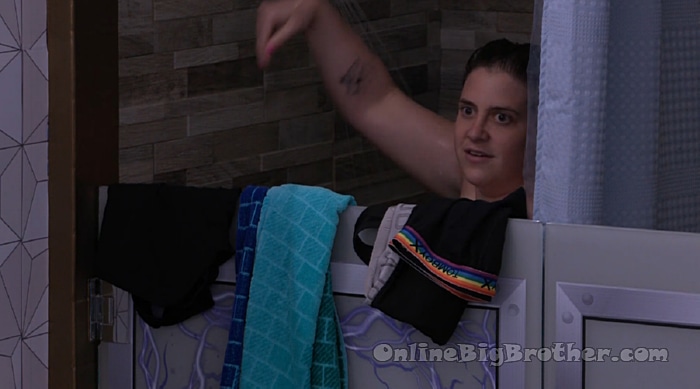 Chit chat with the guys. Matt leaves Jag and Izzy
Izzy comes out of the shower. She's complaining about Cam apparently he offered to save his 6 white claws until wednesday so the entire house can share.
Izzy – it's another semi manipulative tool to do that.. you don't have to rub it in people's faces I don't need your white claw. Just drink it..
Jag – or half a white claw for everyone on Wednesday.
Jag thought it would be funny if Jag downed all 6 and started hanging out with them.
Izzy about Cam "everybody hates you no on wants to celebrate you.. stop celebrating you. you celebrate yourself enough for all of us"
Jag points out that after Cam won the HOH they all stood around with their mouths open.
Jag – I said are we allowed to celebrate? they said we are and everyone just looked around. that was all caught on live.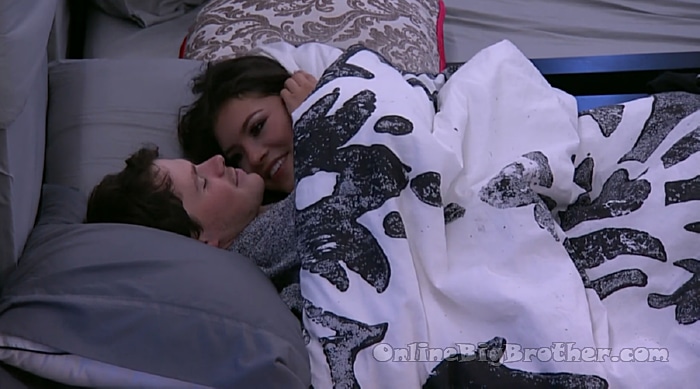 2:00 am America and Corey are back to cuddling and giggling.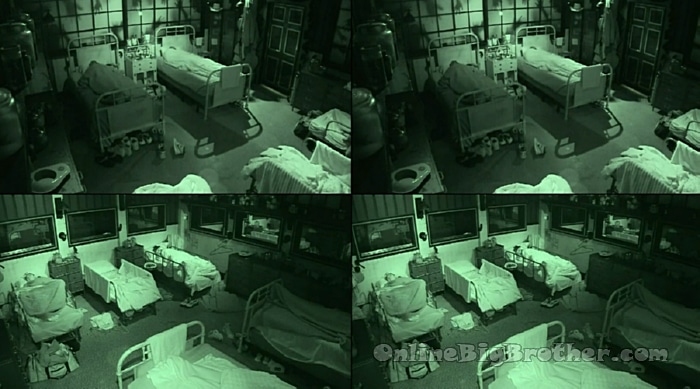 3:00 am Zzzzz
7:20 am zzzzzz
Without your support this site and these spoilers wouldn't be possible.
Please consider a donation to keep the madness going.