POV Holder:
Nicole
POV Competition
Sept 10th
POV Used
NO
POV Ceremony
Sept 11th
HOH
Corey
Next HOH
Sept 15th
Original Nominations:
Vic AND Paul
After POV Nominations:
Vic AND Paul
You can now get 1-month FREE with promo code: FALLACCESS – expires 9/16/16!
1-month FREE with promo code: FALLACCESS
Watch the next month of the feeds for FREE – 1 month free!!!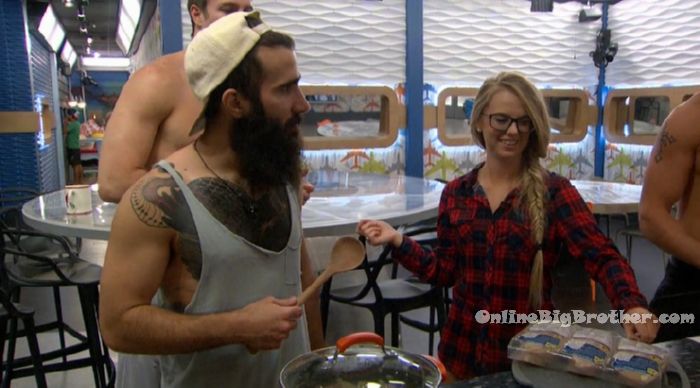 2pm Backyard – Nicole tells James that she gets why he got america's favourite. You have a heart of gold. Don't even change. James – I've been getting my heart broke a lot this summer. It's been an emotional summer. Nicole – you put your whole game on pause. Corey and I are in a showmance but didn't put our game on pause but we're gamers. James – I just feel like it was me chasing her all summer. Well not chasing her but … Nicole – making sure she was okay. James – yeah. Nicole -how did you end it? Did you end it as friends or … she call you her soulmate so are you guys dating. James – after that whole fight thing and stuff she said that she just wasn't ready. I told her I respect that and said I would just be a friend for her. But then she said that soulmate thing. Nicole – it is .. if Corey said that I would be like okay we're getting married. James – in the jury she will have a lot of time to reflect .. she might be like I really miss James. Vic joins them. He says he is expecting the worst but hoping for the best.
2:30pm London bedroom – Vic and Paul are talking. Paul – Vic you are my soulmate. Vic I would die laughing if you really said that. Paul – Victor you are my soulmate .. you taught me how to cook and clean just like my home.. which is why I felt right at home. You made me feel at home Nicole you are a snake but that's not news to any of us. James you country son of a gun. Vic – James its day 89 and you're still on big brother. Paul – James I'm just as surprised that you're still here. Paul – what do I say about Corey. Vic – good job Corey for Nicole bringing you this far. Paul – no I don't want to sh*t on him. Vic – James don't think you're all high and mighty there's still a knife in my back with your name on it.
1-month FREE with promo code: FALLACCESS
Watch the next month of the feeds for FREE – 1 month free!!!
– Watch the end of BB18 and the beginning of Big Brother Over the Top – Fall edition!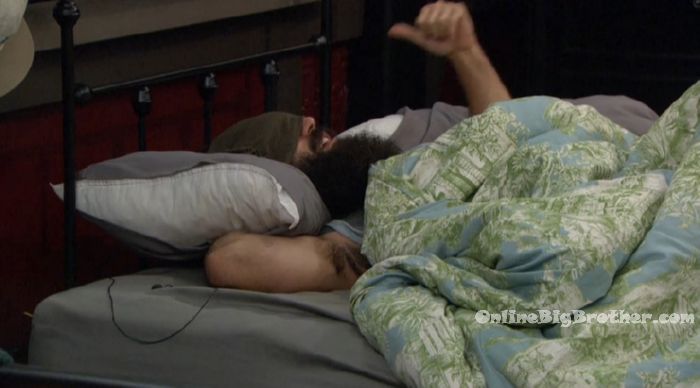 3pm – 3:40pm Corey and Nicole suntanning in silence.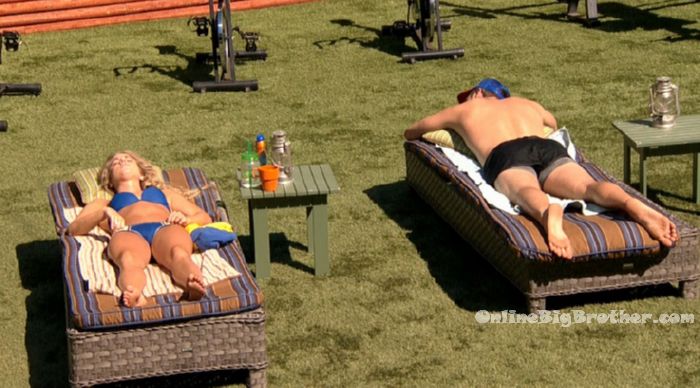 4pm – 5:15pm Corey and James playing cards at the kitchen table. Vic plays Corey next. Nicole and Corey head up to the HOH room to take a nap.
5:25pm – 5:50pm Vic is playing cards by himself. Paul joins him and says lets play! The live feeds are on Nicole and Corey sleeping and Paul and Vic playing cards in silence.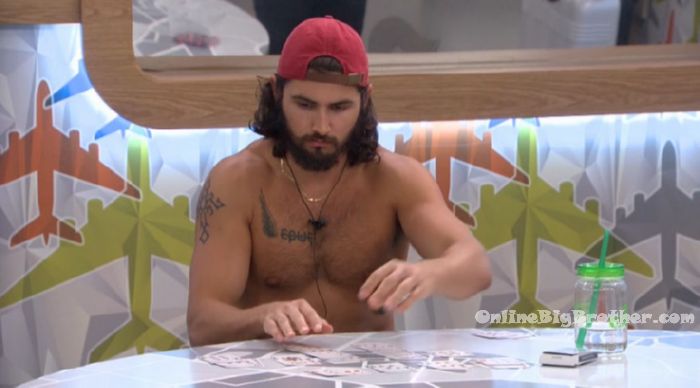 6pm – 7pm Paul tells James he looks like Manny Pacquiao.. and you have that little scare on your nose like you got punched or something. James – I got beat down with a beer bottle. Paul – that's bada$$! How old were you? James – 30. Paul why? James – someone was talking sh*t .. I have very little tolerance when I'm at the bar and someone is talking sh*t. Paul – did the other guy look worse. James – yeah I gave him a one two Manny Pacquiao style. I f**ked his eye up. His eye was bleeding. And then I got snatched up. Paul was this before or after BB? James – oh way before. I went up to him and asked do you know me? He was like yeah I know you. I was like well I know you've been talking sh*t about me through anonymous people. He was like yeah I might have. I was like you got a problem with me? He was like yeah I do. I one, two punched him. They the bouncer picked me up and took me outside to wait for the police. The guys brother was waiting in the bushes and threw a bottle at my face. Blood pouring out of my nose. He took off running. Vic did he get arrested? James – no it was tit for tat. Paul – throw a bottle at someone… you do that in LA and some one will kill you. You'll end up dead by the end of the week. They go back to playing cards and then head outside to play pool.
7:35pm Backyard – James, Paul and Vic are playing pool. James tells Vic and Paul that he shoots doves off power lines. You pull the breast off of them, bread them and eat them. Vic – that doesn't sound too good. Paul – doves? James – not the white ones .. they look more like pidgins. There's not much on them.. you have to kill a lot of them to get much. Corey joins them to work out. Vic starts working out.
8:10pm Paul talks to Nicole in the hammock – I would rather be the second person in jury or final 2. Final 3 f**k that .. because that's stressful too. F**k 3rd place, f**k 4th place. Second person in jury .. straight chilling. Paul says the veto will probably be the face morph or the how bad do you want it.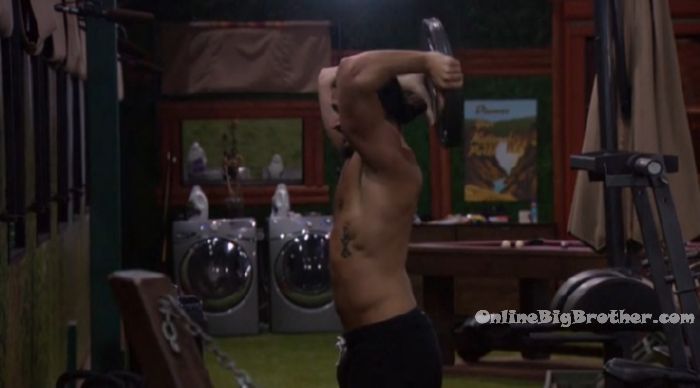 8:55pm They all head inside to eat. Nicole – the one thing about jury .. they eat out every day. Vic – I actually like making my meals though. Nicole agrees. Vic – when I was there I was like bring me this, this and this. Paul – lets do ice cream and poker! They give Paul a hard time for liking Meech. Paul – I DON"T LIKE HER! Corey – why are you getting so defensive?!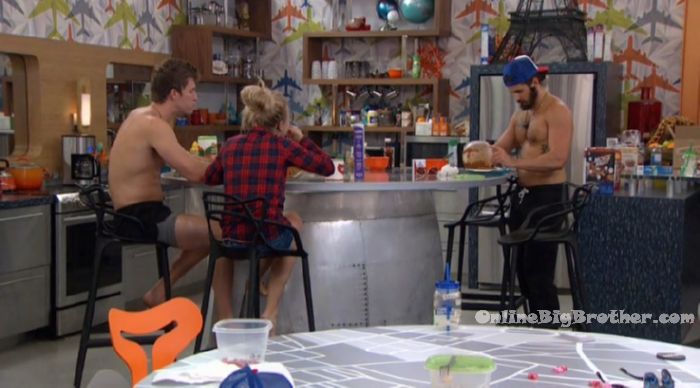 Show your appreciation by making a donation.
Without your support this site wouldn't be possible. Donations support this site more than anything. If you dig our spoilers please find a way to support us. ANY Amount is greatly appreciated 🙂