12:45pm Morgan and Kryssie
Morgan – Alex was my sister.. so… that was a big twist.. Jason got out my sister I've been targeting him.. that is why I want to be HOH..
Morgan – even if I go home.. I want to do something on a game and personal level
Kryssie – ok
Morgan adds that she broke her word to Kryssie earlier in the season and she's hoping with coming to Kryssie with this truth now she can mend things.
Morgan is planning on talking to Justin as well.
Morgan – I want the 4 of us to make it to final 4.. I'm willing to get the blood on my hands..
MOrgan – the off chance he does stay he'll be coming for me
Kryssie – if I end up throwing this thing it has to at least look like I'm not throwing it
Morgan – obviously I don't want it to be obvious.. we need Jason to stay close to Justin.. saying I don't need HOH I need the final one
Morgan – If I got HOH you, Justin and Shelby are completely safe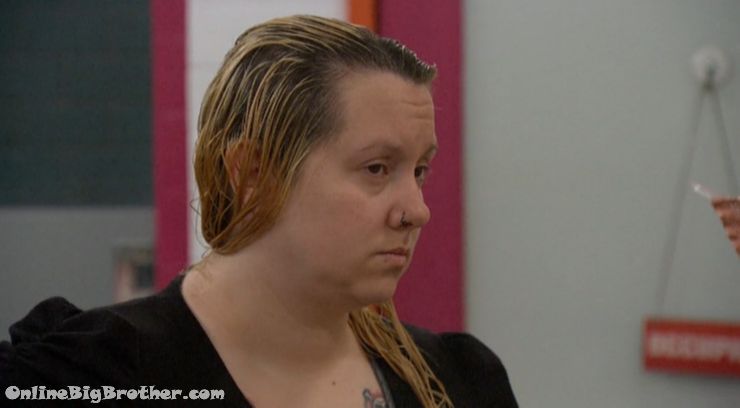 Morgan – I want the final 4 thing to work out
Kryssie – I do too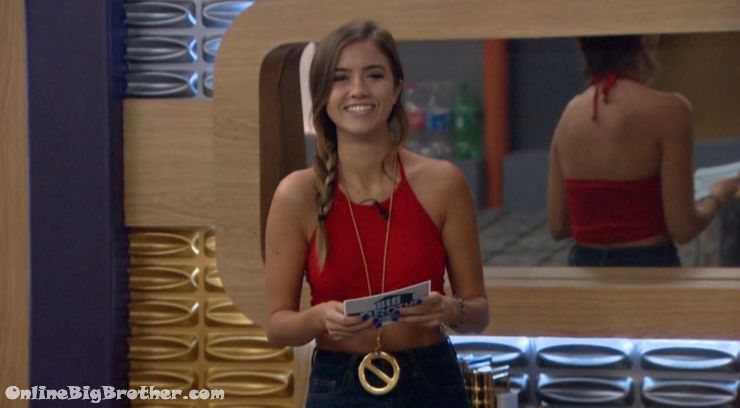 1:03pm Veto meeting…
Shelby uses the veto on MOrgan. Since she's America's nomination there will be no replacement picked. Jason and Danielle nominated for eviction.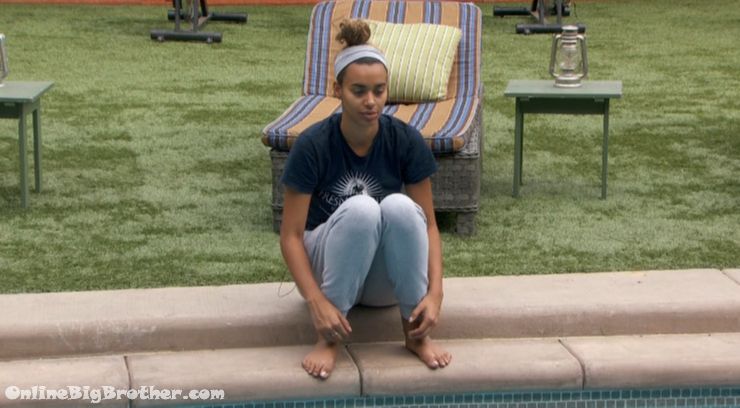 1:30pm ….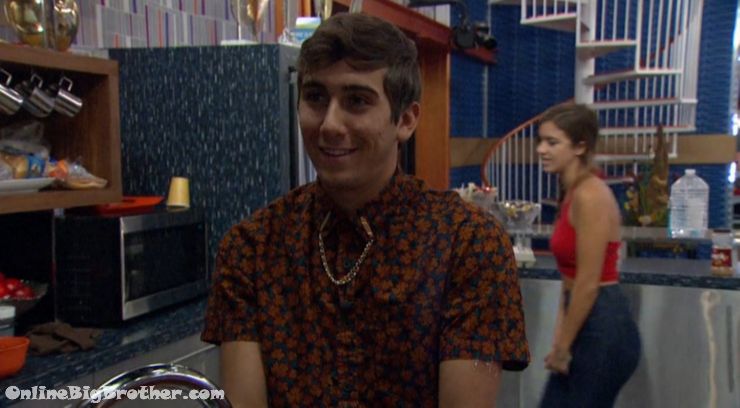 1:35pm Jason, Shelby and Kryssie

Jason – This will be interesting, America will have to vote for someone whose not their nominee..
Shelby – is this the first time this has happened..
Jason – ya
Jason – If they vote for me over Danielle I'm going to flip out
Jason laughs…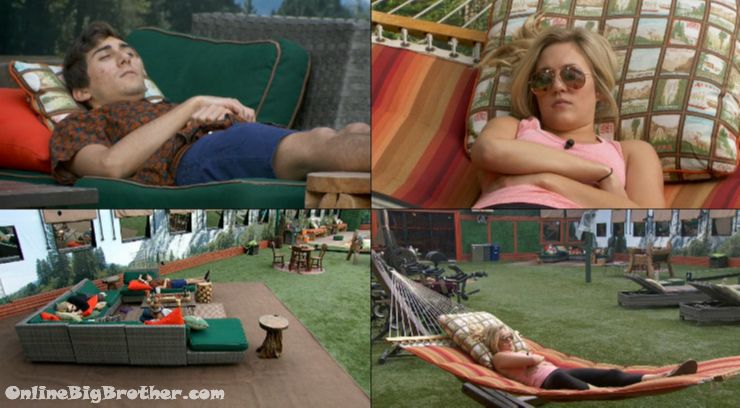 3:37pm Chit chat..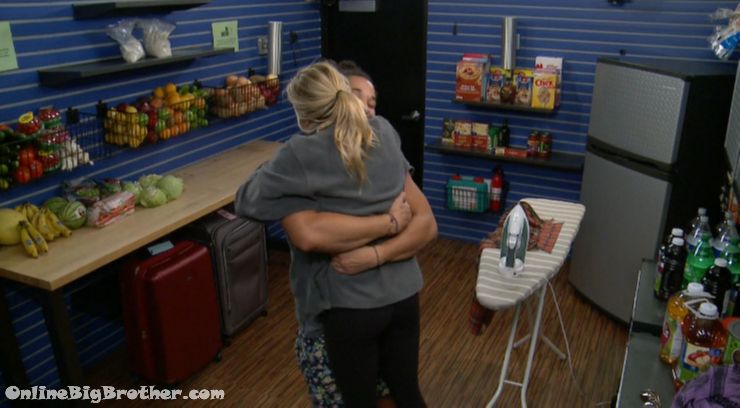 4:30pm Storage room Morgan and Justin
Talking about going final 3 with Kryssie.
Justin – Yo.. I was thinking.. we gotta come up with a name..
Morgan – give me tonight I'll have something for you by tomorrow
Justin – this could be a good thing for us.. I feel like I can really trust you
Morgan – out of everyone you've been the most genuine
Justin – no one will see it coming
Morgan – we get to final 4 we have options.. you're close with Kryssie, I'm close with Shelby .. we got the best of both worlds going.. Plus you get the care package
Justin will use the power to save Kryssie if that's what it does.
They hug..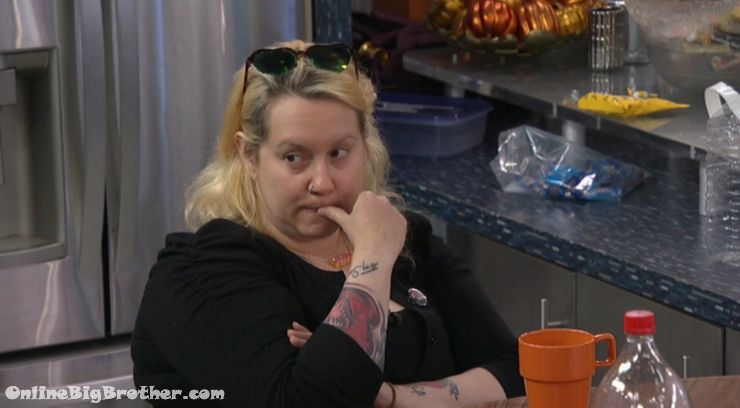 4:54pm Kryssie tells Danielle
Kryssie – those girls came to me and pitched me a final 3 I was sure if it comes to that
Kryssie burps
Danielle says they might take Justin and dump her
Kryssie burps
Kryssie – that's not going to happen.. they were right to not approach me about it (Final 4)
kryssie burps (and I'm not joking about the burps)
Kryssie – I gotta get him alone and I gotta figure out what the hell he's got going on with them.. cause if that ones (Jason) in Jeopardy next week I gotta win HOH
Danielle starts talking about wanting her phone right away when she gets out
Kryssie burps
Kryssie – that's the worst part of gettign evicted is not getting your phone..
Kryssie burps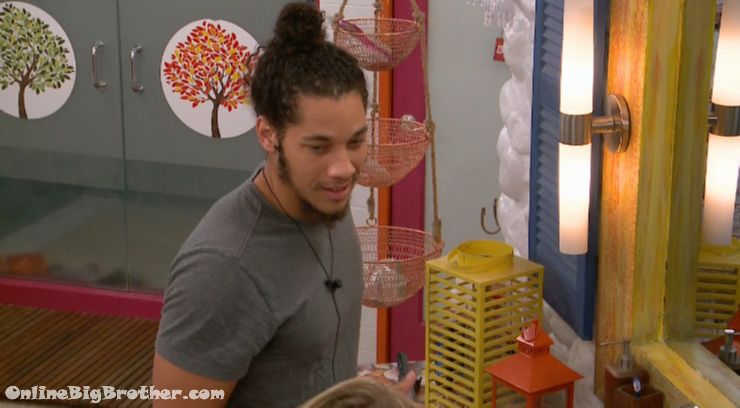 5:28pm Bathroom Justin and Morgan
Jusitn says Kryssie told him "Don't throw the comp"
Morgan – is she really
Justin – ya .. thats why I'm saying it'll be really tough
Morgan – that makes me nervous that means she's going to side with Jason
Justin – I already know .
They agree "To figure it out"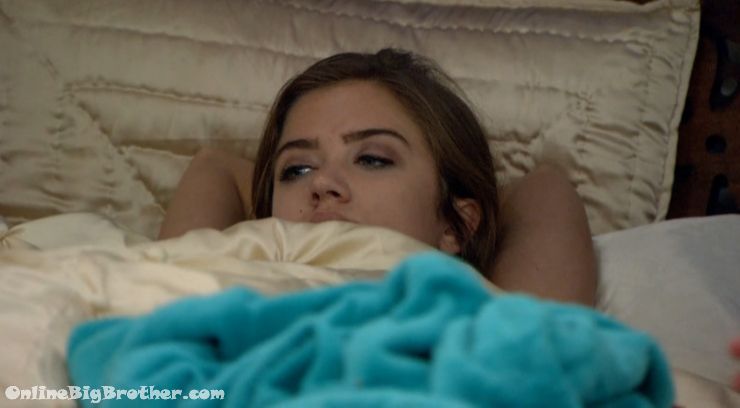 5:34pm HOH Morgan and Shelby
Morgan says Kryssie is siding with Jason. Thinks this is a dumb move for Kryssie.
Morgan calls Kryssie stupid for this, "Kryssie isn't a huge comp threat.. which she's proven"
Shelby – time and time again
Shelby about Kryssie – She thinks this is a friendship game and not Big Brother
Shelby brings up how dumb Kryssie is to want to take people she can't beat to the end.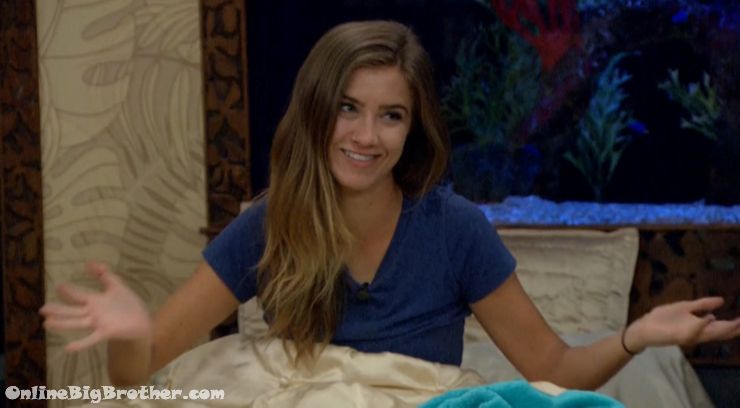 5:45pm Justin and Shelby HOH
Justin says Kryssie isn't throwing the HOH competition but she's not very good at them. Justin mentions how Jason is always talking about throwing this competition because he wants to play for the last one.
Shleby – MOrgan Vs Kryssie
Jusitn – if y'all stay true to me.. Kryssie is not goign to vote out Jason
Shelby – he needs to go why can't she see that
Jusitn – she's not that type of person
Justin says Jason has been throwing him under the bus, "He's playing for his own sake.. which I understand it's Big Brother"
Shelby says Jason has been trying to make final 4 and final 5 deals with her for the past 2 weeks and still Kryssie is being loyal to him.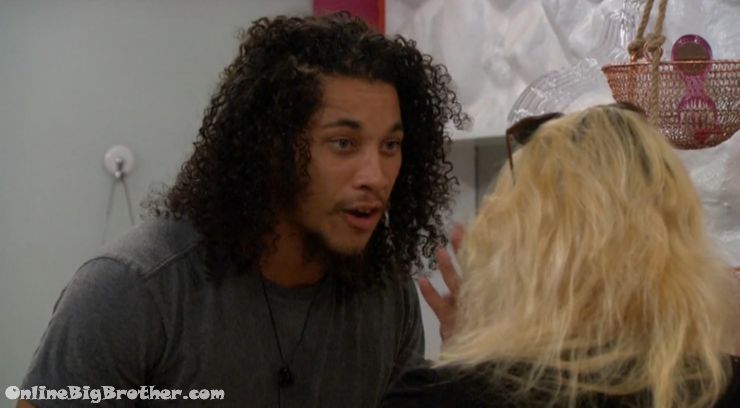 6:13pm Kryssie and Justin Bathroom hard to hear because of hair dryer
Justin tells her he's got a fool proof plan for them to make first second and MOrgan third.
Kryssie – Shelby needs to go before Jason RIGHT
Justin – If I win this week I'm going to be screwed next week..
8:23pm Live DR's
TIP JAR
Please consider giving a donation to help us keep the lights on. All donations go directly to helping cover the considerable costs associated with running this site. Any amount is greatly appreciated.
[polldaddy poll=9581283]