Head Of HouseHold Winner: Miesha
Nominations: Cynthia and Carson Chris Kirkpatrick
Power of Veto Players: Miesha, Cynthia, Carson, ?, ?, ?
POV Winner: Shanna
Veto Ceremony Results: Shanna used the veto on Carson. Miesha nominated Chris Kirkpatrick
Evicted: ?
** Chris Kattan has left the Big Brother house. "Chris' situation will be addressed on Friday's show," a CBS spokesperson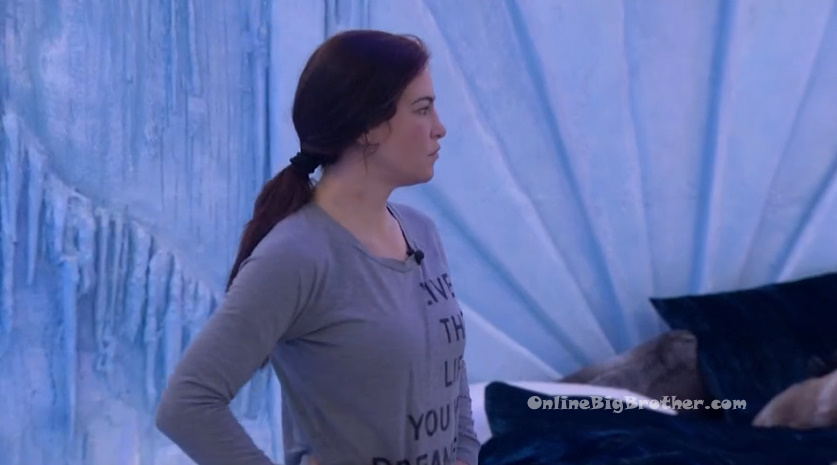 9:57am HOH room – Todrick and Miesha.
Todrick – I know she is in there with him and I bet that is uncomfortable for her to have to be in a room with him and pick a side but at this point now I am in jeopardy and I think that Cynthia even if Carson isn't in the game is almost more loyal than her. Miesha – sucks yeah! I know what you're saying.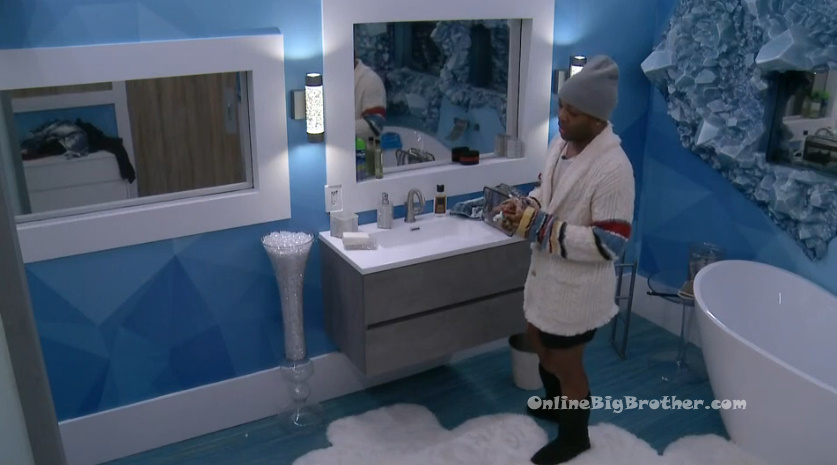 Kitchen – Miesha and Shanna.
Miesha – can I ask you something? Shanna – yeah. Miesha – are you planning to take anyone down (use the veto)? Shanna – if I took Cynthia down like you said that would be cool. Miesha – yeah. Shanna – but who would you replace her with? Chris Kirk, or Lamar or ? Miesha – that's what I am trying to figure out. Because like when we were talking about this I was like yeah well she's not my target but the thing is I wasn't thinking about it in that moment. I have to put someone else up then and I am like I don't know how that changes votes and everything. Shanna – yeah, I mean I would love to talk to you a little bit more because I know that you and Todrick are super close and have a final two and stuff. And I respect that, like its fine. I thought we had a final four. I've just heard so many other things. And for me and my game too… I don't like know what to do. And I am just sitting here and I want to be respectful to your HOH but like yeah.. and Todrick is like barely speaking to me and I don't know why. Miesha asks her if she wants to talk upstairs.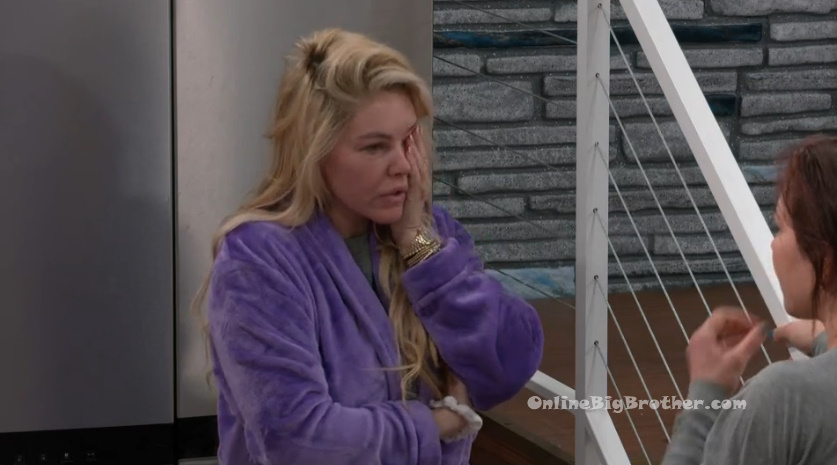 Todrick – did she say something? Miesha – she said she is thinking about taking Cynthia down and how that would be cool. She said I thought we had a final four with her but for my game too ..da da da… she says she doesn't know where she stands. So do I ask her not to take Cynthia down or not? Todrick – I hope she takes her down. Miesha – so don't ask her? Todrick – I wouldn't.
HOH room. Miesha and Shanna.
Miesha – so yeah when were were talking about taking down Cynthia, I was like yeah that's cool because she's not my target but then I was thinking like with Chris Kattan being gone. I don't want to say that it fast forwarded a week but it kind of took away the cushion. Shanna – it did. It took away options. Miesha – yeah it took away options so then I was like okay maybe I'll just ask someone like Todd or Lamar or somebody to go up but then I was like I don't know how everyone is going to vote then. What if that person got sent home instead of Carson. I just can't tell someone you're going up and then surprise they get voted out. Is there any possibility that you don't want to take Cynthia down? Shanna – yeah, you know I am open to it… it is just so hard because like obviously you and Todrick are stupid close .. right!? Miesha – yeah. Shanna – And I don't know why Todrick is upset with me and I'll talk to him later. Miesha – I don't think he is upset with you. Shanna – he is like not even talking to me. I'm cool, like you don't have to feel weird if like that's your girl. Like that's okay. Like I still love him and care about him and want to go as far in the game as I can… but like I don't want him to be upset with me. Like he won't even look at me. Like I thought we were all like a four. Like Chris Kirk, me, you and him. Miesha – right. And then Todd is going around saying that he has a final two with you. Miesha – and this is what is crazy .. I have never had that conversation with him. Shanna – he was like that's my captain (Miesha), I'm just her soldier. This is all like verbatim. I just take my orders. He is like I have protection from her. He is like I had a final two with her before the first HOH competition. Like how is that even possible!? Miesha – he says like the craziest things. Shanna – he is just loyal to you. And Chris Kirkpatrick has said to me over and over again .. my loyalty is to Miesha. Like you have Todd, you have Chris Kirk, and like Lamar is in like an athlete alliance. Like what am I supposed to do like… Carson and Cyndy are close.. like they're thick as thieves. Like I am in the room with them but like they're joined at the hip. Miesha – so like you're not feeling assurance from anyone. Shanna – from anyone! If I didn't win that veto .. like when I was in the storage room and you said I don't know what I'm doing.. that's like sorry kid you're going home. I'm up next .. you know right!? Miesha – no, its not. I mean I was definitely shook up with the whole thing with Kattan. If you don't pull Cynthia down, I think its pretty clear that Carson goes home. Shanna – right. Miesha – however, if you pull Cynthia down.. Shanna – she's not a threat. She's got street smarts but when it comes to the game… like she is a good person. Miesha – oh trust me, I adore her. So like if Cynthia comes down, that is a vote for Carson to stay. IF Todd goes up then I think that it would be… IF I put Chris Kirkpatrick up there .. can I ask who are you voting out of the house? Shanna – I would have to vote for Chris to stay. Miesha – so you would vote for Carson. Shanna – yeah, yeah, yeah. I am with you, he (Carson) is just a very competitive player. Miesha – so if Todd goes up? Shanna – I am still voting for Carson. I mean whether its Todd or Lamar or Chris. Miesha – okay that is good to know.
10:58am The live feeds switch to kittens… for the veto ceremony.
12:07pm The feeds return. Shanna used the veto on Carson. As HOH, Miesha nominated Chris Kirkpatrick as the replacement nominee.
Bedroom – Miesha, Shanna and Todrick
Shanna – I know that you're pissed because you're in that position but I had to do something to give me a fighting chance… and Carson has like some ability in competitions. So if you guys want to take some time and decompress and reconvene… or if you don't even want to.. I understand. But if you want to even try to work together moving forward I am open to that still. Todrick – but when we were all working together we all agreed that we were getting Teddi out, we all agreed that we were getting Mirai out. Shanna – I was told that you guys wanted to move forward with Lamar and not me because there was an athlete alliance. Todrick – we were told that by Chris Kirkpatrick. There is not athletes alliance. Shanna – I asked Lamar and he kind of confirmed it. Miesha – me coming in here I wanted to work with athletes but that all fell a part. Shanna – I did what I had to do. If that is my big move, I won 2 veto's.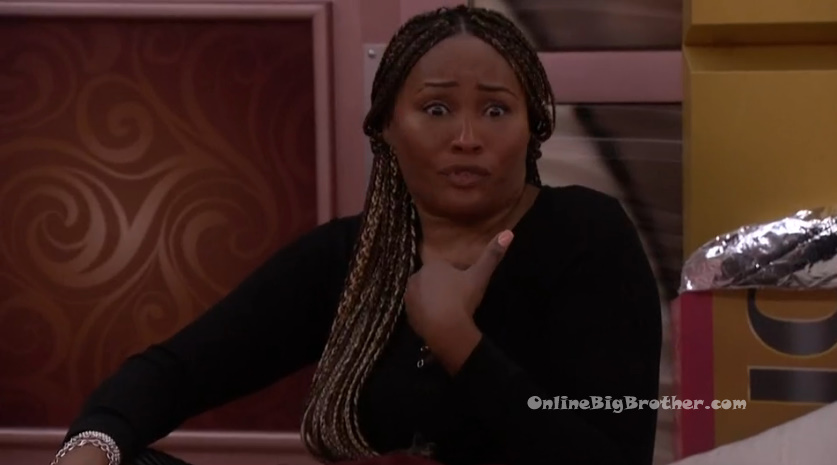 Bathroom. Chris Kirkpatrick and Shanna.
Chris Kirkpatrick – do you understand what just happened? We won! We just won! By that alone we just won. Sure I might go home .. either me or Cynthia might go home but the entire house just flipped. The entire house realizes that it could be them. That's it! You're okay now! Shanna – do you realize the conversation I just had …like you just drew a line in the sand. I was like oh boo-hoo. Chris – We did! We did! Man up! We did! Don't let it get to you. Who cares! Worst case scenario, I go home. Shanna – I can't believe she put you up. Chris – who cares. They drew the definite line in the sand. Right now is the happiest I've been in this house. Shanna – I need to keep you in this house. Chris – I understand that but if we don't … we got people. (He points to Lamar as he's walking into the room.) We've got Lamar now, we've got Todd. Shanna – I hope so. Chris – what were we going to do leave it the same and let them pick us off? We shock them the f**k up. That's what we needed to do. I am f**king tired of Todrick sleeping all day and then playing solitaire because he knows it just him and Miesha all week with their minions. They're doing all their dirty work. Shanna – I said that to her. Chris – its game on! The biggest thing that needs to happen tomorrow is whoever is still here .. we need to win HOH and then once that happens their days are numbered. Shanna – can you get Lamar and Todd to vote for you? Chris – no, I can't. I just got her to trust me, I can't.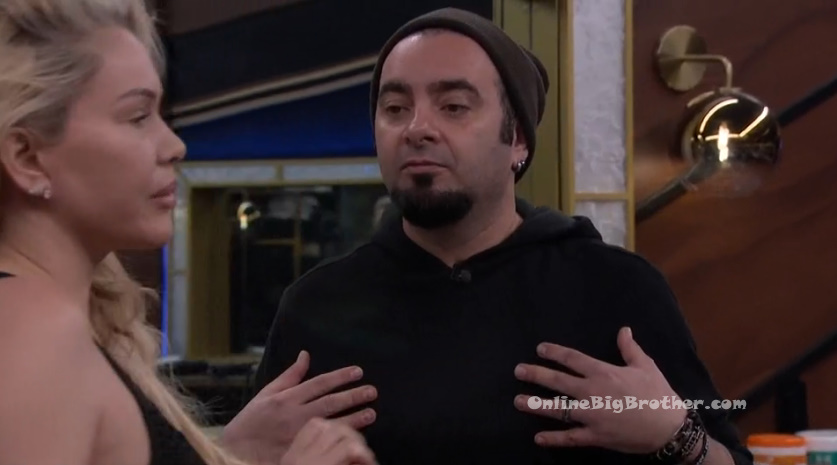 12:30pm The feeds switch to Kittens!
1:50pm Still blocked..
2:27pm Feeds are back. The house is quite…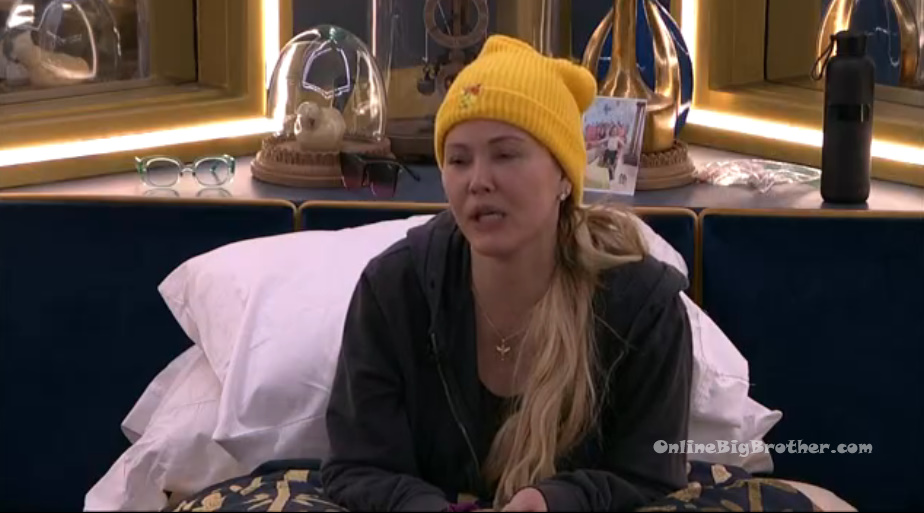 4:50pm Bedroom – Shanna and Chris Kirkpatrick.
Shanna – if Todrick looks me in the face one more time.. like he just keeps saying like when you get out of this house you'll see how I stood up for you and like how I talked about you in the diary room and … he is literally with Miesha 24/7. And its like it doesn't matter how nice you spoke about me. You're still doing everything and anything she says. You're not playing your own HOH… I mean you're not playing your own game. You're playing her game. Chris – no she's playing his game. He's controlling it. 1000%! There is nothing in her being that would have put me up even if we did that. Nothing, she would not have put me up. Shanna – yeah. Chris – if it was her in control. He is the one that convinced her. 1000% Shanna – I believe that. He (Todrick) cried this morning saying I just don't want to look stupid. Chris – you do look stupid. You look how you look! They (production) can only change it so much. Shanna – and she is saying I'm playing both sides. The only one playing both sides at this point is … Todrick.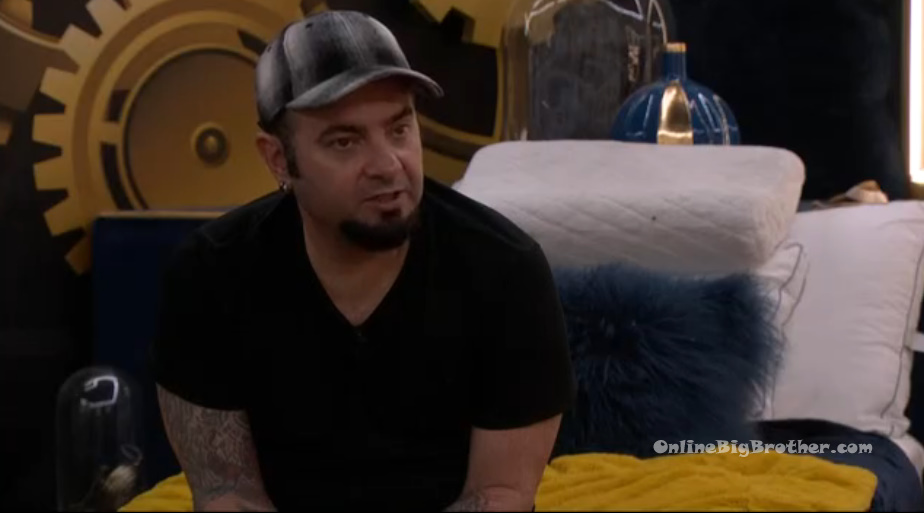 9pm – 10pm The house guests are sitting around the kitchen table talking about tv shows.
Storage room. Miesha and Chris Kirkpatrick.
Chris – just so you know to .. there was never a time I want to turn on you. I totally understand. Its a game. I am not campaigning for anything. I am just telling you because you've been straight up with me and I've been straight up with you. There was not any intention to come for you. Miesha – how come you didn't want to vote Carson out? Chris – I mean I didn't care. I had a good relationship with both of them. Miesha – I know but you did care in a sense because obviously you didn't want to do it. Chris – well especially when I was over there… when I was with you, I didn't even know where I was. Like I said I know you had Todrick and I know you had Todd but I was like where does that leave me? Like I don't even know if I am above Lamar at this point so what else am I going to do. And you know it was all game. It was all like what it was but honestly at no point was I like I've got to get Miesha and this is how I'm going to do it. Miesha – yeah. Chris – and even if you watch everything, you'll see back and see that I was always really honest and true with you. I just wanted to get that off my chest. And when you did that and put me up, I knew it was hard on you but I want you to know that it is okay! Miesha – thank you. Chris – its a game. And when you said I was okay I was like well you might have to go back on that a little bit because I am sure you will probably want to get me out after this. Miesha – well the whole Chris Kattan threw a wrench in the mix too. (Chris Kattan self-evicting) Because it took away the plan and then the other plan to get Carson out and I was like motherf**k .. you know!? Chris – yeah. But Cynthia would still be up there. And there are other people in your ear… I was like well I trust her but not the other people around her. And like I said Todrick hasn't even looked at me in two days now and I've still tried. Miesha – and I am frustrated with Shanna …and you might go tell her this but she is playing this game a lot smarter than people give her credit for. I think she is just as dangerous as me in that I have won two comps.. Chris – but what other option did she have? Miesha – well just listen, I've won two comps and she's won two comps but there's this victim role reason why no one really included her in their alliance because she's been playing both sides since the beginning.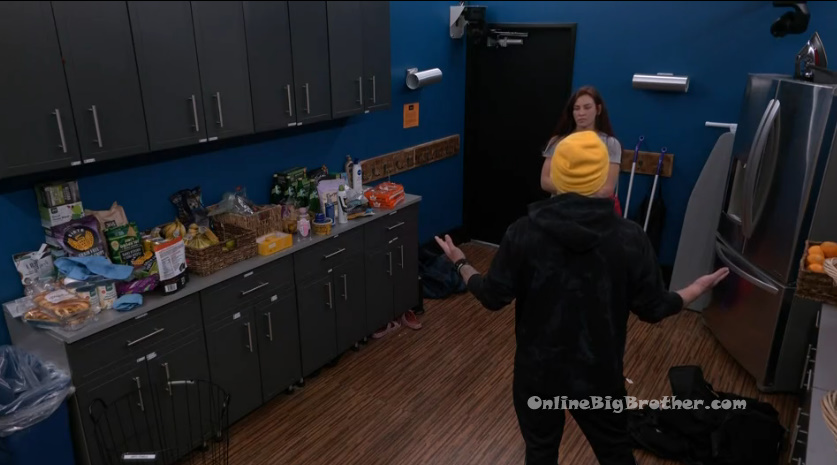 11pm
Hot Tub time..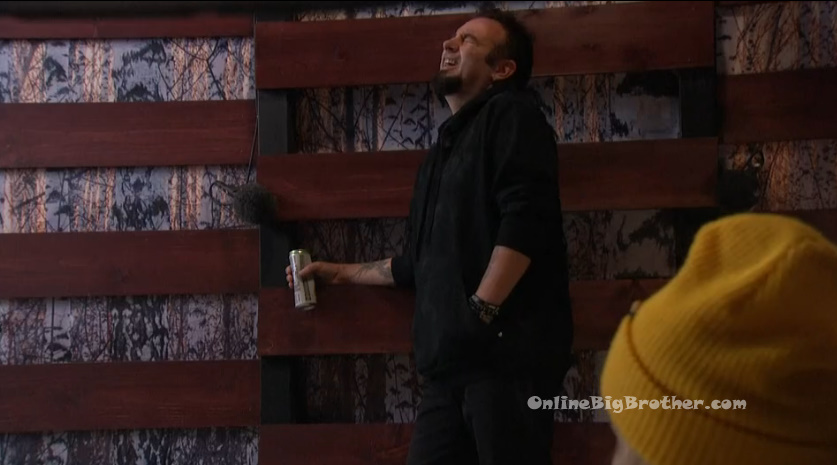 9:57am – 12:34pm Big Brother blocks the feeds showing the kitty cams..
Subscribe and watch the live feeds with the FREE Paramount+ Trial.