Finale Schedule
Sun, 9/20- 8p
Wed, 9/23– 9:30-11p Finale = Winner of Big Brother
VANESSA WON PART 1 Of THE 3 PART HOH
STEVE WON PART 2 Of THE 3 PART HOH
Part 3 of 3 – Steve competes against Vanessa (Finale)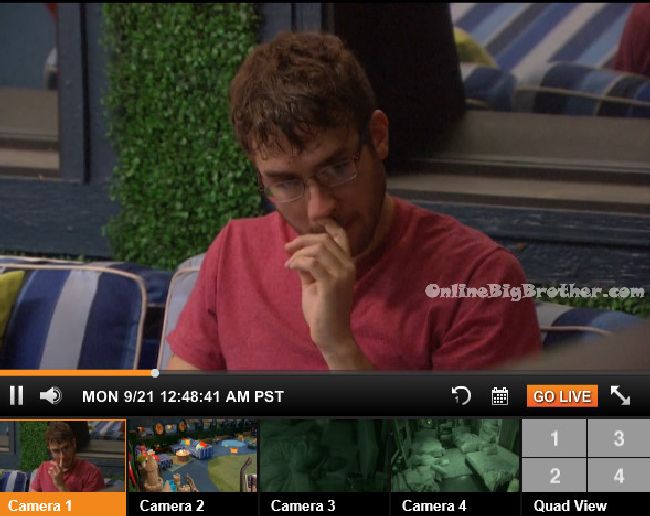 12am – 12:45am Steve is practising his Final 2 speech. He then takes a shower and returns to the backyard.

12:45am Steve says my goal coming into this game was just to survive the first eviction because I knew I did not have the social skills to get far in this game. I was hugely relieved when I won the veto the first week by spelling trombonist. I pulled my act together, I made some moves and here I am in the final 2. When you break the game down you can really put it into 3 components. Competition, Social Game and Strategic Game. First Competitions – I've been head of household 4 times and each of those four resulted in eviction. Liz has only been head of household 3 times and she was dethroned once so only 2 of those ever came to an eviction. Also I won two power of vetos. Spelling, Nose-a-scotia, and BB Comic. Liz has only won 1 power of veto. If you're voting for who won competitions, then I've earned your vote tonight. Second Social Game – Liz spent her summer snuggling with Austin. I knew I didn't have the social skills or charisma to make it far in this game. As Zingbot said I was a nerdy, socially awkward nerd that loves his mom. Liz spent her summer snuggling with Austin. I spent my summer really getting to know people. I learned about Shelli obsession with Abraham Lincoln, or Becky's German boyfriend singing about being a tomato. What is something specific I can zero in on for Jackie?? I never talked to her which is my I evicted her. My social game with Jackie was sh*t and that's becoming apparent to me right now.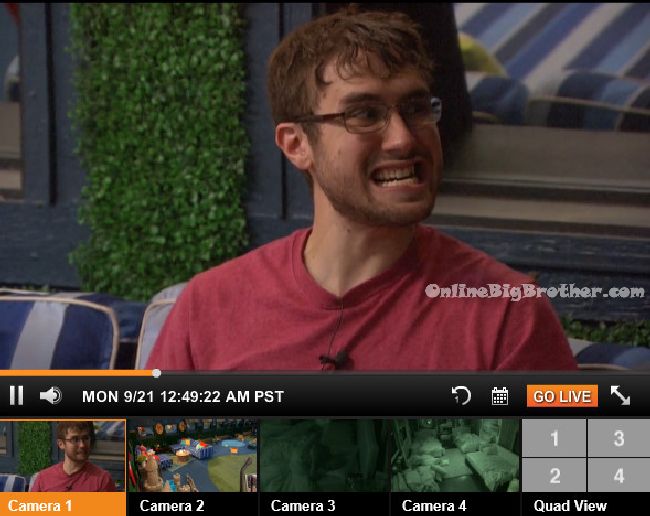 Sign up for CBS All Access and watch over 6500 episodes for ONLY $5.99! Try it FREE for 1 Month!
1am – 1:15am Meg playing Audrey in Little Shop of Horrors. I can f**king skip Julia and Austin unless I'm with Vanessa. Am I really going to say an example for all 9 jurors?! Because if you 1 for some the others are going to be like why didn't you use me?! Johnny Mac and his YouTube collection. I want an example for Jackie, a concrete example for Jackie. Something minor in her life that she would be surprised that I remembered. I just don't know what. Jackie .. we had nothing in common. I couldn't form a relationship with her. You were so closed off. I did a really bad job with Jackie but that's why I got rid of her because I knew I couldn't fix it. She went on the race because she desperate for fame and attention. She was recruited through the Heat. Something from the amazing race.. That's it – Jackie's continued friendship the Hailey and Blair from the amazing race. HA my watching the race paid off!!! I would have watched the race so differently if I had known one of them was going to be on here. Of the blind date pairs they were the best couple. James love for Clemson and Beighley. I want to talk about zeta with Julia. Austin and watching the early seasons of the feeds. I want to mention how Liz took about 3 weeks off as a result of switching places with Julia. Steve heads inside to go to bed saying he is exhausted and isn't going to come up with good ideas.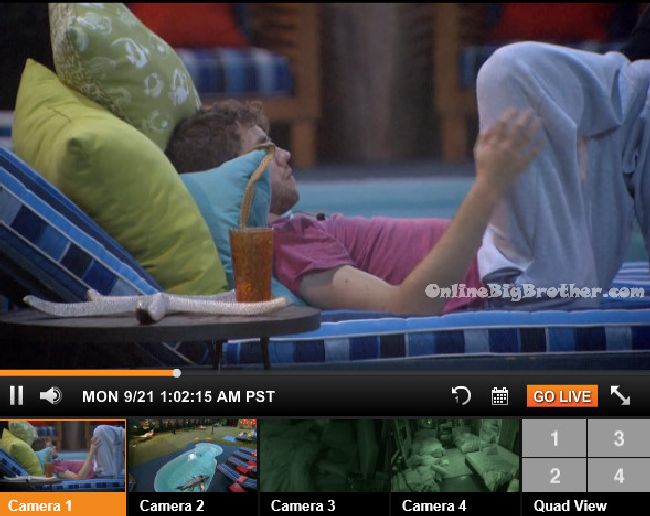 1:25am – 2:25am Steve heads back outside with the M&M's to study.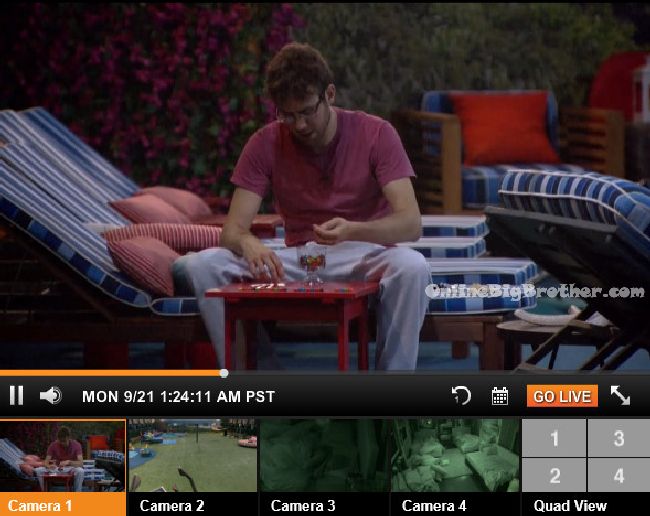 2:30am – 3:45am Steve heads to bed. All the house guests are now sleeping. Steve tosses and turns and then gets up to play with the cards at 3:30am. He then heads back to bed.
10:10am – 10:30am Big Brother wakes up the house guests. Steve and Liz go back to sleep. Vanessa heads outside to suntan her face, arms and feet. Vanessa then heads inside. Liz goes outside to suntan.
10:30am – 11am Liz eats her breakfast outside and on the way back in she says goodbye outside! It's been nice knowing ya! Next time I see you it will be Wednesday and it will be very different. Liz then starts working out on the elliptical. Vanessa comes outside and asks all this for Austin? Liz says I just felt like I was getting thicker. I can't believe they're closing it so much earlier. Vanessa also wonders why then need to close it today for Wednesday. Liz comments on how she's always been a little thicker than me.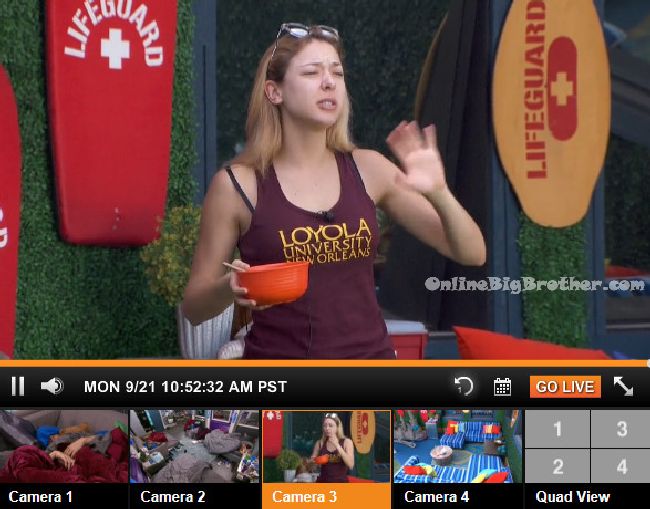 If you've enjoyed the spoilers please consider a donation using the drop down box below. Simon and I work 24/7 all season long to keep you updated on everything that happens inside the Big Brother house. This website wouldn't be possible without your support.
[polldaddy poll=9082767]
[polldaddy poll=9063299]