Finale Schedule
Sun, 9/20- 8p
Wed, 9/23– 9:30-11p Finale = Winner of Big Brother
VANESSA WON PART 1 Of THE 3 PART HOH
STEVE WON PART 2 Of THE 3 PART HOH
Part 3 of 3 – Steve competes against Vanessa (Finale)
11:12pm Feeds come back Steve won..
Steve and Vanessa Whispering "I just want to know how to make her not feel like shit"
Steve winders when they should tell Liz.
Vanessa – not now
Steve – I wonder how to make her not feel like shit
Vanessa tells him to be normal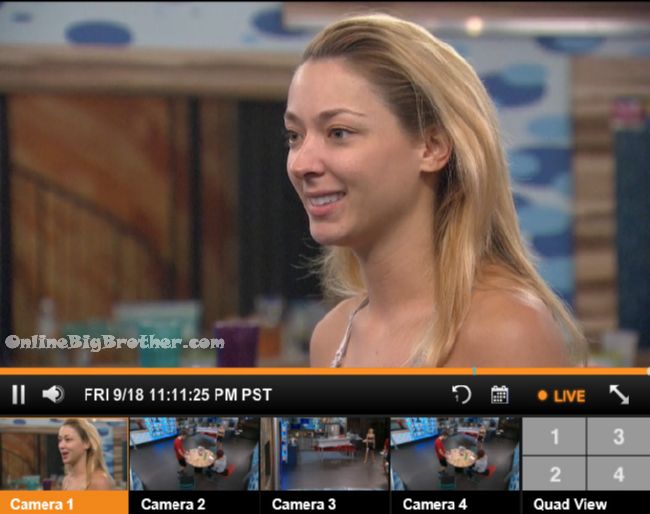 Liz says she got 31.11
Steve was 28 Something
It was very close.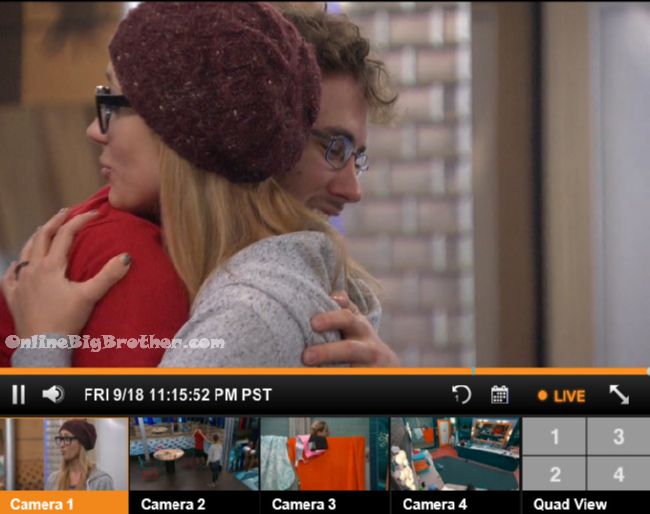 11:16pm Steve and Vanessa hug
Vanessa – it's done we're in finals
Steve- holy sh1t
Vanessa says her neck is super sore
Vanessa – "These Benzo's help"
Vanessa says they make her really drowsy.
Steve says he must have f***ed up in the HOH because he should have been able to beat her better than 3 minutes.
Vanessa says they should tell Liz as late as possible she doesn't want to have to deal with her campaigning.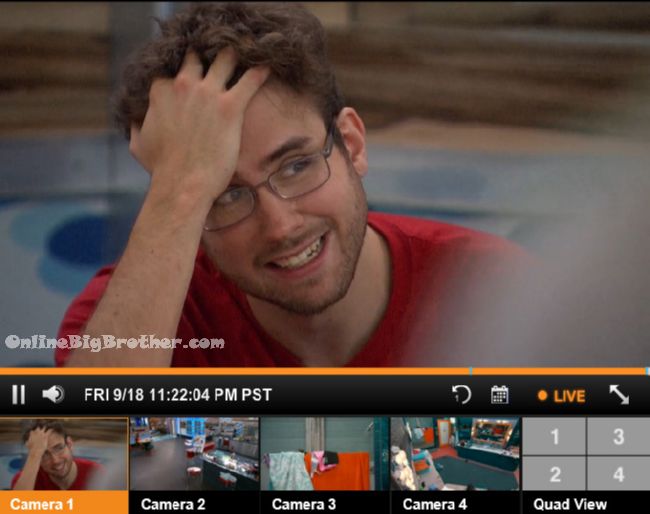 Steve – Vanessa i trust you you know what's best I'll do whatever you think
Steve getting all excited.. "OH MY GOD I GOT 50 K for my mom"
Steve – I never believed you I never f**king believed you .. you weren't a liar..
Steve keeps repeating that he can't lose his 'Sh1t' right now
[envira-gallery id="133959″]
Steve "OMG 50K Guaranteed! OMG OMG I got 50K for my MOM!" @bigbspoilers #bb17 pic.twitter.com/ilCb6jf7Rp

— Dawg (@DawgsBigBrother) September 19, 2015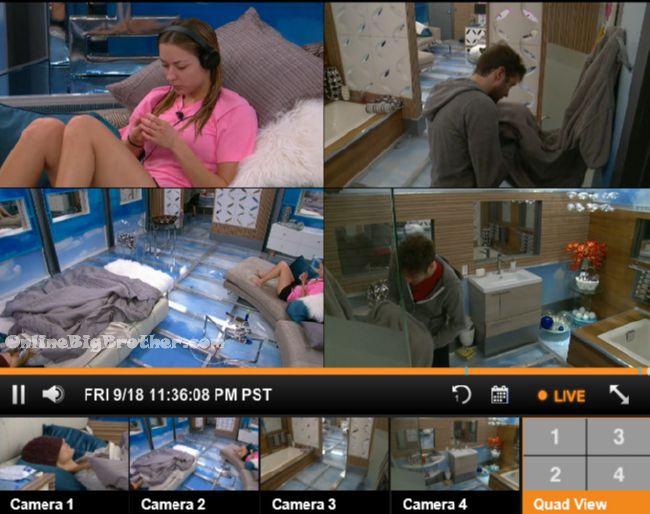 11:36pm HOH Lockdown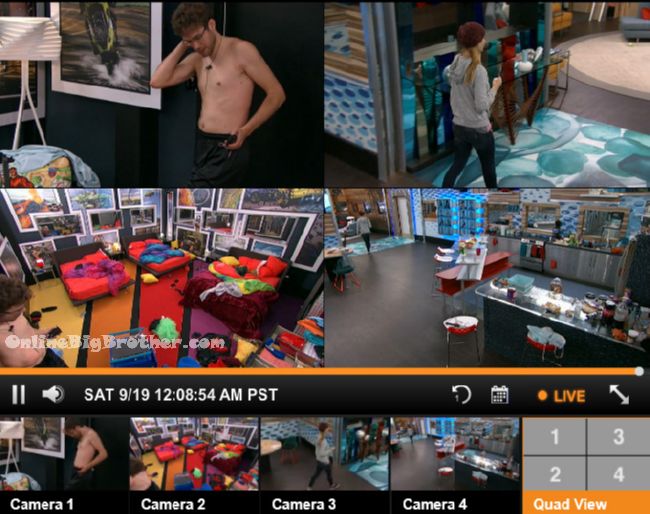 12:06AM Steve muttering to himself "She might be on to me"
12:15am – 11:10am
Vanessa goes to bed. Steve says he is going to sleep in the day bed. He grabs the covers from the comic bedroom and brings them out to the other bed. He then heads into the kitchen to eat. He sits at the table to eat and build things. Liz comes back from being in the diary room and Steve gets called in.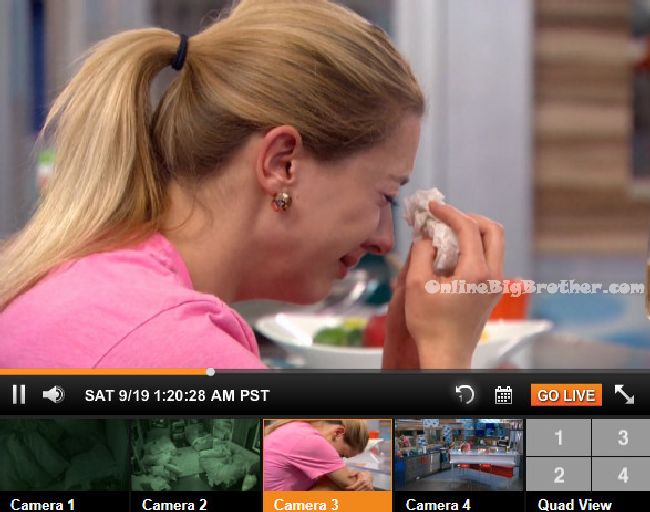 1:19am – 2:10am
Liz is in the kitchen alone and starts crying. "I'm such a loser! Mom's gonna be so sad, I'm sorry! I could kill myself! So stupid! What's wrong with me! I just want to kill myself! So stupid! God!" She then lay her head on the kitchen island and continues crying. "I want to kill myself! Oh God, so embarrassing! Sorry feeders its kind of an emotional moment. Sorry I'm crying. This place will do that to you .. but the live feeds aren't even on me right now because I'm so stupid and crying. I hate myself so much! I'm so stupid!" She Eats and cleans up.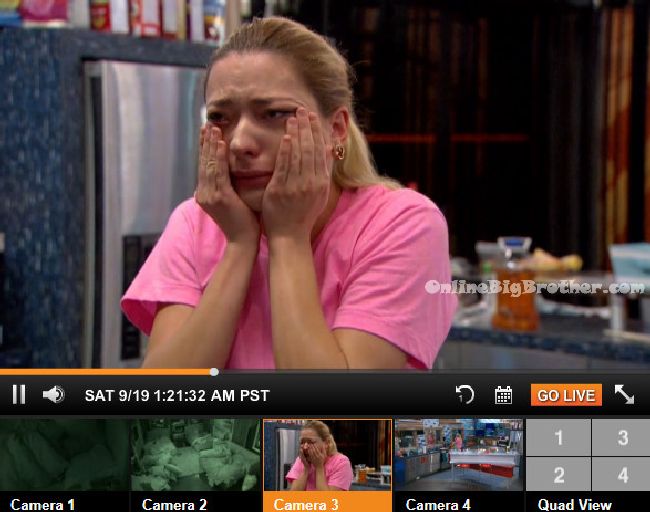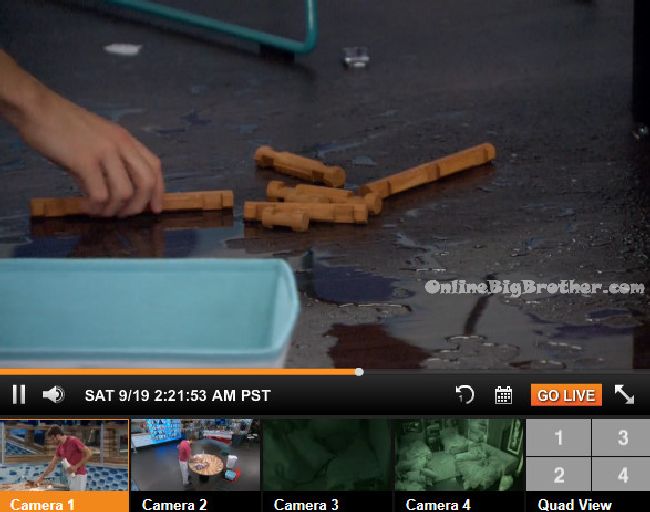 2:10am – 2:30am
Steve comes back from the diary room. He goes back to building things. Liz heads to bed. He spills his water and then tries to clean it up. He then stops and says he's going to let it air dry over night. That was more work than the comp!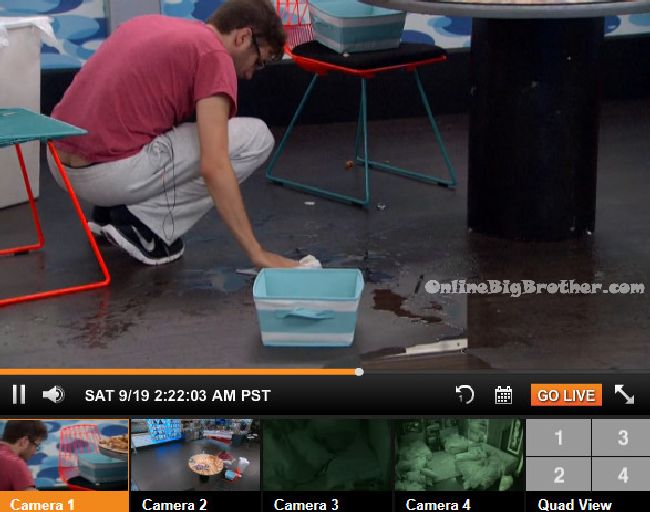 2:40am Steve heads to bed.
9:50am The house guests continue to sleep.
10:05am – 12:50pm Big Brother wakes up the house guests. They all go back to sleep.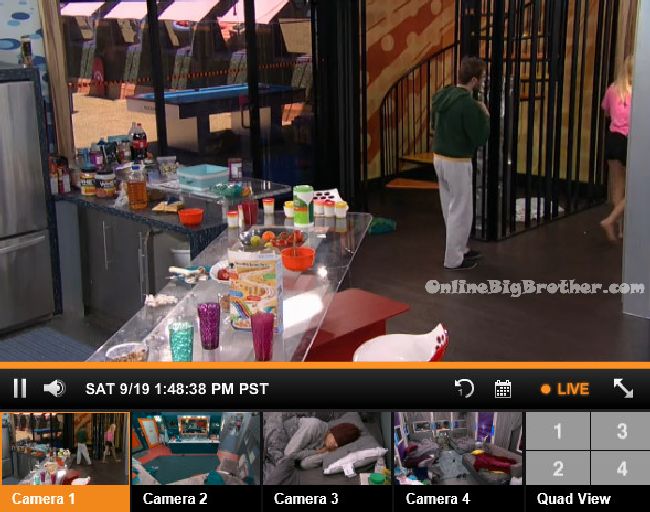 1:30pm – 1:50pm
Steve wakes up to eat. Liz gets up and starts getting ready for the day in the bathroom. Steve comes out of the diary room and tells Liz the backyard is open. Liz believes him. Steve laughs at how she believes him. He says you did see how much was out there last night didn't you?! Liz says Steve you're so annoying. She then chases him to the kitchen and realizes that the backyard really is open. Steve starts getting his clothes ready to do a load of laundry.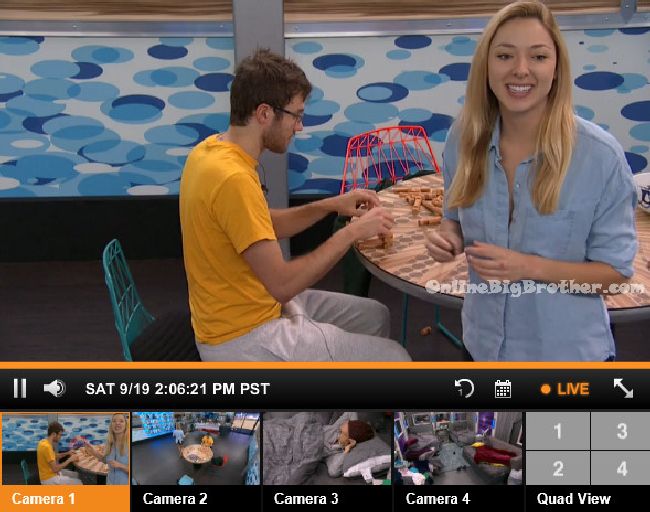 2:10pm – 2:45pm Steve grabs a couple weights and bring them inside to use with whatever he is attempting to build with the toys. Vanessa gets called to the diary room and when she comes out she joins Steve and then heads to the bathroom to get ready for the day. Steve completes his "suspended house project" using the Lincoln Logs and weights. Steve and Liz start making food. Steve thanks the "beef cakes" for taking down the set up so quickly so they could have the backyard today. Liz says she's just happy her favourite beef cake strapped her in last night. Steve asks the one with the pony tail? Liz says yes.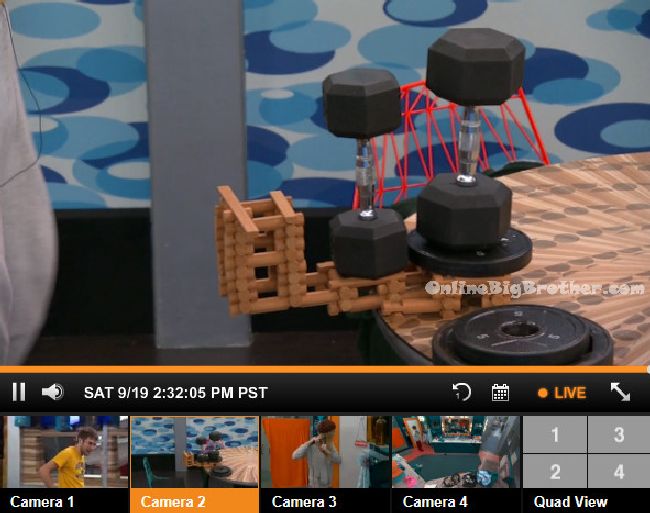 If you've enjoyed the spoilers please consider a donation using the drop down box below.
[polldaddy poll=9082767]
[polldaddy poll=9063299]