Finale Schedule
Wed, 9/16- 8p = Eviction Episode
Thu, 9/17 – pre-empted by NFL = First of the Finale HOH played
Sun, 9/20- 8p = Second part of HOH Played
Wed, 9/23– 9:30-11p Finale = Winner of Big Brother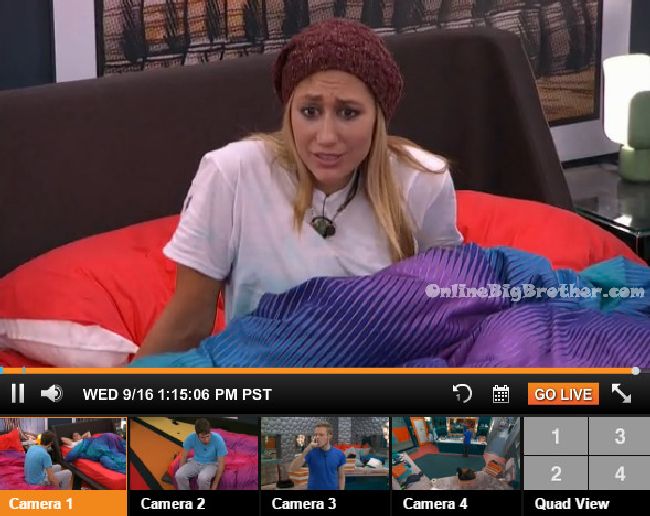 12:45pm The live feeds return.
Johnny Mac packs his suit case in the comic bedroom. Vanessa joins him. Johnny leaves to sit in silence in the cabana room. Steve joins Vanessa. They talk about the endurance competition coming up. Vanessa tells him it will be okay. Just ride the wave. You can't control it. You need a Xanax or something for god sake. Steve says he's always had his teaches telling him to put less time and effort into his classes. Steve says I came up with a lot of good names this summer. I came up with SOS, Scamper Squad and Rockstars. Vanessa asks did you have something with Austin. Steve says No I didn't have anything with Austin. He just told me he wasn't coming after me that week. Vanessa says gotcha! Steve says there were a ton of alliances made that week and none of them had a name. Vanessa asks why that week. Steve says it was the week everyone hated you. Vanessa says it was a terrible move by Becky. I knew she couldn't have had the number. Steve says I f**Ked up a lot in this game. Vanessa says everyone has. Steve says I knew I would make a lot of mistakes in this game. Steve asks do you know what you're doing? Vanessa says no, I haven't made up my mind. I will probably ask them to flip for it. Steve says no you're not. Vanessa says I probably will. Or actually I'll stand up and let you decide. Steve says no you wouldn't. You know what you're doing. Vanessa says Would you kill me if I let you decide. Steve says you're toying with me right now. Vanessa says you don't think I would do it. I love games. Steve says I don't buy it. Vanessa says it doesn't matter. I'm pretty sure I'm going to decide 5 minutes before. I might actually just listen to their speeches. Steve says don't you're killing me. Vanessa says why back myself into a choice right now when there is more information to be had. Steve says it just made me sick that you haven't made a choice right now. Vanessa says it doesn't affect you. You still need to go out and win this comp. Do you have an opinion? Steve says I don't know either. Vanessa says then how can you blame me. There are pluses and minuses to both.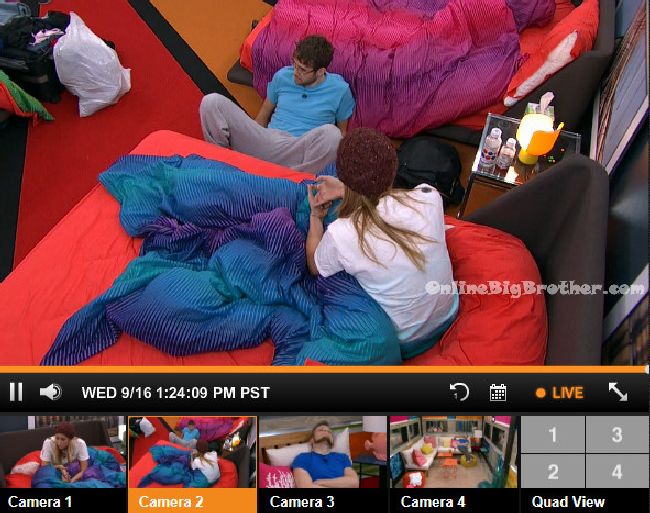 1:20pm – 1:45pm Vanessa tells Steve he would die if he knew how much she's bet with. Steve thinks gambling is entertainment and the more you bet .. the more you're paying for the same entertainment. Vanessa disagrees and says more risk, more reward. Vanessa asks don't you love the mystery of not knowing who will stay or go. Steve says I don't know why I trust you so much. Vanessa says actions. Steve comments on how she got rid of Austin. Vanessa says I didn't own him any more loyalty. He was getting to close to Johnny mac. Steve says Liz could win this game. Vanessa says so could Johnny Mac. Austin wants Liz to win and is in jury convincing people to vote for her. Steve says so we have each others word that we're taking each other to final 2? Vanessa says yes. I promise you. Vanessa asks who do you think I should take? Who can beat me in this comp? Steve says Liz can beat you in part 3 but Johnny can beat you in part 1 and 2. I would rather play Johnny in part 3 and Liz in part 1. Vanessa says Johnny secure votes are those that voted against me. Where as you're going to get those votes that normally wouldn't have voted for you. I think you're more likely to be in final 3 than he is. If you believe it you can achieve it. Relax F**K! Child! Do you trust me, then f**king relax. Austin never asked me for my word. Johnny had convinced him he was staying so he never asked for my word. I told you to trust me many times in this game and I have had your best interests at heart this whole game. Now that I know it bothers you I probably won't even tell you when I do decide who to keep. I'll just listen to their speeches. Steve says no! Don't do that! Vanessa asks why .. that's what they're there for. The speeches are a good barometer for how their speeches will be to the jury. Vanessa asks who do you think you can beat in the second round better? Steve says Liz.. duh! Vanessa says okay. We're in final 3 be happy, isn't that sick!! Steve says I just won 50K. I'll take 50! Steve asks has Liz studied more than Johnny? Vanessa says equal. Steve says he thinks the quiz this year will be harder. Steve asks can I tell you something.. F**K IT! I'm not going to stress about it! F**K it!
1:50pm – 2:40pm
Johnny Mac and Vanessa take a nap in the comic bedroom. Liz and Steve are in the kitchen cooking food. Big Brother blocks the feeds.
2:45pm The feeds switch to the live feed highlights. They will be down until after tonight's episode airs.
If you've enjoyed the spoilers please consider a donation using the drop down box below.
[polldaddy poll=9063299]