Finale Schedule
Wed, 9/16- 8p = Eviction Episode
Thu, 9/17 – pre-empted by NFL = First of the Finale HOH played
Sun, 9/20- 8p = Second part of HOH Played
Wed, 9/23– 9:30-11p Finale = Winner of Big Brother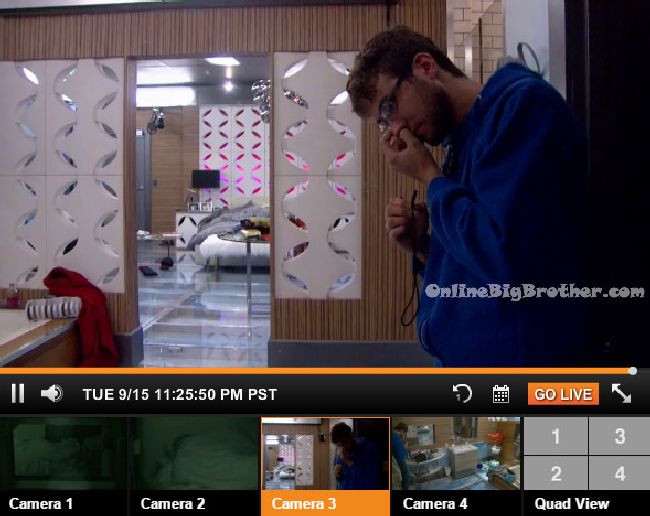 11:20pm – 12am HOH room –Steve starts talking to himself. If I win finals with Vanessa she isn't going to take me. If its Me, Johnny and Vanessa .. I don't think she takes me. Here's the thing if Liz doesn't take me or Vanessa doesn't take me. Which means my worst case scenario is that Vanessa wins. So if John goes I both have a better chance at winning. DO I take Liz to final 2 if I win? I might! I really might! I think… Do I want to maximize getting final 2 or do I want to risk not getting second for the price of increasing my chances of winning. I am going to say this flat out I would rather increase my chances of getting to final 2 because you never know what the jury is going to do. Jury's have done really strange things. So I don't know what the jury is thinking. I think what I think is far from accurate because I didn't think I would come off as the smart kid and it appears as if I have. And here's the thing .. If I win then I take LIZ! That's the thing! I think Liz spent her time with Austin. I can stress about that decision when it comes time. But if Johnny Mac gets to final.. If Johnny Mac beats Vanessa tomorrow in the endurance comp, then I won part 2, then I am the definition of f**king golden!! If I take Johnny then .. Oh because I could beat Vanessa in part 2 that's why. Here's the thing Vanessa is competing no matter what. I think Johnny would take me over Vanessa. I am sick of not being able to make the decision. I feel like I should have all these strong opinions and I don't! I don't have strong opinions and I don't know what I want. You never know what the jury is going to do. Lets get me to the final 2. I think Vanessa is going to pick Johnny no matter what I do or say because she is so nervous about me taking him over her. Which I would!! Steve showers. Oh my god most of this game is luck. I should have won that Veto today and not Vanessa, I made such a f**k up today! Oh My God I should I have won today! I f**ked it up.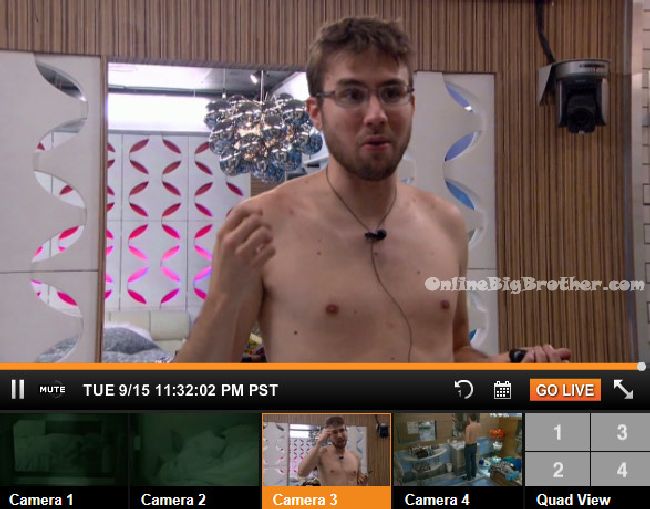 11:48pm – 11:55pm In the kitchen – Johnny Mac woke up and starts playing Janga. Johnny asks him how he is doing. Steve says I'm okay. I'm HOH, I have no right to complain. Johnny says if I get evicted its not that bad. Steve asks do you know what she is going to do? Johnny shakes his head and says nope! Steve says I'm just afraid to push too hard because then she might.. Johnny says don't. Don't push. Its between me and her. Steve says okay. Vanessa joins them. Johnny knocks over his jenga stack and says I'm going to go bed. Vanessa heads to bed too. Johnny tells her good work out there. She says thank you, yeah it was close. Very close. Johnny asks was it close at all? Vanessa says one of them I didn't think I won was zingbot. Johnny says I knew I lost .. I was happy and depressed. Vanessa says tomorrows a big day. Johnny agrees.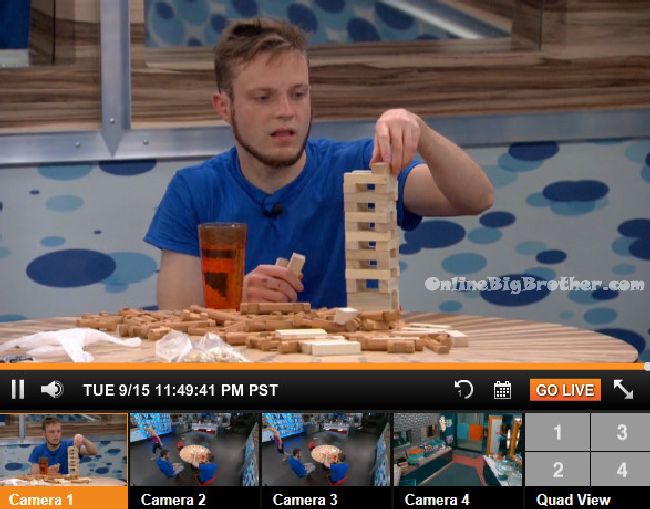 12:05am – 12:10am Cabana room – Steve says to the camera I made a $500,000 mistake today and mom, mom I'm sorry I let you down. These past few days have been so fatiguing, I've been sick and I made a really bad decision today. I made a really bad decision today, I should have won it and I should have used it on Johnny. Johnny would have sent Vanessa home. Then me, John, Liz in the final 3. And I could have won next to Johnny because I would have the Scamper Squad. If this had been head of household Steve you would have whipped her a$$. I just want someone to talk to. I am really just so alone. What I need to do is forget about it and accept I made a mistake and I need to move forward from it. This is a stupid, stupid mistake. Austin telling Vanessa she can't win. Johnny wouldn't have won with the 4 scamper squad votes. MmmmMMMmm. I should have saved Johnny and taken Vanessa. Vanessa's not going to take Johnny, she's taking Liz. I would give anything for just a friend, a hug, a something. I want coco… I'm going to go cry in my room. I just need to cry this out and get it out of my system. Steve heads back up to the HOH room.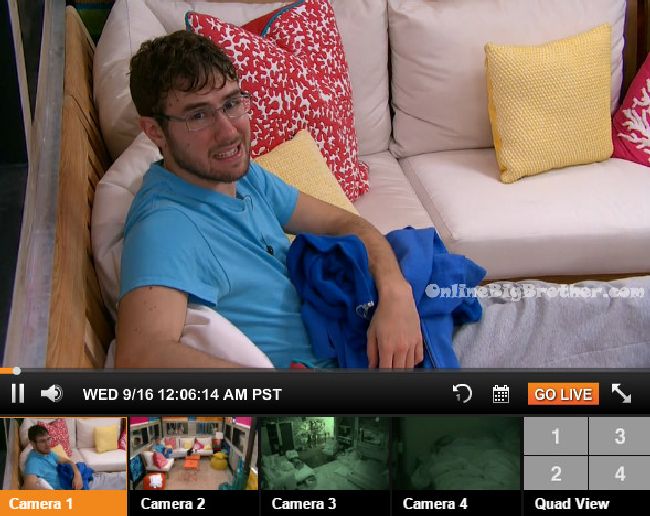 12:10am HOH room –
Just the worst part about this is not having someone I can talk to, someone that can calm me down. Someone I can vent to but there is no one I can talk to, no one vent to. There's just the camera to talk to. Thank you. I just feel like such a sh*t bag. I let my mom down, I let my family down today. I could have won the game today! I could have won the game today! If I just won that Veto and sent f**king Vanessa home! Me, John, Liz final 3! John and I could have killed it. John would have won part 1, I would have won part 2, …SH*T! Steve starts crying. I can't beat Vanessa in the final 2… who am I kidding!?! Vanessa I can't beat you in the final 2!!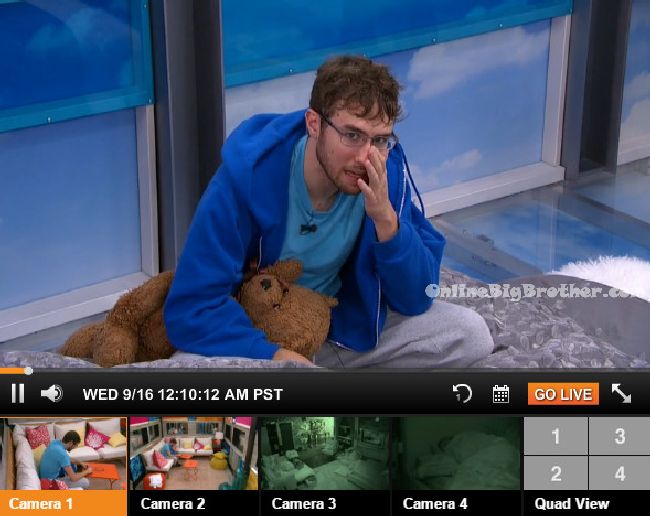 Steve takes his anger out on COCO @bigbspoilers #bb17 pic.twitter.com/rrTjybg4LH

— Dawg (@DawgsBigBrother) September 16, 2015
12:12am – 12:18am Steve start crying onto coco. I just lost the game! I could have won the game today!!! If anyone but Vanessa. I can't beat her, she's so good!! She can't win the veto. I said it this morning!!! I could have beat her!! I'm sorry mom! I'm so sorry! I made a mistake and I just cost you so much!! I'm sorry!!! Steve continues to cry into coco the teddy bear. I can't beat Vanessa! I can't!! I could have taken Johnny and Johnny would have taken me. I could have taken this game home oh my god!! Why did I pass that up!?! I don't have a case against Vanessa!! She split up Meg and James. She split up Jeff and Jackie. She send Jason home. She made so many big moves! What did I do .. I spit the twins up! My big move could have been sending Vanessa home! I could have F**King KILLED THIS GAME!! And I didn't! I could have won big brother today! Oh my god MOM! I'm so sorry! I shouldn't have thrown it!! I'm sorry! I could have done better than I did!! I could have won this. I said it this morning.. and then I chickened out! Next to Johnny I would have 4 scamper squad votes and then Meg and James. There was no way Meg, James, Shelli, Becky and Jackie would have all voted for Johnny Mac. There's no way! Having zero HOH's I would have won! I would have won this game. SH*T! I'm sorry mom! I could have won and now I can't! And now here I am this pathetic little sh*t hiding in my HOH room wanting my f**king Mom because I'm on a tv show in a parking lot. I'm sorry mom! I love you so much and I'm sorry.. I'm so sorry I wanted to take this home for you! I did! I did! He stops crying and says I needed that! Anyone.. please I don't want to be alone right now! I love you mom! I was so close.. it would have been fine if I didn't throw it .. If I had just not won on my own merit it would have been fine and I lost because I wasn't good enough. He looks at the cameras and says thank you for caring because it really feels like no one cares in here. I feel like no one cares. You're probably laughing at me about this or that but… Johnny Mac would have been my easiest win but I lost him. Unless he lost the endurance. That's the thing. Steve thinks of what he can tell Vanessa to convince her not to vote out Johnny – IF I can't win, I want you to win and by taking Johnny Mac we guarantee that. I trust you're not going to burn me and I'm not going to burn you.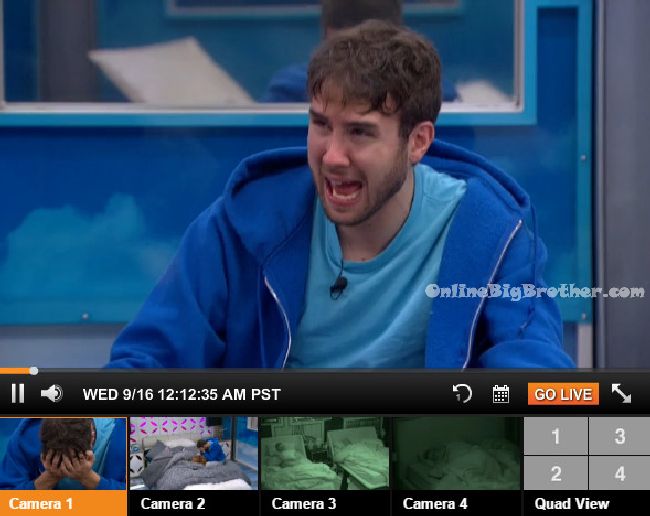 12:25am The one advantage of Johnny Mac going to jury is that he can campaign for me. Maybe I can beat Vanessa with Johnny Mac in jury. If Liz goes .. here's the thing if Liz goes I've got second place. Probably! Okay Johnny Mac needs to go tomorrow because I'm sure that's what Vanessa is going to do because she's worried about me taking him. She wants to win the endurance comp, she's going to evict Johnny Mac tomorrow. And then I need to take my shots against Vanessa because I honestly think I have a better shot against Vanessa than Liz. Because Jackie and Becky are going to vote for me over.. Vanessa's been head of household more than me. So I know I'm basically getting second. I saw season 14.. people didn't hate Derrick. Okay Johnny Mac is going tomorrow. I know that's what she's going to do. Then its Me, Vanessa and Liz in the final 3. I want to win this f**King comp! Sh*t I made the wrong decision today! I just want someone to talk to! Everyone's in bed and I just want someone to talk to right now.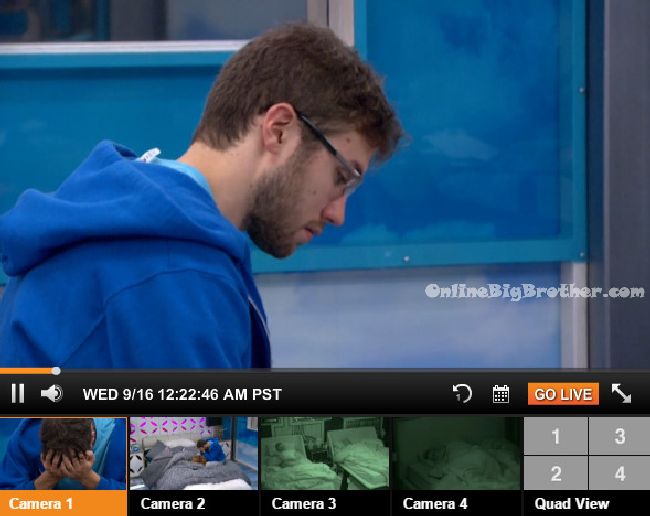 12:30am – 12:35am Steve heads down stairs. He walks into the bedroom Liz notices him standing there. Liz asks him what he's doing. He says he doesn't know. Liz says there's something terribly wrong with you! Steve says I don't know. I just balled my eye out upstairs and I have no idea why? Liz asks do you what to talk. Steve says I have no idea why. Liz says Steve you're being ridiculous. I can step outside of myself and say what the f**k is wrong with me. Can I have a hug? Can I have a hug? Can I have a hug? Liz says maybe they were tears of joy. Steve says I don't know. I don't know. I don't know! The DR kicked me out so … Liz asks they kicked you out? Steve says they have things to do and he heard me longer than he needed too. Liz says has this game gotten to you? Steve says yes. Liz says there are just 10 days left. Steve says my family will be proud of me no matter what. I don't know why I'm like this. Liz asks are you just scared for the endurance stuff. Steve says we're not going to win tomorrow. Not the endurance comp. Liz says just be proud. You were going to go home week one. Steve says I shouldn't be upset I am the one person that isn't going home right now. Steve says he doesn't cry like this. Liz says I'm scared for tomorrow too. You know my track record with endurance sh*t! Steve says I can step outside myself and see how silly this is. Liz says I think you're terrified and have the pressure you might win because its so close. Steve talks about always wanting to be on the show but figured he would never get cast. I've never been accepted by so many people before. I needed this socially. Vanessa comes by. Liz tells him to go to bed. We talked about this. Everyone wants to just go to bed and play the comp tomorrow. Vanessa tells him to sleep down here. Steve says he will sleep down here but just needs to get coco.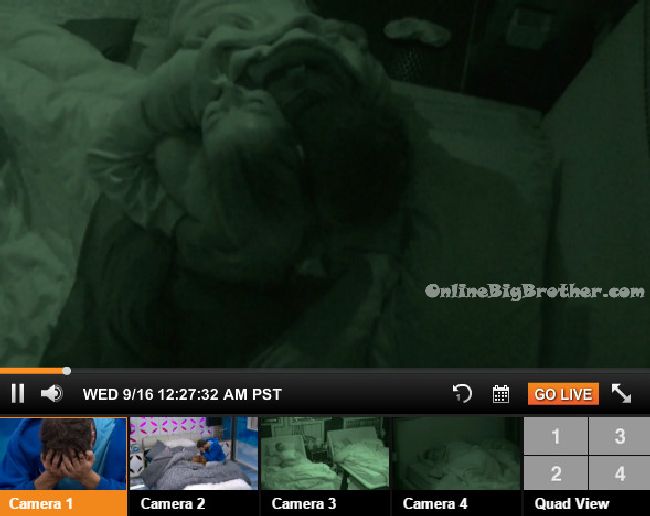 12:37am Steve grabs all his covers, pillows and coco and heads back down to the bedroom to sleep. Liz says I can't believe the HOH is coming down here to sleep. You have so many problems. Liz tucks him in. Steve says thanks mom.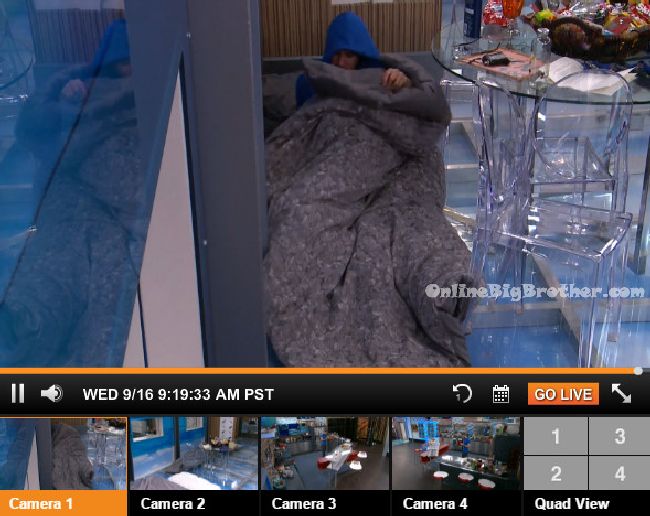 9:10am – 10:40am
Big Brother wakes up the house guests. Steve gets into the corner of the HOH room in preperation for the HOH lockdown. Johnny asks what did they say at 10am we're going up? (HOH lockdown) Liz says yes. Liz comments on how Steve slept in Meg and James bed. Vanessa joins them and asks what was wrong with him. Liz says he was having a panic attack. Vanessa says when he acts like that you can't indulge him in it. You just have to shut him down like I did. Vanessa asks Liz if she's been thinking about Austin? Liz says yes. Do you think he's been thinking about me? Vanessa says of course he worships the ground you walk on. Liz says in 90 days it the longest we haven't been together. Slept together. Liz comments on how whatever they're doing in the backyard they've been doing it all night. Liz and Vanessa head up to the HOH room. Liz asks if Steve is feeling better. Steve says he is and if dealing with this game is my biggest problem then I don't have anything to worry about. Steve says I admit and acknowledge that I was freaking out more than the nominees. Vanessa laughs that Steve went to one of the nominees for support last night. Vanessa recommends they take an emotional wellness course that she took in Vegas. Steve says yeah I need that.
They talk about Austin. Liz says Austin will get over it. Vanessa says I'm going to lose respect if Austin cant let it go and holds a grudge. Its a game. Steve starts talking about the girl he has a crush on back home at school. Liz asks if she knows he has a crush on her. Steve says yes and she's completely disinterested. Liz says maybe that will change now. Johnny Mac joins them and they all decide to nap.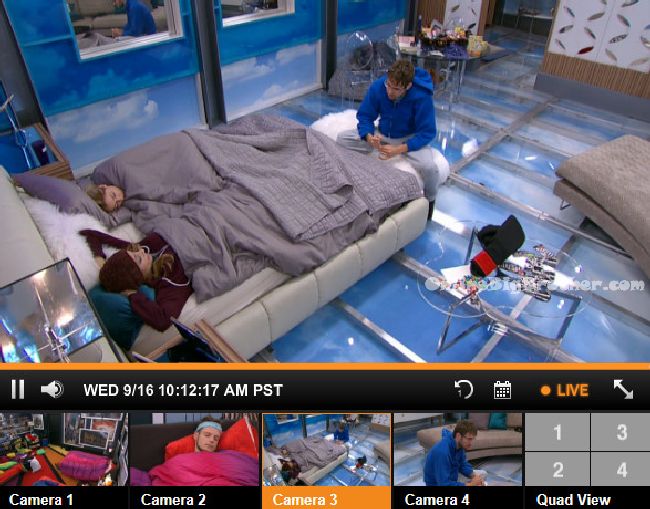 10:50am Big Brother switches the feeds to the live feed highlights for the eviction episode HOH lockdown.
12pm The feeds are still blocked..
If you've enjoyed the spoilers please consider a donation using the drop down box below.
[polldaddy poll=9063299]