Without your support this website wouldn't be possible.
Please consider making a donation. Any amount is greatly appreciated. All donations go directly to paying the considerable costs associated with running this site.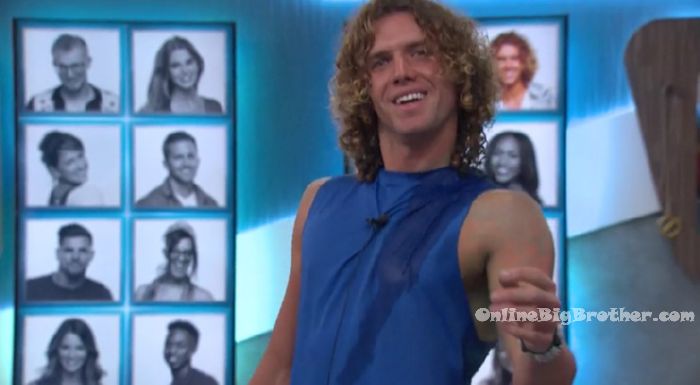 HOH Part 1 WINNER: Tyler
HOH Part 2: Kaycee Vs JC
HOH Part 3: Tyler Vs Part 2 Winner
During the competition: JC fell first, then Kaycee

12:42am When the feeds return – the final 3 are in the kitchen. Tyler – How long were we out there? JC – I think we were out there for an hour or probably less. I think we went out at 11. Tyler – I think it was an hour. I was zoning out. Damn guys! Kaycee – that sh*t was hard. Tyler – I really didn't think we were going to have to do any more of that hanging bullsh*t. After the "pie in the sky" I was like this sh*t is over. JC – last yeah they had a unicorn and it was farting on their face and stuff. JC – I had a little bit more in me. Tyler to Kaycee – did you fall straight completely or hang on your arms? Kaycee – my arms went completely numb.
Tyler – I think I could have done another half hour. I am telling you looking up is what did it. You guys were looking down. That sh*t is all about switching up positions. Kaycee – I am so glad we're done the physical. That's it! I'm done! No more of that crazy sh*t! JC – no more f**king endurance sh*t! Tyler – watch part 3 be like hang on this sh*t for 5 hours. JC – its okay, we survived. Kaycee – you did so good. JC – thanks babes. Tyler – If you had not won that (last HOH), it would not be like this right now. JC – true that. Thanks, you make me feel so much better. I need a boyfriend like this. Tyler – are we back together? JC – no!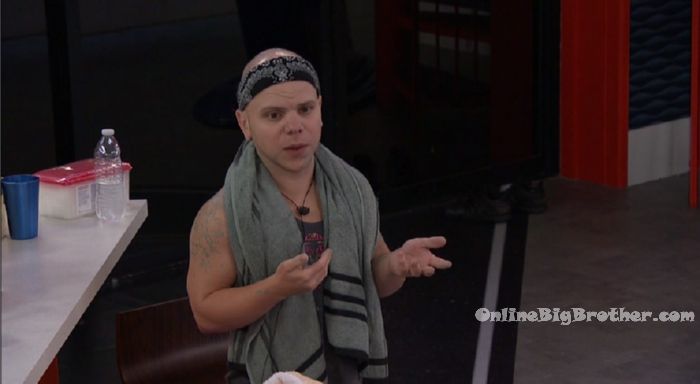 1:05am Bedroom. Kaycee and Tyler. Tyler – you'll get him (in part 2). Kaycee – oh yeah, I'm not worried. I whistled and it got to him. In my head I specifically do that to f**k with him. To make him think I am chillin! Tyler – the whole time I did not let my face go.. and I was dancing and sh*t. Kaycee – I got him. I got it! I got this. We just need to get him to open his other bottle champagne. Tyler – That was mine. That's my kind of comp.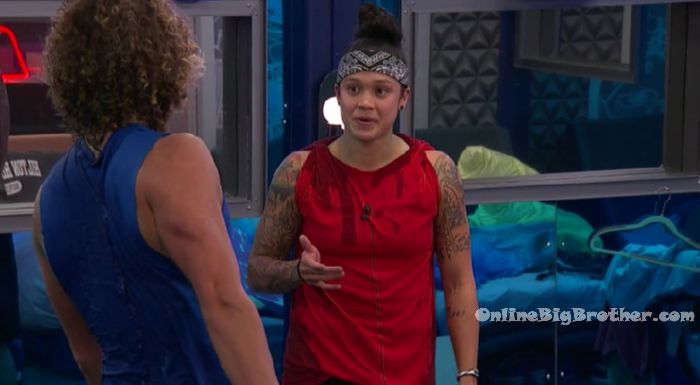 1:14am Bathroom. Kaycee is getting into the shower. I feel like I'm disabled right now. JC laughs.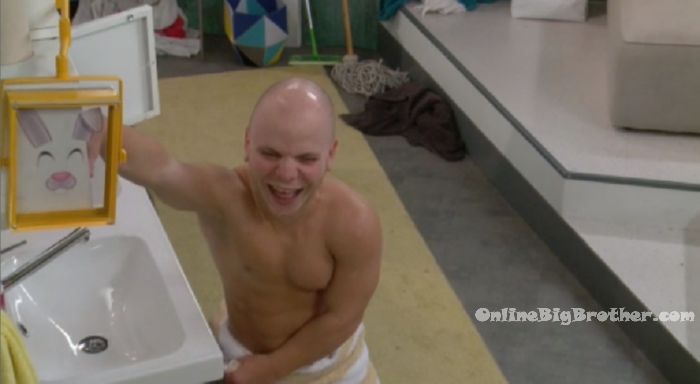 1:20am JC busts out the busts out the champagne. They cheers. JC – I've got this mental. The lean in an kiss on the cheek? They head into the bathroom to cheers with Kaycee.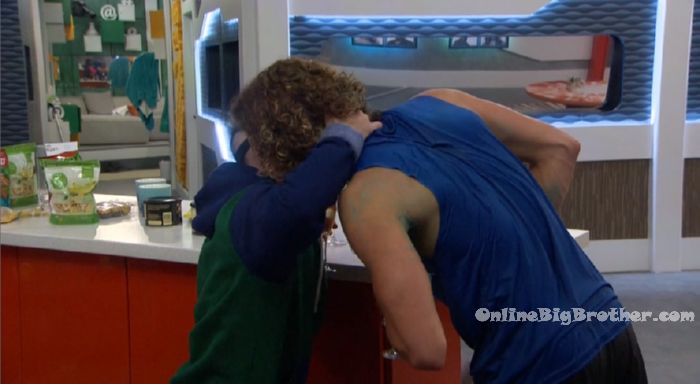 Seal it with a kiss..@bigbspoilers #BB20 pic.twitter.com/C78GYUWGcB

— Dawg (@DawgsBigBrother) September 21, 2018
1:50am Kaycee – I love you! Good job! Tyler – we've got this, don't even worry. Tyler jumps in the shower and Kaycee goes to lay down in the bedroom.
JC and Tyler in the bathroom. JC – we really are a family in here. I really see you as a brother now. They cheers. No matter what happens.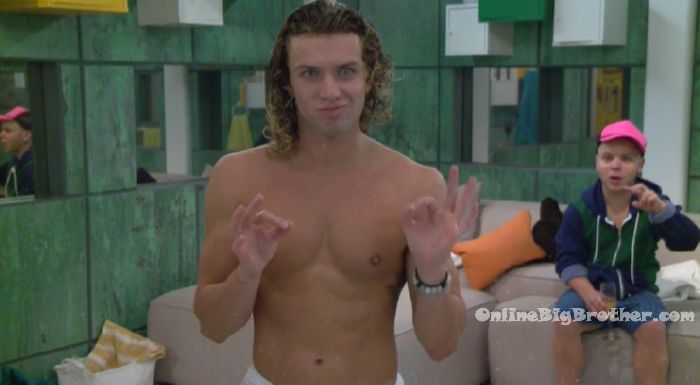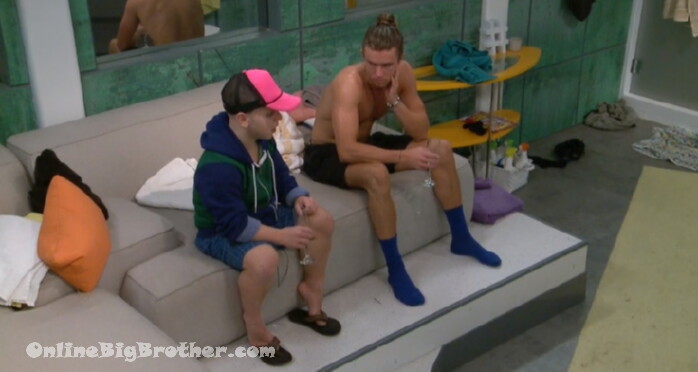 2:00am JC and Tyler
JC – I trust you 100% and you didn't trust me
T – look it worked if we stuck with your way
JC – If we stuck with my way I would have never seen the block and you would have never seen the block
JC – that's how good my strategy was
JC – you will see after the game how much I jeopardized my game to save you right now it doesn't matter because we're already top 2
T – I believe you
JC – when people say I want to put up Tyler.. like Rockstar ..
JC – what are you doing girl this is not how you do it why are you coming with these names I'm telling you 100% Tyler isn't coming for you
JC – If Rockstar was a little bit smart.. why are you so close to Tyler
T – I did the same thing with you
JC now says that FEs was going to put up Tyler and BRett and JC talked him out of it..
(IF JC makes it to top 2 he will claim he cured cancer while in the house)
JC says he started working on FES to put up Scottie "or something"
JC says he would tell FES that Scottie was making fun of him. Points out that FES had a really big ego and it was easy to play with for him.
JC adds that when he told FES that Scottie was in love with Haleigh that was it he didn't need to say any more to FES.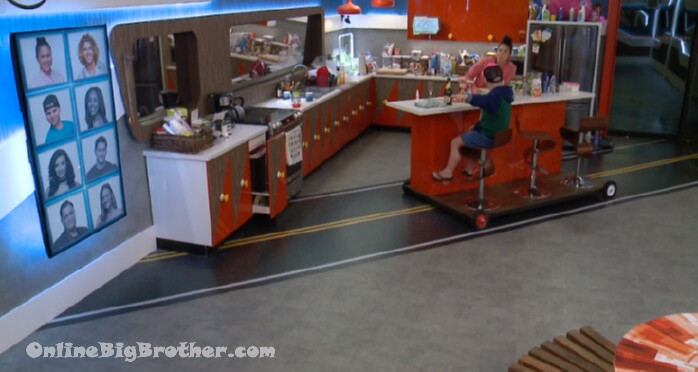 2:36am JC and KC
JC – we're top three no matter what happens.. no matter what happen we're top 3 in Big Brother 20 you saw these producers put these.. Feeds cut..
JC – look at all that black and white
JC – Angela is a real f*ing athlete..
JC – brett is a body builder.. FEs played football
JC – what else all these b1tches..
KC – Swaggy basketball
JC – I'm telling you Scottie was good at everything
JC says that Rachel was "good" if she could have made it further
KC agrees.. goes on to say how pissed off she is at herself she almost won the first HOH.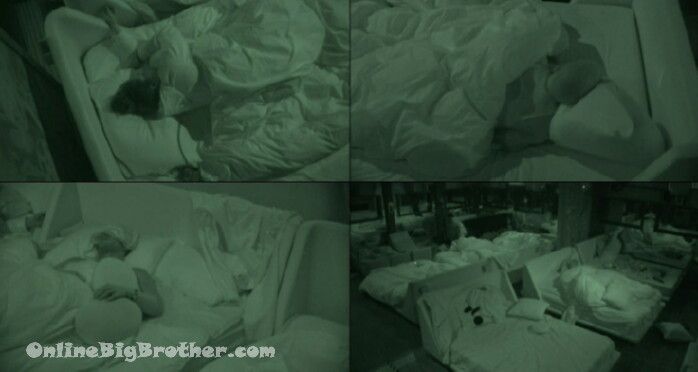 3:20am zzzzzzzzz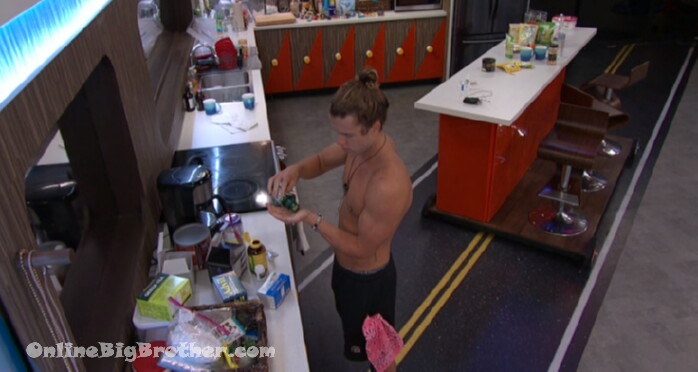 Champagne morning
9:17am HOH lockdown called
Feeds go down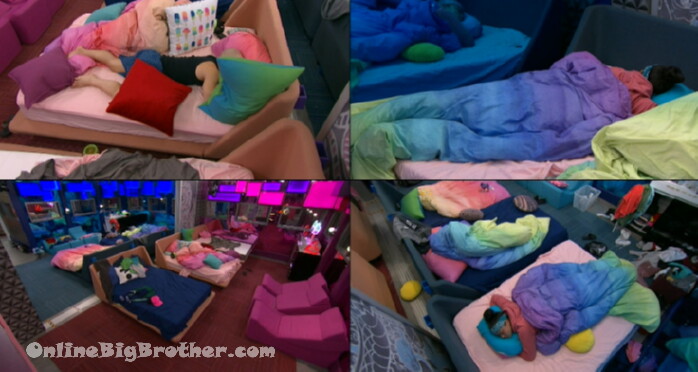 1:18pm Feeds come back
2:41pm everyone still sleeping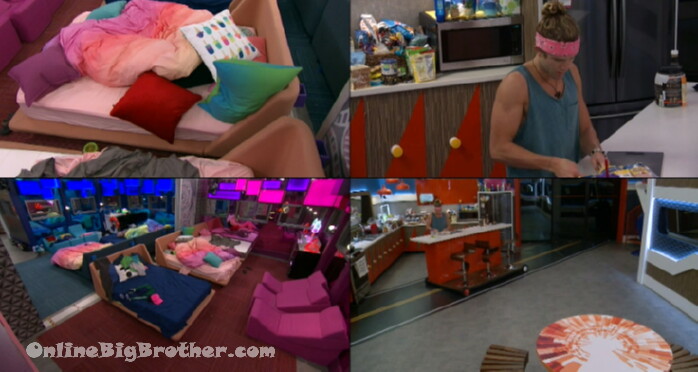 4:01pm Tyler now up making food
An easy way to support the site if you are an amazon shopper is to make your purchases through our link. You pay the exact same thing but we get a small % commission. It doesn't cost you anything and helps us out.
Amazon Canada
Amazon USA
Rank the houseguests!
Easiest way to Rank the house guests use link below