An easy way to support the site if you are an amazon shopper is to make your purchases through our link. You pay the exact same thing but we get a small % commission. It doesn't cost you anything and helps us out.
Amazon Canada
Amazon USA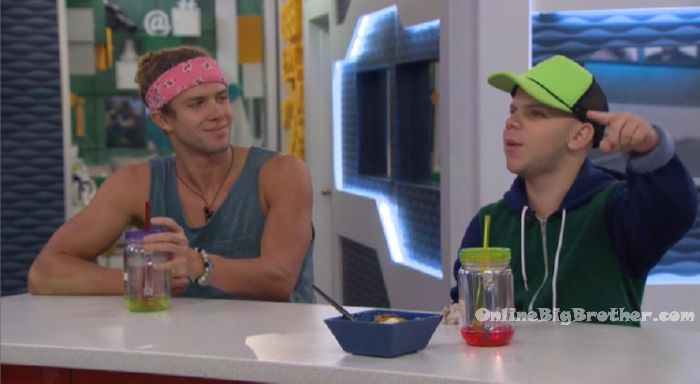 5pm Kitchen. Tyler, Kaycee and JC chatting about past events of the season. Tyler – what if we get out of here and find out that Sam is a superfan. JC – her strategy was keeping all the bathrooms clean and feeding all the tarantulas or uhh.. spiders. JC – did you guys every notice how Angela has a non-constant voice? Like her voice was weird. Like I would see her going up and down a lot in her voice. Even when she would make big announcements you would notice it even more. Tyler – I think she's just not a big talker. Kaycee – I think in the DR she's a completely different person. She is louder.. she's more.. JC – I got her to say something she would say in the DR and it was really good. I was like I wish you could talk to us like that. Tyler – I'm like that too. I'm way more relaxed. UUhhh.. JC is stupid. JC – if I had to root for anyone this season it would be Alex.

They talk about the cast. Tyler – there is no one I don't like. Kaycee – there is no one on here that I hate. JC – I definitely wouldn't follow Tyler. Tyler – everyone was some kind of athletic this season.. besides JC was very fit. JC – we were comparing last years cast. Mark was big and muscular. We were saying that Elena had big t!tties. She had t!tties that she could probably touch her knees with it. Tyler – not we were saying.. you were saying this! JC – she had big t!tties why is that a bad thing?! I liked Alex.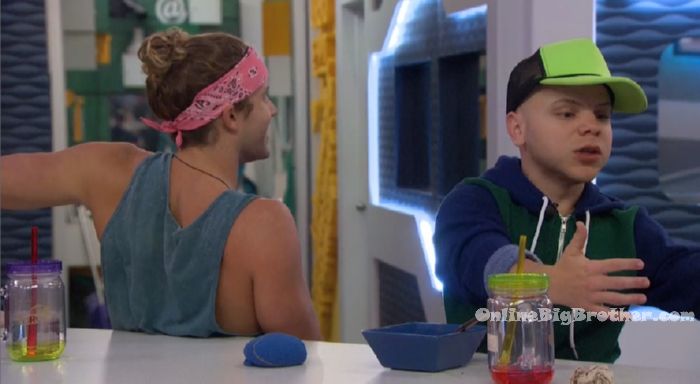 6:30pm – 7:50pm Tyler in the lounge room working out. Meanwhile – JC and Kaycee guess the ingredients on food products. Kaycee then goes to lay down.
Tyler – I think Tyler is funny. JC – really!? Tyler not 0 funny and not 100 funny. I loved his hard a$$ laugh. JC – yeah it was him laughing at his own jokes! JC – what about Scottie? Tyler – I loved Scottie. JC – what about Angela?! MMMMhhhh? Tyler – I didn't like anything about Angela. Because any time I say anything about Angela, you get all butt hurt. JC – no, what was your favorite thing about her? Tyler – I liked how she got bashed every single week and still doesn't really give a f**k. Resilient.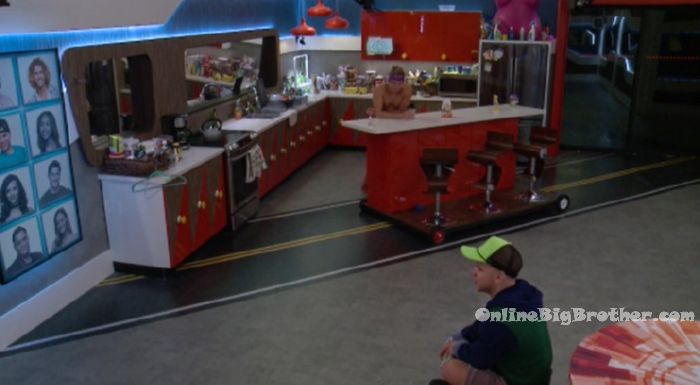 8pm Kaycee is sleeping. Tyler and JC are chatting about the cast and other events of the season.
9pm- 9:35pm JC is working out in the lounge room. Meanwhile in the bedroom. Kaycee and Tyler are studying the days / events of the season. Tyler – is he (JC) saying sh*t? Kaycee – no. Before the physical but after the physical that you won he hasn't been saying anything because we're going to the part 2 together. Has he said anything to you? Tyler – just.. Kaycee's going to win if she gets to the final 2. I'm like yeah, I know. Kaycee – he's going to say anything. Tyler – I know. But he knows he can win if he gets there. If someone takes him. Kaycee – he knows, he knows for a fact. Tyler – we're good. We got this. We're almost there. Kaycee – so f**king close. Kaycee – the last one (part 3) is what someone said. Tyler – I feel like I would be good at that. Tyler – all we're going to worry about is what we're going to say to him. Kaycee – that will be easy. We're almost there. Tyler – its going to happen. He is not going to win. Kaycee – part 2, I feel like I've got this.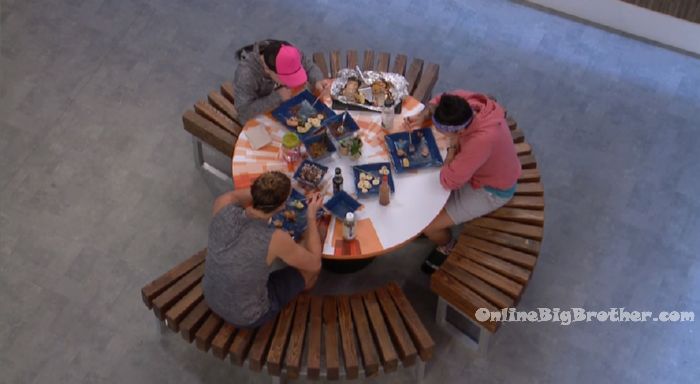 10:15pm – 10:48pm Tyler is cooking. JC – lets make an LGBT dinner that's presentable. The final 3 sit down to eat.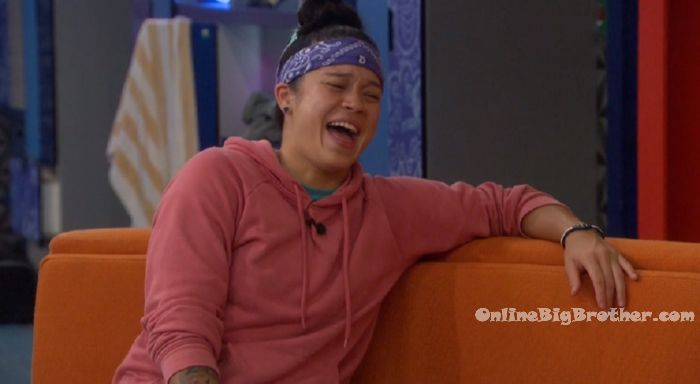 11:15pm – 12am The final 3 and Orwell are sitting on the living room couch. They chat about past events of the season. Tyler talks about when Rockstar tried to get Tyler to use the veto on her in exchange for top 7. They all laugh.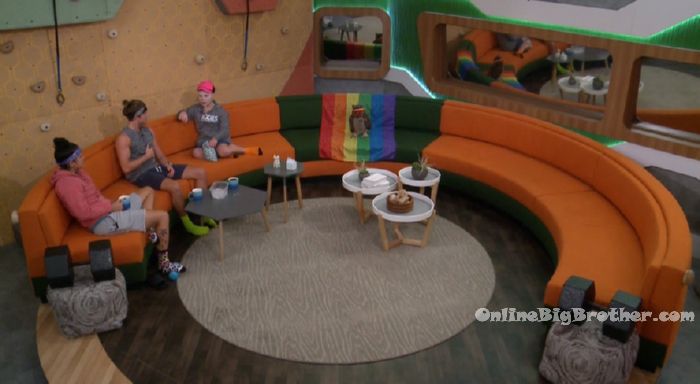 12:30am The final 3 are fast asleep..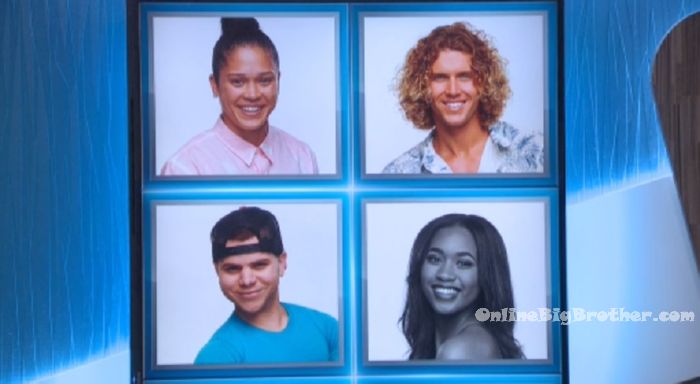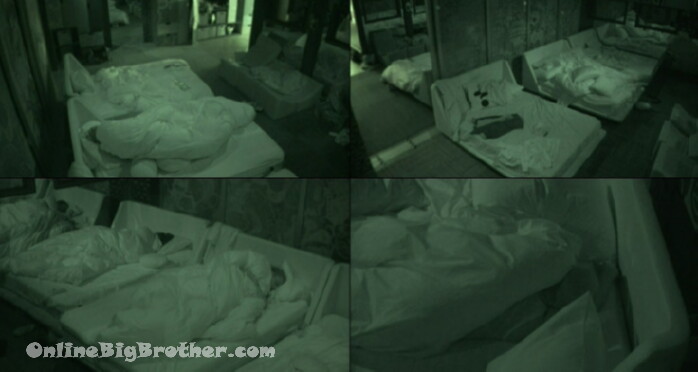 9:04am zzzzzzzz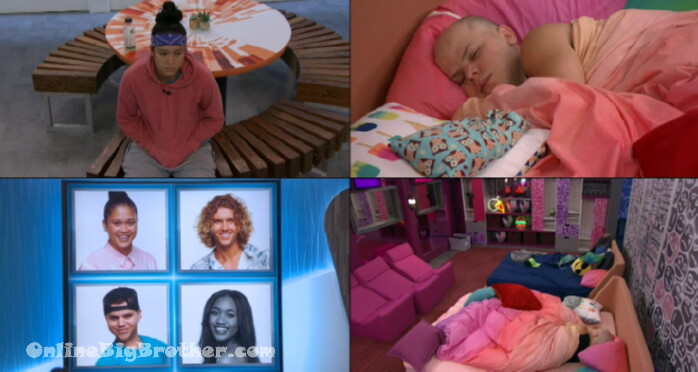 10:24am and we're up…
the last hour.. …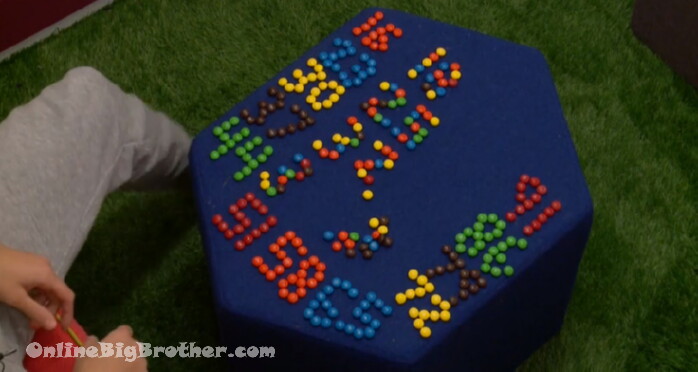 12:08pm Kaycee studying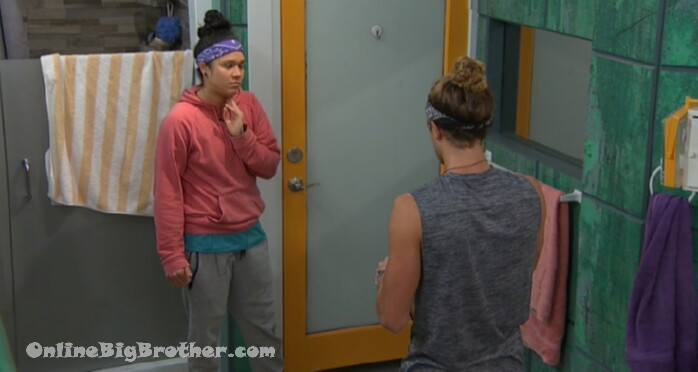 12:53pm Tyler and Kaycee
Kaycee is unclear about the order and the days something before  Scottie won the veto Day 24.
Kaycee – damn taht feel sliek so long ago
1:48pm
JC – I'm nervous..
Tyler – don't be
Tyler – Just calm down
JC – I'm nervous..
Tyler – don't be .. Just calm down #BB20 pic.twitter.com/fGC6DofkQY

— OnlineBigBrother.com (@bigbspoilers) September 22, 2018
2:20pm – 3:30pm The final three talk about what it will be to get out of the house. Tyler – It gives me anxiety thinking about getting out of here. JC – we're going to get out the same way we came in here. Kaycee – what we knew coming in here will be what we know coming out.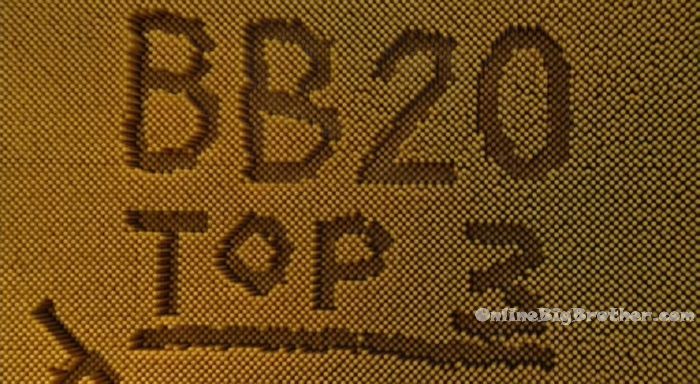 3:45pm – 4:43pm Kitchen. JC and Tyler talking about what the final part 2 and Part 3 competitions will be like. JC talks about what they did last year. Tyler – have you been studying your days? Because I can tell she has been studying a lot! JC – Yes, I've been studying. Every time I go to sleep I go over the days. Tyler – just know them because she does. JC starts rattling off the days. Tyler tells him it might be a hanging one where you have to grab someones face and match it up with the day they were evicted. JC – if it is I'm not going to… Tyler – yeah but her arm is messed up. JC – yeah, maybe. JC – you have to win part 3. Tyler – I plan on it. JC and Tyler head into the lounge room. JC starts working out. Kaycee joins them.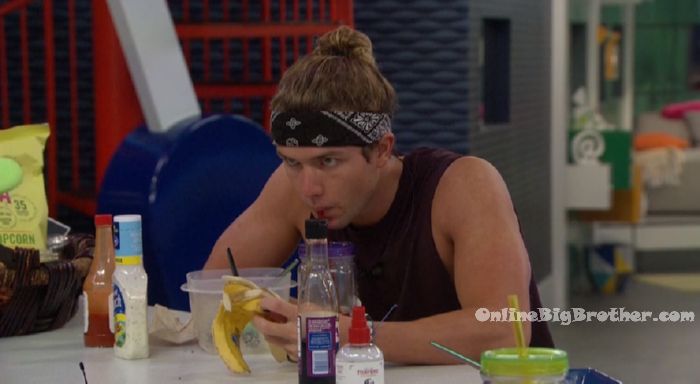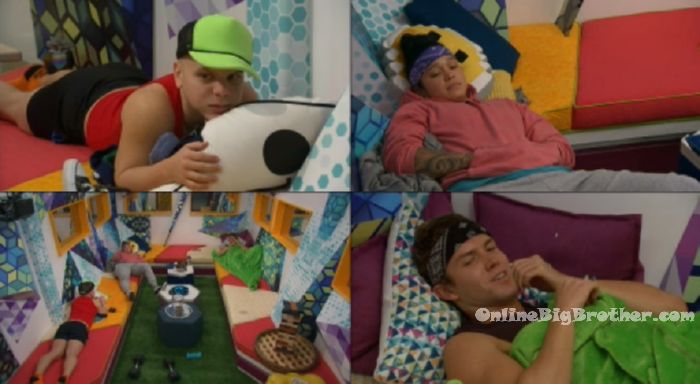 Without your support this website wouldn't be possible.
Please consider making a donation. Any amount is greatly appreciated. All donations go directly to paying the considerable costs associated with running this site.
Rank the houseguests!
Easiest way to Rank the house guests use link below