Head of Household Winner – Cody
Have nots – Nicole
Nominations – Christmas & Tyler
Power of Veto holder – Cody
Power of Veto Ceremony – Cody did not use the veto
Live feeds —-> Grab your Live feeds here. Try it free.
Rank the houseguests —-> Big Brother 22 Ranking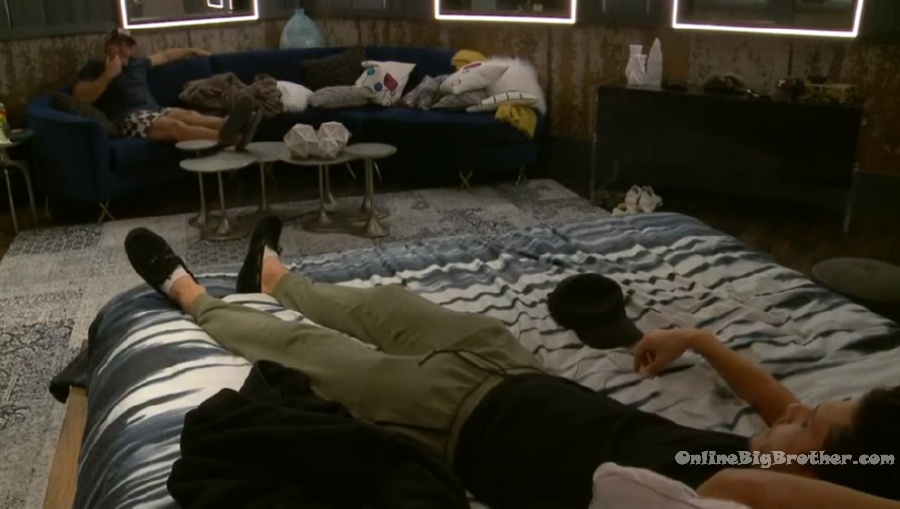 10pm – 10:37pm HOH room. Cody and Memphis.
Memphis – honestly like we're in such a good spot. Cody – yeah we're in such a good spot but I'm trying to think like if Christmas wins like it could be like something could get f**ked up! Memphis – the only thing that could get f**ked up is if Christmas wins and Nicole.. Cody – comes off.. Memphis – wins the veto. Cody – that's all I'm worried about. Memphis – that is the only situation that could end up bad. Cody – but that is all I am thinking about at this point because like Thursday hasn't happened yet and I'm kind of like alright.. We already know how the week is going to play out. It almost like kind of sucks! In a sense because I am like oh god dude just get me to Thursday! Today is Monday! Dude we're going to be sitting inside all day tomorrow! Memphis – I feel you but our odds are so good. Cody – I just hate that I can't play in the HOH. And you make me super confident just because of how many comps you and I have already won. Memphis – yeah. Cody – I feel like I wasn't ever like we're f**k right there in my season. Memphis – Yeah me either .. and maybe because it was never a sure thing. Not like this is a sure thing. I don't feel like the game before was setup that favored me to like go. Cody – yeah. Memphis – and the way that we've set this up and the cards have fallen. We feel like okay they're definitely in our favor. Cody – but I don't want to get f**king confident. I had to put Christmas up and I know she is going to feel some type of way. I know that her and Nicole had something going. Memphis – who? Cody – Nicole and Christmas. Memphis – when!? Cody – in the beginning of this game. Memphis – at this point even if she (Christmas) wins HOH ..if we control the POV then we control it. Like if she wins we're not necessarily in a bad spot. They speculate on what the next HOH competition might be.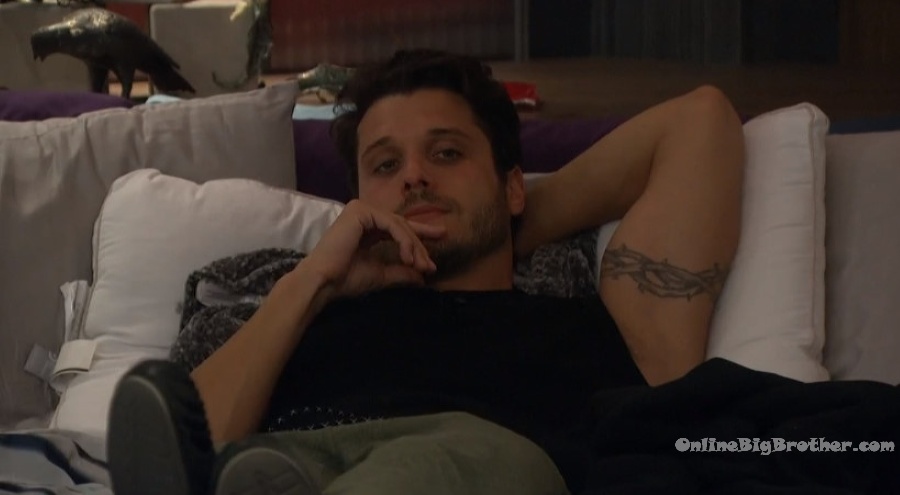 10:50pm All the house guests are sleeping..
1:10am – 1:30am Bedroom. Tyler and Enzo.
Tyler – Nicole told me if Cody and Enzo want to keep you I'll keep you because I don't want to make them mad. Enzo – she said I don't want to make em mad yeah?! Tyler – that's right. I don't know what she is actually saying. Ezno – We'll find out Thursday. Tyler – I just need Cody to tell her we should keep him and if not then I am out. Enzo – cook for that motherf**ker! Shave his back! What do you want YO! What do you want from me?! What do I have? What do I have I can give you!? Tyler – I am going to trick him. I'm going to tell him that everyone is trying to leave him out of the boat but I am staying. Enzo – yeah. Tyler – then if you tell him last minute that Nicole is flipping and you're voting for me… and you don't want him to be left out .. then maybe I'll get two. Enzo – maybe, yeah! That's all you can do. Tyler – if not then I am going to the jury house. Why not give it a shot. What the f**k yo! If I am on the block I'll be like what the f**k yo! What do you want from me yo!?! I'll give you half my winnings if I win. What do you want YO! What the f**k do you want yo! How much you f**king want yo! Remember I've got to kids yo! Tyler – I've got beats by Dre! I've got it. Enzo – you want the PS5 I've got it.. it hasn't even come out yet! You can run my fantasy football league what do you want bro! Man Nicole doesn't want to come out for sh*t yo! You never know jury's get salt as f**k yo! I love Cody but he rubbed Day the wrong way. He rubbed Kevin the wrong way. He rubbed Dave the wrong way. Tyler – Day I don't think.. Enzo – Kevin and Dave .. that's two. Dani was upset at him too. They were best friends. Tyler – if you go to the final two with Cody your a$$ is losing. I swear they all like him. Enzo – see how this sh*t plays out. Still a lot to happen. I ain't giving up.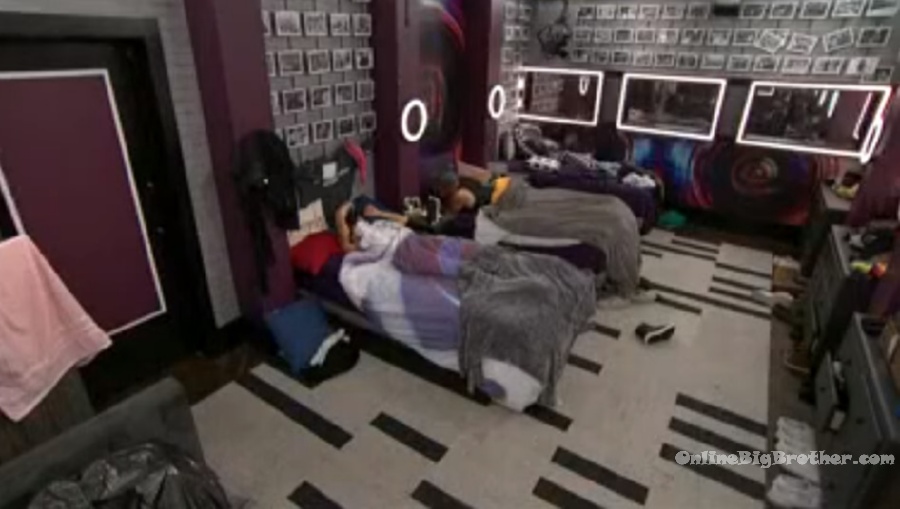 Show your support by making a donation.
If you're enjoying our live feed updates this season, please consider donating.
Any amount is greatly appreciated! Your donations go directly to paying the fees required to run this site.