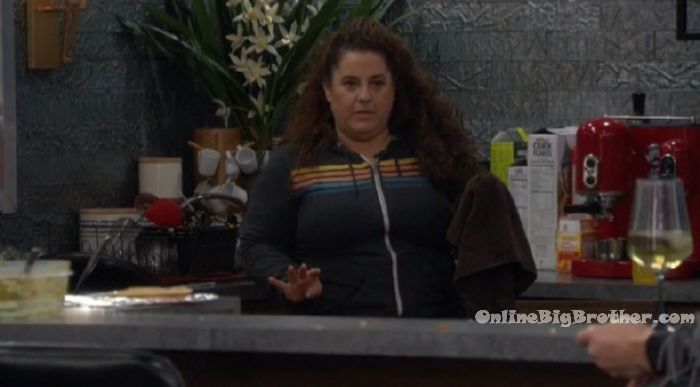 Watch the last week of Celebrity Big Brother for FREE! 1 Week Free Trial

8:35pm Kitchen – Marissa, Ari and Brandi. Marissa – two out of the four people that went home, asked to go home. Like that's not good TV. Ari – maybe its good tv. Marissa – No. Knowing two people want to bail it like looks like … I can't explain it. Ari – I get you. Marissa – let me tell you the audience was.. Ari – bummed. Marissa – when Keshia left. They cheered when Ross saved us, even though it was just for one more day. Ari – and then with Metta. Marissa – no they were happy with that one because they didn't want Ross or Brandi out. Ari – that's true. They wanted the power away from Omarosa. For 1000% sure. Brandi – that competition yesterday seemed to be set up for a boy. We have boobs! We can't go flat and stay even because I don't want to pop an implant. They (the boys) might have something down there but I don't think any of them are rolling big. Marissa – that is .. you give good head. Brandi – I don't want to be gone and for her (Omarosa) not see her gone first. I can't do anything else. Marissa – I feel like everyone at home is like "get her out!" You (Omarosa) can't say "girls to the end, girls to the end" and then nominate two girls. Brandi – I just wish James wasn't in this competition. Marissa – when they picked his name… Brandi – I picked his name.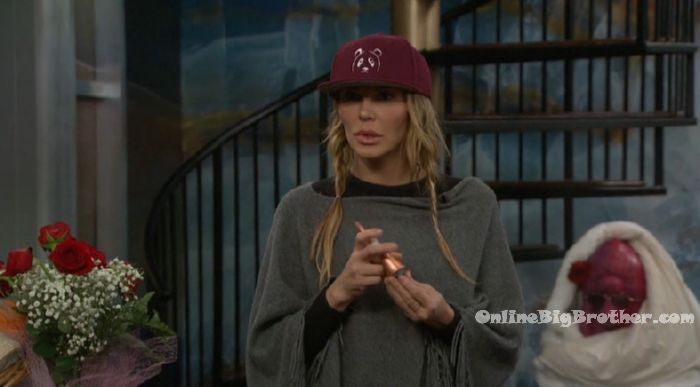 Brandi to Ari – you know how Ross asked me to make a final 2. He said no matter what happens promise me you'll tell me if you know I'm going on the block. I said yeah and he promised me the same thing. I am 99% sure he knew and he didn't tell me.
Marissa and Ari are cleaning the kitchen mirror. Brandi sprays cleaner on the mirror and then writes "F**K OFF OMAROSA". Big Brother tells her to STOP THAT! Omarosa comes out of the diary room and asks what they got a stop that for. Brandi – really amazing things. Life changing..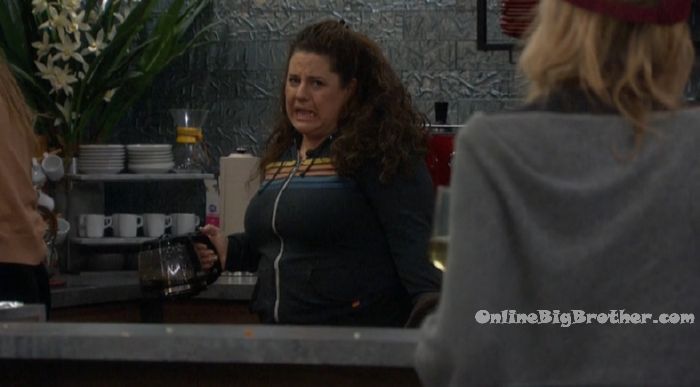 9:25pm Omarosa, Brandi, Mark, Ross and Marissa all head up to play pool. After they all head out into the backyard to chat around the fire.
10:55pm – 12am Backyard. Ari, Brandi, Mark and James. In front of James, Brandi says If I could have anyone on the block right now it would be James & Omarosa. And I already know that you're (James) not voting for me so its fine. Mark – how do you know that? Brandi – because he's not. I will say James that I saved you twice. James – did you? You could have saved me from a lot more… just socially. Brandi – what? What do you mean? James – bigger picture .. but ahh probably better to keep not talking about it. Brandi – AHHHHhhh.. no I think you are over thinking that. I am … kind. James – well if you just say it, it must be true. Like Omarosa .. you guys have a lot in common. Brandi – UHHHH… I have nothing in common with her. REALLY?! You're just mad because I said that. James – I've been poked all day, everyday and I do my best not to blow you back because I don't that is going to accomplish anything. You did apologize that one time. And I though that was very big of you. James – its not like I hate you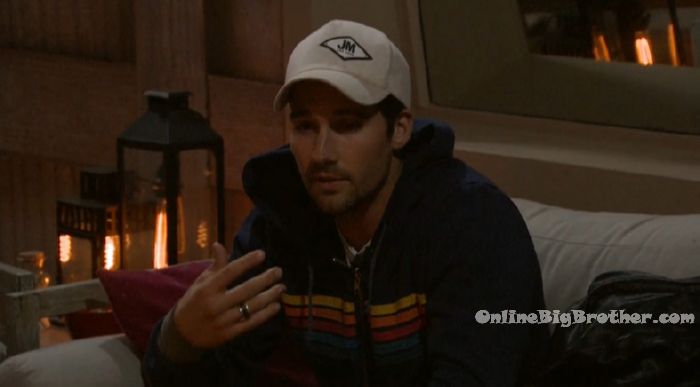 FLASHBACK and watch everything you missed: Live Feed 7 day FREE Trial!
Time to start ranking the houseguests on Celebrity Big brother. Nothing has changed with the ranking system since BB19. If you forget how it works here's the skinny.
You apply a ranking from 1-5 to each houseguest using one of these two pages: Voting (with images) and Quick vote (without images)
You have until the end of each day to "Lock in" your ranking. Each day the rankings are compiled and viewed on the grid.