6:35pm They're talking about it being a double eviction tomorrow and the entire show is over on Sunday.
Marissa thinks someone will go home in the first 5 minutes of the finale
Brandi – at least it'll be all over for me on Sunday
They go over the Face morph competition.
Marissa – me and Ross together made a really pretty girl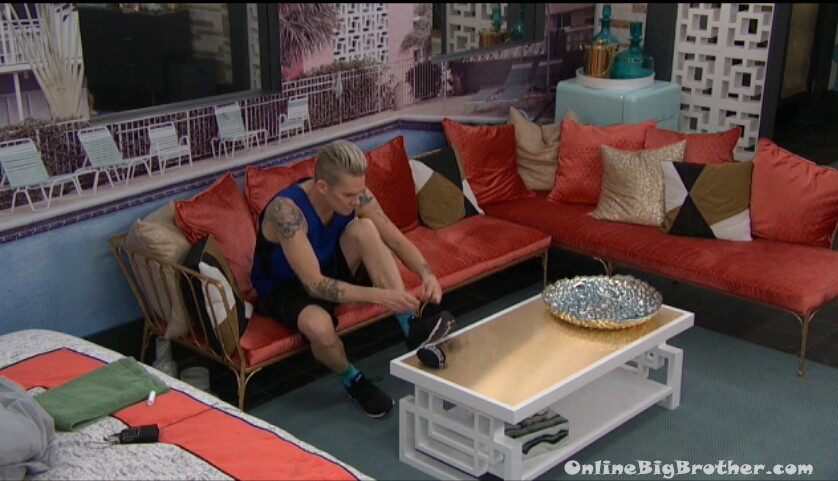 On the other camera is MArk getting ready to workout.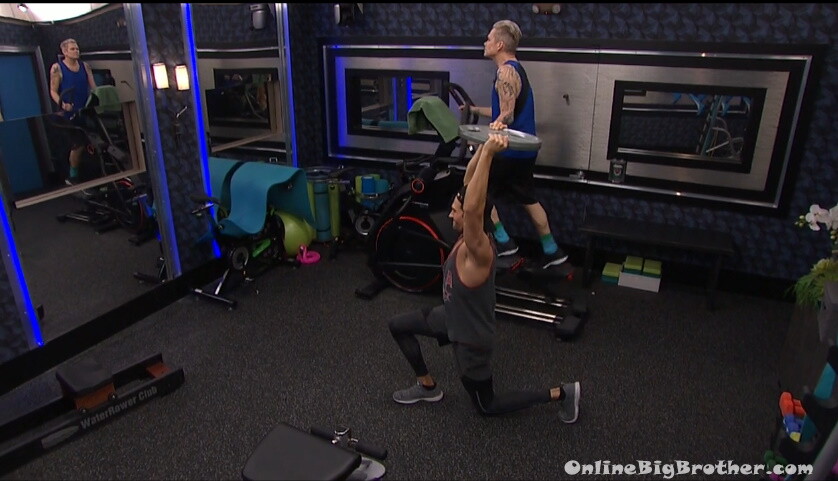 6:39pm Mark working out with James
Mark – YEAH buddy .. ok lets talk.
Mark – I am nominating MArissa.. I'm not giving them a chance
Mark – that's period end of story.. she hasn't been on the block now's her chance
Mark – if they are really getting Brandi out then it shouldn't be a problem
Jame s- no problem at all
mark – this is where the Brandi train ends.. what she's done to you and me
James – she's done .. I'm so happy to hear you say that
Mark – it's non negotiable
James – tells her
Mark – I'll tell her just not today.. I don't want her sulking the next two days, crying and having fits
Mark – I might even tell her the day of .. I love MArissa but..
James – tell her in private.. say you haven't been on the block we've all done it
Mark – they are already rallying down there.. I heard them going it's not over yet
James – look Omarossa is the next threat no question
Mark – no doubt
James – if we're getting Brandi out why bother pissing Omarosa off and why start drama and why give them a chance to rally
Mark – they are going to rally .. it'll be 2 to 1 we'll lose
James – they have personal reason to get Omarosa out
Mark – so do we.. we're done.. end of story..
james – done
MArk – I'm going to entertain all ideas and not commit to anything
James – sure
Mark – I won't tell her till Friday.. got it
James – we don't need to talk about it again
Mark – I love Marissa but it'll be sulk city here for the next 2 days. Plus she'll over think it, panic and cry
James – do the same bullshit they did to us.. say In don't want to talk game today
James – just say I'm taking the day off game I don't want to talk about it
James – they did that to us so much
Mark – I'll entertain everyone ONCE.. they're already rallying down there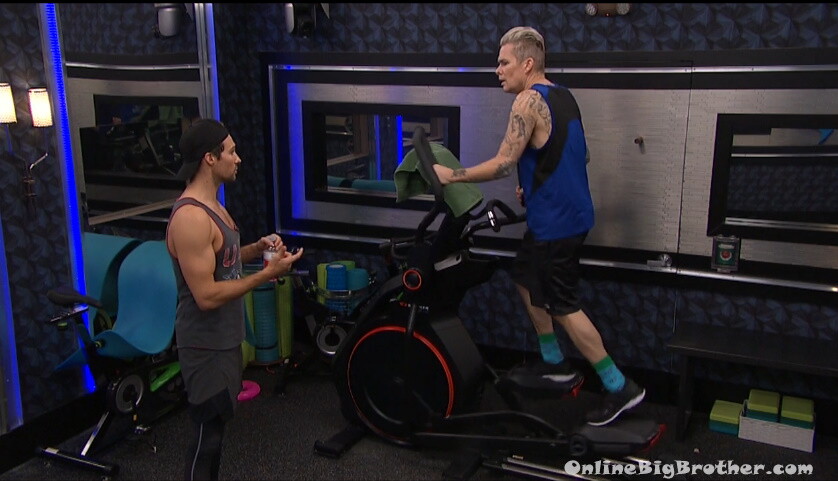 They talk about how much they want Brandi out
James – I feel like a rat in a maze.
Mark – I got you.. we came in here thinking the same game.
James wants "so bad" for the two of them to be sitting final 2
Mark – i'm telling you if you are next to me in the finals I like your chances. cause people respect your game
James – you too
Mark – I'm a harmless guy,..
James points out a good thing about keeping Ari around is if she wins Head of household she's taking out Omarossa
Mark – they're going to take each other out
Mark – I'm telling you, If Ross or Marissa win I don't know how safe you are
James – we have this alliance
Mark – I know but they are going to want to win dude if they have a shot they are going to want to take it
James – dude if they blow… I already gave Ross an HOH
Mark – I understand .. that was yesterday's news though. When it's the 5 of us fighting it'll be dog eat dog
Jam es- Ross is going after Omarossa before me
Mark – we'll see.. I hope so
Jam es – i don't think Ross and MArissa will do that as people.. I know it's a game and they're allowed to.. That would be so shady after all the stuff I've done for them. (HAHAHAH)
James thinks Ross is truthful when he says he doesn't think he'll win against a girl
James – he gets it
mark – he's right..
They agree to remind Ross about this.
Mark thinks the only girl that will vote a guy to win would be omarossa
James disagrees brings up the time Omraorssa said there's no way "someone with a d1ck" is winning
James brings up Shannon might be the one that will throw them a vote because "she's mad"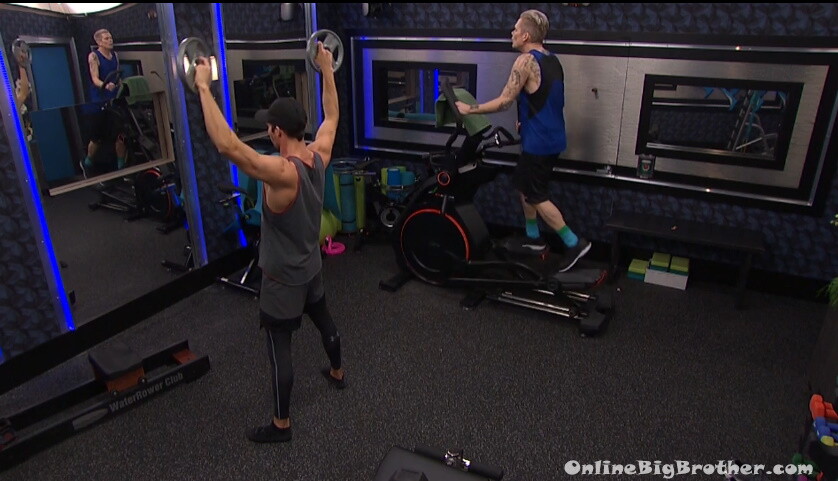 James warns him to make it very clear to Marissa that she isn't going home she's the pawn.
Mark – it's a team play, James has already gone up Ross has gone up.. it's good for you (LOL it's good for you)
James – I just can't wait for brandi to leave this house..
Mark thinks tonight will be turned up
James – i'm going to hide the alcohol if I see it
James starts talking about when he gets out "Pilot Season" starts and he's already been talking to people.
Mark mentions how different the show is than what they play on TV.
(James of course wears compression pants when working out )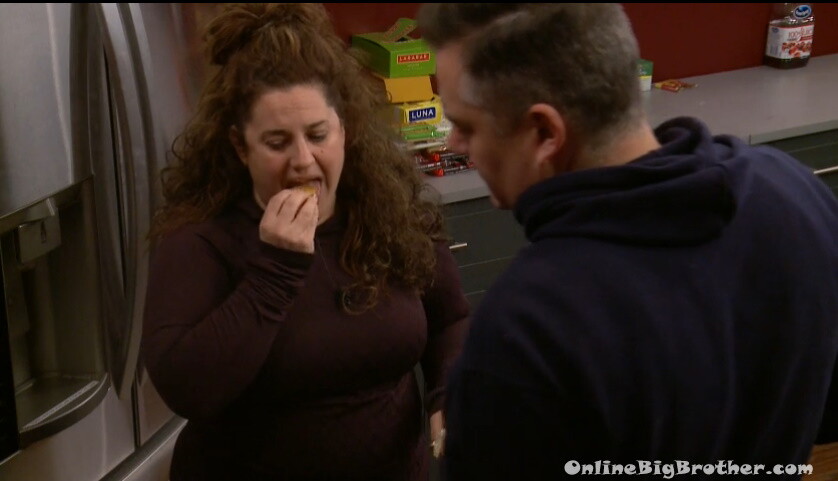 7:52pm Ross and MArissa
Ross – I feel awful
Marissa – of course I want Omarossa over Brandi but I don't want to go before her
Ross – I never heard them talk about putting you up
Marissa – I think they will
Ross – that would be a big surprise to me because when I asked Mark who goes up
Marissa – right
Ross – if they win the veto he said.. omarossa
Marissa – but then they want Brandi to go?
Ross – yes
Marissa – how do we vote for Brandi to go?
Ross – I know
Ross – we can tell them we can't and they break the tie
Marissa – it wouldn't be a tie it would be, me, you and Ari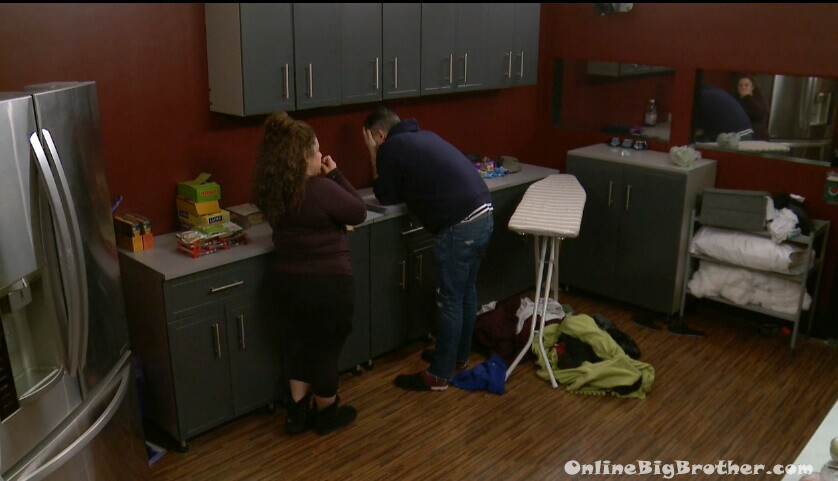 Ross – ohh shit..
Marissa – that is why I assumed they are going to put me up no question
Ross – you need to talk to them
MArissa – I don't want to go home though
Ross – oh my god no
Ross – we need to tell them they don't have the votes to get out Brandi and if they put up you they lose you
Marissa – they will, I mean they might not.. You don't vote for me right…
Ross – I will never vote for you (to go)
Marissa adds that James will vote for her to stay and Ari/Omarossa will vote for her to go.
They agree omarossa going up means she might be evicted Marissa going up means Brandi goes.
Marissa is nervous, "James might change"
Ross – what and keep Brandi
Marissa – no..
9:07pm Ross and Brandi
Ross says he doesn't want to lose a friendship because of the game.
Brandi says he wonb't
Watch the last week of Celebrity Big Brother for FREE! 1 Week Free Trial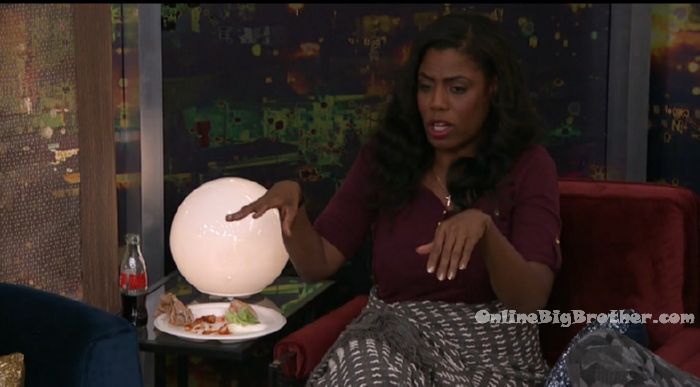 9:15pm The house guests are all hanging out in the living room. Omarosa is scratching records. They play truth or dare. Ari – is it true that you are not only gay, you are straight in the big brother house? Ross – the truth is yes. Outside of this house I live myself as a gay man. But inside this house I have lived a lie. I've been presenting myself as a straight male. The bottle lands on Ari. Ari says she wants a dare. Ross – make me straight again. Ari – I'll make you straight … later.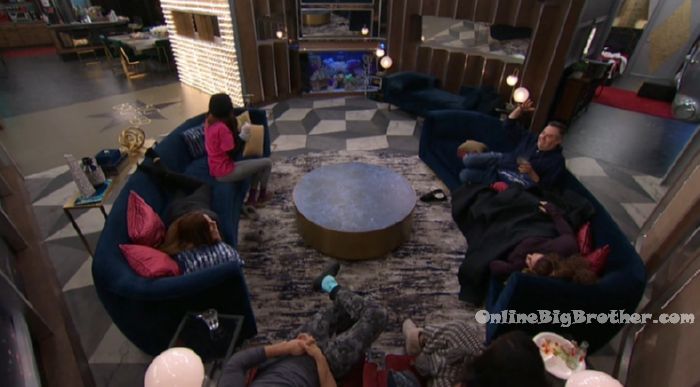 10pm Bedroom. Ross and Marissa. Marissa – Brandi listening at the door. What is that about!? Ross – she said I knew you wouldn't keep the final 2 .. you won't have my vote at the end. Marissa – I'll let Ari know that she made a final two with you. I will. Want me to? Ross – no.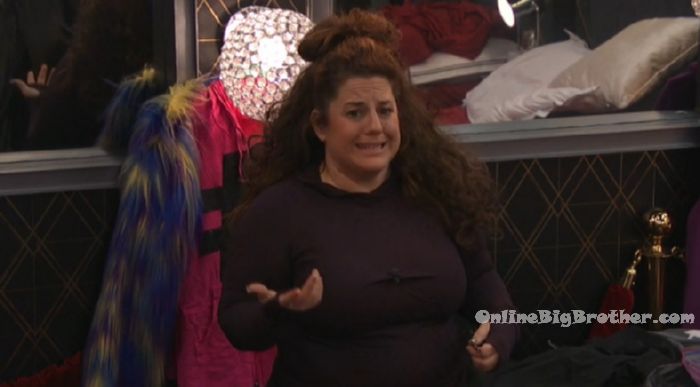 10:10pm They head out into the backyard and sit around the fire pit chatting.

11:30pm – 11:50pm Backyard. James – Team Maslow is still here. Omarosa – you could make a good appeal for the end. James – yeah, mine is kind of obvious. People have been gunning for me since day 1. Mark – people have been gunning for me since day 1. I've had to fight for everything I've gotten. And I'm here. You've got to respect my game at least. I've played with integrity and with heart. I've won competitions, I've won POV's, I've given people HOH's. James – I've given more. Omarosa – that is going to be a bitter a$$ jury. Mark – no matter what you say or do their mins were made up the second they went in there. Omarosa – its a popularity contest. James – I've been batting from behind since day 1. Some people are able to adapt. I just rub people the wrong way.