Head of Household Winner: Jackson
Nominations are: Tommy, Cliff Holly
Power of Veto Players are:
Power of Veto holder: Nicole
Power of Veto Ceremony: Nicole uses the veto on Cliff. Holly is the replacement.
Grab your live feeds —-> BB21 Live Feeds Subscription Link
Rank your houseguests —-> Big Brother 21 Ranking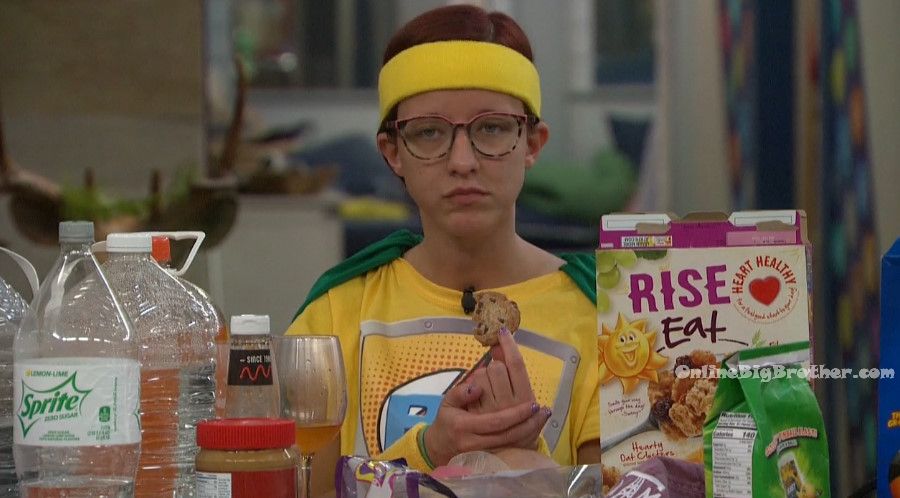 8pm The house guests are still searching for the eggs. Nicole – My brain doesn't work this way. I don't know where to look. This is so frustrating!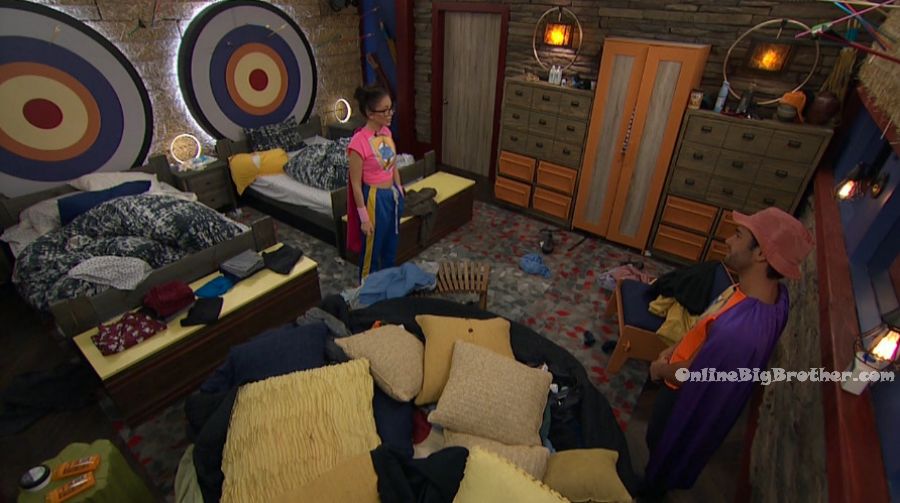 Bedroom. Holly and Tommy.
Tommy – I can't wait to be done. Holly – and just be out of here ..and friends. Tommy – yeah. Part of me wants to just tell Cliff and Nicole too. Just because I don't like keeping secrets. Its not who I am. Holly – oh like tell them about Christie? Tommy – yeah. I don't know.. I'm debating. Holly – I don't know what it would do. Tommy – Yeah, I don't know. Holly – I wonder if Christie told people. Tommy – I don't think she would have. We said we wouldn't. Holly – if I go to jury I won't tell anyone. Tommy – I've never had a panic attack in my life but I think I came close to having one last night in the DR. Big Brother blocks the feeds. Tommy – its okay, whatever is meant to be will be. I don't know what they're thinking. Sure I want to campaign to Cliff and Nicole but I want them to know everything. I want them to know the whole thing and I want them to base their decision on that. I am leaning towards telling them everything so that they can make a fair decision and I am not bamboozling anyone. Its not that I don't trust either one of you. For my own conscience it is kind of eating me alive. Like to try and fight to stay but have that .. it doesn't sit well with me. I would rather be the guy that spilled a secret too early than known as the guy that lies. I am thinking of telling them tomorrow. Its scary.. it could change.. It could really affect how they see me but that's okay. If that's the sword that I die by, then I can live with that. Holly – I still can't even really believe it. Tommy – I love big brother but part of me feels like I was gypped of the experience. Its a game.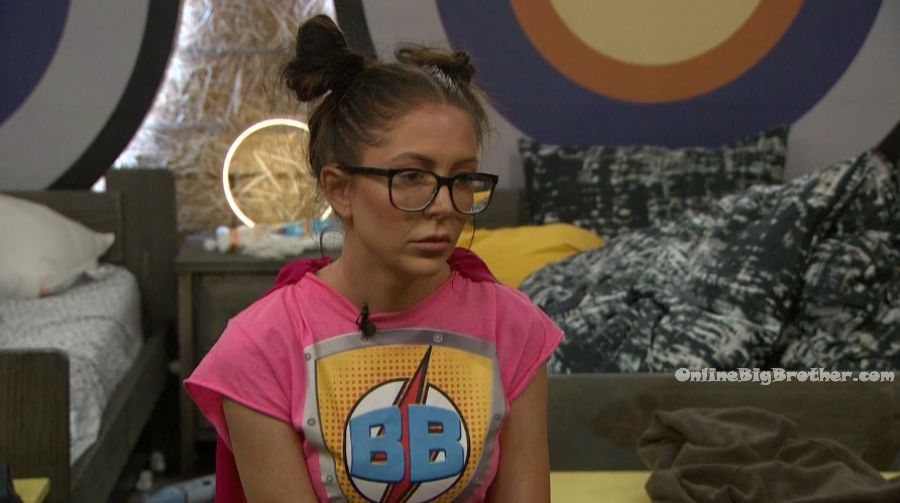 8:25pm Kitchen. Nicole – I am not quitting until you find my last egg. Jackson – you're not going to find mine. Nicole – you're not going to find mine either. Tommy – I just want everyone to tell me where theirs are so that I can be out. Nicole – okay. Tommy – and then I will tell you where mine are too. He tells Nicole where his last two eggs are. A pillow in the boat room and the bottom of the arrow case.
Tommy is over with the game so Jackson secretly shows him where all his are hidden. On top of the RV, inside the bedroom lamp and one in the saddle.
8:44pm Jackson finds Nicole's last egg.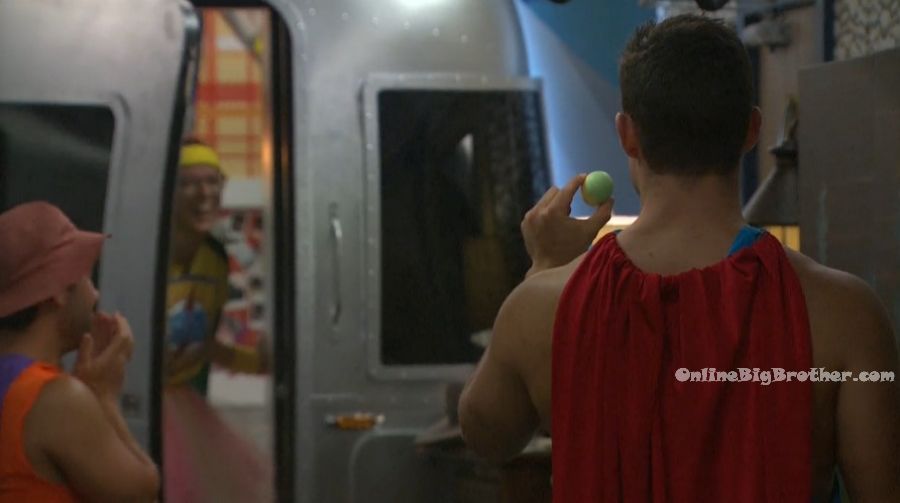 9pm They end the egg hunting game by Michie revealing to everyone where his last egg was hidden in the saddle.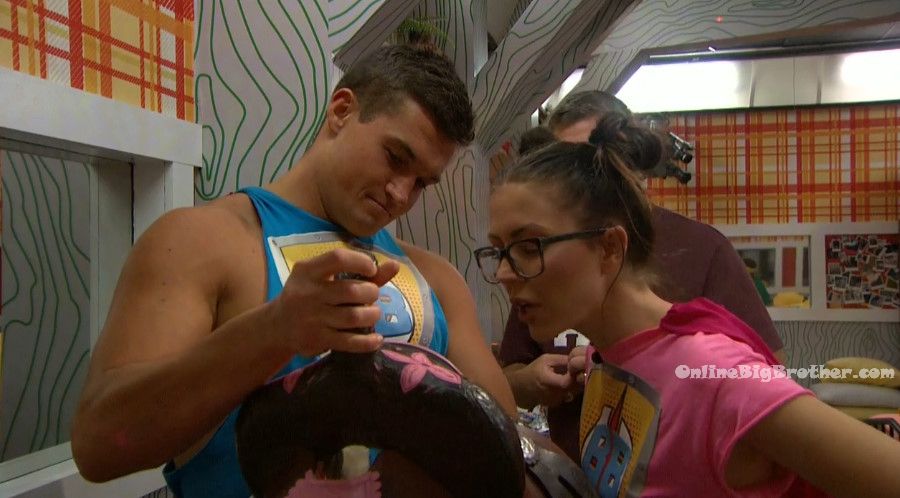 9:20pm – 9:40pm The house guests eat dinner.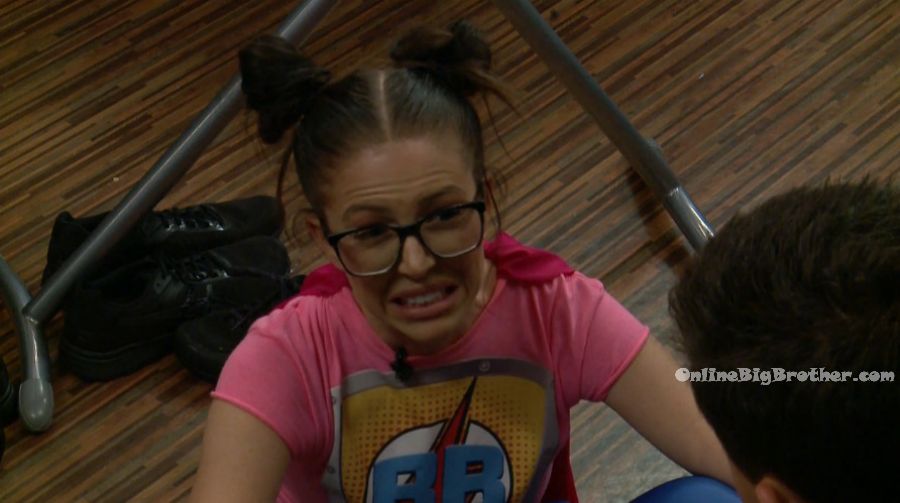 9:42pm – 9:50pm Storage room. Holly and Jackson.
Holly – Tommy is going to tell them about Christie tomorrow during his campaign. Jackson – he is? That's good! Holly – is it? Because if they want to flip and backdoor me they could use that as an excuse. Jackson – it doesn't really make sense to keep him and potentially go to final two with Christie in his pocket. And Christie will be in the jury and campaigning for him. It doesn't make sense. Holly – should you give them the heads up before ..like hey Tommy is going to drop a bomb on you? Jackson – no because then that looks like we keep secrets from them. Holly – it wasn't our secret to tell. He told you before the veto.. probably thinking that you were going to win it… so then we would keep him. The timing of him telling us was weird.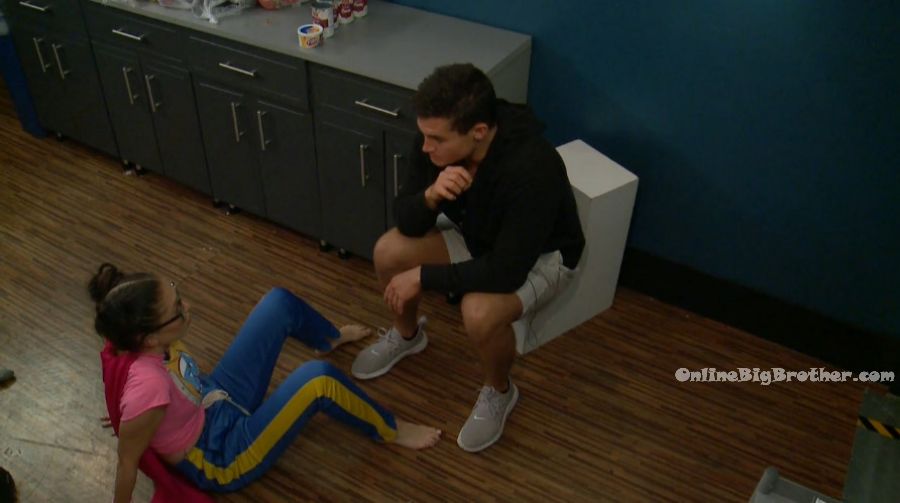 10:20pm Bathroom. The house guests are sitting around chatting. Nicole and Tommy leave. Jackson to Cliff – Tommy is more than likely going to drop a bomb of information. Not about us but more about him and someone that is no longer in this house. Cliff – okay. Jackson – and it was interesting because he told us but you will hear it .. it wasn't about us, it was about his personal life.. so it wasn't our secret to share. The way that he said it .. the way that he delivered it .. it was right before the veto. Almost as if he expected me to win. And wanted to almost use it as a .. not a sympathy thing.. a way of trying to get back in good graces. Does that make sense? Cliff – oh okay. Jackson – after Thursday as long as he gets evicted I will tell you. Cliff – he told me he is going to campaign but wanted to wait until after the veto ceremony. And I will be honest, I am going to listen to him. Holly – its his to share. Cliff – wow.. I am curious to see what he says. Holly – and I will be campaigning tomorrow as well. Cliff – and I know that Tommy and Nicole have talked. Not so much with me but I'm sure I'm next. And I have always worked with Nicole and I am curious what she has to say too. I am really curious what Tommy says. Cliff heads to bed.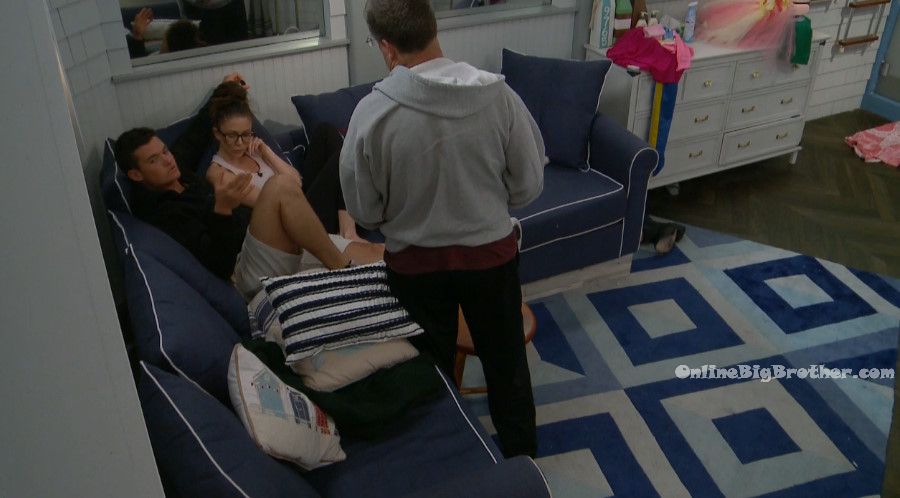 Holly to Jackson – I did not like that response. Jackson agrees. Holly – I am done. Jackson – do not say that you are done. I did not like it but that does not mean that you're done. Holly – what kind of a response was that? Jackson – I don't know but you're not done. Holly – F**K! Jackson – he didn't say the plan is still good. I did not like that. Jackson urges Holly to go talk to Cliff / Nicole to make sure their final 4 deal is still all good.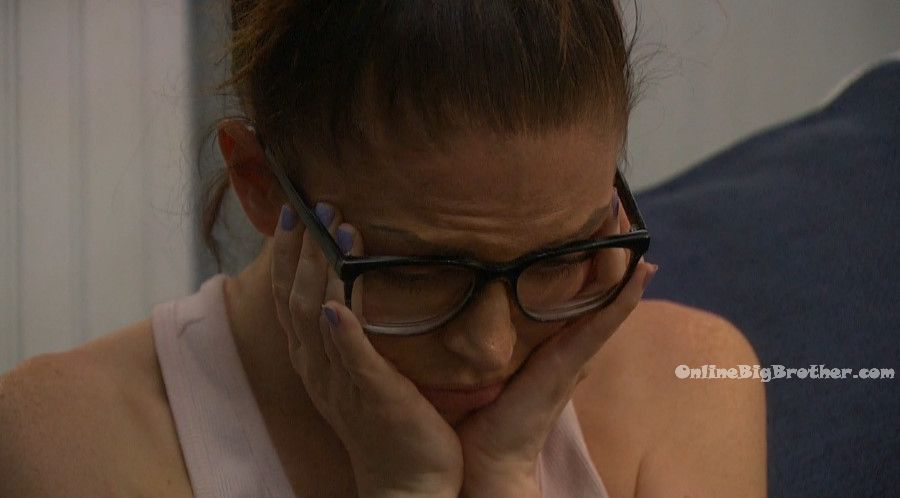 10:50pm – 11:30pm They make a "9 / 11 We Remember" sign on the living 'room coffee table.

12:10pm Cliff and Jackson.
Jackson – I worked hard this whole game but I would be worried that Holly would be picked over me in Nicole's eyes. And I am worried that Tommy would be picked over me. Cliff – I know. Jackson – I feel like if I don't win the veto, I am dead in the water. Cliff – yeah no, its a possibility. I am not going to argue with you. I will put it this way .. I want to go with Nicole wherever. I don't want to go with you or Tommy because y'all are such .. either one of y'all could win it. But that's the way the game is final 3 is going to be someone. That's fine. I've always said I am willing to go to the end if I have to fight to win. If I do great, if I don't.. Jackson – and I have voiced it to people that I would .. I would rather be up there with someone that has a very good chance of beating me and taking the chance and risk it because that means that person deserves to be up there. I don't want to take the easy way. Cliff – I would rather go to the final three with me, you and Nicole. Than Nicole, me and Tommy. Jackson – same. Because in that situation you know that Nicole would pick you. Cliff – I know. If Holly went home I feel like it would be a duo of you, me and Tommy, Nicole, and Nicole and myself. I will be honest with you if it came down to it, I would take Nicole but I would send Tommy home. If she won, my guess is she would send you home. Just thinking it through. If Tommy won veto.. I don't know what he does.. you or me. If you win, Tommy or Nicole. It just depends on where your head is at.. at that point. Jackson – I've voiced it to you where my head was at. I didn't know it was even… Cliff – I don't know that it is.. I just see them whispering a lot. I just see them (Tommy and Nicole) sitting out in the hammock and talking. Nicole has said that Tommy wants to talk to me. And I told him to talk to me. And he did that once and I told him until the veto ceremony is done, I am not doing anything. Jackson – I am just asking because you and I and Nicole are all guaranteed a spot next week. And you know my biggest concern is not being about to compete in the HOH. Cliff – I know. And I am not going to bullsh*t you and say everything is fine because I just don't know. Cliff – there is a part of me that thinks my chance at success is just a little different than Nicoles. That is what is pulling me. I have to figure out where her head is at. Is she solid or is she waiting for me to give some direction or where its at? I will be right up front and honest.. Tommy worries me a lot more than Holly does in terms of competition and everything else. He knows his stuff very well.. and I don't want to see him go further if possible. But we will see what they say. I won't bullsh*t you if things are going one way or another. If it was a final four that came to a final three.. it would be You, Holly and me going forward. The problem is I think that Nicole thinks that would be the case as well. Jackson – its tough, I am trying to make it to the final 3 and I came in here by myself. Cliff – people play different games and if anything went that direction that wouldn't still be more than happy to work things. I know he is going to be putting the pressure on Nicole. Jackson – and obviously I don't want to see her (Holly) go but I understand that people have to do what is best for their game. Its tough, every week. These next two are going to be the hardest. Cliff – I know and as I've told several people .. there's not a lot in terms of deal making. Its the people that win move on and the people that don't, don't. Jackson – I don't want you to go anywhere. Cliff – well thank you. Jackson – I always do my best at competition and I don't know what these next few are but I don't want you going anywhere. Cliff – you scare me as a competitor but so does Tommy. I know who Tommy would take and I know who you would. Nicole is playing her own game too.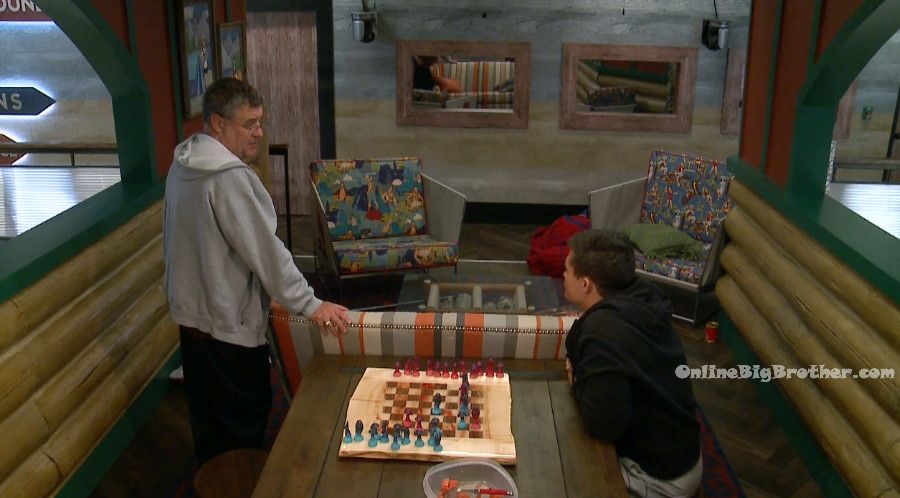 12:49am Cliff tells Nicole that Holly and Jackson told him that Tommy is probably going to drop a bomb of information about him and someone else that is no longer here in the house. I asked if it had to do with Christie and he said yeah. So you know what I am thinking. Nicole – yeah. Cliff – I don't know if it affects anything. Nicole – does it?! Holly is a guaranteed vote for Michie, You're a guaranteed vote for me, and I'm a guaranteed vote for you.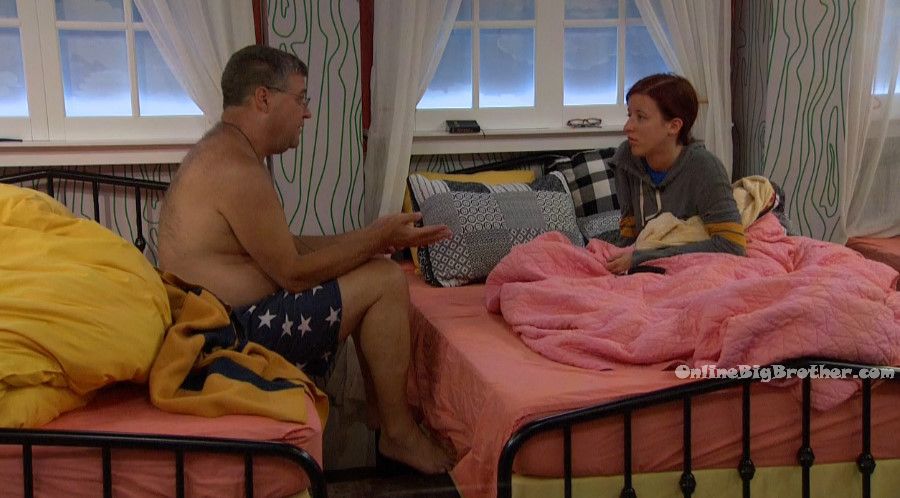 2:20am All the house guests are sleeping..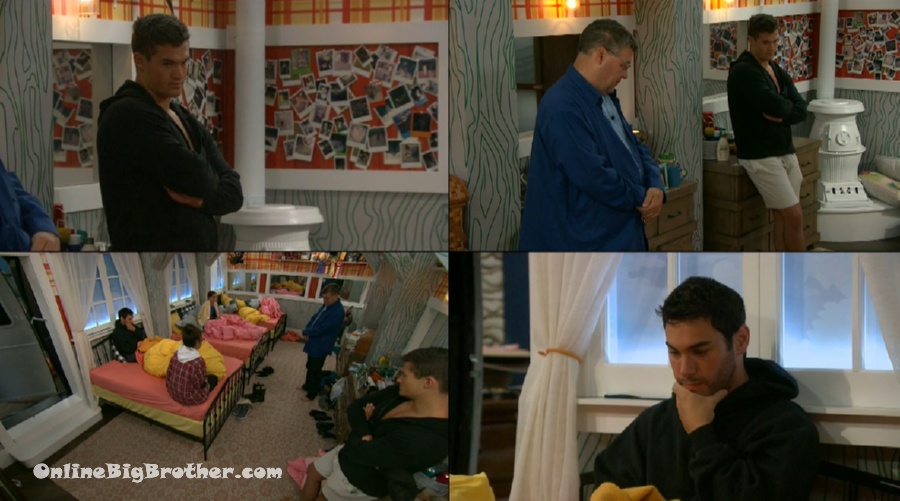 6:37 am 911 memorial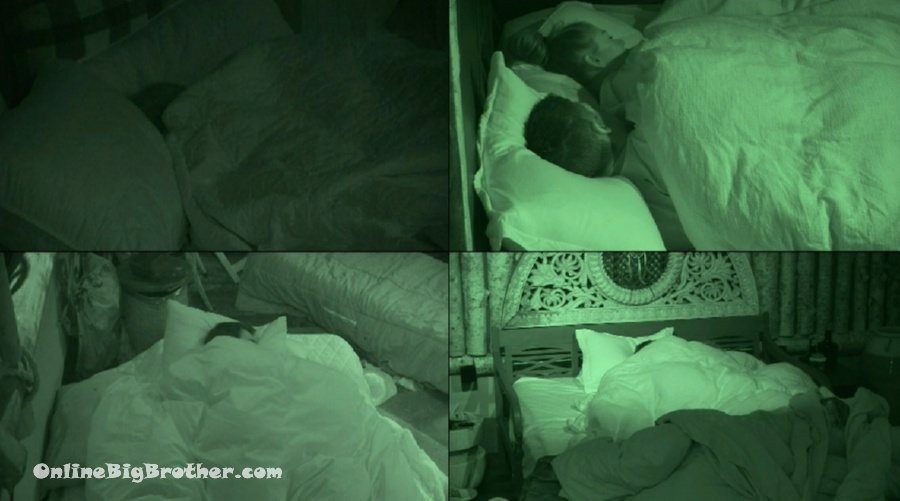 7:34 am zzzzzzzzzzzzzzzzzz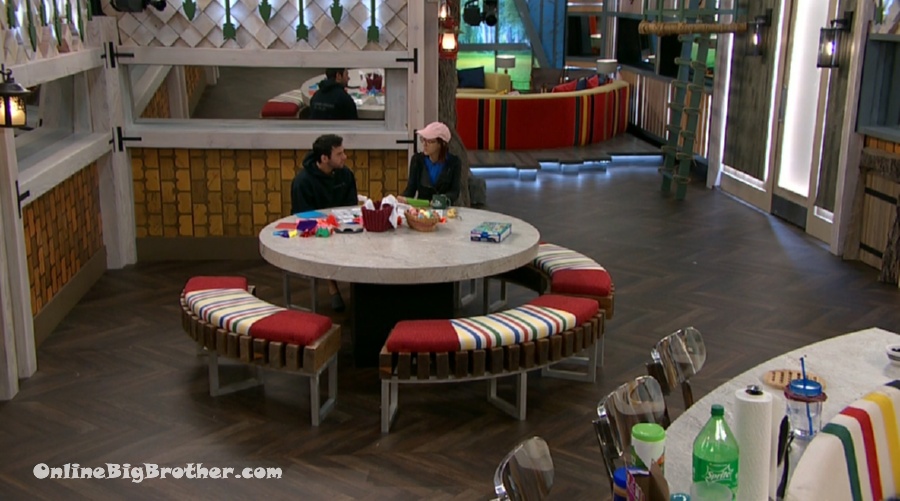 11:18 am houseguests up and the Origami begins
Show your Support for all the sleepless nights Simon and I have put in for the last 82 days straight. Help keep the lights on, this site costs us a considerable amount to maintain. As an added bonus we also wanted to give a little more to those that donate: Click here for more information.
Any amount is greatly appreciated! Thank you so much in advance!