Head of Household Winner: Jackson
Nominations are: Tommy, Cliff Holly
Power of Veto Players are:
Power of Veto holder: Nicole
Power of Veto Ceremony: Nicole uses the veto on Cliff. Holly is the replacement.
Grab your live feeds —-> BB21 Live Feeds Subscription Link
Rank your houseguests —-> Big Brother 21 Ranking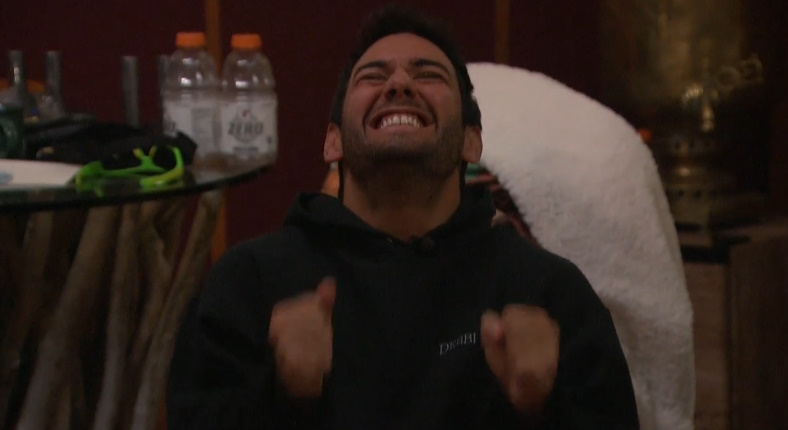 3:47 pm Cliff, Nicole
Cliff – I feel like we gotta do what's best for our game. As far as final three, Yeah I could go with them if it was strictly they take me Tommy takes you then I probably would say Nicole we're at different odds. It's not just that it's also what happens if either of us makes it or both of us make it.
Tommy joins them
C – we've already talked we're not voting against each other whichever way we vote we're voting together
N – 2 -0
T – I understand that I love and respect that. Sorry, wish I had a plan. My plan was to just sit down and talk
N – that's a fine plan
T – I love you both I respect you both so much. I admire your games I admire you for a while and I would love to stay in this game to work with both of you I would be on the same page. I want to go after Michie I would be fighting for that Veto. Umm.. I stand by what I said I would throw (HOH) I have never thrown a competition and I don't take it lightly.
T – I want to be here and I want to give incentive to be here and that is what I can offer.
T – not only will I be a number for you but will also would be willing to throw the HOH. As a way to show you both that I trust you both I would assume and hope that if one of you guys would win the veto we would be on teh same page.
N – it's a no brainer
T – I will never go against my word I have never gone against my word once on this game I never will
T – If I do end up at the end of this game I want it to be with the two of you
C – Tommy I think we're on the same page with that. You know how much I respect your game.
C – I've told you how much I would love a final 3 with us. I love Michie and Holly but Michie is going to beat any of us I think when it comes to a Jury vote.
Nicole agrees says everyone who has left has said if Jackson gets back this week he's won "wow personal disputes aside people admire his.. he's a beast.. he's amazing"
T – I want to be here I want to fight. Something else I wanted to tell you guys. It's been a really interesting summer for me. When I came into the house I met 14 new people. I knew Chrisite.
Nicole – ohh Tommy I'm sorry (SORRY!!!!! SORRYY!!!!!!! wtf why are you sorry)
T – no, it's good to get this out.. no no it's ok. Her ex-girlfriend she would talk about is a member of my family.
Michie comes in to use the toilet.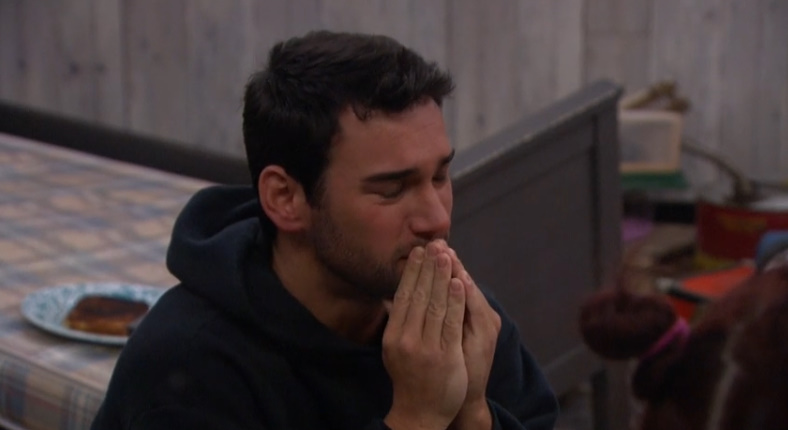 They relocate to the have nots room.
T – I told Michie and Holly a few days ago it was my lowest point in this game so far. They were talking about her alot and it was really hard for me to listen too. I also looked for the opportunity to .. I didn't know she was people's targets until she left (ZOMG)
T – I wanted a way to dissociate from her. when she would talk about Jackson I would say to her you're doing too much you have to stop. I love Christie, it's a very weird situation because I don't know what my family thinks because they had broken up and they were EX's and my family is everything to me. My biggest fear is that they are not OKAY with what happened. Cause.. cause… yeah I'm worried about what is happening on the outside.
T – I'm telling you because number 1 I was worried Michie and Holly would use it against me. I wanted you to hear it from me.
C – there were no details. they didn't tell me.
Tommy goes on about why he made some of the decisions he made because he was in a weird situation with Christie.
T – I want to be here, I want to fight I want to do this.
Cliff says there was a time when they would question whether Tommy and Christie knew each other. Feeds flip
When we're back
Cliff – it's not about Michie and Holly If they weren't a couple. If Michie wasn't such a strong competitor there would be a different discussion. I also know how strong of a competitor you are.
C – If it's the 3 of us no matter how it goes I applaud and cheer.
T – me too
N – I see it come final3 night I see our three families
T – I do feel at the time in the backyard when that incident happened I felt it was the worst thing in the world but maybe. Feeds cut.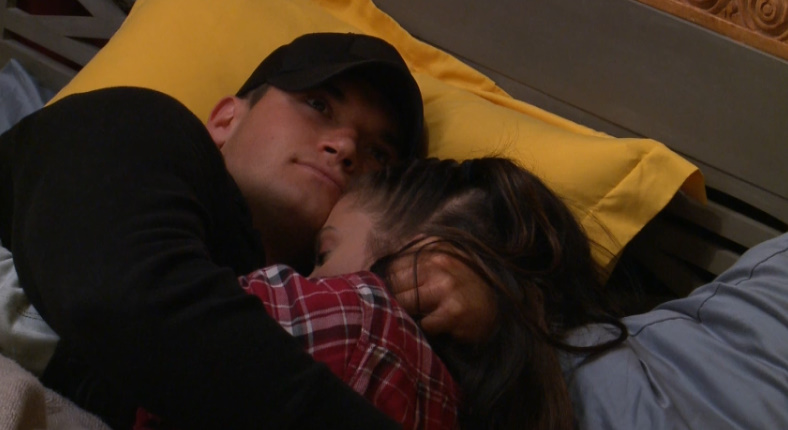 4:04 pm Jackson and Holly
Holly saying that Tommy is using Christie as a scapegoat for all his against them four. She brings up when they were in the bathroom talking about the good, bad and the ugly. "Tommy made a point about you and me"
Jackson – He brought up he's going after Cliff and Nicole
H – he just said that before the veto he was still team us because you were in power
Jackson – tell them what he said about the people in the middle
Holly – Nicole and Cliff are being so weird to me they are not being weird to Tommy. Nicole and Tommy are BFFs
J – that will be so shitty if they flip
H – mmmhmmm
J – I can't believe they are even considering it
H – I can't either and not hiding it. They are openly considering it.
Jackson – we need to get down there.
4:30 pm They head downstairs.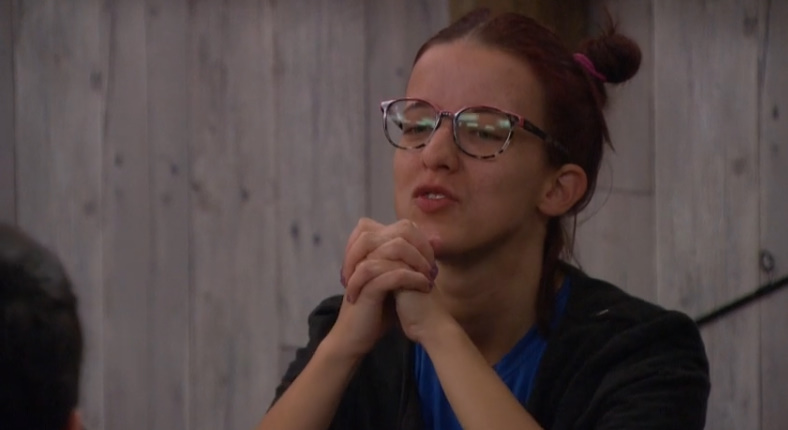 4:07 pm Cliff, Nicole and Tommy
C – I love you as a person, I love you as a game player I feel like we've had a connection for a long time.
C – I wouldn't offer to go get a tattoo with just anyone
N – I would like to be a part of that
Tommy starts talking about being a big believer in things that are meant to be and the feeds cut.
When we're back. Tommy is telling them "I am a good person at my core"
T – even with this situation with Christie I hear my mom in my head Honesty is the best policy it will set you free. I was scared but I was telling Cliff and Nicole. I have no expectation I appreciate this conversation.
Nicole and Cliff see no big deal that Tommy knew Christie.
Nicole – Okay, you're still Tommy. The tremendous game player the tremendous person
C – I have no problem with that
T – now you know why I made the decision why I had to be .. I couldn't .. it was a weird situation
Tommy says when he walked in the first day and say Christie he went blacked out then she won the first HOH and he was scared. "I didn't know if she would take the opportunity to take a shot at me"
Nicole and cliff are very surprised Christie kept her mouth shut.
Tommy goes on about how he LOVES THIS GAME.
Nicole – I'm sorry I sent her home but you're also welcome
T – I feel relieved to be here by myself.
Cliff – I love you man I really do love you
T – I do to Cliff
C – you offering to throw the HOH and the promise to go full-blown against Michie and not us. He's a threat to any of us.
C – Michie is a whole lot smarter
T – 4th place is better than 5th
C – Michie is too strong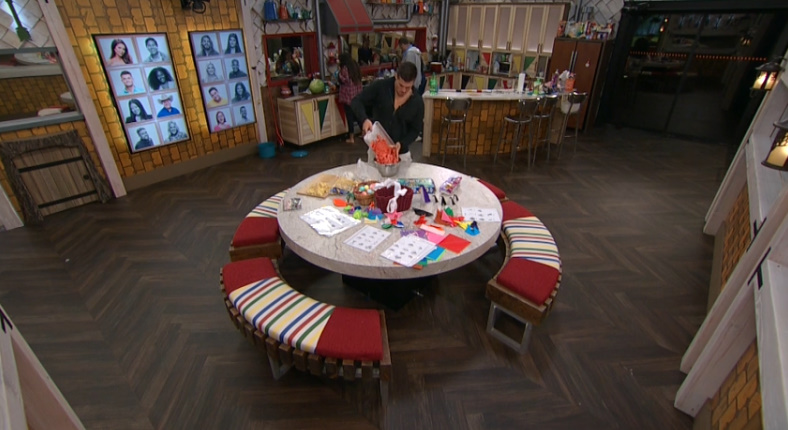 4:49 pm Everyone but Tommy.
Holly says Sis offered her money to drop. Adds that it's against the rules.
H – nothing ever happened of it. Full-blown collusions she kept going please Holly, please.. Feeds cut.
(BB21 where the rules only apply to some)
When we're back Cliff is saying if Sis won the HOH instead of Holly he would have been nominated.
Holly agrees isn't sure who the other person was going to be.
Holly- She (Sis) didn't want Sam to go.
Holly – it bummed me out Begging so bad. First of all, this is not allowed in the game.
Feeds cut
When we're back Holly brings up Christie and Tommy knowing each other and feeds cut again.
Holly saying that Tommy/Christie were the two spearheading the vote flip based on the assumption that we knew each other. (the Kat vote flip during Holly's HOH)
N – A little bit
H – you almost ended Kat's game based on assumptions
Feed keep cutting every time they mention the tomfoolery of this season. Christie/Tommy the "incident" in the backyard, breaking rules .. etc etc..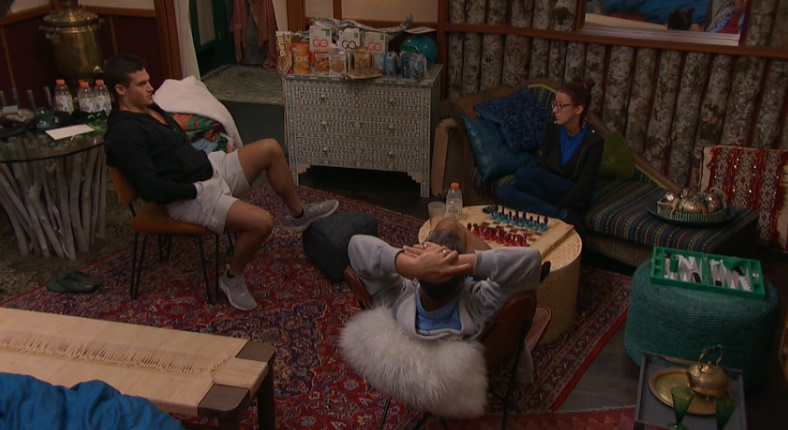 5:26 pm Jackson, Nicole and Cliff
J – I want to be in this house with Players that have fought
Jackson goes on about being here for himself, his family and the responsibilities he has outside of this house.
J – I don't know how to say this
C – say less than more
J – what I'm trying to say going into this eviction Tommy scares me in the final 4. Tommy Scares me on a competitor level.
Jackson – Tommy scares me with the jury and after he told me that about Christie it was scary. After Thursday there's an HOH to be played it will be you 2 plus one more.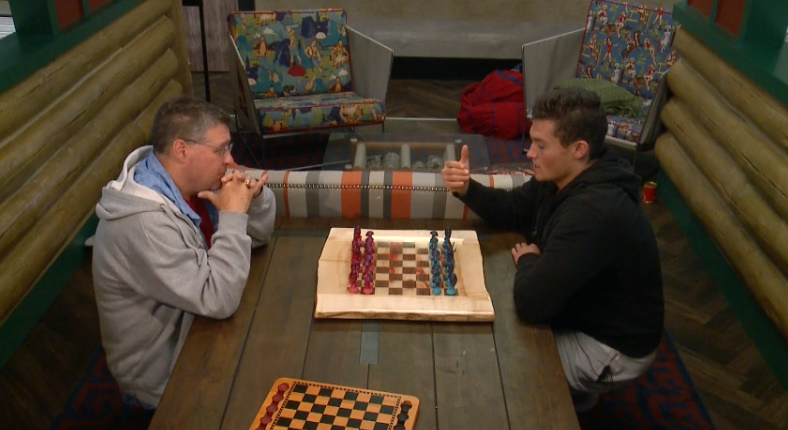 5:40 pm Cliff and Jackson
J – I would hate to see Holly go I care about her so much this isn't about me pushing for her it's about pushing for Tommy because he scares me so much.
J – I know he'll take Nicole
C – I do too
J – it terrifies me not being able to play in that HOH.
J – I came here as an individual. I walked out that door the same way I came in.
C – I read you loud and clear. You don't have to say anything more.
Cliff goes on about being torn up inside because he cares about Holly, Tommy, and Nicole.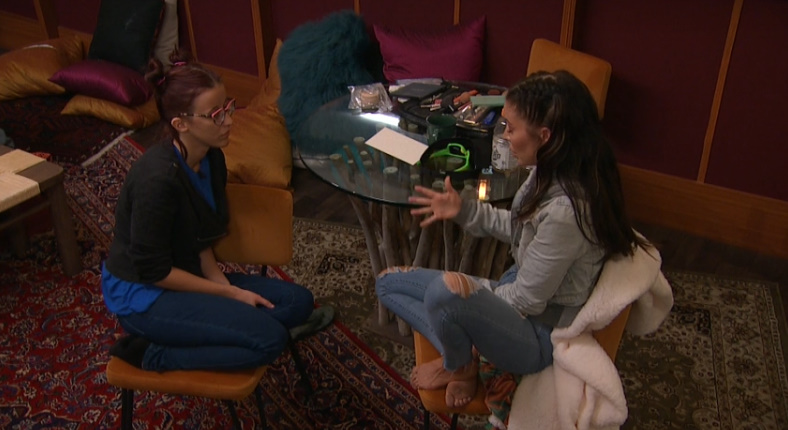 5:50 pm Nicole and Holly
Holly is filling Nicole in on how Tommy was trying to get in good with her and Michie before the veto.
H – the same day he told us about Christie. He said. Because he was apologizing and everything he was like yeah I hate that we would ever contemplate being on opposite sides of the house because of the middlemen.
H – he kept referring to the people in the middle meaning both of y'all
H – we made a final 4 and we shook hands and I was so solid on that and we went into the wall comp knowing that Tommy would put Cliff up. Knowing that.
H – Jackson didn't want to win it. He wanted to take a back seat for a little while.
Holly adds that they agreed to wait for Tommy to drop. "we knew Cliff would go home"
H – Even before we were final 4 we protected Cliff.
H – if it is the four of you guys and Tommy does make it to final 2 I know that it'll be a jury sweep (agreed)
H – He has Jack's vote, He has Sis' vote, Nick if it was the two of you I don't know. Christie obviously so that's three.
Holly adds that now that Christie is in the jury she will sway them towards voting Tommy.
H – my alliance members are all sitting in the jury house. They granted they burned me and took the first shot. They ended up there and they are not happy about that.
Holly says Sis told her on her way out that she's throwing her game away to Jackson and that she's stupid.
H – she's not happy with me at all, Jack we were never close I don't have his vote at all.
H – kat I love her but on a game level, I don't know if she'll vote for me.
H – Jess feels betrayed by Jackson and I. I don't think I have her especially after her personal attacks on day 58
H – I sent Nick out the door so that's obvious.
H – Who else is in Jury? I have a potential 1 with kat.
Holly pushes the angle that she won't win Final 2 against Nicole.
Nicole says she doesn't expect anyone's vote except for maybe Nick. Adds it all depends on who she's up against.
H – I hope this doesn't sound offensive, everyone loves an underdog story and people in this house have underestimated you.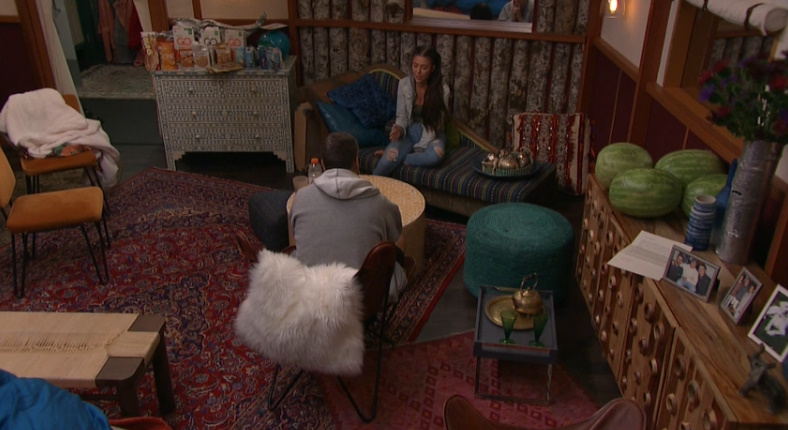 7:00 pm Cliff and Holly
Holly campaigns.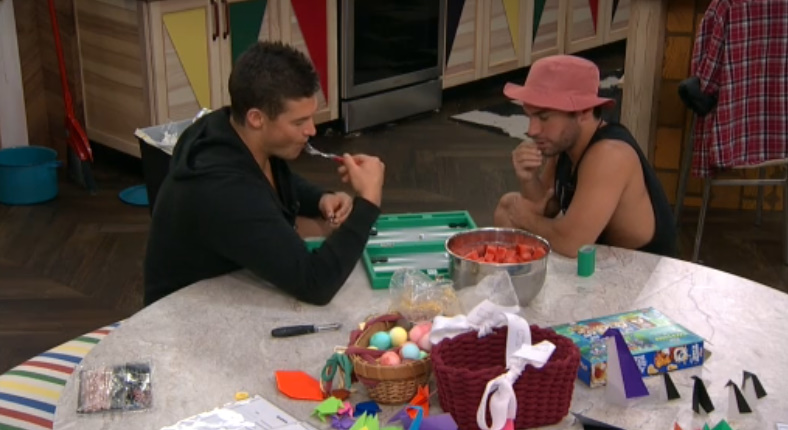 7:10 pm Jackson and Tommy
watermelons and backgammon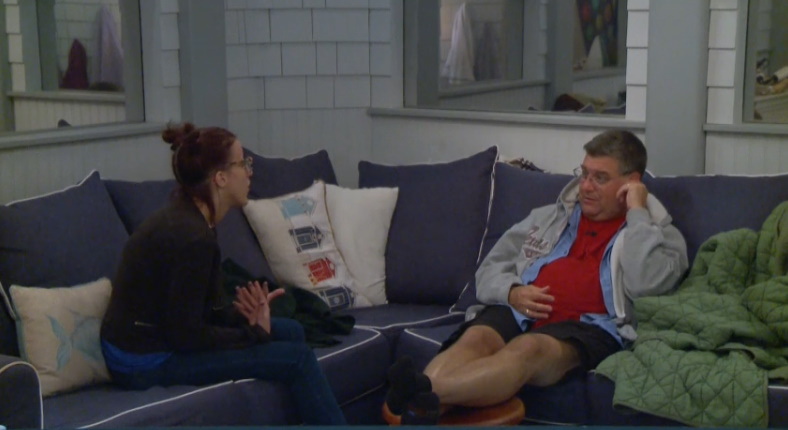 7:41 pm Cliff and Nicole
Cliff says that Jackson told him he would take them to final 3 over Holly.
Nicole doesn't see that happening. She doesn't see him taking Holly out if he wins that last Veto.
Nicole says Sam and Nick both pleaded with Holly to keep them and they said no
Nicole – you were so quick to tell those people no and now you want another week. I can't get past it.
Nicole – I wasn't part of the 8 I wasn't part of the 6
They go on picking apart Holly's campaigning attempt.
Neither of them believes Tommy will have a clean sweep in the jury.
Cliff says even if Holly is right and he gets all the jury votes. If it's the three of them in final 3 at least one of them will get 50 thousand dollars.
7:50pm Holly and Jackson HOH
Holly going over her conversation with Nicole
Holly – it seems like her mind is already made up she was very straight-faced.
H – she was like Yeah but.. No not but. You shook our hands made a deal. you made a promise even after that and now you are completely backtracking .. completely and making me feel like an idiot.
H – like what the f* Nick just went out and he made me promise to keep Nicole safe. and I promised him I would do anything I could to protect her. And now Nicole is here ready and willing to backdoor me (hmm not a backdoor)
H – she's being very emotionless about it which is very not Nicole. She's very cold
Jackson – Cliff and Nicole. Remember the day the speaker came. about Tommy and we got that lockdown that was what it was.
H – that was Christie and Tommy knew each other
Feeds cut.