Support this site by purchasing your Amazon goods through our links below. It doesn't cost you anything and we get a small commission off your purchase.
Amazon Canada
7pm – 9:20pm
Its a slow night in the CBB house .. Kandi playing solitaire. Ricky stretching and Tom laying in the HOH bed with the lights off.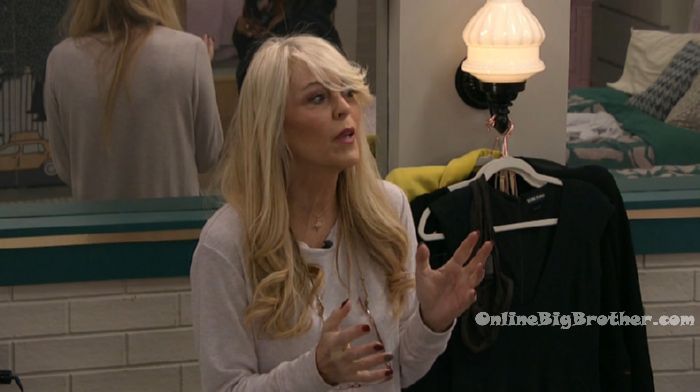 9:25pm Bedroom. Kandi and Dina. Kandi – girl.. when you were asleep earlier, all hell broke loose. Dina – what the hell happened?! I could have slept right through till tomorrow morning. I got scared like what's happening? Where the hell am I. Kandi – na… when I was up stairs playing pool with Tom.. you know how you said he light weight threatens you? Dina – it wasn't really light weight .. he was like I'll be really angry. And Ricky will come and play for me. And he was like you know Ricky will come to my side. Kandi – when I was playing pool with him earlier he was like I just want to let you know I am pulling Natalie off the block because I need Ricky out of here and I want to make sure you guys are …So I am thinking of pulling her off the block because I need Ricky out of here and I want to be sure if you were going to vote for Ricky. I told him I don't like what you're threatening. Big Brother switches the feeds.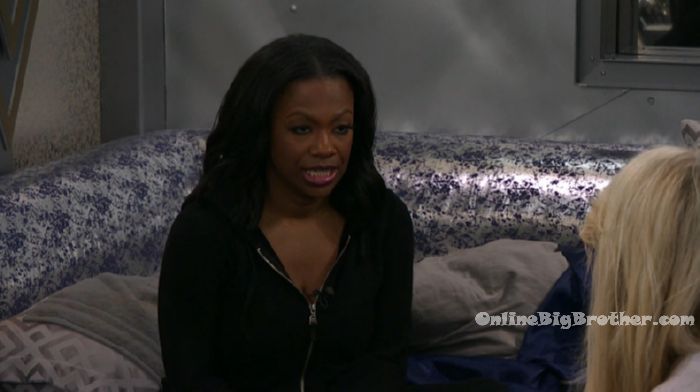 11:13pm Lounge room. Kandi and Dina. Dina – I'm praying people … that the universe has our back. Dina whispers – and we have to because at the end we don't want Kato and Tom mad at us .. and flip on that. Kandi – yeah, that is true. Dina – but I like him anyway .. he is just being reclusive. And if he is with us they're going to be like Bla Bla Bla… but they'll see that the proof is in the pudding… like they're going to be cool because she'll be here. They're both so good though. But Tom is a better player. Kandi – he is. Dina – but you need a good player too. And Lolo comes close ..I am waiting for her to kick in. I think Lolo is so pretty ..she has to get her confidence built. In LIFE not in her GAME .. she is an amazing athlete. Nothing can touch her there. Kandi – I am just going to tell him. Look dude, I don't appreciate your approach but I don't want us to be arguing or have bad blood so I am going to let you have this one this time. And so we will just vote for him (Ricky). Dina – you better have a pinky swear. Kandi – although I still feel like it is the wrong decision. And I will just keep it at that. Dina – and Ricky doesn't win. Lets go talk to him. He thinks Ricky is manipulating the girls but no .. we're the strong ones. Kandi – what I do know is we better win a dang HOH so we don't end up on the block.

12am Ricky is playing cards. Dina and Kandi are playing pool. Meanwhile in the bedroom. Lolo and Natalie. Lolo – I don't think he his coming after .. like you think. He wouldn't have given that conversation …like he did. Natalie – yeah but he did. Lolo – if he (Ricky) really wanted to go after votes he would be upstairs with Dina and Kandi. I am just keeping it real with you. He has just been chilling in the kitchen. I don't want you to have negative feelings towards Ricky in the last few days .. I'm just being honest. Natalie – I know. Lolo – he already has one more vote to get over you. He's been always truthful to us. He's been a solid teammate. Natalie – I'm not trippin. If it goes down, it goes down. I can't do anything about it. It is literally out of my control. Lolo – but if you just calm down and do the math, you already know that you're going to be good. You need two. You have me, you have Dina, and you have Tay. And if you don't have Tay.. then you have me and you Dina. Natalie – oh my god do you think she wouldn't vote?! Lolo – I am just saying you have multiple options. Ricky has to get three.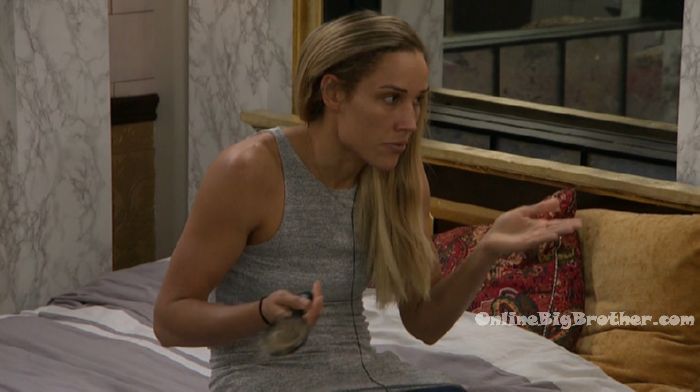 12:54am HOH room. Tom spying on the house guests.. Tom heads down to talk to Dina. Tom tells Dina – I just want you to know that everything is fine and you're safe. Dina – I cried in there to her (Kandi). Tom – I know, I know. I want you to know that everything is fine. I was hiding out. I don't want to talk to anybody. Everything is fine. I am going to hide somewhere and sleep. Don't tell anyone I came to talk to you. Dina – so still Ricky? Tom – everything is fine. Thanks Dina. Tom heads back up to the HOH room.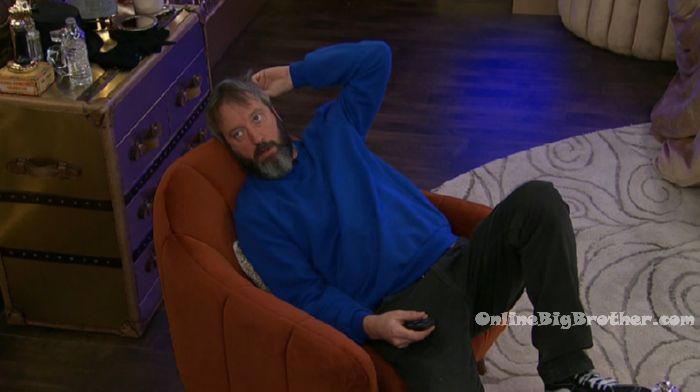 1:23am HOH room. Tom – I am satisfied with everything I've done on the show. I've won two HOH's and Veto twice. I've made some good friends. This is a very .. its a time to reflect and be thankful for all the good things that have happened in the house. It would be odd to say that is hasn't been a difficult thing to go through at times. Its hard living in close quarters with people that are actually gunning for you. I would say that some member of this season have gotten so into the season that they left their good sporting nature at the door. It has been very very vicious and mean spirited. When they win a competition .. they celebrate like you have never seen. The victory dance when Tamar won HOH… when they knocked out Kato. The victory dance… the display that they put on was frankly .. I was embarrassed for them. I don't know that they are aware at how it looked. It just looked like an incredible display of poor sportsmanship. And it made me sad because we're supposed to be having fun here. There are people in the world with real problems and we are very fortunate to be on an amazing and incredible journey playing this bizarre and crazy cool game. What I did today after winning veto .. is I made a decision.. I am not talking to them. I brought food.. as you can see I have pizza. I have salmon. I have cheeses. And I am not leaving this room until the veto ceremony tomorrow .. where I am going to surprise some people with my decision. Okay! I know people on the block and off believe that I am not going to use the power tomorrow but lets just say that nothing is off the table and its going to be an interesting .. interesting time. I don't want to gloat or act overly cocky. I would say that everyone in the house wants to win more than I do. I don't want to say that I don't want to win because I do. I am going to try and win and I'm going to use ever bit of brain power and strength that I can muster to try and win celebrity big bother this year. But I am not going to trade my dignity and self respect for a few bucks. I mean a lot of money.. who are we kidding. Its actually a lot of money .. maybe I should trade my dignity and self respect for that. Look the thing is its a huge amount of money and people act a little strange and weird and discombobulated when that's at stake. Everybody wants to win and that amount of money makes them do things that they wouldn't normally. In this game people get ANGRY and it is frankly very revealing. You don't know the extent to how quickly people will turn on each other just because of greed. Only certain people will do it.. I don't blame them. They're not actually in control of their actions. Dina has been very supportive. Kandi is too but I now know that after telling her something she will walk down the hall and tell everything you've told her. I am here in the HOH room .. one day away from being powerless. I am resigned to the fact that this could end quickly now.. I've got too much blood on my hands. I just know if I get put on the block next week, I have to win the veto.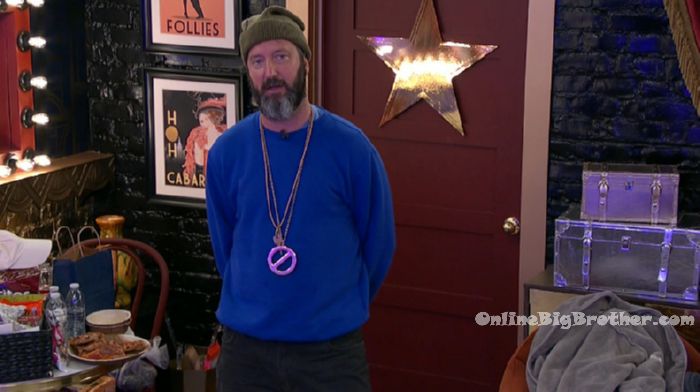 2:40am
All the house guests are sleeping..
If you've enjoyed our live feed updates this season, please consider donating.
Any amount is greatly appreciated! Your donations go directly to paying the fees required to run this site.