Big Brother Spoilers – The Veto will be played today. Ricky and Natalie are on the block. LOLO, Natalie and Ricky are not taking being broken up well..
LOLO wasn't picked for the Power of Veto. Everyone else was..
Tom Wins the Power of Veto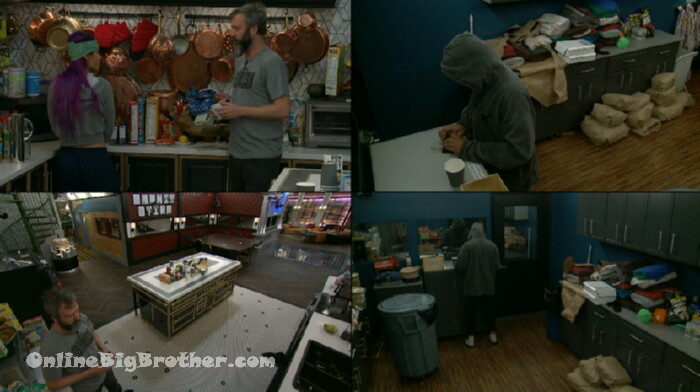 Houseguests are woken up early this morning..
8:28am Tom and Natalie in the Kitchen
Tom – good luck today.. I hope you win it
natalie – thank you
Tom – just want to let you know on the record what changed my decision .. it was because somebody else was so upset about being on the block so I had to change it.. (LOLO)
Natalie – no worries..
Tom – that's all.. I hope you win
Natalie – THanks you
Tamar joins them.. Tom says the veto is today..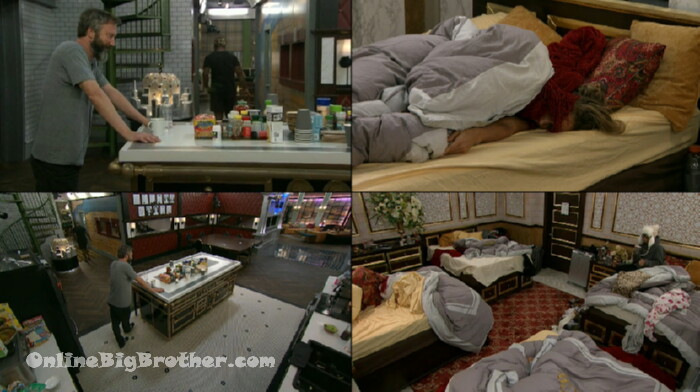 8:35am Tom in the kitchen
Ricky walks by
Tom – good morning Ricky.. what do you think the event is?
Ricky – YEAH
Tom – YEAH?
Ricky – YEAH
Ricky walks into the bathroom
Tom laughs "cool man"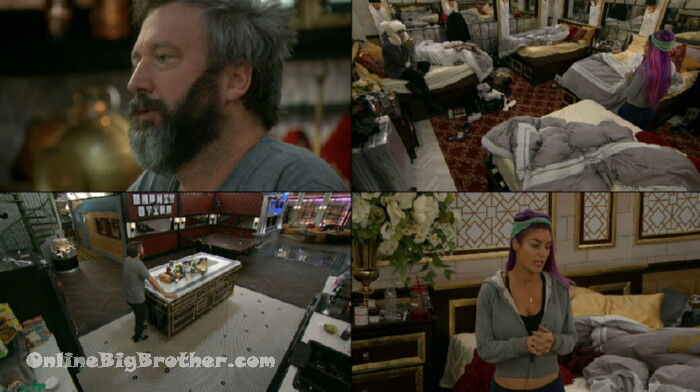 8:36am Natalie, Tamar and LOCO
Natalie going over what Tom told her in the Kitchen.
LOLO says Tom was talking about her
natalie- yeah of course
LOLO – he's trying to pit us against each other now
LOLO about Tom – Doesn't matter he can do whatever it is he wants.. He's a terrible F8ing human being
Feeds cut… .
When we're back
Tamar – ARE YOU SERIOUS… at this stage of the game why would you want to backdoor someone for what
Natalie – that was my conversation with him basically he would keep me safe and keep me off the block but if somebody won and I would be up so backdoor.. Him telling me that is like RETARDED..
Production tells her to move her microphone higher
Natalie – good you didn't get that word.. (LOL)
LOLO is saying none of them will want to talk to Tom after this.
Natalie – he doesn't care..
"I don't think he came here to make friends" (kato?)
Ricky comes in ..
Natalie fills him in on her conversation with Tom earlier..
LOLO – This mother f*er talked to me about training for the Olympics and not having health insurance that's a different mother f*ing story
LOLO – CBS F* you for letting somebody do that.. that's someone's mother f*ing dream
Tamar – LOLO
LOLO – I don't give a f* that's ,….
And the feeds flip..
You can vaguely hear LOLO in the background "That's f*ed up I don't have health Insurance" (Coming from a Canadian I agree that is f*ed up )
LOLO – you mother f*ing piece of sh1t that's my f*ing life… that's f*ed up
LOLO mentions something about Kandi going around saying she doesn't need the money .. "that's f*ed up"
LOLO – I wasn't upset about going on the block I was upset about having no health insurance …
LOLO – I came on the show for that reason.. and they want…
FEEDS CUT..
(WHOA)
When the feeds come back LOLO is talking about medical bills than says she knows if she doesn't win that "god will provide"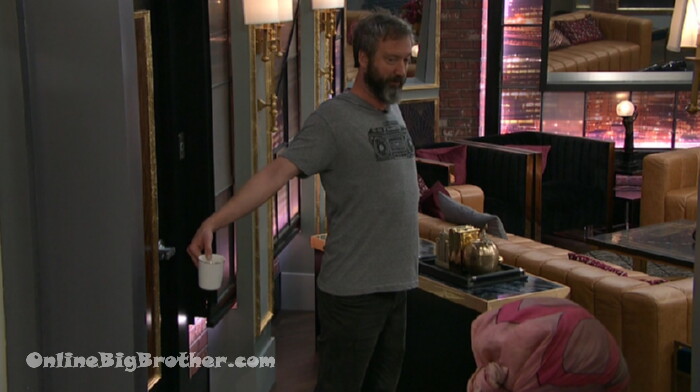 8:50am Feeds are back.. Tom alone in the living room
Tom – in this event the HOH has to go get groceries in a real grocery store …
Tom going through made up events…
Tom walks up to Kandi tells her about everyone being pissed at him
Kandi – everybody is waiting for the veto
Tom – Ricky .. they're just MAD..
Kandi – when you and Kato were on the block you kept separate to yourself to
Tom – I was talking to everybody.. they're not talking to me.. It's not that I haven't been trying to talk to them
Tom – I think it really is like … not a good look.. if You're mad in here.. not a good look like people need to lighten up. It's a game! only 1 person can win in that theory they should be mad at everybody
Kandi laughs
Tom – everybody wants to win and everybody… there's just one winner.. doesn't make sense to have three people mad..
Kandi – that's true
Tom – they should be mad at each other too only one of them will win people need to lighten up and have fun.. only makes me want to fight harder so it's backfiring strategicaly.. getting all mad and angry at me.. makes me try harder in the competitions that's why I'm winning them I wouldn't normally be winning this stuff..
9:41am Feeds back POV players have been picked. LOLO wasn't picked for the Power of Veto. Everyone else was..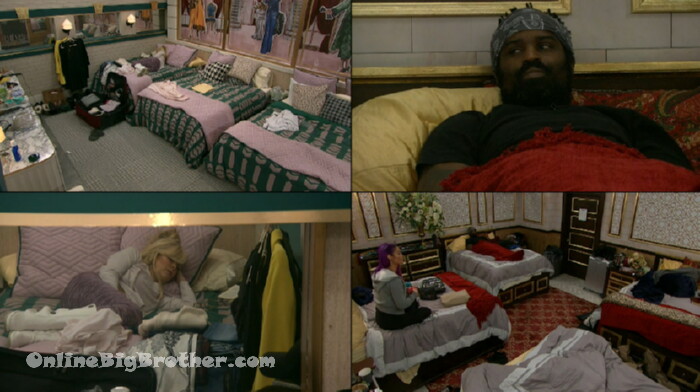 11:11am Either sleeping, Chit chat.. or bashing..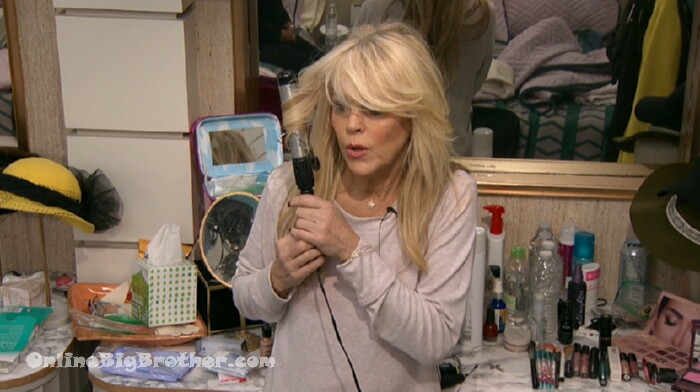 11:40am Dina and Kandi
Dina – Tom goes to me I'll be very angry if you don't vote the way he wants.. he goes .. Ricky will go to his side.. don't tell him I said that.. That's a threat like what is that..
Dina – he goes You know you can't keep up with me if you don't vote him out..
Dina – that shocked me.. what do we do.. I don't care about the game nobody threatens me..
2:46pm Feeds are back.. Toms won the Veto!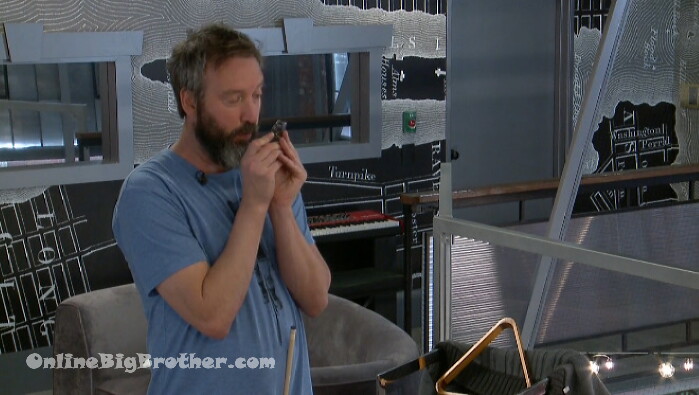 4:10pm Tom and Kandi playing pool
Tom asks Kandi if anyone other than them and Dina will come out of their room tonight.
Kandi – it's only 4 o'clock they may be taking naps.
Tom – I'm still thinking about using the veto
Kandi – and do what
Tom – put up somebody so I can guarantee to get rid of Ricky
Kandi – OH MY GOD.. that's not a good idea..
Tom – I don't want Natalie to go I want Ricky to go. That's a real thing I will probably use the veto unless I feel totally confident.
Tom – I'm going to tell them they are a pawn
Kandi – I'm telling you now it'll bite you in the arse
Tom – I'm telling you now I can't deal with it anymore
Kandi – you are letting your emotions control you
Tom – he is controlling the moves of the entire other side of the house
Kandi – why do you believe that
Tom – they crowd around him like the ZEN master of the game
Kandi – no
Tom – trust me.. I am very perceptive..
Tom- I think you are not going to do what I want you to do.. I'm going to have to do something else to get my goal accomplished
Kandi – you trippin
Tom – You seem to have very strong feelings about this
Tom – there's some people in here you would not vote to evict
Kandi sighs.. – Oh my god.. that doesn't mean they won't .. that's the part you are missing.
Tom – I can have them vote with me
Kandi – you're not thinking
Tom – Dina will vote with me and I'll be the tie breaker..
Kandi doesn't sounds like she thinks Tom can get these votes unless that's what people want.
Kandi says she doesn't like where the conversation is going because it's starting to sound like "Threats"
Tom – I've been getting emotionally targeted for like 3 weeks
Kandi – we're about to be outta here in 1 week
Tom – I want to enjoy my last week here.. I would rather be gone than suffer one more week in this environment. (With Ricky)
Tom says he would rather lose than have to spend another day with someone (ricky) staring at him all day
Kandi – you're not even around each other
Tom – you know man.. it's not cool..
Tom – Help me Kandi
Tom says he's going to talk to Natalie and LOLO
Kandi – People don't like threats tom
Tom – I'm not threatening anyone.. It's a game it's unfair for people to use that word we're playing that game.. it's been used before it's not fair..
Tom – I've don a lot in this game I've won a lot of things I'm asking for a favour that's all.
Tom – I've won more stuff that all three of them combined..
Kandi – Ok Buddy
Tom – I have I've won 4 they've won 3 ..
Kandi – you can't compete for HOH.. me and Dina can.. we have a better chance of beating Ricky tan Natalie..
Tom – Ricky will win next week and I'm outta here
Kandi – Either one of them win you gone (Nat/LOLO)
Tom – I can convince Nat and LOLO to work with us
Kandi shakes her head..
Kandi – you are over estimating your ability to influence..
Tom – I don't want to put you in a awkward position but you have a choice to. We can work with LOO, Natalie and Dina get to final 4
Kandi – there you go with the threats.. (WTF)
Kandi – who has been supportive of you since the beginning..
Tom – Nat, LOLO me you and Dina..
Kandi – I am not agreeing to that you know good and well me and Tamar are cool .. like don't do that
Tom – it's an option..
Kandi back to calling what Tom is doing threatening Tom keeps telling her to stop using that word
Tom – it's a unfair word to use.. I'm looking at all the moves.. I'm talking about every option..
Tom lists all the options.. "I look through all the moves I count where the votes are and I ask people to vote the way I would like them to vote"
Tom – I try to get them to look at what I am trying to do as HOH..
Tom – it would be the best thing for you and Tamar.. (get Ricky out)
Tom – I will be super stoked that you helped me everyone is trying to knock somebody out.. you can't say one person is threatening another.. Are we playing pool or are we threatening each other it's a game..
6:00pm
Between feed outage we can see Tom dancing in the HOH room wearing all his HOH key and Veto necklace.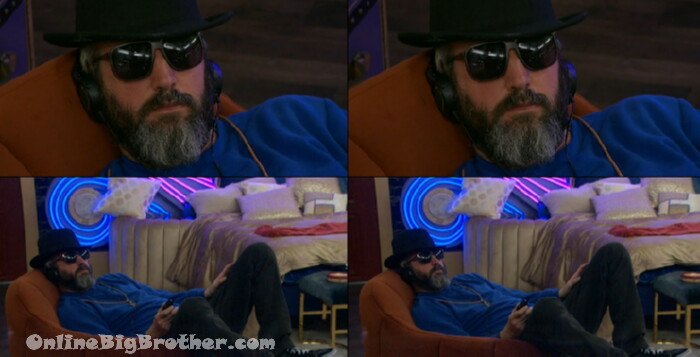 7pm