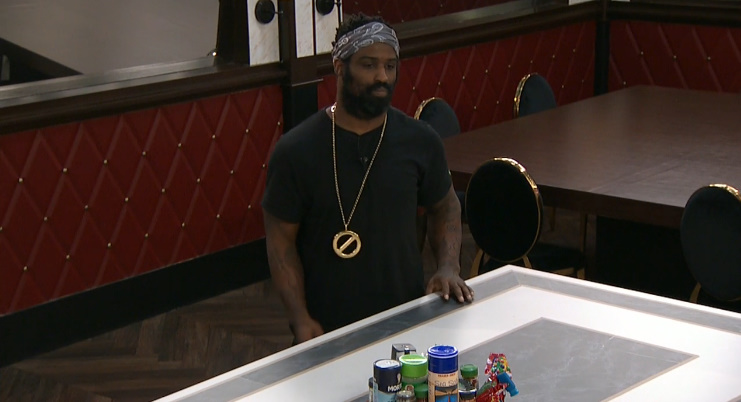 9:00am Houseguests are woken up.
12:30pm Tom used the Power of Veto On Ricky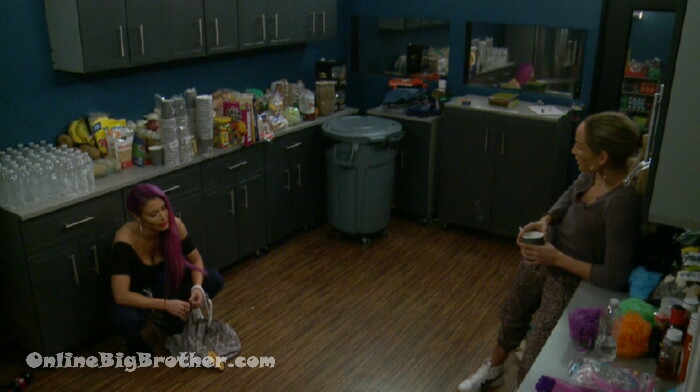 12:50pm Natalie and LOCO in the storage room
LOLO – it's frustrating.. you know.. we played really good games.
Natalie says Tom saving Ricky as game play and it was smart
LOLO mentions that Kandi and Dina aren't really against Tom.
LOLO – he had other moves.. the fact is they didn't like each other
LOLO – I always try to see the goodness in TOM (ZOMG)
LO again – I've always tried to see the goodness in TOM
LO – I was always teh first to fight for him
Nat – you're right
LO – I don't want to hold ill feelings to anyone and I'm trying to see the goodness in everyone
LO – I can still see the goodness in TOM .. If I try to understand TOM at this point.. I can't
Nat – no..
Lo – he's honestly.. yeah.. yeah.. I Dunno
Lo – It'll happen when it happens..
Nat – yeah..
LO mentions when you are on the block "you become instantly invisible"
Natalie says she's felt that way for the last couple days.
Lo says she's always been by Nat's side.
Nat agrees says it was more the "awkwardness" of walking around the house while on the block.
Lo – Ta thought she was going up I thought.. there was still options.. now I am on the block there's no options they either vote for me or they don't
Natalie says Tom's goal was to split up them three and it's sucking they lost the HOH.
Nat – that is why Big BRothe ris big brother
Lo – or the veto.. I didn't even play in the veto..
Nat – even if I won the veto you would have been up
Lo – it would have been up against Ricky.. this is not an easy decision for the house.
Nat – I feel like… like the house will do a split so we have a tie it'll go to TOM
Lo – the house has been against the split the whole season
LO says that Tom told her he's not going to backdoor her.
Lo – he's told me 2 times things he is going to do and didn't
Nat – same.. whatever..
Lo – I am going to have a conversation with him..
LO plans on talking to TOM asking why he told her he wasn't putting her up and wasn't backdooring her and did.
LO says it really hurt her the other day when her "personal stuff" was brought up ..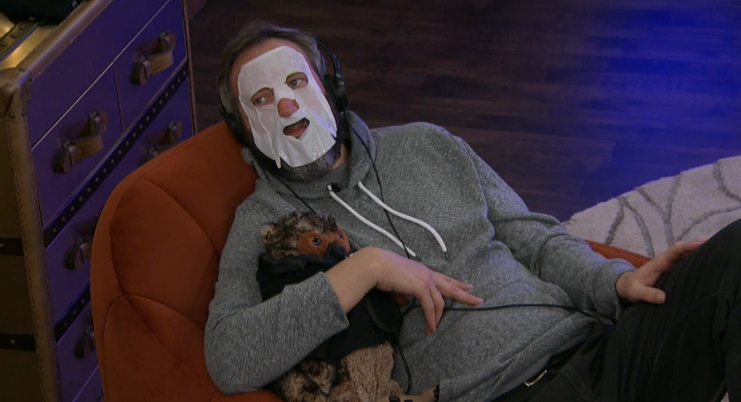 1:36pm Chillin…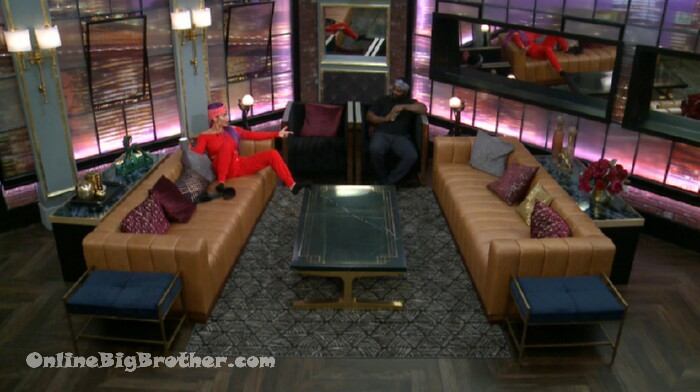 3:00pm Ricky and Natalie
Ricky says this game helps you process disappointment..
Natalie – homeboy said I was safe.. (Tom) Then when we sat down at the table within 2-3 hours of our conversation and i'm up being able to like um… not not freak out.. WHAT! YOU SAID !!!
Nat says her not freaking out was "Solid.. for me"
R – yeah I get it I 100% get it.. anbd being able to go through all this and keep your heart open
N – Totally and not be so ….. the only person that I think I was kinda shunned I guess you can see mean mugged was Kandi.. I already told her.. I squashed it..
N – It was because she wasn't on our side that's on me not on her
N – and I've leaned to shut my mouth I've put it out in the universe he was going to use the veto on you last night I should have just let it sit.. (LOL)
R – it's so crazy to me the way things work out.. little choices we make in the spur of the moment creates a chain reaction
R – even the veto competition that was trippy for me
N – part of me thought you threw it
R – well.. uhh… yes and no.. when it came up I have really good short term memory I should have done really good at .. I knew I was spent.. The voice in my head said (?click launch? ) . I just trusted in it and did it.. and I guarantee if I competed more or went longer it would have been different
Ricky – I would have preferred it if you won it over me I felt confident in my chances.. I had a really good speech.
R – the thing I love about games.. it's not the winning or losing it's awe inspiring how things change and move and they all lead to an end result..
R – the beauty is the synchronicity and the process
Nat – You see how affected people get by a drop of a dime.. one minute they're safe .. Tamar is a perfect example.. That is SO interesting…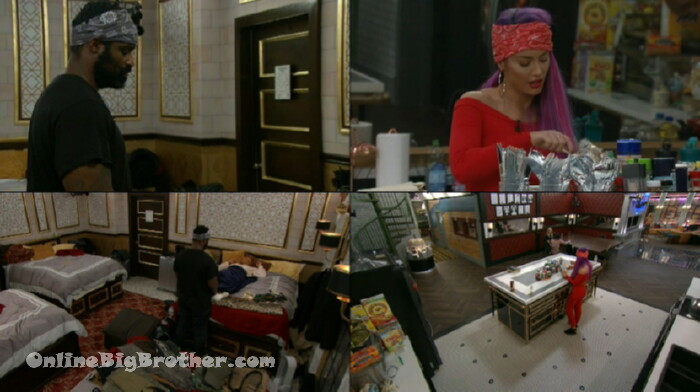 3:51pm Cards and Healing Magic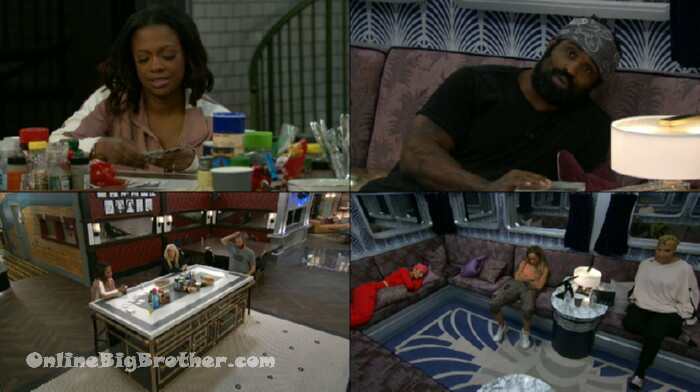 5:28pm Chit chat
Kandi, Dina and Tom in one room Ricky, Tamar, Natalie and Tamar in the other
6:55pm Tamar and Natalie
Nat – what would you do in my position
Tamar – I would talk to Rick and Dina and ask them straight up because I would like to stay and I would like to fight.. you're going to have to suck that up
Tamar – why do you feel bad fighting for yourself?
Nat – They're right there..
Tamar – go talk to them …
Nat – exactly that
Tamar – exactly that do I have the votes to stay
Nat – what do I tell LO that I petitioned against her
Tamar – not that you petitioned against her you're asking do you have votes!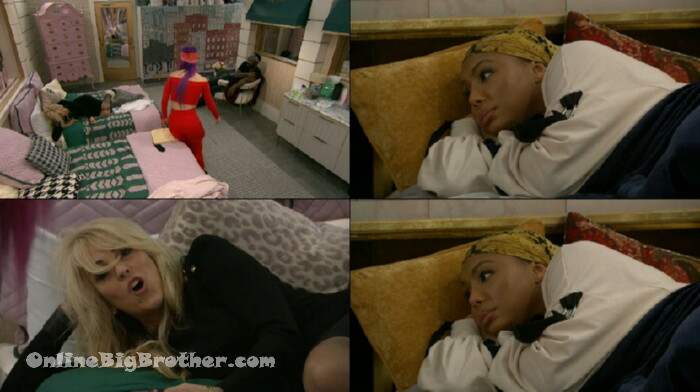 Nat leaves.. to talk to Ricky and Dina
Nat – I don't have much time because lolo is in Diary .. I just want to put it out there and I don't want anything to be weird or awkward
Nat – I want to stay and compete. I like this game I like to stay.. I wanted to come and just know face to face if I had your guys votes to stay
Dina – I'm kinda shocked right now because you guys are like best buddies.. I just can't give an answer right now.. completely honest I'm like WHAT! like you two are like like sisters
nat – yeah totally
Dina – It's gotta be harder for you guys
Nat – it is.. I was going to give it to her. .I feel bad I have a husband i'm walking out to she doesn't but then TA was like that's not .. you shouldn't that's not no..
Nat – so then i'm like… that inner… ugh..
Rick – I get it
Dina – it's crazy…
Nat – it's one of those things I would rather know.. like we told JOE before.. so we're not both sitting up there .. we already know what's up that way it's easier.
Nat – I really had my mind made up.. and essentially take one for the team but then…
Ricky – it goes in and out
nat – Tamar was like why should you take one for the team that's not fair either.. SO … I dunno..
Dina – Breath.. you just gotta breath..
Ricky tells Nat he's leaning to keeping her but he still wants to talk to everybody "85% unless there's some craziness in the air"
Rick – I'll tell you before
nat says she wouldn't want to it come down to a tie breaker.. "it gives TOM the power to decide on the spot.. I think he would pick LO but I don't know and I don't really want to have another conversation with him"
Nat leaves…. "thank you ok cool"
Ricky asks "real talk" what is Dina thinking
Dina says she has no relationship with the girls they've never really talked, "She rents old properties (NAT).. and she told me about her husband a little bit"
Dina goes on about how she'll base her vote on who the better player is