Last EVICTED HG: Carson
Head Of Household Winner: Todrick
Nominations: Lamar and Todd
Power of Veto Players: ?
POV Winner: ?
Veto Ceremony Results: ?
Evicted: ?
Double Eviction on Monday
Todrick nominated Todd & Lamar. If either of them win the veto he will put up Cynthia. Todd is the target this week but if he can't get out Todd he wants to get out Lamar.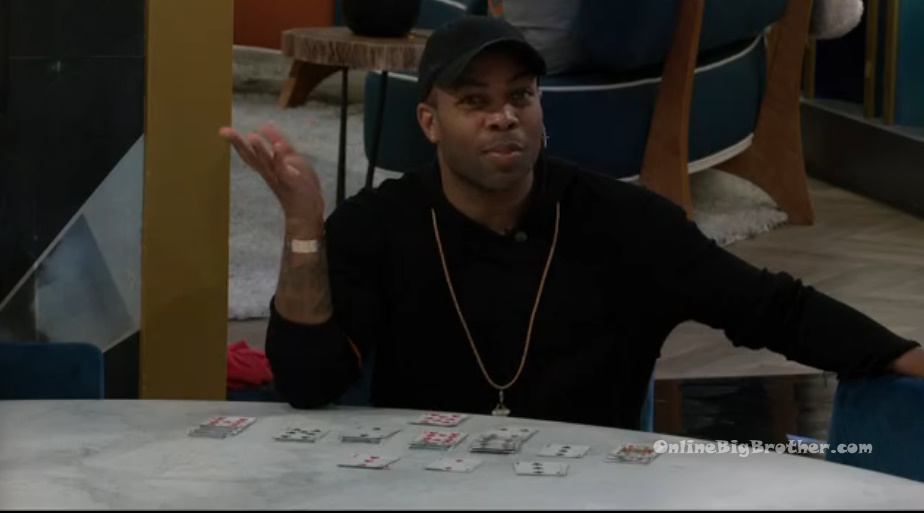 11:52pm The Live feeds return. The house guest are talking about the HOH competition. It was an individual timed comp. Todrick did it in the fastest time and won HOH.
1:26am Bathroom. Todd and Lamar.
Todd – they won, we're definitely in trouble. I don't care though. Lamar – no I don't care. Todd – it doesn't matter what happens to me. I'm just tired. Lamar – I don't mind competing but when you're playing against a team that really really want it more than you. It will show up in the long run. Todd – I could have won. Lamar – I think him and Miesha want it more than us. You feel me!? And I ain't mad at that. Todd – they'll probably get rid of me because I can win competitions. They'll get rid of me. I'm close to them, I'm right on their heels. I'll probably be gone next week. Lamar – who will they put up? Todd – probably me and you or me and Miesha because they're not afraid of Cynthia. I think she got one right. Lamar – that's fu*ked up. Todd – Na in the taste test. Its going to be me. I'm the public enemy number one! I'm scary because you never know what you're going to get out of me.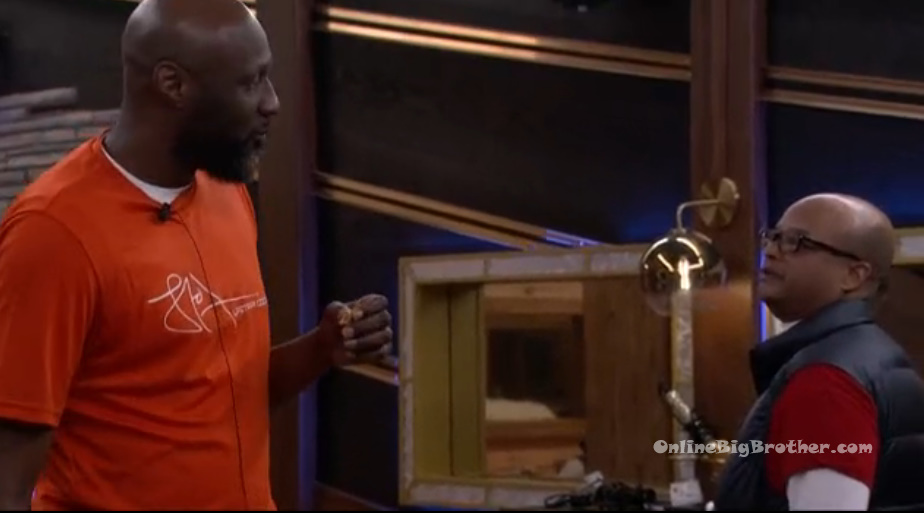 1:50am – 2:45am Cards, cards and more cards.
2:46am Todrick comes out of the diary room. "Who wants to see my HOH room!!!" They all head up to the HOH room and check out his room, photos and letter. Miesha – how does it feel. Todrick – it feels the same .. I just really really wanted to get a letter from my family. And I got a video today and then the letter .. it makes this whole experience worth while and I am glad I get to do it right before the final push. They all congratulate him on his win.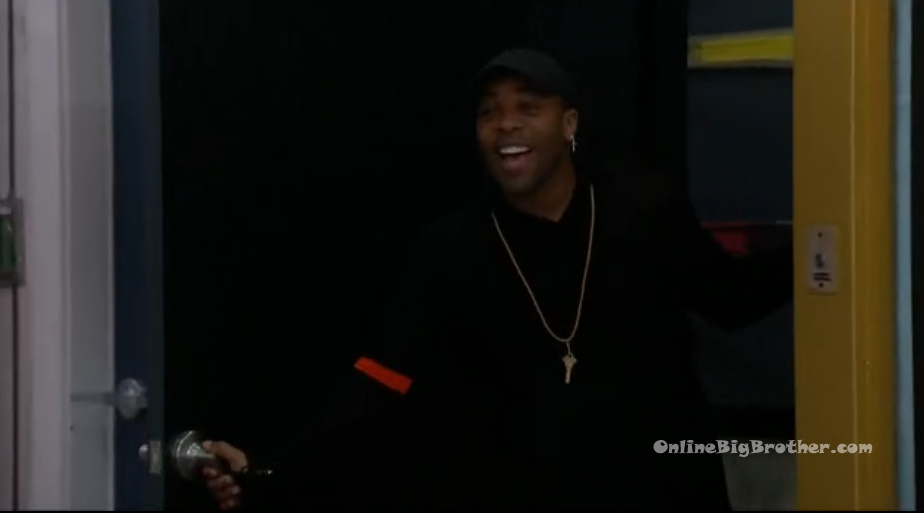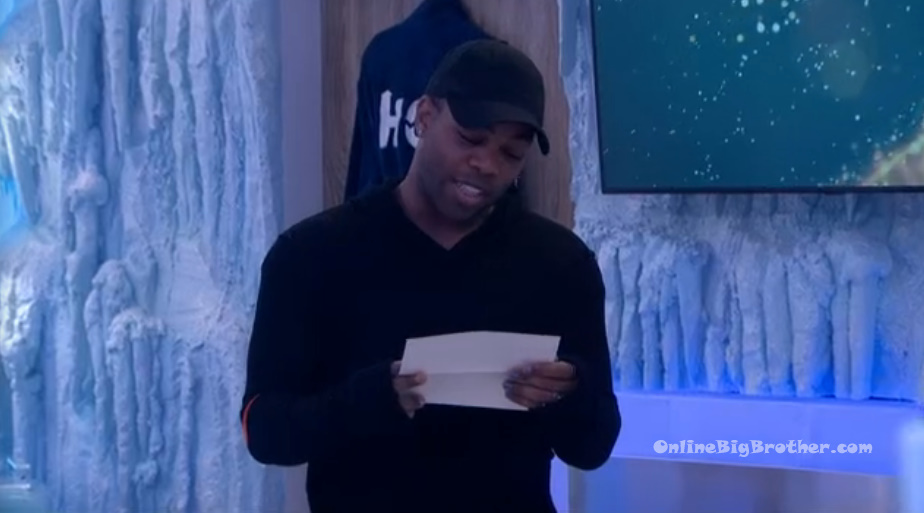 2:56am – 3:28am HOH room. Miesha and Todrick.
Miesha – I am so happy for you. You deserve this. Todrick – as the biggest big brother fan in the world.. Miesha – this is everything right!? Todrick – you're not obsessed with this game as much as I am but like this is like the coolest thing that has ever happened to me. Miesha – I love it. Todrick – And I'm sure I'll be passing the baton right back to you. Miesha – yeah I'll be waiting behind you. Todrick – can you believe this? Miesha – its perfect.. so literally perfect! Todrick – I know! Miesha – it could not have worked out better! Todrick – and if we win that veto?! Miesha – yeah. Todrick – I am really excited to be in here but I am already thinking about how tomorrow I'll have to I have to make nominations and that's already stressing me out. Miesha – welcome to the position. Todrick – and now its like you have to nominate 50% of the house at this point. I already know what I need to do so at least that's easy and I don't have 11 people to choose from. You're going up… just joking. Miesha – I'm like oh damn! Ok, let me go pack my bags! There is a blessing and a curse to winning it later in the game .. Its nice that this is kind of clear cut, you know what I mean? At least its not confusing at this point. Imagine if you had like 4 Cynthia's left. Todrick – you can tell they really wanted to win when they went in there. Game face on. Miesha – I don't know why they waited till this point in the game to play hard. They really should have been playing with Todd and trying to not get put up. Like they came swinging a little too late. Todrick – Cynthia was really disappointed I think. Miesha – yeah but I also think she understood. Todrick – understood what?! Todrick laughs. Miesha – I think she understood.. Todrick – understood that she didn't understand. I think we're going to make it to the end. Miesha – I'm pretty sure, yeah. If you're going to put Todd and Lamar up… if Todd wins the veto.. Todrick – I would put Cynthia up and just send Lamar home. I am hoping that Todd just doesn't do well in whatever the veto is. Miesha – yeah.
2:06pm – 3:06pm Big Brother blocked the feeds for the nomination ceremony.
As HOH, Todrick nominated Todd and Lamar for eviction.