POV Holder:
Tim
Next POV
May 7th
POV Used
?
POV Ceremony
May 1st
HOH Winner:
Kelsey
Next HOH:
May 9th
Original Nominations:
Cassandra and Tim
Current Nominations:
? and ?
Last Evicted Houseguest
Paige, Sharry, Christine, Kelsey, Loveita, Dallas, Mitch, Raul, Maddy, Jared, Nikki
Have Nots
No more havenots
Watch the Big Brother Canada 4 Live Feeds anywhere in the world with HideMyAss VPN.
ALLIANCES IN THE HOUSE
There will likely be a lot of alliances during the season – keep track, read our alliance help guide.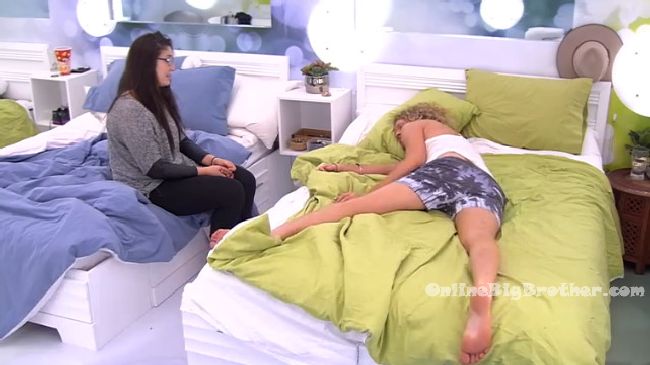 5pm The live feeds return from being blocked for the power of veto competition to take place. Cass says I feel like you're kind of at piece with it. Tim says maybe I am, maybe I want to win. Cass says you said you wanted it in your hands to help who you wanted to win. TIm says I'm not in that place yet. Cass says I think if you were standing up there you would do it. Tim says that was for live TV. Cass says I'm not ready to go. I'm not at piece with it. Tim asks then why didn't you win it. Cass says I tried! I almost had it. Phil grabbed it right out from under my face. Tim says the sticky situation is you and Joel on the block. Cass says no if I'm on the block with Joel, I go home. Cass says you said you wanted to help the best win. Tim says I don't know if you are the best. I think it was a mistake that it was up today. Cass asks you want another night to think about it. Tim says yes, I haven't made up my mind yet. Cass says I would literally do anything to stay! What do you want!? Tim says HUSH! QUIET! I wish I didn't win the veto. You wouldn't be nagging me. Let's just consider I'm not using it. Cass says if you don't decide to use it .. its like murdering me. Suiciding me. Cass says I have an idea to keep us both safe? You take me off the block and then you make a deal with the brothers that you won't go back on. Make a final 2 deal with the brothers. Keep it if you win. Its the risk I take trying to stay this week. If I win final HOH, I take you. Tim says sorry I fell asleep. No, I heard it .. maybe. Cass says I just think if you're up there you have some leverage with the brothers. I don't. Tim leaves. He notices that the living room still says POV Ceremony Today.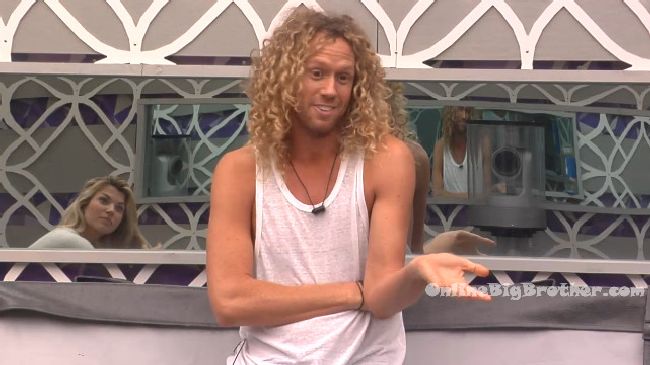 5:15pm Tim talks to Kelsey and the brothers about how part of him wants Joel to go up for what he did yesterday. Tim thinks that Cass will hate him for not using it on her. Tim says I think my answer is to take myself off the block because I fought for it. Do I take someone off the block that I will probably never see again and wouldn't hang out with in my regular life. Tim says I do feel like we have unfinished business with the brothers. Phil says I don't like to hear that. That you're against us. Tim says no, no, no not that I'm against you. That all bets are off, that we could turn a new page. I always thought she would get me and now I have her fate in my hands. Phil asks I would consider how the outside is affect after. Tim says it does matter. Kelsey says it wouldn't be a bad way to go out. It would be a different way. Tim says I think I would just look like a fool. Kelsey says Joel has sat back and let everyone do it for him.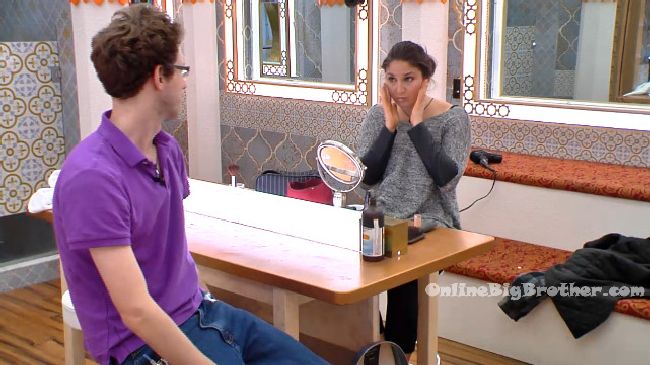 5:30pm Joel tells Cass again that he tried to get Kelsey to put up the brothers but I he doesn't think she will. Joel asks if Tim is still mad at him? Cass says she doesn't know. Joel says I have to win my way to the end at this point. I don't think any jury member would vote for me. Who did I have long conversations with? I think everyone would think me getting to this point was luck. Cass leaves to join the others in the hot tub room.
6pm Big Brother blocks the live feeds…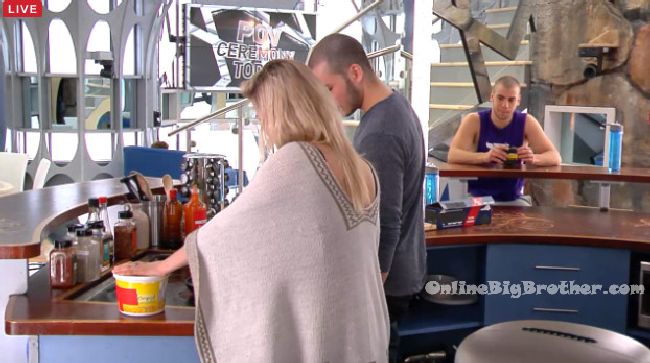 6:40pm The feeds return – No POV Ceremony yet.
6:45pm In the bedroom – Joel asks to talk to Tim. Joel says that he was going to win the veto and use it. I was getting close to them so that they would help me win it. Tim explains that he even asked Joel what one he needed and I had it. It was the ren and stimpy one. Joel says he didn't hear Tim. Joel says I did shake on it with them. And Phil even helped me in the first 2 rounds. Tim says I think that slowed him down and let me intimidate him in the last few rounds. When it came down to you, me and Phil I didn't understand why you were helping Phil. I was faster, it was going to be you or him not make it. Joel says he was worried about being exposed. Tim says but once you won it and used it you would have been exposed! Tim says I didn't believe that he would have helped you in the final round too. Tim says regardless I think you will stay this week. Joel says I feel really stupid for messing things up. Tim says in that moment I knew I had to look after myself. Cass is begging to use it on her. I kind of want to wash my hands clean of it. What I kind of want to do is make it a tie with the brothers so that the blame will on on Kelsey (Tie Breaker). TIm says I'm open to here on out .. I'm just tired of relying on other people to determine your fate .. in terms of trust other people for their vote or using the veto. As far as what Kelsey and the brothers tell me .. there is no way you're going home this week. Joel says I might last this week but going forward I need to win competitions and I don't think I can. Tim says yeah but the rest of them are mostly mental. Tim says I realize you've been on slop and will be for the rest of the game. I don't hate you. Tim says when we walked out and they said this is a comp about movies and you can help each other… it was like our dream!
7:10pm Big Brother blocks the feeds..

Sign up for a 6 month subscription and watch the rest of Big Brother Canada 4 AND Big Brother 18 with HideMyAss VPN.
[polldaddy poll=9404266]
Share it YO!!
Tweet