Big Brother gives them a special meal. Looks like they throw a lot of it out 🙁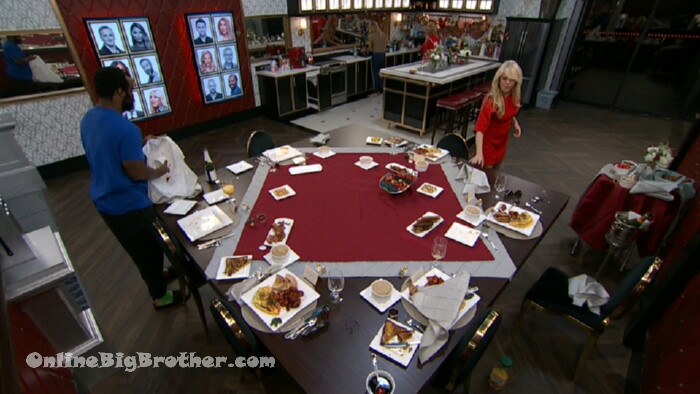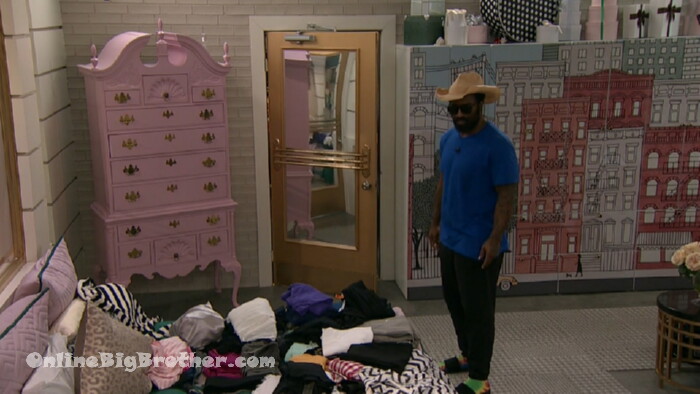 11:44am HOH Ricky
11:46am LOCO and Dina talking about the nominations being today.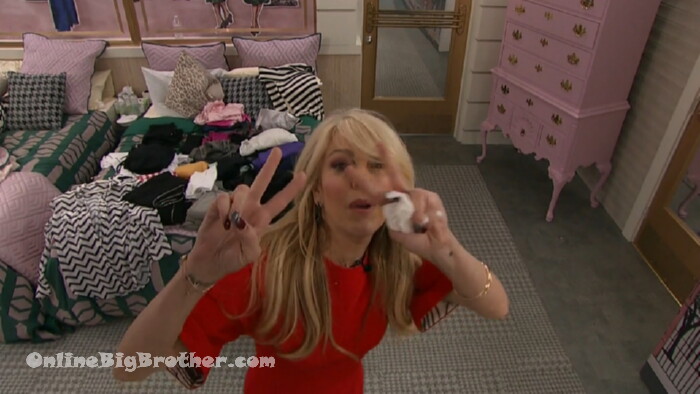 Dina looks up at the Camera "VEto got to win .. they're putting me up they don't like me.. most of my friends are gone" (Dina is a comp beast just wait)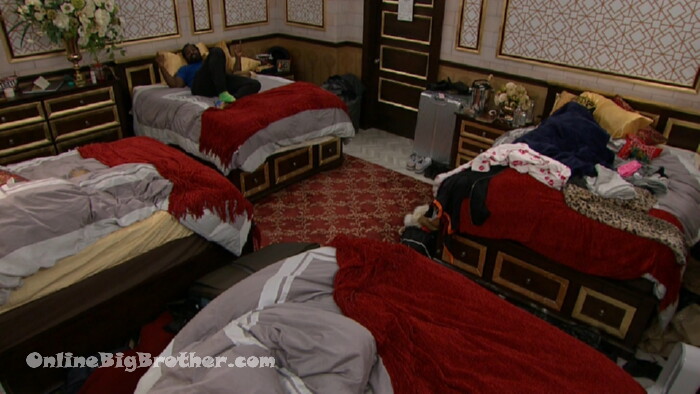 11:48am Ricky, Tamar and LOCO
R – because you can win competition and you're a good athlete that doesn't mean sh1t to me
Ta – true
LOCO – true
R – means I pick you first on a team if we're competing
Ricky says you meet some Athletes that are "empty.. they paid too much for that victory"
Tamar yells something i heard the word Presbyterian
Ricky – you realize that if one of them wins the veto I have to nominate one of you guys
LOCO – yeah
Ricky asks if they care which one.
Ta – I CARE..
Ta – I still don't understand why people see me as a threat
R – Even if that happened (you go up) the only reason you would be evicted is if .. well first it would have to be LOCO .. all you need is one vote ..
Ta – I trust you
LO – I feel everybody trusts everybody
R – I want to be clear if we win the veto it's not a issue
LOCO says Kandi has made it known she's never voting for TA (to evict)
Ricky says it just has to be 1 1
Ta – well I didn't say that
R – that you wouldn't vote for Kandi
Ta – yeah I never said that
LOCO – Yeah I know that .,. I'm saying her
R – do you guys have a preference.. you guys vote I can't vote
R – you don't have to answer it now ..
LO – thanks for asking us
R – I'm not going to change how I'm playing the game because it's the end..
Ta – I would be in a group chat with this Room..
LOCO – thanks TA
Ta – it's a fact. I don't want to talk.. I'm good.. like all the other sh1t is fake
R – I don't mean to be rude.. and and.. I'm sure this won't make it on.. but.. . personally I don't feel like i get that she probably would be easier to beat in the end..
Ta – who
R – Dina, but I don't think her being in the end really represents the show
TA – it doesn't, I thought about that..
Ta says "those guys (toamto) have been pumping her (Dina) with a lot of negativity"
Ta – how do we know at finale night she's not going to represent positivity
r – yeah..
LOCO asks Tamar how does she know she won't pick Kandi over her.
Ta – I don't owe her anything and she … and she doesn't owe… Well she does .. you understand what I'm saying.. I've been loyal as a friend outside of this house and inside of this house
Ta – she's the one that did the bullshit to me .. Period.
Ta – and that's not like.. I've known her for 20 years and I know nothing about her .. I don't have to have her as a friend.. to be honest she's a lot of remnants of bullshit
Tamar goes on about every time she says something Kandi has to "TRUMP" it
Ricky – I just think we should lift each other up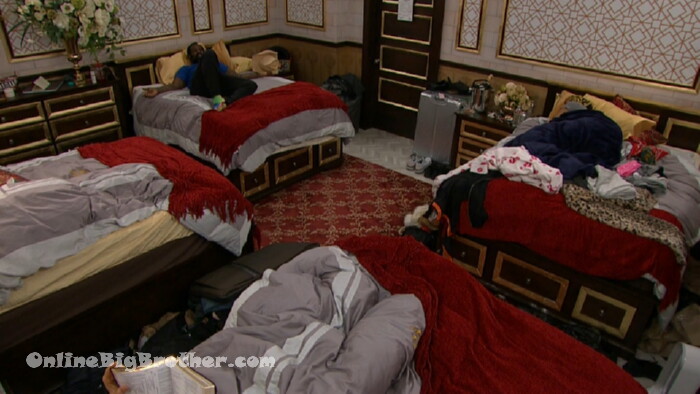 LOCO starts reading the Bible.. Ricky leaves..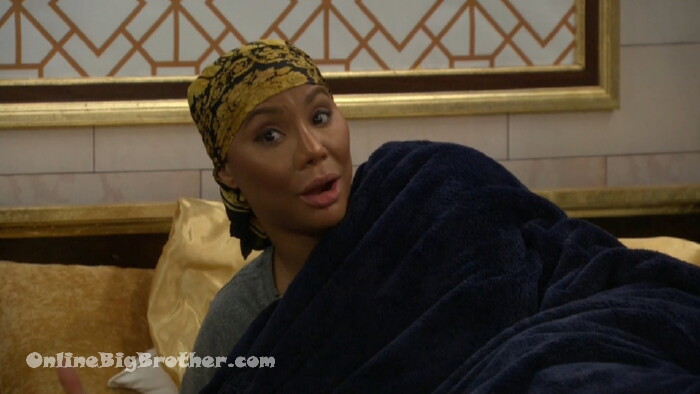 Ta – I'm telling you to your face I will never pick Kandi over you whether you think that you can win with me or not I just wouldn't do it
Lo – thanks ..
Tamar says one of Kandis best friends wrote a book and the first chapter was about Tamar shitting on her (must have been tough to find a Whole chapter)
LOLO mentions she thought they were going to Keep Kandi over Dina
Ta says that was Ricky's plan "I told him I would respect his HOH.. "
LO – it's all the same
Ta – whoever he wants to go .. OK
Lo says if Kandi makes it to the end nobody has a chance
Ta – nobody likes her.. the only people that like her are Kato and Tom
Lo – no all the guys
Ta – Ryan don't like her.. he put her up
Ta – I think Dina..
Lo says the breakfast this morning was "Awful"
Ta – its was awful
LO – I was so annoyed .. and I'm never annoyed
Ta – she's been fed negativity.. she's affected
Feeds flip..
Ta – those are not your friends don't associated yourself with them when you get out of here
LO – who
Ta – Kato and Tom
Lo – Oh I got you ..
Ta – on any social level
Lo – yeah
Ta – don't do that.. those people are no good..
Ta – the way he looks … ohhh I'm sorry I have to say this all on TV but the truth is the truth this ain't my war I'm just a solider it' ain't right mmm hmmm mmmm hmmm
Ta – I'm so glad he knows nothing about me ..
Ta – thanks for the little dance.. get your life..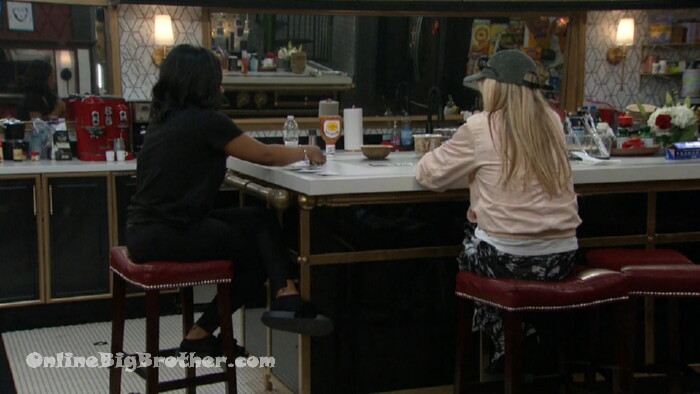 7:20pm Ricky nominated Dina and Kandi