Support this site by purchasing your Amazon goods through our links below. It doesn't cost you anything and we get a small commission off your purchase.
Amazon Canada
7:30pm 9pm Kitchen. Kandi and Dina playing cards. Meanwhile Tamar, Lolo and Ricky are sleeping in the bedroom.
9:50pm Kitchen. Lolo talks about the issues she's had with Olympic teams and other Olympian having issues with her for no reason.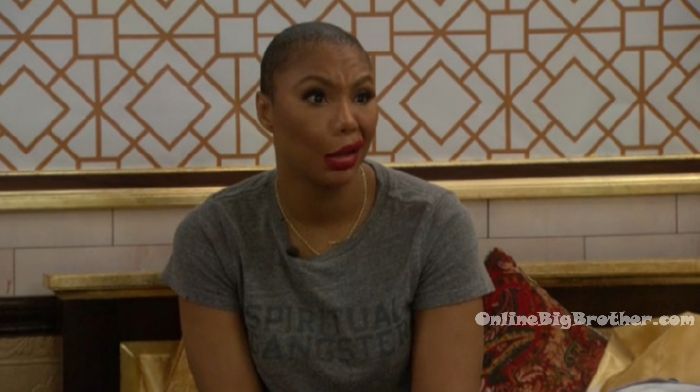 10:10pm Bedroom. Tamar and Lolo chatting. Lolo – so you're basically telling me we're both f**ked? Tamar – If its up against me and you… they've got to vote for one of us.. you know what I'm saying? If you go up against another person .. they're going to pick the other person. You've got Natalie, yeah. And Tom, maybe. Who else? Who? You know not Ryan and on the account of Ryan you no not Joe! And on the account of Ryan and Joe .. you know it ain't Jonathan. And you know you didn't get to know Mooch that well. If I'm not up there, then me. Who else? Ricky? If I go up against him, you know everyone is going to choose him. Lolo – you think? Tamar – just like you said!? Come on?! Lolo – I hate to talk about money but what is second place. Tamar – 75K! It ain't shabby! Its helpful. Its helpful to me and I can be honest about that. Lolo – its a year. Tamar – girl! Its more than a year for me.. its like moving! Lolo – do they give another one for America's Favorite?Tamar – I don't know. Its not that much. Its not as much as the regular one and I think that one is like 10k. I trust god, and I know he will provide! Lolo – if second place isn't that bad .. even if you know they'll vote for Kandi.. can you be like Kandi I put you in the finals. Tamar – I don't owe Kandi anything. KANDI IS RICH!! Its Mooch and then there's Kandi! YES! Okay! Remember when I first got in here and I said Kandi's got a lot of money ..what the f**K is she talking about?! Kandi's restaurants are like 10! A year! M's! Lolo – stop it! Tamar – M's! M's! Just that M's! Okay! Get your life! M's! Lolo – are you sure?! Tamar – 20 years! M's! M's! Lolo – I feel so bad for fighting for it. Tamar – this is the ground work. This is what shapes you. This is how when you lose it all … you know how to get it again. This is how when you trust in god and you're like however you want to follow me follow me.. you know what I mean! This is when you dig in the dirt and get what you need! And dig for your plant and plant your seed so it will grow. I don't have a problem. I've lost it and got it gain and lost it and got it again. It happens to everyone. Its about getting again and keeping it. There's no shame. This is nothing for Kandi. She makes like $110,000 per episode. Lolo – I didn't know that. Tamar – K?! Get your life! This is Vegas for her. I'm not trying to put her business out there.. I'm just keeping it a 100!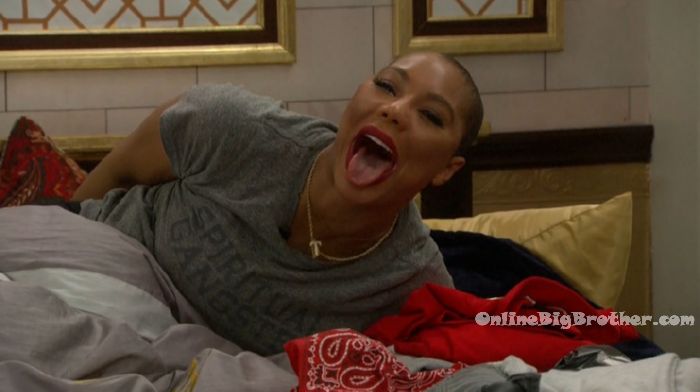 Lolo – so what happens if Dina or Kandi wins veto? That means one of us goes up? Tamar nods yes. Lolo – how do assure one of us doesn't go home? Tamar – we have to wait till after the veto and talk after the veto. The ceremony isn't until Wednesday.. we have time. Lolo – okay. Tamar – we have to see what happens first. We're f**ked if they win the veto. We have to f**king win the veto. Period! Lolo – I hope its just one thing we f**k up … like in a good way. Like faces .. I think we are both going to be good at faces. Its just the numbers.. the numbers have me so f**king scared Tay! And like I get it big brother but damn! Ricky's got it down like this (she snaps her fingers). Tamar – Kandi do too! Ricky joins them. They reminisce about past events of the season.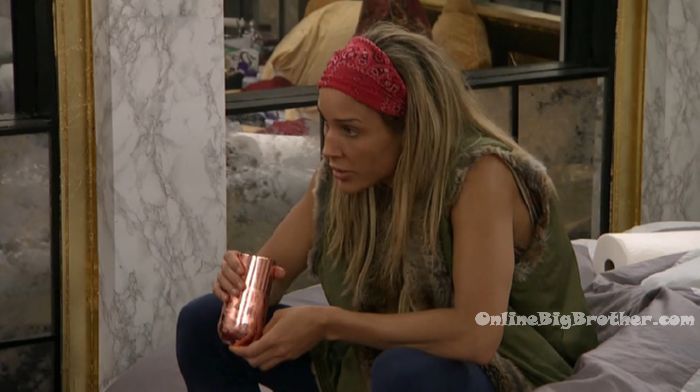 12am – 12:50am Kitchen. Tamar cooking. Kandi playing cards. Dina doing her nails.
Tamar points at Lolo's suitcase between the bed and says its a hazard.

Click here for your CBS All Access – Live Feed 1 Week Free Trial!