Quick Big Brother Spoilers
Head of Household: Cameron
Nominees: Felicia and Izzy
POV Players: Izzy, Cameron, Felicia, Matt, Jared, Jag
POV Winner: Jared
Veto Ceremony: Veto wasn't used.
Havenots: Everyone except for Cameron is a havenot this week. Everyone is on Slop, Everyone takes cold showers, and they all take turns sleeping in the havenot room.
Lock your ranks in before midnight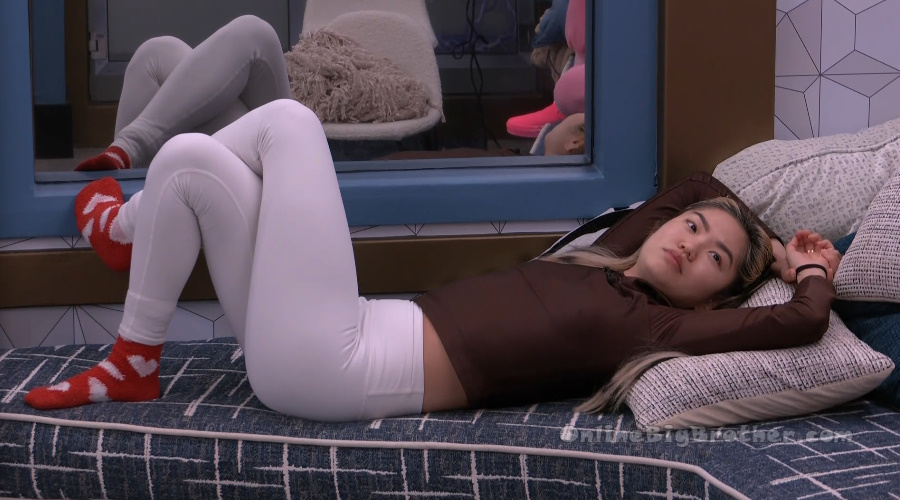 7pm Bathroom – Cameron and Blue
Cam – This game is only going to get harder and if you're going to get strong players out of this game, there is one sitting on the block. Probably the strongest player in this game socially. I cannot put it any more clear than that. But I tell you I would not come to you with that I just wanted to tell you what I am trying to do and I know where your heart is at and I would never ever do that. But if everyone else doesn't see that .. I am not going to be the one that's duped when Felicia goes home. I am not, it doesn't f**king matter to me. One of them has to go. Everyone else is the one that's going to be the dumba$$. Because they're still stuck in this house that is good with everyone. Blue – yeah. And you know I have been having my conversations and like I think .. And I will take fault for this too, what I have been doing is going into the conversation knowing what I am going to do. And that is so not fair. I was telling both Izzy and Felicia, listen I have gotten closer to both of ya'll and I would be doing you a disservice if I already had a thought of a person. Cam – yeah. Blue – I gave none of them my word. None of them security because yeah you're right it would definitely be doing them a disservice if I just came in with my mind already made up. I told both of them I am going to keep an open mind. Cam – I told you I am not going to sway you in any way but I will speak what I see. I see it for what it is. If you're here to make money and go deep into this game.. there is one answer. If you're here to just hang out for awhile and get rid of someone that is just mildly annoying, that is dumb so okay have fun with that I guess. Even when she leaves this week and I turn around and get backdoored next week.. People will still thank me because I got two strong players out of the house.
7:10pm Bathroom – America and Blue.
Blue – he was trying to convince me that Izzy is the better option to go this week. But he was like at the end of the day I love you. I respect your games, you got to do what you got to do. He was grilling me but mans knows he is getting backdoored next week. He knows! America – his back is up against the wall and he is full of sh*t. He told me, I have the votes. And I was like who are the votes? And he listed every single person. Blue – who did he say? America – everyone.. all nine that are voting. Blue – SHUT THE F**K UP!! America – and I straight up .. I was not going to BS him.. I was like you don't have the votes. He said no, I think they're telling you one thing but what I have been told is that they're ready. They want to make a big move and they're going to vote this way. He was making it seem like I was on the outs with stuff. I don't see a future with Felicia, the same way I do with Izzy.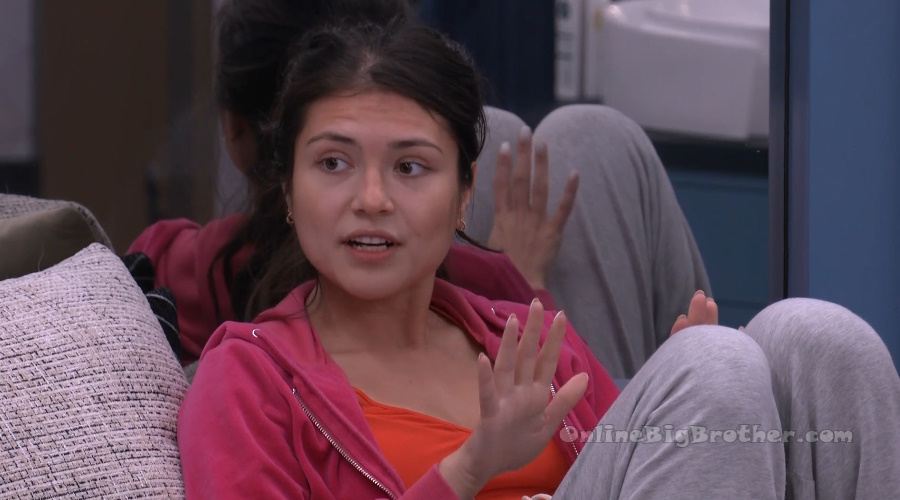 7:33pm – 8pm HOH room – Cameron and Matt
Cameron – I have plans for us and I don't know if you want me to tell you them now or if you kind of just want to leave it alone. Matt – I definitely want to know somethings but not everything. Cameron – well this isn't a secretive thing. I want to know what you feel about it so that we can figure out what we want to do. Essentially we're homeless.. Bowie is homeless. We just left a toxic alliance. So its me, its Bowie, and its you. If you're willing to stick with me. Matt – and Jared, I think. He's not homeless but.. Cameron – I don't know where Jared is at. I can't have you change anything about him. I think you have to stay the exact same way with him. I don't know where his head is at. And I am saying that very lightly because I think I do know where his head is at and its not what we thought. Matt – okay. Cam – didn't you ever wonder why you got the invitation to Legend25? And not Jared? Matt – I figured because of Blue. Cam – I think they left him out on purpose… to get close to me. So that he is stringing me along this whole time. So there is one way forward, one group. That is me, you and Bowie. Cory, America and Jag. I am public enemy number one. First things first, we've got to get rid of Izzy. Even if I get backdoored next week which is the plan. If I get backdoored next week, you still have Izzy in the house to deal with. Why would anyone not go ahead and take the shot right now. Felicia can be handled at anytime. Anytime. Why wouldn't anyone take the shot at Izzy. She is in the crosshairs. She is right there. Done! Big player off the board. Then backdoor me. Whatever you want to do .. try it out. I am just saying if I leave this game you're going to be up sh*t creek because you left Izzy in the game. What I told Jag was, I am public enemy number one. And I said Jag you're public enemy number two, as soon as I leave you're next. Why not take out another big competitor this week, right now. Think about that group.. me, you Cory, America, Bowie and Jag. Matt – its pretty stacked! Cam – SQUAD! That's a SQUAD! Matt – very diverse too. Cam – that's a squad, that's the only way we take on the other side of the house. If she is off the field, our five beats their five. Lets f**king ride! That's a f**king SQUAD! Its so simple! Get Izzy out, one of you win HOH and then we roll. We're drawing the f**king line. I am done f**king with them. I don't owe them sh*t. They were just using us like tools. F**K EM! SO what do you think!? Matt – I think its solid! I think its smart as F**K! Cam – are you locked on Izzy? Matt – oh yeah, I agree. Cam – I don't give a f**k what the rest of the house does. If you know what way you're voting, vote that way. They're anonymous votes. No one knows who you voted for. Matt – right. Cam – don't give a damn what the house thinks. Do the right thing. Matt – just full send!
8:30pm Comic Bedroom – Cirie, Izzy, Matt & Josh and Jag are talking about vision and glasses.

Comic Bedroom – Izzy and Jag.
Izzy – I think it is desperate. Jag – he pulled me into the HOH room. I was like this dude is panicking. Izzy – also like why would anyone join a sinking ship. Jag – I know, exactly. Jag – and maybe he doesn't realize it but it is having the opposite affect. Or at least for me it is. Izzy – well that's good. Him being so adamant .. IZZY HAS TO GO.. I am like what!? Izzy – I find it so funny that I am so threatening. Especially what we're assuming this next HOH is. Girl I ain't going to win. Jag – and why would I do something that you want me to do. Izzy – especially give ya'lls … or like how he's been treating you. And also if I am gone, you really think that you're not next for him? Jag – I think its goofy. I think he is in a state of panic because now he doesn't have power. He is public enemy number one.

Cirie – Matt is going to tell Jag about this thing. He has to because Cameron is going to ask him. And then lets see how he responds to that. If Matt tells us That is my only thing. Is Matt going to tell us? Izzy – even if Matt is telling us… so then if he doesn't that is telling. He told us that so why wouldn't he. Cirie – oh sh*t, she's (Bowie) is back down here again tonight.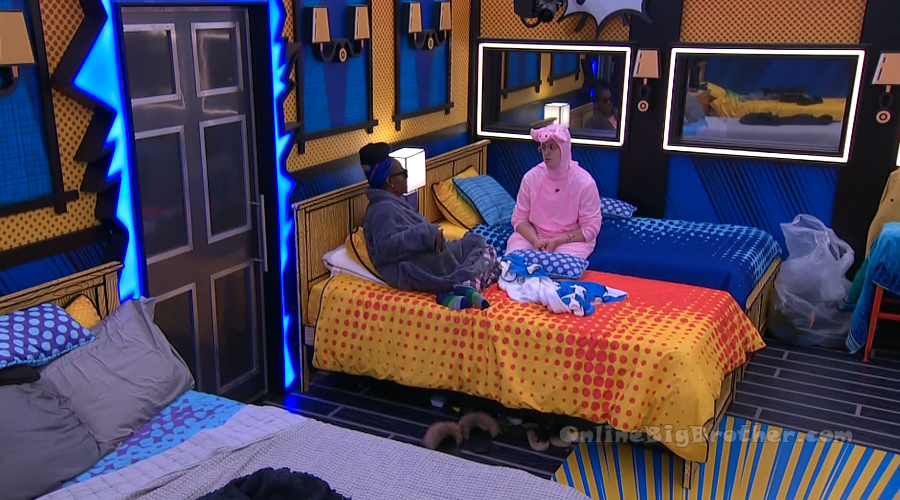 9:20pm Bowie hit a 10 on the stink-o-meter. Cirie, Izzy, Felicia and Bowie suit up with their gas masks.
9:30pm Bedroom – Cirie and Felicia
Cirie – Bowie will you give us a second. Bowie – yeah cool. Bowie leaves. Cirie – if he (Cam) is sending you (Bowie) here to stop us from talking .. then I have to start saying excuse me can you give me a second. Now you're going to go cry about it but we're laying here in silence. Clearly nobody wants to talk to you.. so go the f**k on somewhere. I am not going to start playing the game .. if I want to talk then I'll say excuse me. F**K your feelings. BYE! I just don't know which one of these motherf**kers we can trust. And I don't know why she is saying Blue is voting the other way. What did Blue say to you? Felicia – Blue said that she had not made a decision.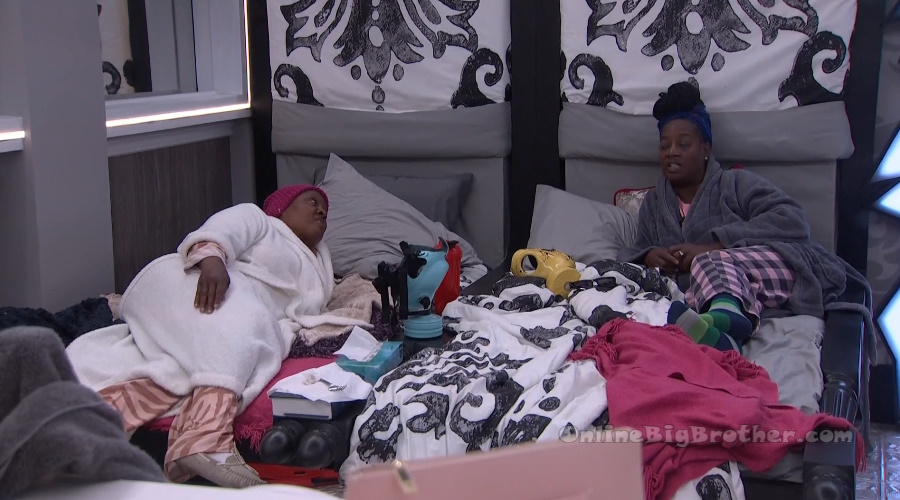 10:18pm – 10:40pm Havenot room – Cirie, Izzy, Jared and Blue.
Cirie to Jared & Blue – did Matt tell ya'll? Jared – no, I didn't get a chance to talk to him yet. Cirie – but let him tell you. Don't say anything. Right? Like he was like don't say anything so you (Izzy) think he meant to them (Jared & Blue) too? Izzy – not this seems like important for all. Cirie – but when he said don't say anything did you get the sense.. Jared – no we won't say anything to him regardless. Blue – I think just out. Izzy – yeah out and about. Cirie to Jared – did you get to talk to Cam again? Jared – no. Cirie – my only question is who would be saying anything to him? Jared – I don't know but clearly someone is talking to him and telling him what is going on. Cirie – or something because I haven't said anything to anybody. Jared – I don't know because the fact that Bowie is denouncing her relationship with him now. Cirie – but I think its just a ploy. Izzy – that's her shtick. Cirie – Matt said the he (Cam) is pitting everyone against each other. Jared – yeah because he thinks he is going home so he is just trying to do whatever he can. I truly do think too.. If Thursday, the plan goes how we saying .. we gonna tell Felicia like the last day then I think if we tell Meme she is going vote with us too. Cirie – yeah I do too. Meme ain't going to want to on the wrong side of the vote. We going to focus on the votes we got. We've got five, that's all we need. Jared and Blue leave. Izzy and Cirie chat.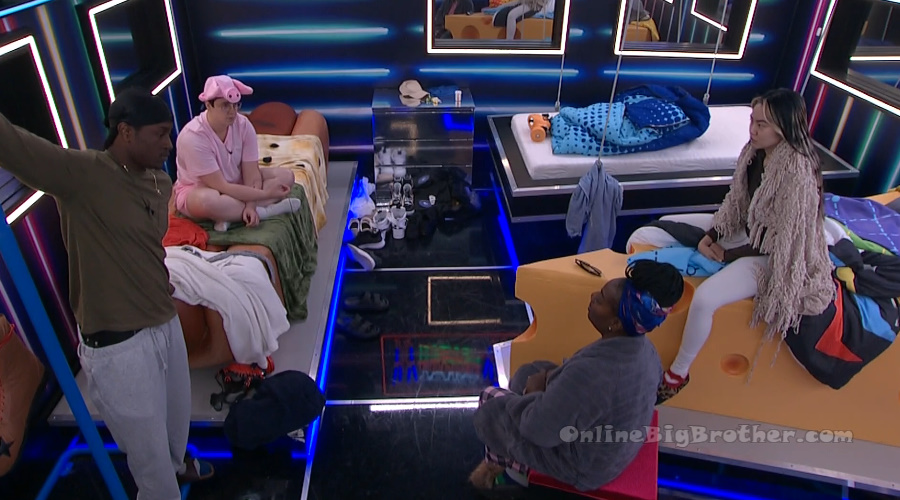 Blue – What is happening here?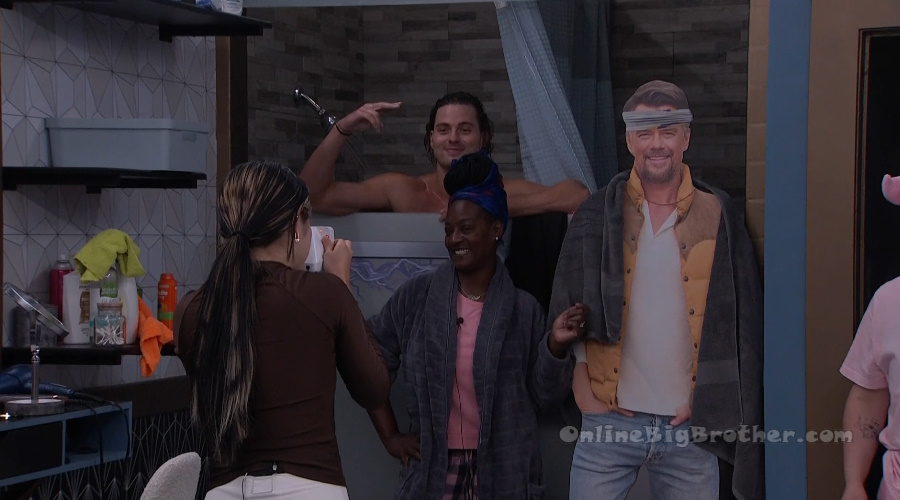 11:30pm – 12:25am Havenot room – Matt, Izzy and Cirie.
Matt – another thing like…here's the thing it could sound appealing to like work with him. But one, he's never kept a single promise. Look what he did to Red and threw everyone under the bus. That's what would happen if you tried to work with him. And I was just standing my ground .. I think America was like deciding between the two and then Jag was originally like let me see and I was like let me tell you this its going to be 5-4. I am sure this side is going to win. And he will roll with what I say but I am just saying if you go with the other side you're now officially… Izzy – you're not coming back. Matt – if you make that move you're not coming back. Izzy – what was Cory saying? Matt – Cory is 100%. It is guaranteed 5 because me and Cory are voting you. You (Cirie) obviously are and Jared and Blue. Izzy – okay, great. Matt – I am going to say I know its going to be 5-4, it would look better if its 7-2. I'm going to tell Bowie an hour before, and then we don't have to deal with the emotions. Then it might just come down to 9-0. Cirie – I might tell Meme. I don't want you to be on the outside.
1:05am Batthroom – Cory and America.
Cory – you know you're in a sh*t position. I'm in slightly less sh*t position nut still a sh*t position and we have to gamble. America – how does Jag think like his own alliance member putting him up means that this whole thing is real. Like its so stupid. And then Jared putting him up last week. Isn't Jared also part of the Deadly Sins? Cory – yeah. America – then two of his alliance members putting him up. Cory – yeah I know. America – come on, that sh*ts not real. Cory – you know what the funny part of this is.. say tomorrow I get confronted by Jared why did he do this? Or Izzy or whoever right? You know what we probably have to do? We probably have to run back to Jag and Matt and dump all the information we have and then try and vote out Izzy. America – MMmmmhhhmmm. Okay, I hope it gets out then. Cory – that's when we say Seven Deadly Sins. If you leak it I am going to lose my SH*T. America – I am not leaking anything.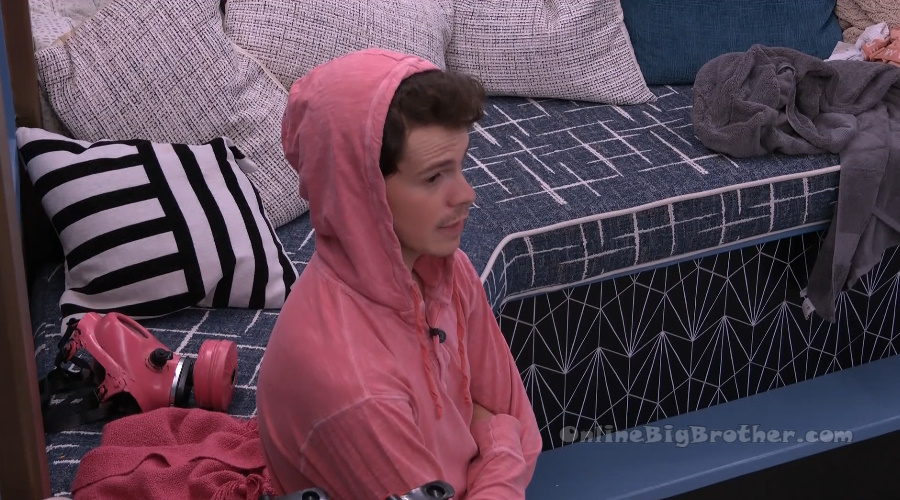 If you've enjoyed our updates this season and want to leave a tip you can do so through PayPal.
You can even donate without making a Paypal account.
Thank you in advance! We really appreciate it!