Head of Household Winner – Nicole
Nominations – Chirstmas and Memphis
Power of Veto holder –
Power of Veto Ceremony –
Live feeds —-> Grab your Live feeds here. Try it free.
Rank the houseguests —-> Big Brother 22 Ranking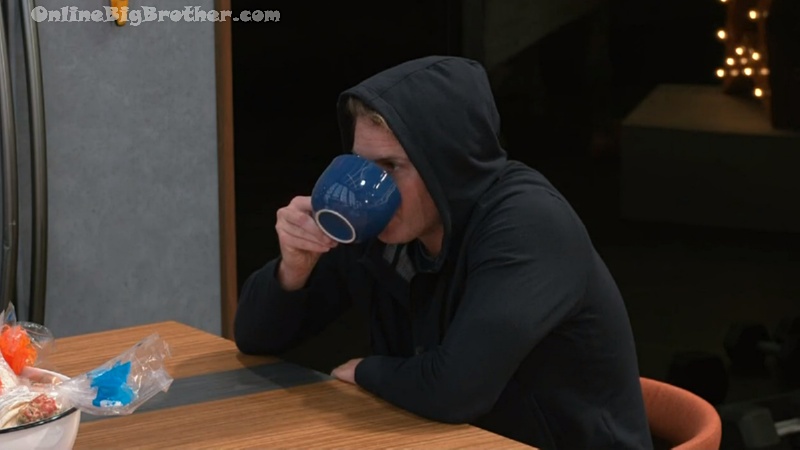 9:30 am Wakeing up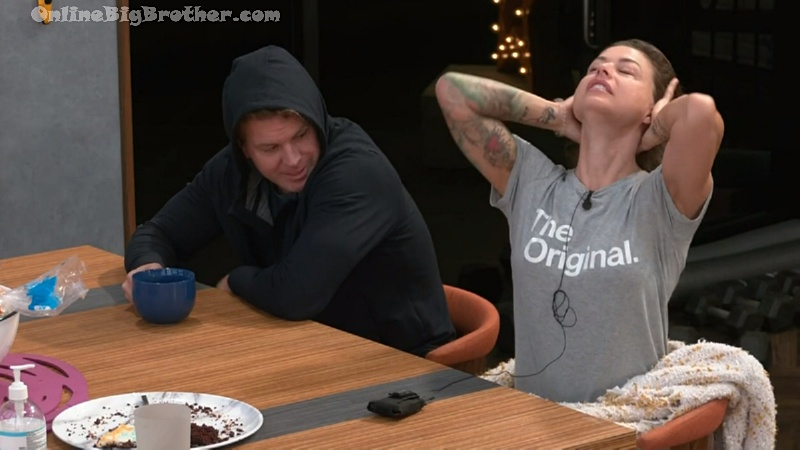 9:45 am Christmas and Memphis
Christmas talking about a dream she had where they were all getting drunk off 2 dollar shots.
10:24 am Enzo and Memphis joking about the veto being at midnight. Christmas joins them tells them about her dream about getting drunk with the rest of them.
Christmas – I lost my shoe and you were Christmas it's in your hands.. we were the life of the party..
Enzo – yeah you have some dreams in here man.
10:47 am Christmas and Enzo chit-chatting about the season while looking at the memory wall.
10:52 am
Christmas = mushrooms are so cool looking
Enzo – I like mushrooms a lot I like them on my pizza.
Christmas- food has the coolest colours man
Enzo – yeah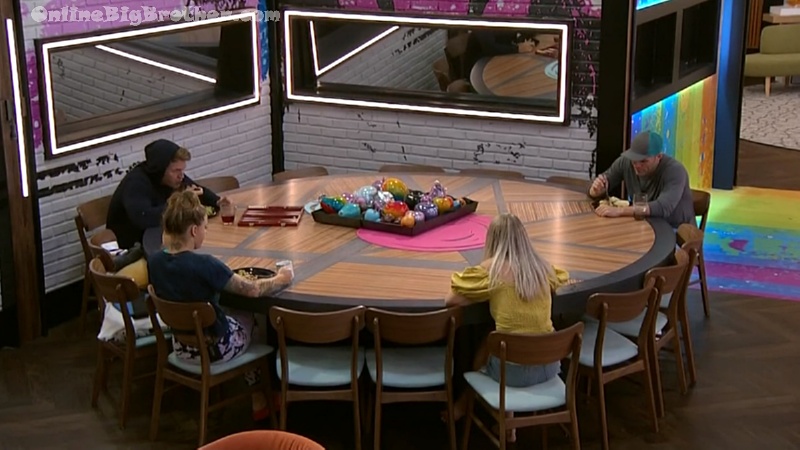 11:17 am Breakfast is served.. Cody is still sleeping.
Nicole – this is our first family breakfast all season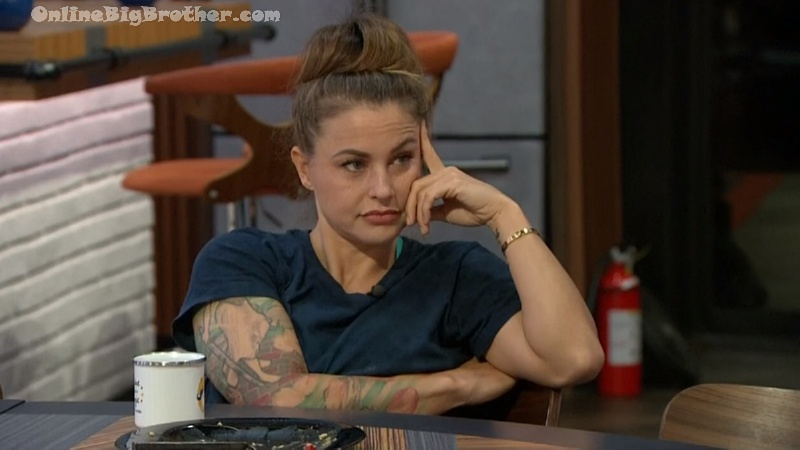 11:31 am Memphis going in in length about the night club business..
Memphis – say you do a million dollars a month.. and let's say you make 30% profit. It was crazy money.. iut was dumb… fun times.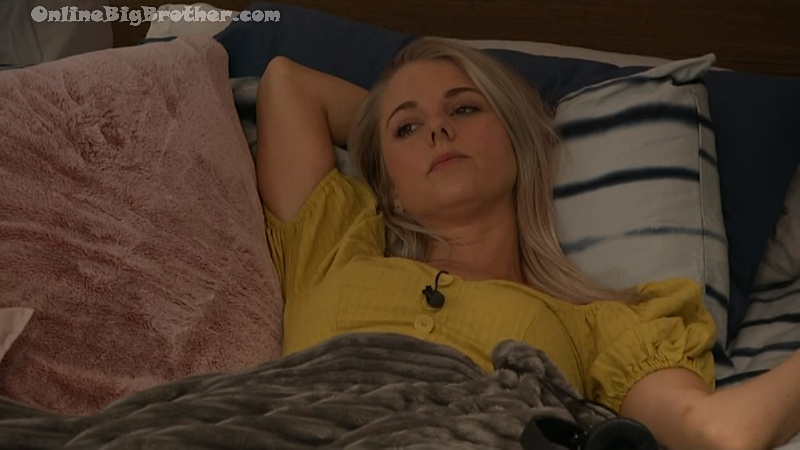 11:35 am Nicole talking about her dream last night "I rescued a baby puppy out of a tree"
Nicole – I really need to win this veto.
Nicole says the only way Cody is going on the block this week is if Enzo won the veto and used it.
Nicole – Cody's my ticket to final 3. He's the best competitor here I truly believe if he has the option to take me he will no one else will
Nicole talking about Enzo being suspicious that Nicole and Cody have a final 2.. fe4eds flip to downstairs Christmas doing dishes in silence.
When we're back
Nicole – Cody better not throw it to Memphis. it's not a stupid move if Memphis is taking Cody and Enzo to final 3 it makes sense.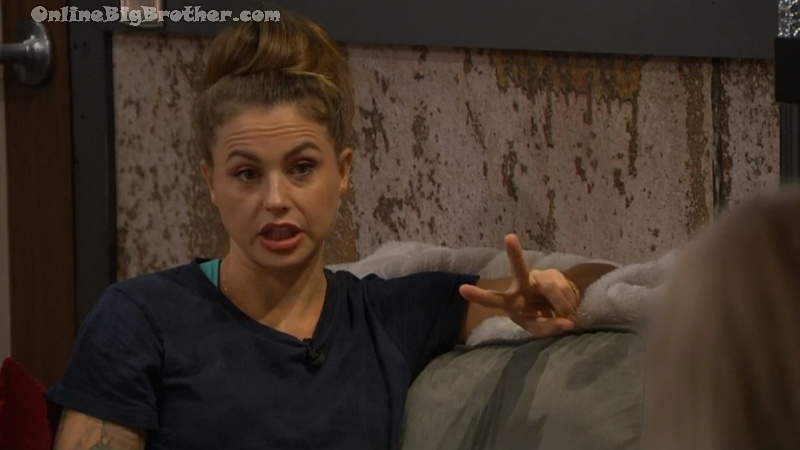 11:42 am Christmas joins her. Chit chat about breakfast.
Christmas – I'm going to think out loud to you you can take what you want leave what you don't
Christmas – I really want to make it to the end but I don't want to do it in a sleaze way
They start going over Christmas and Tyler's attempts to get Nicole out during the triple.
Christmas says she wants Nicole with her to final 2. Christmas says if she already has a fina; 2 then she won't be mad
Nicole – I do want to sit next to you in the end. That's just plain and simple. It's I feel like we've both had this weird journey nothing has been easy for us in this game. we both have people in the jury that will be angry at us. It's a game move and it was real early in the game when we talked.. We just had a bond. Honestly, that's my best move in this game for sure I think.
Nicole – after that triple I felt very betrayed but I'm passed that.. I've matured more I've seen it as a game move .. I put you on the block game move. Slates clean. This wasn't to get back at you I don't want you leaving.
Christmas says her gameplay last season was really overshadowed and under-appreciated "I worked my a$$ off. JOsh said the whole time he was going to take me.. Josh took Paul" (Her "gameplay" season 19 .. ugh)
Christmas – Paul played a very different game than I knew could ever have been played I don't want to play that way.
Christmas – I don't want these three dudes to pull us along and pluck us off that will infuriate me.
Nicols says Enzo has the best social game in Big Brother history.
They go through Cody, Enzo and Memphis being hard to beat against in the final 2.
they talk about Dani. Christmas goes on about not trusting Dani since early in the season.
Nicole claims to never tell Dani anything about Christmas.
They talk about how Tyler and Dani didn't get a along at all. Nicole points out how they were the two vegans that made food for each other but wanted their heads on a stick.

12:14 pm
Christmas retells her dream last night when they all went out for tacos and got drunk "We weren't sloppy we ere really funny… and I lost my shoe.. where's my shoe and you were like on your hands.. your parents were there .." feeds flip to Enzo playing with the balls throwing them into the basket. You can hear construction going on in the backyard.
When we're back to the HOH conversation it's more of the season 19 revisionist history from Christmas.
Nicole tells her there's no one else better for her to take to the end other than Christmas. She'll do whatever she can to keep her safe this week.
Nicole – people are stupid for not wanting to sit next to me I'll just say that out loud. People in the jury will definitely question my game more than any other game because they'll say I sat in the committee and did nothing for 65 days and that's something they will say what did you do..
Christmas – If I'm HOH the boys are going up.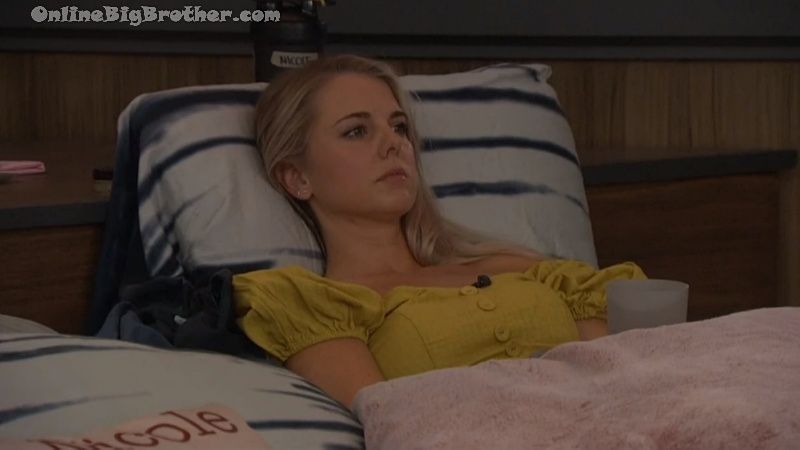 12:40 pm Christmas leaves.
Nicole – that was a good discussion
Nicole says it's best to sit in the fina; 3 with Cody and Christmas she wonders who will cut Enzo next week.
Nicole – the only way Enzo doesn't make it is if I Christmas wins HOH and I win Veto. Enzo is Final 3 for sure. he's got the best shot at making the final 3. We're all taking him to Final 3 he doesn't need to win anything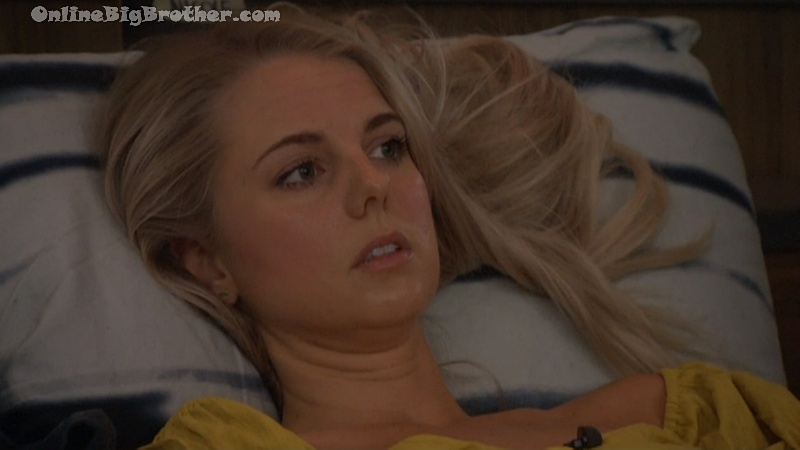 12:50 pm Nicole studying while Memphis and COdy talk about highschool.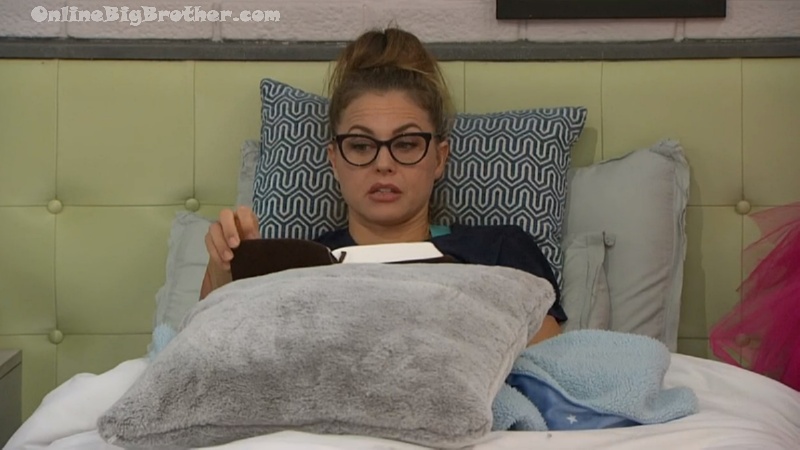 12:54 pm Christmas talking to the camera about working with Nicole. "If I win the veto she's safe I will vote one of the other two guys home.. not Memphis"
Christmas – The conversation I had with Nicole sets it up that if Memphis is able to stay this week he is a great option for us to be able to work with going forward so he needs to win the veto so we can get Cody on the block and out. That is what is going to have to happen. I need her to know I am on her side and we pull in Memphis. If he wins the veto we have to cut a deal with him Obviously I'm his final 2 he's my final 2 he's been crazy loyal to me and I've been crazy loyal to him he did tell me if I had that shot with Nicole to take it. I didn't go against him in that sense.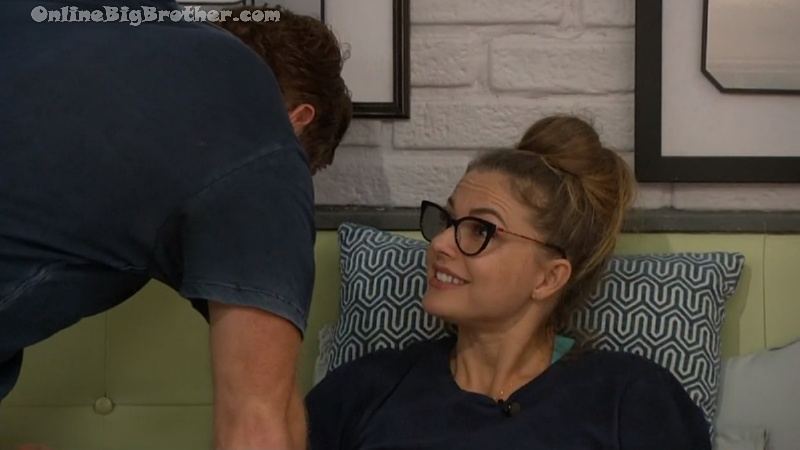 1:00 pm Memphis comes in they chat abotu the veto
"I'm ready to rumble… "
Christmas – listen you have to get yourself off the block
Memphis – you have to get yourself off the block
Christmas – DO IT.. butt head..
1:11pm we got pound puppies.
2:47pm Still blocked.
3:50pm puppies..
4:27pm Still nothing
4:55pm Nothing