Head of Household Winner – Nicole
Nominations – Christmas and Memphis
Power of Veto holder – Nicole
Power of Veto Ceremony –
Live feeds —-> Grab your Live feeds here. Try it free.
Rank the houseguests —-> Big Brother 22 Ranking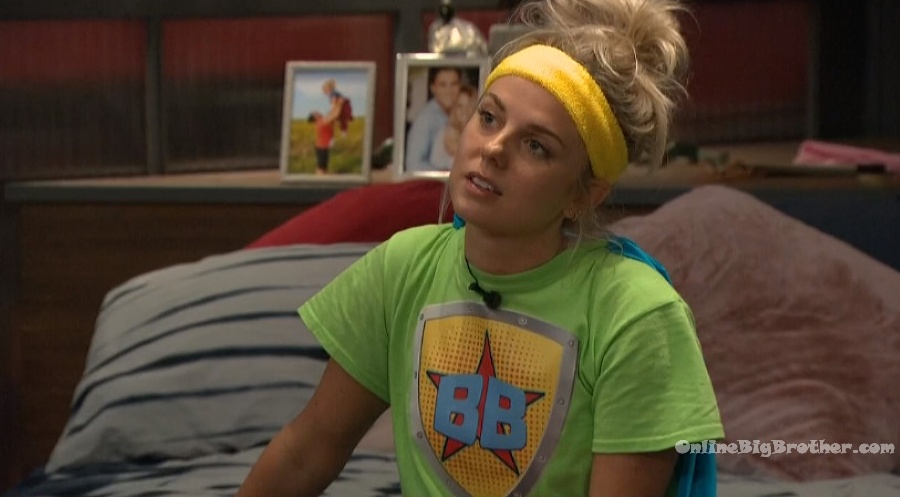 1:11pm – 5:38pm The live feeds were blocked for the power of veto competition. It was the BB Comics competition.
HOH room. Nicole and Cody.
Cody – I was just over analyzing it. They talk about each of the missing details in each of the comics. Cody – I knew I didn't do good enough to win that competition. Nicole – but you got second right?! Cody – yeah but I knew I didn't do good enough to win it. I knew someone was going to have a faster time than me. Enzo joins them. Enzo – yo they're in the room strategizing already. Nicole – they're going to try and get me to backdoor.. Cody – me. Nicole – yup. Enzo – yo, 11 minutes is f**king crazy yo!! Nicole – that is my favorite comp! Cody – yeah she won it on hers. She is the BB comic reigning champ yo! And she beat it again! She is the defending champ! She the Patriots when it comes to BB comics!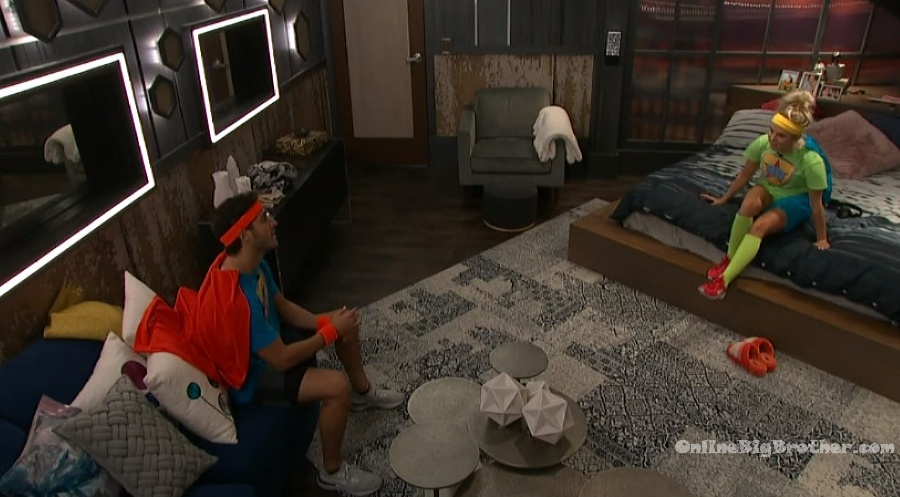 Bedroom. Memphis and Christmas.
Christmas – this is like … you literally have to offer her something. Memphis – but you have a better rapport with her than I do. Christmas – I think she would be receptive to a deal. Memphis – you feel her out first. Christmas – I have been. She has another big target in the house.. I just don't know which one it is. You have your word. You are a straight shooter. That is going to work in your favor when you talk to her. Memphis – we just have to make sure she doesn't know that we're working together. Christmas – I've told her that I've tried to talk game with you but you've shut me down because you don't want to work with anyone.

Bedroom. Memphis, Cody and Enzo.
Memphis – she (Christmas) is going to be on her (Nicole). She came in here saying its not over. Memphis – I hugged her and was like we had a good run. They all laugh. Cody – Yeah I'm getting backdoored. Memphis – She was like I'm going to go get her to use the veto. I was like ok! They continue to talk about the competition.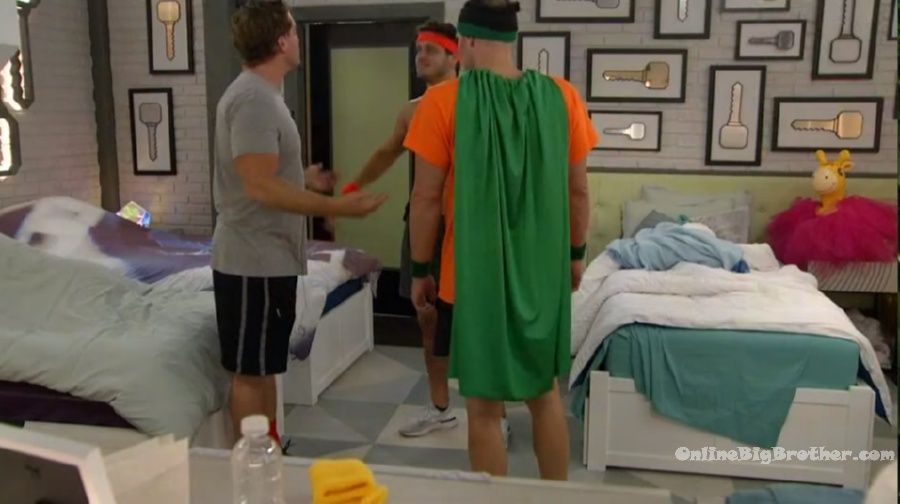 6pm 6:50pm Memphis is cooking dinner for the house guests.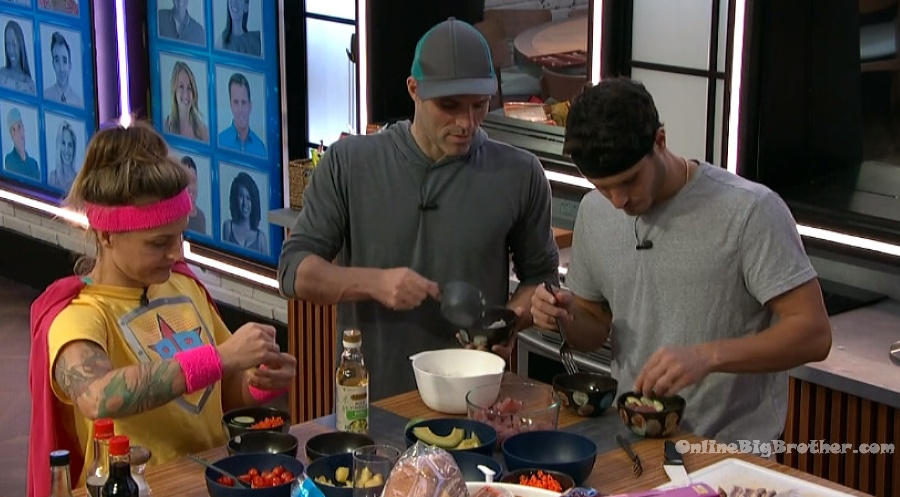 7pm – 7:30pm HOH room. Cody and Nicole.
They talk about how Memphis hast to go. Cody – name a scenario where one of them (Enzo or Christmas) could beat us in that veto (next week) if Memphis goes this week. Cody – If I lose to you .. I lost to Nicole btu if I lose to her (Christmas) ..I don't know if I am going to be able to wrap that around my head. They switch to talking about todays veto. Cody – I am just glad that you and I were the two and they weren't even close. (In the veto) Nicole – I know, it was so awesome. Cody – I just feel that is how its going to be the rest of these comps. Nicole – I hope so. Nicole – what a great ending to the season that would be…. for us. Maybe not for others but for us. Just winning out the entire season. Like and just being warned week four. Cody – they tried telling you… and you f**ked up. Nicole – and Janelle tried telling everyone too. Kaysar tried telling everyone about you. Cody – yup. Nicole – me winning this is not the best for me because she is going to expect me to use it to backdoor you. Cody – why does she expect that .. what have you been saying? Nicole – I haven't said anything but she is going to expect me to take her down. Cody – ummm you tried to vote me out .. no! Like she literally tried to vote you out .. your deal is shot.. go kick rocks .. you're lucky you're here. Like you should say that to her. YOU should say you're lucky you're here Christmas. Nicole – no. Oh yeah that's exactly what I would say to her .. not! I do not want to get in a fight with that girl. She will definitely bug me.
8:18pm HOH room. Christmas and Nicole
They talk about their Instagram followers and wanting to find new sponsors to get free stuff.
8:45pm Nicole and Enzo.
They talk about the veto competition. Nicole – Memphis is going home. Enzo – That's it! Nicole – I am so happy! Enzo laughs. F**king Final Four YO! Lets GO! Nicole – I am taking him out! It feels nice!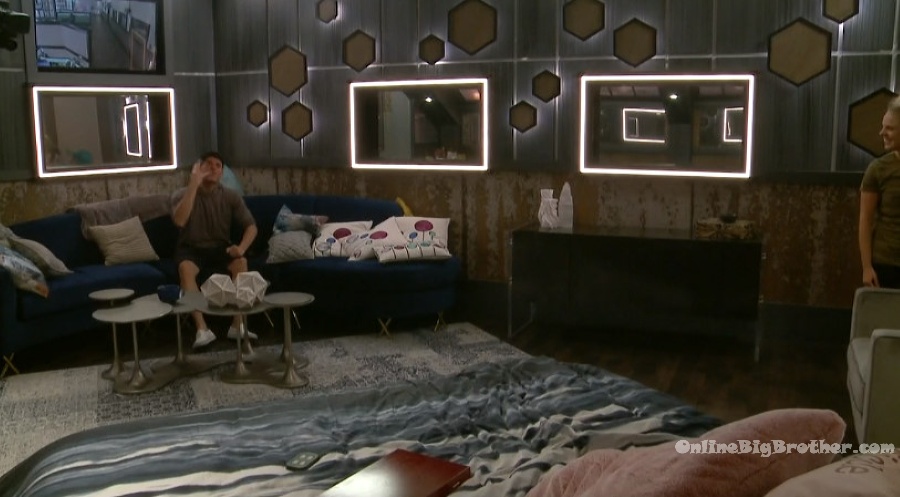 9:15pm Memphis and Christmas are playing a game of backgammon.
9:45pm Big Brother gives the house guests alcohol. They head up to the HOH room. to drink and chat. They talk about the pet peeves they have of their significant others.
9:50pm – 10:50pm Off and on Big Brother blocks the feeds.
11pm – 12am The house guests continue to chat about random things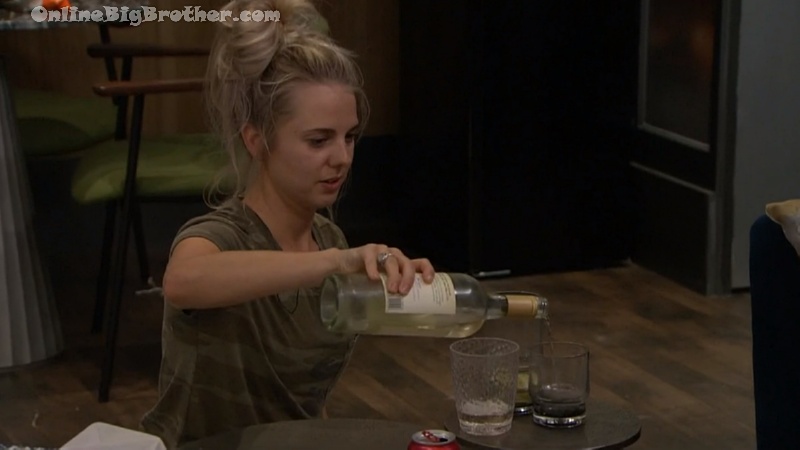 12:13 am Wine for Cody, Nicole, and Enzo.
Then Nicole sees Christmas coming up and runs away with the wine.
Christmas – and she runs to the bathroom.
Nicole- don't be mad Christmas ..
Christmas – damn I'm on the block and I get no more booze..
Christmas- they gave up another bottle?
Nicole – no it's my HOH bottle.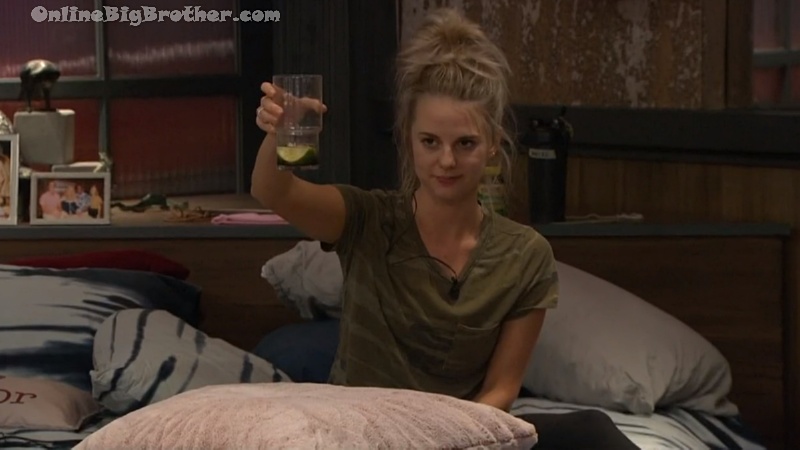 Nicole – this is all I got from portion control. you want it
Christmas – no, what did you guys do chug all her beer? What happened here?
12:50 am Christmas
"tomorrow I got work to do"
"tomorrow I have to convince Nicole to use the veto on me to backdoor another target frankly Cody or Enzo I don't care. "
"there's a deal to be made here"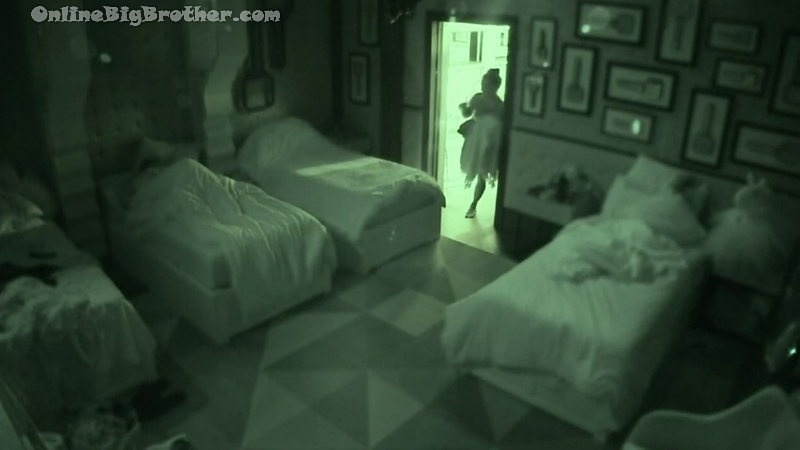 1:00 am Christmas and Memphis
She whispered some joke into his ear. They go on about the BB comics competition today. Nicole got 11 minutes. Memphis says there's no way he could have gotten that close even if he didn't "F*** up"
Christmas – I have a post-show idea for you
Memphis – tell me
Christmas – it's a post-show conversation
Memphis – mmmmhmmmm.. I'm going to use my imagination
Christmas – if you want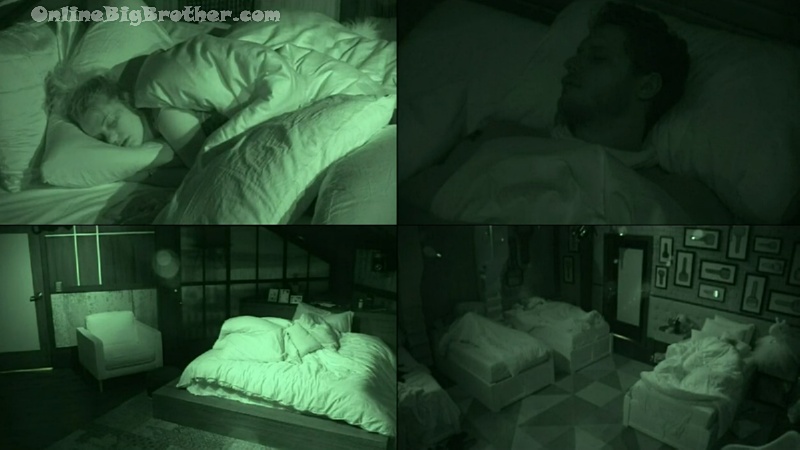 2:26 am Sleeping..
8:34 am Sleeping yo
10:30 am some houseguests getting up.
Show your support by making a donation.
If you're enjoying our live feed updates this season, please consider donating.
Any amount is greatly appreciated! Your donations go directly to paying the fees required to run this site.