Quick Big Brother Spoilers
Head of Household: Cameron
Nominees: Felicia and Izzy
POV Players: Izzy, Cameron, Felicia, Matt, Jared, Jag
POV Winner: Jared
Veto Ceremony: Veto wasn't used.
Havenots: Everyone except for Cameron is a havenot this week. Everyone is on Slop, Everyone takes cold showers, and they all take turns sleeping in the havenot room.
Lock your ranks in before midnight
The Situation Nominations will likely be unchanged. Vote this week is looking very interesting.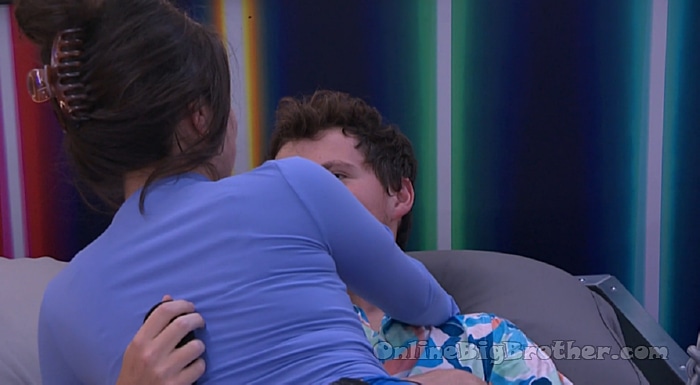 9:30 am Houseguests are waking up.
COrey – I have two jobs today not get backdoored and get close to matt and Jag but not in a suspicious way
America' That's the plan.
America leaves.. "See ya Tonight"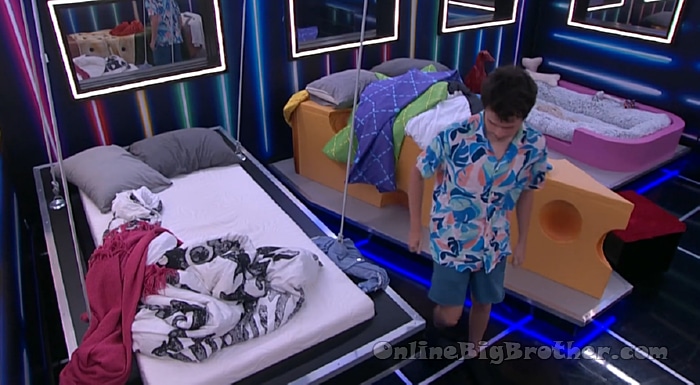 Corey – My position isn't trash but it is trash adjacent this alliance with America gave me a shit ton of information last night what do I do with it? F** knows.. But a Crazy night. I f***ing Believed Cirie. I'm a moron for that. I have to be smart. If I immediately spill everything to Jag I Don't trust he won't spill everything to everyone. So… It's going to be complicated and I don't know what the F*** I'm going to do. It's cool Stuff is shifting
Corey – The reality is that group that final 5 or whatever I am in worst shape than my idea for final 6 But I don't think that final 5 or 6 was ever real I was always f***ed so.. the more you know..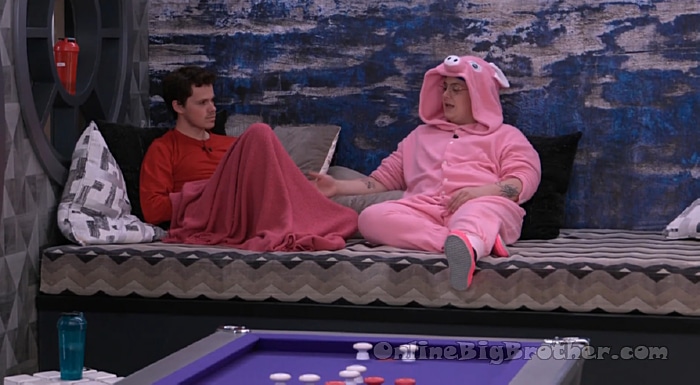 10:10 am Corey and Izzy
Corey says he had a tough conversation Cameron yesterday. Cameron said "You need to reconsider and reevaluate your relationship with America.. do yo think you are getting too close?"
Feeds cut. When we're back.
Corey – you talked to jared
Izzy – yeah I think noms are staying the same.
Corey – that f***ing sucks..
Izzy – Why?
Corey – WHY? she says
they laugh.
Corey says Cameron knows he doesn't have the votes this week
Feeds cut..
Corey – jag seems a bit nervous not sure why which sounds good to me.. If he puts up Jag perfect. Never mentioned Cirie but like those are the options I would Guess.. Jag, America and Cirie (for renom)
Izzy counts her votes. Cirie, Jared, Corey, Blue, Matt
COrey – and Jag last I heard was fully onboard with Felicia.. Bowie is going to vote out Felicia
Izzy – Bowie's up here saying she hates me and how mean I've been to her. Have you ever seen me being mean to Bowie? I've never done anything to Bowie.
Izzy says Bowie complains that nobody talks game to her and trusts her.
Izzy – how can we trust Bowie when she's up here every hour with Cameron She's the biggest hypocrite in the house.
They talk about America's game. Izzy says Blue told her America may not trust Corey as much as she says she does.
Corey tells her Cameron and Jag are bigger threats to her Than America.
Corey reassure her she has the votes to stay she will likely get 9 votes.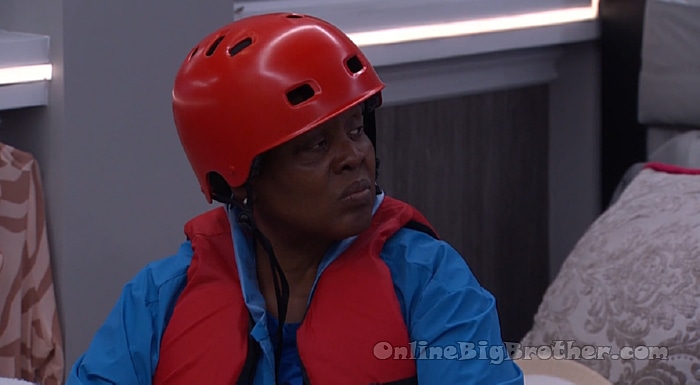 10:41 am Cirie, Jared and Felicia
Jared – everyone feels like they are eligible at this point. Corey's scared..
Felicia – that's why everyone is sucking up
Jared – pretty much.. you will see a complete energy shift come thursday whoever that may be that wins.. IF MEME wins?
Cirie – Mmmmmghmmmmmmm
Jared – You though they were scared this week
Cirie – Mmmmmmhmmmmmm
Jared – If MEME wins or I win they are going to be shook
Felicia – Mmmmhmmmm
Jared – SHOOK
Cirie – Mmmmmmhmmmmmm
Felicia – who do you think he wants out more between me or Izzy?
Jared – Izzy
Felicia – I don't think so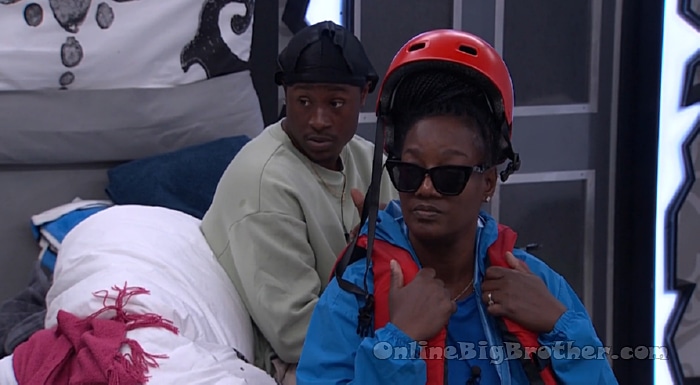 Jared – he has a DEEP disdain for IZZY
Cirie – you can tell.. he's a liar.
Jared – he wanted to get all three of you in one hit to show you you're not untouchable
Jared – You all are the brains Izzy is the one that goes out and do everything for you all
Jared – without IZzy they don't think you have nothing. He said you can't go out and get relationships with other people Izzy does that for you all.
Cirie – wow
Felicia – he thinks she has better relationships in the house than we do?
Jared – yeah and he thinks she's a better competitor than you and he hates her
Jared says after Cameron is going to be going on a campaign to get everybody to vote out Izzy.
Felicia – so he thinks he can leave us in the game because we are not competition for him
Jared – yes
Felicia – he's got a lot of nerve
Felicia asks what happened between Cameron and Jag.
Jared doesn't know he hasn't figured it out.
Izzy joins them and they eat their slop.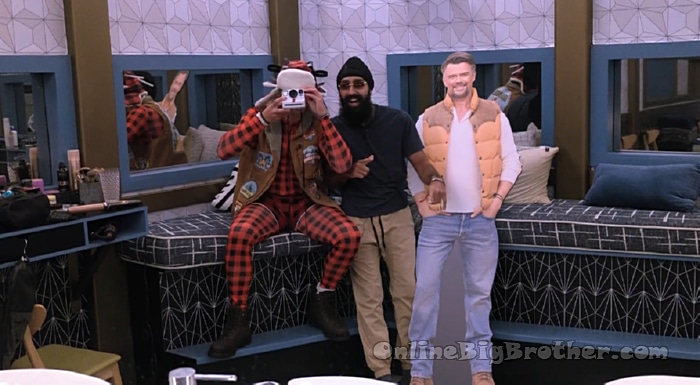 10:51 am Matt and Jag
Jag – how close are you with Jared?
Matt – I feel good about him I know he's close to Blue above everybody else.
Jag – we have to think about the route forward
Matt – it's hard. What route do we go?
Jag – Keep Talking to America she mentions to me she talked to you and it went really well.
Matt – that's good.. WE don't need to get rid of her we can take her with us
Jag – Exactly.. she's smart enough to know she's at the BOTTOM right now she needs people and there's not way she's going to get them. The only people she will get are you, me, Corey, Blue, Maybe Jared?
Jag says keeping America in the house is better for both their games. She wouldn't take a shot at either of them.
Jag – how do you feel about Cirie?
Matt – Her and Izzy are one and two.
Jag – do you trust Cirie fully? I trust you Fully.. straight up I don't trust Cirie fully.
Matt – that's fair, From what you've said she's on everyone's side
Jag – I know for a fact
Matt – she's know show to maneuver
Jag – Should I trust America more or Cirie more? When I got voted out was it Cirie lying or America lying?
Matt – I think America lied.. Trust me Me and Cirie were panicking for you
Jag says they can trust America more than Cirie.
Jag – she has Corey
Jag – Bowie doesn't f*** with Cirie, Izzy and Felicia?
Matt – F*** no
Jag – At this point Bowie does seem like a free agent.
Matt – she's with Cameron now
Jag – Bowie can latch onto you maybe me.. We can't align with everyone because that will be messy in the Jury.
Matt – you, Me, Blue, America, Corey.. Are you going that way to?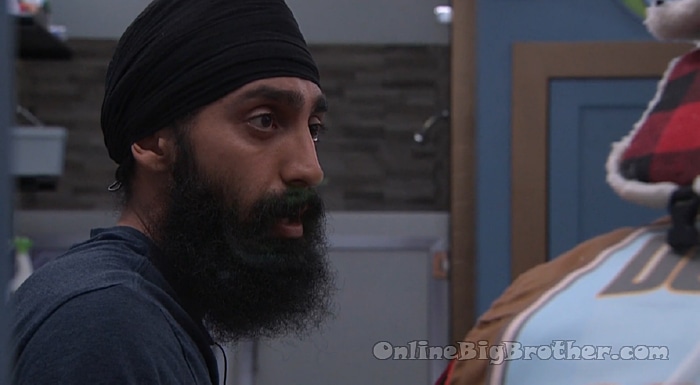 Jag – Come up with your perfect alliance right now. What's your ideal alliance given everything.
Matt – You, me, .. If Cirie is honest Cirie, Blue, I still need to talk to America and Corey more. The whole comment that America would put me up if she wins HOH kinda scares me. Even if it's as a pawn it's still scary.
Jag – that may be different now.
Matt – that is before my convo yesterday.
Jag – How do you feel about Jared
Matt – good enough but I don't know he can go any way he can go any direction he wants.
Jag – I feel like same he can go either way. He hold his cards close to his chest. For me it's Me, You, Blue, I don't know about Cirie full.. maybe.. maybe no. Felicia NO, Izzy I dunno she is someone I just don't know.
Matt – I feel like you were choose between Izzy or America
Jag – Talk to America again and make sure you are solid. This next comp might be Wall comp and she has a good chance..
Jag – Part of me trust America and Corey more than Cirie, Izzy and Felicia (wow took being on the block 3 times and evicted once)
Jag – that's because I know Cirie, Izzy and Felicia are going to choose each other over us every time.
They both don't want the veto used.
Matt says if Jared uses it he's not trusting Jared anymore because he told him he wasn't.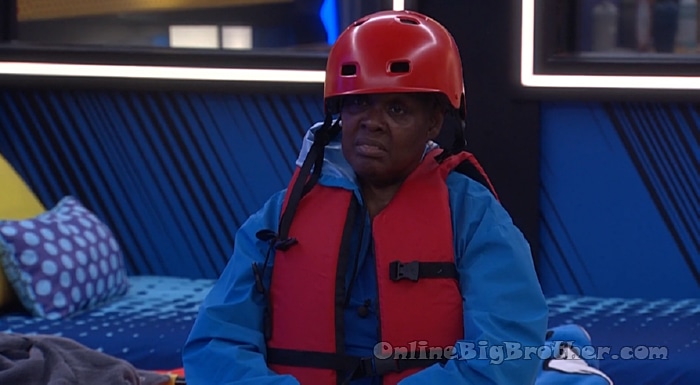 11:19 am Cirie, Felicia and Izzy
Cirie – All the brown sugar babes needed was one person they could trust and we will control the votes. What are the votes this week?
Felicia – 5
Cirie – we need one person
Felicia – one person we can trust
Cirie – we need not to be on the block
Cirie – if we can not be on the block and get one person we'll still have the votes.
Felicia – Mmmhmmmmm
Felicia – then we look around at who is left in the house. Bowie Jane isn't going to vote with us no more.
Cirie – The one thing nobody knows about is the brown sugar babes.. Let's keep it that way
Felicia – NOBODY
Cirie – if we are able to make through these next two weeks we'll always have the majority
Jared joins them.
Felicia tells him if she stays they still have the brown sugar babes and if they have Blue that is the Five they need.
Felicia – that's our majority
Jared – I know
Felicia doesn't know where Jag is right now.
Jared says Jag isn't crazy enough to make a move on them.
Jared talking about putting Bowie up as a Pawn next to Jag in some future HOH he plans to in.
Feeds cut to Pound.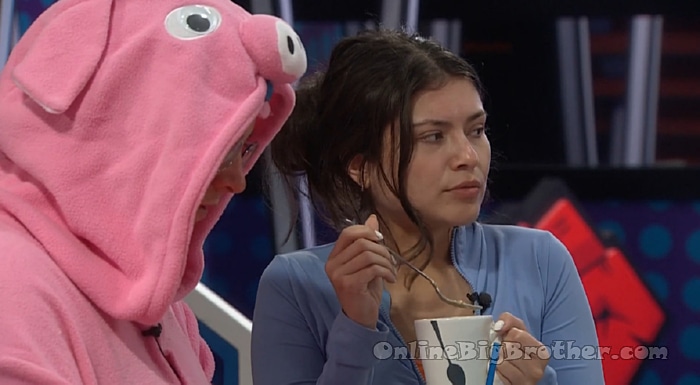 12:39 am Feeds return Veto wasn't used. Get ready for the Izzy death spiral.
Without your support this site and these spoilers wouldn't be possible.
Please consider a donation to keep the madness going.