Quick Big Brother Spoilers
Head of Household: Cameron
Nominees: Felicia and Izzy
POV Players: Izzy, Cameron, Felicia, Matt, Jared, Jag
POV Winner: Jared
Veto Ceremony:
Havenots: Everyone except for Cameron is a havenot this week. Everyone is on Slop, Everyone takes cold showers, and they all take turns sleeping in the havenot room.
Lock your ranks in before midnight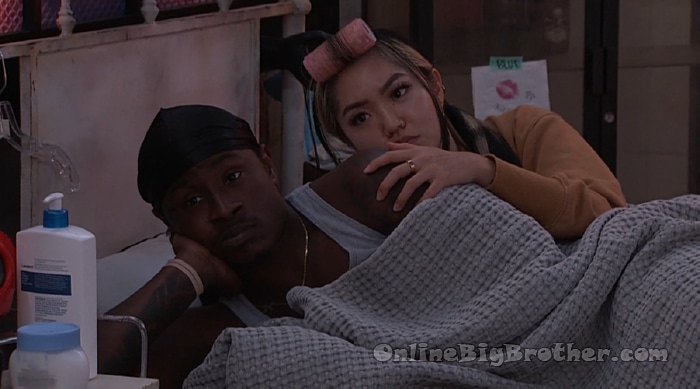 12:55 AM Jared, Jag and Blue
Jag – who do you think he would put up? DO you think it's Cirie?
Jared – I think that's part of it. I think he really honestly is trying to decide who he wants to put up
Jag – Cirie and me?
Jared – I don't think it's you.
Jag – who is he thinking. Cirie is in the conversation so who is it?
Jared – Cirie, America and Corey
Jag – Dude took a shot at Izzy and Felicia which also means he took a shot at MEME and Cirie. If he took a shot at Corey and America then he took a shot at them. YOu know what I mean? That means he just took a shot at damn near everybody in the house. He put me and Blue up, Then he put up Izzy and Felicia.
Jared – he is awkwardly feeling so solid wit you Bro which is weird as f*** it went from Day and night.
Jag says Cameron doesn't give him anything He feels like if the dude was actually solid wit him he would give him more.
Jared – the vibe I get from him. He don't trust you 100% but for some reason he trusts you enough to keep you in the game. That's the vibe I'm getting from him.
Jag – Bro.. First it was clear he was going to target me because who else is he going to target in the house?
Jag Says Cameron was blindsided last week by people he thought he was working with, "How would you feel?"
Jared says Cameron was never in an alliance with Cirie and them. "Bro trust me"
Jag – either way he was out of the loop and felt some strot of way about that
Jared – BRO.. no.. no he didn't. Before this even happened he wanted me to backdoor Izzy which was part of his alliance. This was before anyone was nominated.
Jag – ohh damn..
Jared says they need to meet at a seven before the veto.
Jag says he felt like Cirie was bugging out today "I feel like she doesn't want you to use it"
Jag – she's more of less like listen.. she doesn't feel great but she also doesn't feel like in a bad spot.
Jag – I wonder if he's going to backdoor me
Jag explains that Cameron know they talk so maybe he's acting like he's good with Jag but he's really wanting Jared to use the veto so he can be backdoored.
Jared – My theory is he wants to make me and Matt uneasy about you. There's no reason just two days before yesterday he was all about F*** Jag.
Jag goes on about how he still thinks Cameron wants to Backdoor him this week.
Jared doesn't think so says that Cameron is trying to drive a wedge between them so he can pull Jag in closer.
Jag says Cameron is not a orthodox player.
Jared – he's not stupid to your point he would be making too much of a mess. Why the f*** would he put those two up if he was coming after you? He knows there's no salvaging his relationship with Izzy.
Jag – if you use it there's only so many scharios.
They list off Jag, Cirie, Blue, Corey and America.
Jag – Matt's, Bowie aren't going up we don't think MEME will go up.
Jared asks if he thinks America made a deal with Cameron..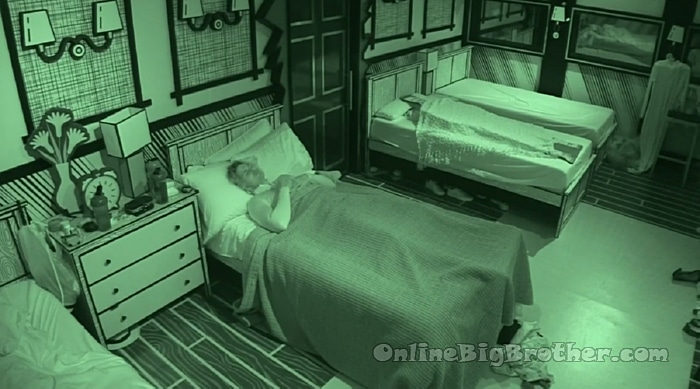 Feeds flip to the Matt and game show host carboards cut out and Matt.. when we're back. Jag and jared are still trying to decide who is the possible renoma if Veto is used.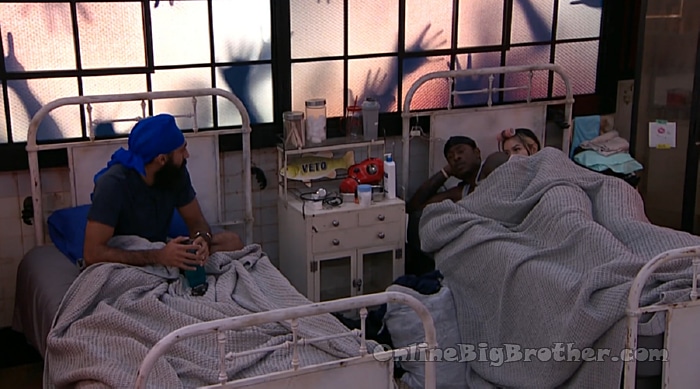 Jag – dude knows he was the target when he was up against Red
Jared – Well no.. if he thought he was the target I would be cooked right now.
Jared – not using it means he's not in the equation (Cameron) if you don't use it the only people left in the equation is us. Who do we want to keep?
Jag – me being on the block at this point is a really shaking situation for me. You, Blue, Matt and that's about the only people I would feel solid about. For sure.
jared – You don't think Izzy and Cirie wouldn't keep you over Felicia?
Jag – I'm not for sure.
Jared – you don't think Corey and America would keep you before Felicia?
Jag – I'm not for sure.
Jag – By not using it you are keeping everyone else safe, By using it you only keep one person safe. That in terms of goodwill has different consequences
Jared – Izzy versus Felicia who do you vote to stay?
Jag – Izzy to stay but.. I'm not hell bent we can get in a room and talk about it. I am open. Probably Izzy to stay but it's a conversation.
Jared says at this point if Cameron's plan is to backdoor one of the seven he won't use it. If it's Corey and America he can have teh conversation about using the Veto.
Jag doesn't think it'll be Corey and America.
Jared – it will be good for his (Cameron) game to get rid of Corey. He would get America.
Jared says that Cameron is "Explosive" he's willing to "make moves that are illogical"
Jared gets called to the Diary room.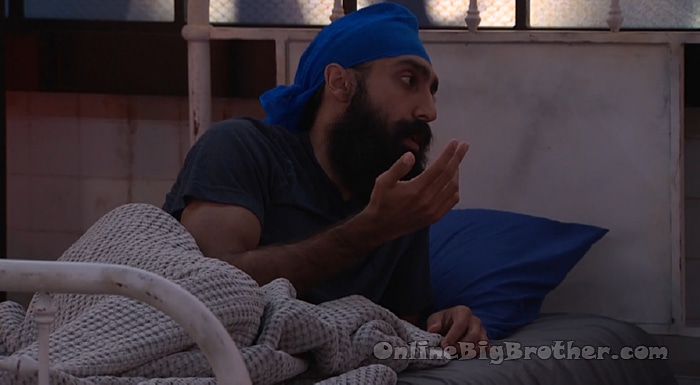 1:50 am Blue and Jag
Jag asks if she retained any information from his talk with Jared.
Jag – dude is open to using it or not using it. He said he can easily scrap the whole using it thing He thinks the only people Cam would put up are me, Cirie or America.
Jag – I think it's me or Cirie that would go up
Jag – he's going to talk to Cam tomorrow to see what is his Plan. Apparently Cam hasn't told him his plan at all on wo he's going to put up.
Jag – for us best case is for him to not use it. Me going up, Bad for us. Cirie going up bad for us, America going up also bad for us.
Jag says if Noms stay the same it would probably be Felicia going.
Jag – Jared wants the 5 of us to chat, Me, You, Matt, Cirie and him. We'll find time tomorrow to come to a consensus. I don't think he should use it.
Blue – I think the best option is not to use it.
Jag leaves.
Blue alone talks to the camera "Jared is going to come up with this story line to bring some entertainment and let Corey and America sweet a little bit. but don't do it till the a$$ crack of dawn"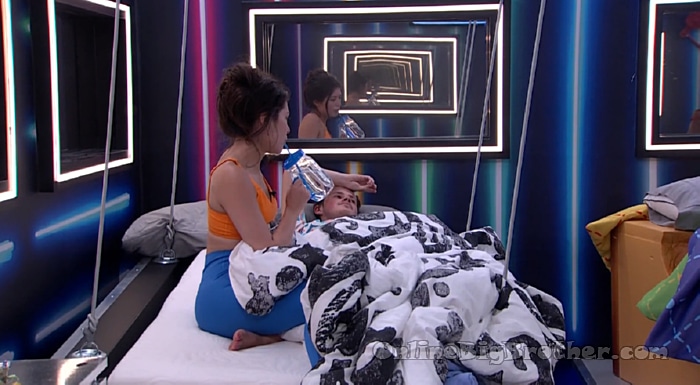 1:20 am America and Corey
Corey is joking around talking to the camera like he's accepting a Oscar award
Corey – I'm a student of life and she is the textbook
America – Open me up
Corey – good damn You always have something
they laugh
Corey – it is a skill.. always turning everything into an innuendo..
America – you know who else is good at it?
Corey – Jared
America – Cam, Jared sucks.
America says Jared is trying to flip things onto her again.
Cory brings up all the information America got out of Matt "What happened?"
America – we were in here and started talking game. We talked about Jag and how we're not close game wise awe talked about Family style then Family style again
America – we talked about how Cam cannot be trusted so can be let back into Family Style reunion. We started talking about the MOMMAS and Jag. JAg staying and then we talked about the power.
America – once we got to the power I asked did you play he was like no. I as like OKay Matt.. you did play.
Corey – he really wanted to tell you
America was able to get out of him that he played in the power competition. Matt told her that Cirie played. Matt though that Red was the fourth player.
America doesn't think she'll be a put up. Corey agrees. She points out that Cam was barely out of is room today.
They agree Cam was tired after his punishments.
America hates the "Flirty mean" way Cam is starting to get it's like what he was towards Reilly towards the end.
Corey thinks Jag and matt have a final 2. "they have to be the two tightest.. Jag is in the game solely because of Matt.
America says Matt is a golden retriever "The most loyal Guy"
Corey – I think they will be inclined to work with me if I tell them the path to power stuff
America – not tomorrow in the next week it'll be a good idea
Core – what if you tell them
America – I don't think they trust me.
They start joking about how guys are about their skin. America say she's like any other guy when it comes to skin care.
Corey – I am not like any other guy America.. I recognize the pay gap.. pink tax, Suffrage
they giggle.. Feeds flip. When we're back they are kissing under the covers.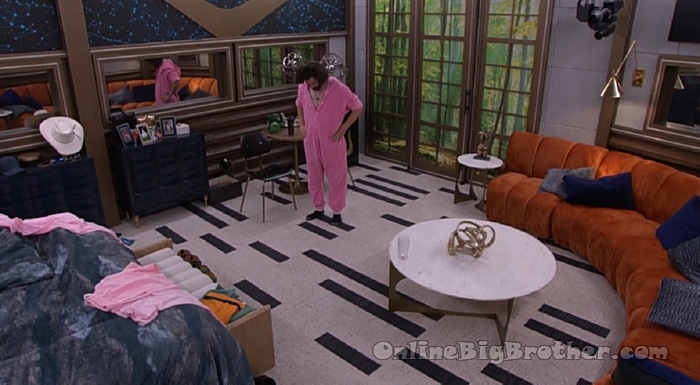 1:50 am Cameron heads to bed.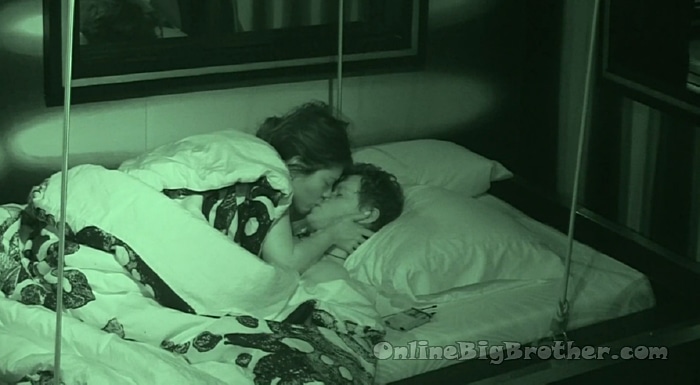 2:36 am Corey and America getting busy.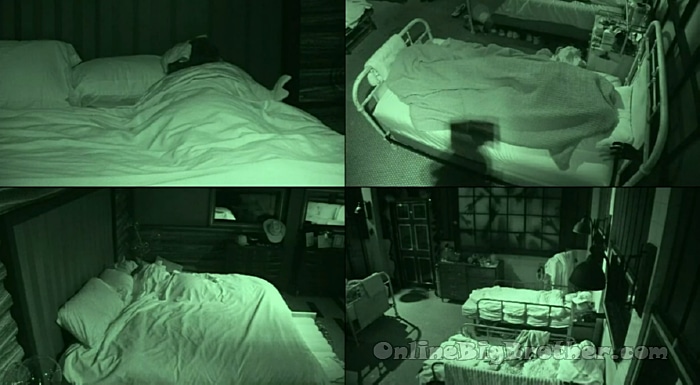 3:15 am Zzzzzz
4:00 am zzzz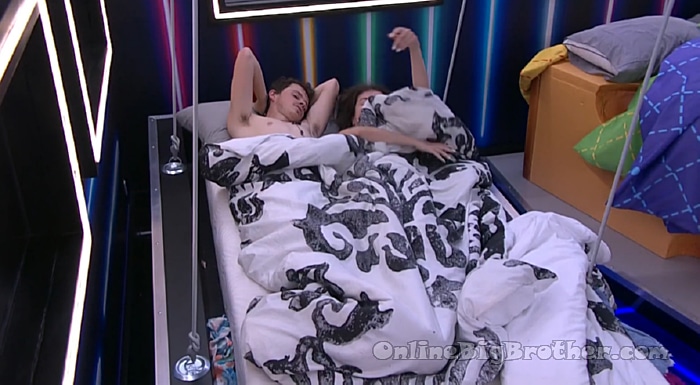 9:30 am Houseguests are waking up.
Without your support this site and these spoilers wouldn't be possible.
Please consider a donation to keep the madness going.