3 PART FINAL HOH Competition:
Part 1 – Spencer Vs Andy Vs Ginamaie = GM WON
Part 2 – Spencer Vs Andy = Andy WON
Part 3 – On Finale night – Ginamarie Vs Andy = ?
FINAL HOH winner = ?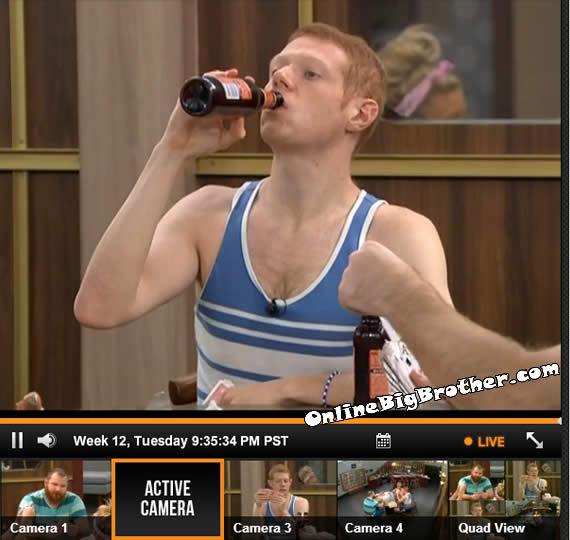 9:28pm Kitchen
Talking about Amanda being "sue crazy" and how it pissed JUDD off.Andy adds that Amanda had said she sued 3 people.
Andy wonders how they would penalize the final 3 if they did something bad they can't give them a penalty vote. Spencer – 'They won't do shit"
They wonder when production will wake them up in the morning. GM says she's taking an early shower tonight.
Spencer – "Theres a good chance our families are not watching afterdark right now" He explains that their families are all in hotels right now.
Andy – "theres a good chance we won't have another diary room session"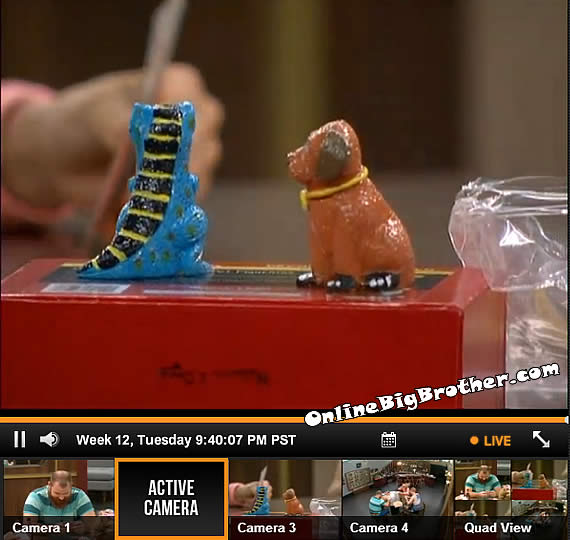 9:41pm Playing bullshit
Drill sergeant "You kiss your momma with that mouth"
9:58pm Kitchen Andy and GM
Andy – "Everything's still fine right"
GM – "Yes"
Andy – "You have to understand there's so much money.. I'm just like Ohh my God"
GM – "DR told me if I change my mind I have to tell them.. I'm like no no no no"
Andy – "I feel like they want it to be more indecisive.. I'm like no I know.. i'm done"
GM – "They said well if you change your mind you have to tell us.. I'm like ya ya ya ya"
Andy – "They they said.. what about Spencer.. I'm like (See image of Andy above)
GM – "Umm sorry"
They both laugh
Andy – "Oh my got tomorrow at this time one of us will have 50 grand the other will have 500 grand.. oh my god"
10:08pm Bathroom GM and Andy Bullshitting each other how solid they are for final 2.
Andy – "Oh my god even 50 thousands will change my life"
GM – "I get to see Uhaus to.. oh my god"
Gm adds that this season had the hottest cast ever.
GM brings up that Spencer came up to her and started telling her she won't win against Andy. GM never gave Spencer a definite answer she just told him he is bringing up good points. Andy says he was approached by Spencer as well and he said much the same.
GM is worried that Nick would want to be with a girl that is smarter she suggest he might consider her dumb.
Andy – "I would never ever call you dumb" Andy tells her she has a intelligence that many people would love to have.
GM – 'I got street smarts I got Freddie smarts"
Andy says he has some friends that went to an ivy league school and they didn't have the people skills that GM has, "You have this warmth that radiates from you it's something special"
Andy – "Who would have thought this public speaking teacher and beauty pageant girl would become such good friends"
Andy starts in on Spencer being on the block 8 times and how the Jury will give Spencer the money if any of them are silly enough to take Spencer to the final 2.
Andy – McCrae and Helen both told me if he makes it to the end they will be impressed"
GM – "Wow crazy.. if he wasn't an alliance with us he wouldn't have survived"
Spencer joins them "My F*** armpits stink like sh!t" Andy gets called to the diary room
Spencer wants production to open a room up so they can m@sterb@te in it. he calls it the "m@sterb@tion station"
10:28pm Living Room Andy and Spencer
Andy is downplaying his involvement with the alliances knockouts and 3AM . Spencer says those alliances were going to take him out he's jokingly acting like he's upset. Andy says those alliance didn't mean much. Andy points out he never talked about the knockouts in the Diary room. He was pulled into 3AM, 'I was like oh we're working with Aaryn now".
Andy says Amanda sacrificed parts of her game to keep him off the block and he back stabbed her a couple weeks later. Andy thinks Amanda will be very biter.
Spencer – "I'm full expecting for you to win this third round and take me to teh end"
Andy – "Oh my god I can't believe it's tomorrow.. if I get third"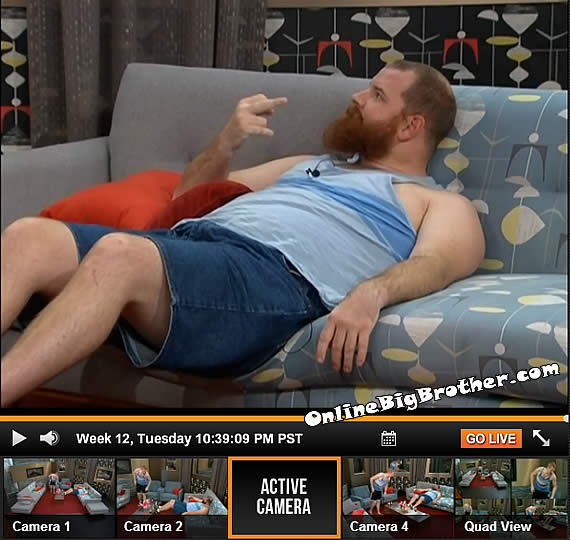 10:39pm Andy gets called into the Diary room. Spencer fingers the camera , "Yeah, thank you"
10:44pm
GM says if Nick is with someone she is going to be really upset. GM – "I really don't know what to expect"
Spencer – "It's been a couple months.. I think as faithful as you have been he's been equally as faithful"
Spencer – "Nick.. this is a good woman you should marry this one"
Gm says thanks say that Spencer is a great guy. GM adds that the cat she is painting looks like she stuck this cat up my a$$
10:58pm
The exterminators call the Brenchel army a bunch of morons for throwing their support behind the monster called Elissa.
11:17pm They get 4 beers
Spencer- "I bet thos f***ers shake these up"
Andy – "for sure"
Spencer- "We now have 11 beers for tomorrow"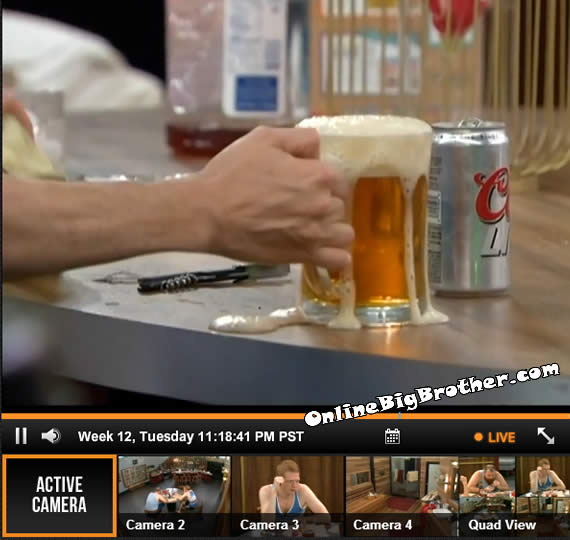 11:29pm
Off camera GM is in the shower.
Spencer- "Is that your cl!t ring"
GM – "Ya"
Spencer – "Can I take a peak"
GM – "ya"
The camera is on Andy he makes a face.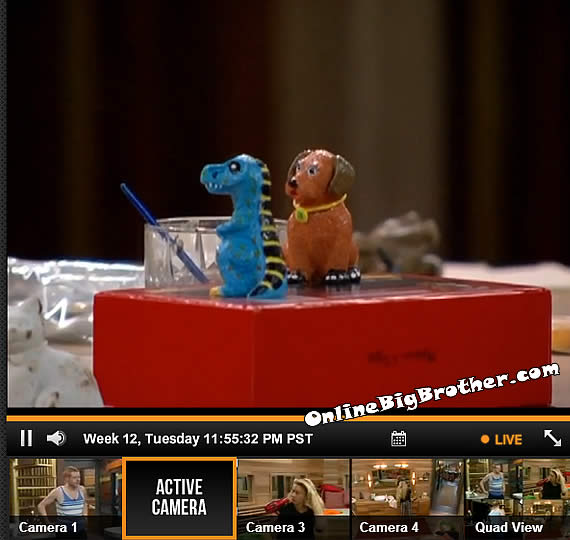 11:58pm A fresh game of bullshit is starting up
Andy is drunk and Spencer is getting tipsy
Andy – "I'm not going to lie I'm trashed.. this is my 8th beer"
Spencer – "I'm trying to catch up i've had 4"
12:10am – 1:50am Andy, Ginamarie and Spencer continue their card game. Andy and Spencer are drunk. Andy bring up how Ian Terry was rooting for McCrae because he likes to root for the underdog. Andy says go f**k yourself Ian! Spencer says f**K him! Super Ian, more like Stupid Ian! F**K him! Andy says why McCrae what did he do all season? All he did was put his oversized pen!s into Amanda's oversized vag!na! Spencer says I've said it before and I will say it again I bet her pu$$y looks like a hatchet wound. Andy heads to the bathroom. Spencer looks at the camera and says that dude doesn't like bl*w j*bs what the f**k is wrong with him?! They start making food to eat. Andy bends over in the kitchen and Spencer slaps his a$$. Spencer says that's the most action you've had in 3 months. They head to the living and Andy goes off about how he gave up drinking alcohol 9 times in the house and Amanda and Aaryn never did. You are a selfish a$$hole! Spencer says I never drank the alcohol until day 49. Spencer says they were entitled b***hes! Andy says it felt good to vote them out. I have never had money and my family has never had money. I kept my eye on the prize. Andy says everyone voted out of here were selfish a$$holes, that's why I am so happy the 3 who are here are here you know what I mean. Andy says I am going to lose faith in mankind if it doesn't pay off for me. Andy explains how he never misses work and if he does he gives his students a 3 page writing assignment. If I miss a class it's for a good reason, I am that teacher that will f**k you over. Spencer tells Andy that Gina is scared because you won more competitions than her. She's a real competition nut. Gina joins them. They lay around on the living room couches and talk about random stuff. Gina asks Andy how many beers he had? Andy says I had 8 beers. Andy asks if he is being annoying. Gina says no, I am just glad I don't have to drive your drunk a$$ home. Andy and Gina talk about how they can't wait for tomorrow. The final three then head to bed.
4:55am All the house guests are still sleeping..
9am – 9:33am Big Brother wakes up the house guests..
If you enjoyed the site this season please consider a donation.